Import MBOX Files to Outlook – A Complete Tutorial for You
If you're looking to import MBOX to Outlook, look no further. This article will provide you with a step-by-step guide on how to start importing MBOX files to Outlook.
MBOX is a popular file format used by various email clients such as Mozilla Thunderbird, Apple Mail, and others. However, if you want to switch to Microsoft Outlook for managing your emails, you may encounter issues while importing MBOX files directly. Fortunately, there are a few workarounds to export MBOX files to Outlook. In this article, we have decided to put forth the complete conversion procedure in Windows and Mac Operating Systems.
Table of Content:
Reasons to Import MBOX to Outlook
We cannot access MBOX files in Microsoft Outlook directly. Henceforth, we need to export the MBOX files into Outlook supported PST format. There are many ways through which MBOX files can be transferred to Outlook 2019, 2016, 2013, and 2010 versions. This includes:
MBOX files only incline mail in a proper format. But, MS Outlook mailboxes, store emails, address books, journals, events, calendars, etc.
Mailbox data in PST includes the components i.e., Mails, Attachments, address books, events, appointments, notes, etc in a systematic manner.
We don't make use of the internet for accessing the downloaded emails and also we can work offline via Outlook as there is no requirement for network connectivity to start it.
Let's first understand the user's query mentioned below:
"I am a Forensic Investigator. I usually investigate files to gather evidence of the problems. A few days back, one of my clients gave me MBOX files and I need to go through the files. All these files are generated in Mac Operating system, and I don't have Mac System. So I want to know how to access MBOX files into Outlook 2016 version. Is there any way out to perform the migration? We will completely follow the leads!"
We considered the complete query and came across a few conversion steps for importing MBOX file messages to Outlook.
Does Outlook support MBOX?

No, Outlook does not support MBOX files. You will either need to convert MBOX file to Outlook supported format to be able to open it in Outlook. Or you can use a medium to transfer data to Outlook in its supported format manually.
Steps to Import MBOX to Outlook
Step 1: Install and Run the tool on system.
Step 2: Click Add Files >> Open to import MBOX files.
Step 3: Preview MBOX file in multiple modes.
Step 4: Select PST & choose Split PST option.
Step 5: Click Export to import MBOX file to Outlook.
The above-listed steps are verified by IT experts and recommended for personal and professional users. Go through the below steps and migrate the complete data.
Download and Install the Tool:
The free demo version will export only 25 items from the MBOX file to Outlook supported format. For complete data migration, you need to buy this tool.
Your task is completed.
Also read: How do I Add MBOX to Thunderbird?
Method 1- Export MBOX to Outlook Manually
This method to export MBOX to Outlook manually has 3 steps:
Step 1: Create Gmail account and configure in Thunderbird
Give your Credentials of Gmail account, which acts as mediator in both files
Open and Launch Mozilla Thunderbird email client and then click Mail >> afterward select Preferences
After that, opt for the Accounts tab in the current wizard to add a new mail account
Choose + icon & then add your Gmail account in the Thunderbird program
From the service provider window, choose Google, and afterward, click on the Continue option
Enter the Gmail id and then select the Next button
Put your credentials of associated Gmail Account and choose Next
Choose the mailbox that is required to be used in Gmail account and Thunderbird and then click on the Done option
In Account screen, add Gmail account as listed on LHS of the screen
Exit the current window & Login to your Thunderbird program once again
Once you have successfully added a Gmail account in the Mozilla Thunderbird email client, press the right button of the mouse and select the mailbox of the configured Gmail account, and select the New-Mailbox option.
Then select the OK button.
Step 2: Import MBOX files to Mozilla Thunderbird account.
Open your MBOX file by the steps jotted below.
Firstly in Thunderbird, right-click on Local Folders and select Settings.
After that, copy the Local Directory path and open this location on your computer.
Then, copy the MBOX file(s) to this location.
Restart Mozilla Thunderbird.
The MBOX folder will be available below Local Folders.
Now, choose all messages that are to be opened in MS Outlook.
After that, press the Right button and choose messages to export.
If we don't require saving the mail copies in Mozilla Thunderbird, then choose Move to. Or simply choose the Copy To option, and copy the emails from MBOX folder to the Gmail folder.
At last, keep track of the process and if completed, check the details of copied MBOX messages easily.
Step 3: Configure & Move the mailbox to Outlook
Firstly, open MS Outlook
After that, select Outlook >> preferences option
Now Select the Accounts option from the flash list
A wizard is previewed in front of you. Click (+) icon & select mail
Then, provide the login account and password used in the Mozilla Thunderbird mail account and opt for Add Account.
Finally, all the MBOX messages will appear once the account is added to Outlook.
Alternative
Notice the Gmail account that is already configured in MS Outlook (if any).
Add the same account in Mozilla Thunderbird and copy the MBOX data in it.
All the MBOX messages are now ready to download in Outlook.
Also Read: How to Import MBOX to Office 365?
Method 2 – Import MBOX Mail to Outlook
Manually Import MBOX to Outlook on Mac
There is no direct way out to import MBOX files to Outlook for Mac. The user can only configure a Gmail account in Mac Mail to put the MBOX files in that Gmail account. After that, simply configure it in Outlook and download all the emails here.
Given below is the free method that users can use on Mac to get the job done.
Free Method to Open MBOX File in Outlook
Run Thunderbird and import your MBOX file in it.
Drag & drop the emails to your computer to create EML files.
Run Outlook and create a new folder.
Drag the EML files from computer to new folder in Outlook.
The import process is complete.
In these circumstances where the free method is not really upto par, users can opt for Mac MBOX Converter tool. It is a professional alternative and quite possibly the best way to import MBOX to Outlook.
Method 3- Convert MBOX Files to Outlook 
Bored by following the manual procedure as it is very long and time-consuming? That's why we are putting forward an automated approach i.e., MBOX to PST Converter. The tool has a few wonderful features that mesmerize the users a lot because of its features like the Conversion of email items from the desired folders which are different in the market.
In addition to it, you can even save the MBOX file in different formats like EML, PST, NSF, MSG, and so on. The software even facilitates the users with round-the-clock assistance, the generation of mail in HTML.
Step 1: Download, Install and Run the tool on your computer.
Launch the tool on your Windows system and add the MBOX file to the software.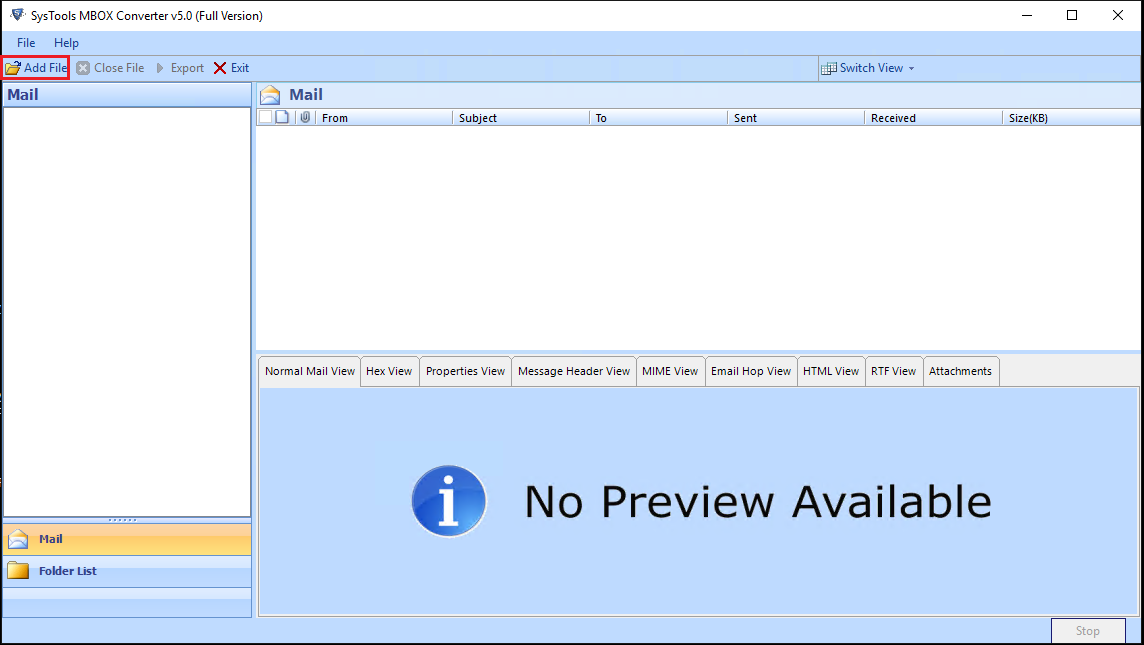 Step 2: Add and Preview the MBOX emails.
Preview complete data in different modes and click on Export button.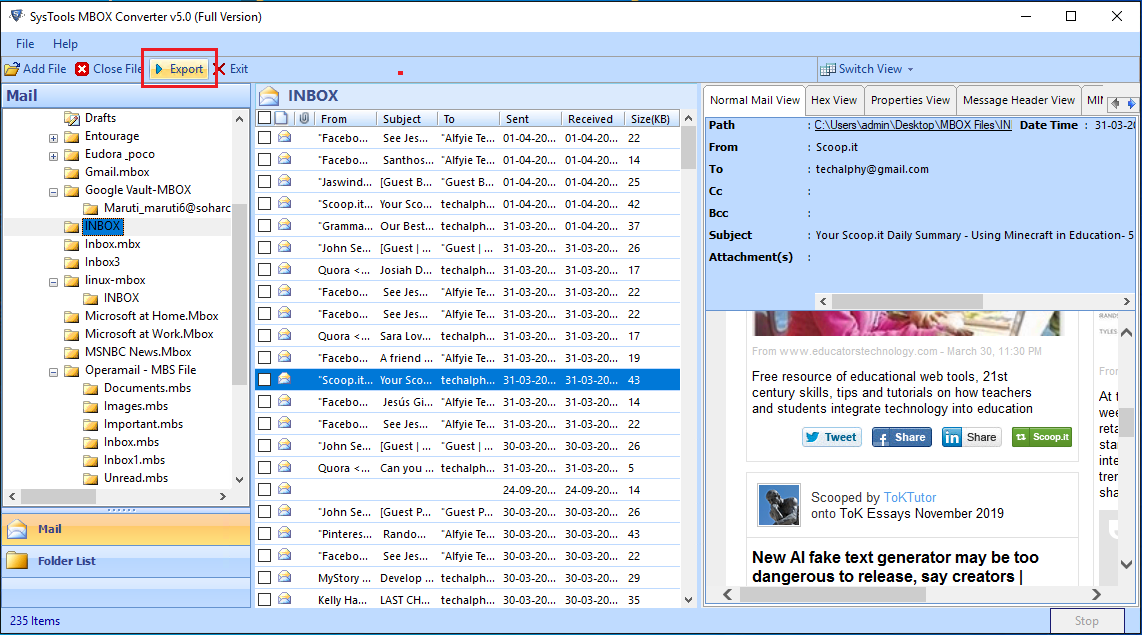 Step 3: Select PST & convert MBOX to Outlook data file.
Select the PST radio button and apply advance options. After that browse the location and hit on Export button.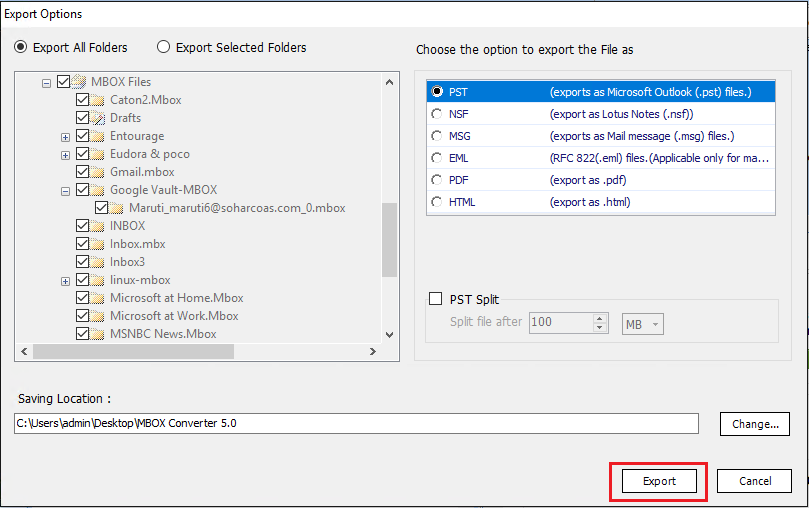 Step 4: Import output files into Outlook.
Now you have a PST file, simply launch Outlook and use the Import/Export feature to import PST, created from MBOX to Outlook.
Final Thoughts !!
From the above-mentioned article, it is clear how to import MBOX to Outlook. After all, there is a clear method through which the users can completely perform the process. Else, the users can opt for the third-party application. By taking the time to locate your MBOX files, download the software tool, and verify the imported data, you'll ensure a seamless and successful import process.
FAQs
Q) What is an MBOX file?
An MBOX file is a mailbox file format that some email clients use to store email messages in a single file.
Q) Does MBOX work with Outlook?
Outlook does not natively support the MBOX file format, so you cannot directly open or import MBOX files into Outlook. However, there are third-party software tools available that can convert MBOX files to a format that is compatible with Outlook, such as PST. Once the MBOX file has been converted to a compatible format, it can be imported into Outlook. Therefore, while MBOX does not work with Outlook directly, it is possible to use MBOX files with Outlook through the use of a conversion tool.
Q) Can I convert MBOX files to Outlook on a Mac?
Yes, there is an MBOX to Outlook conversion tool available for Mac users. You can download it from this article.
Q) Will all of my email messages and attachments be converted when I convert MBOX files to Outlook?
Yes, if you use a reliable tool like the one recommended in this article, it will import all of your email messages and attachments into Outlook.
Q) What are some common issues I may encounter during conversion?
Some common issues include missing or incomplete email messages, corrupted mbox files, and compatibility issues between the MBOX file format and Outlook.
Q) Can Outlook import MBOX files?
No, Microsoft Outlook does not natively support the import of MBOX files. Outlook uses PST and OST file formats for storing its data. To import MBOX files into Outlook, you would need to use a professional software that can convert MBOX files into a format that is compatible with Outlook, such as PST.
Q) How do I import my mailbox into Outlook?
First open Outlook and go to File >> Open & Export >> Import/Export. Then, choose "Import from another program or file" and import the mailbox file into Outlook.