How to Import Excel Contacts to Yahoo Mail? Complete Guide
Are you one of them who stored their crucial data or contacts in Excel files and is stuck in a situation? And now looking for a solution to import Excel contacts to Yahoo Mail? If yes, this article is made up for you to resolve your query. In this write-up, we try to provide you with the best technique to import Excel contacts. So, stick with this article.
Yahoo is a well-known email client that provides you with many advanced features. On the other hand, contacts are the most crucial data for everyone. There are multiple reasons why users need to convert contacts to Yahoo.
Contact management is an important process, especially when it comes to managing business contacts. Users use different apps to manage different accounts and use different devices to access their accounts. To do this, users need to be able to manage their contacts from these various platforms and devices. In this blog, we will discuss how users often ask questions about saving contacts in Excel sheet. It highlights the steps involved in the process of importing your Excel contact list into Yahoo Mail.
Automatic Solution to Import Excel Contacts to Yahoo Mail
Before the conversion process transfer Excel contacts to Yahoo mail, you should know that Yahoo does not support Excel files because Excel contains their files in XLS/XLSX format and Yahoo Mail does not support XLS files. So, before starting the process we have to convert Excel XLSX files into CSV format. For this you can use Excel Contacts Converter Tool to easily convert excel file to csv format at once.
This tool provides you the option to convert Excel fields to Yahoo mail-supported files. By using this software you can also convert Excel to vCard and other multiple formats like TXT, MSG, etc. This tool provides you the option to convert a single file and you can also convert Excel file to HTML in a bulk also.
You can also map your Excel files by using the auto-map option and you can map your files manually also. Also, the graphical interface of this software is quite simple that even a novice user can freely access without any fear of data loss. Moreover, it offers some unique features that make it different for others.
Steps to Import Excel Contacts to Yahoo Mail
Step 1: Convert Excel XLS Files to CSV Format
First, Install and select the Browse button to select files that you need to convert
Preview your selected files
After this, you will get the Change option to provide the Destination path for your converted XLS files
At the last, click the Export button to end up the conversion process.
Step 2: Import Converted CSV to Yahoo
Open Web Browser and go to Yahoo Mail
After this, log in to your Yahoo Mail Account by adding credential password and all
Then, go to the contacts icon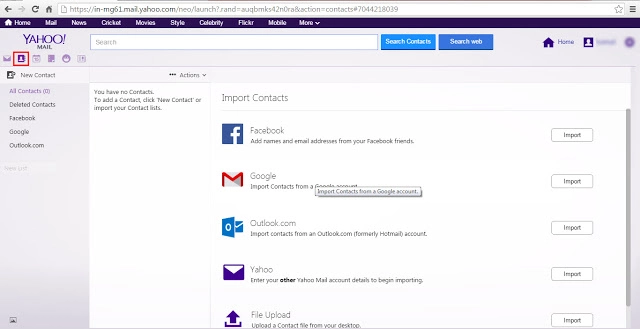 Select drop-drown and choose the import option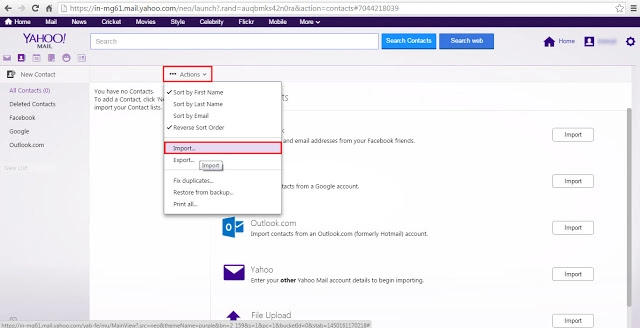 As we want to import the contacts from an external Excel sheet, choose File Upload >> press on Import to export contacts from excel to yahoo mail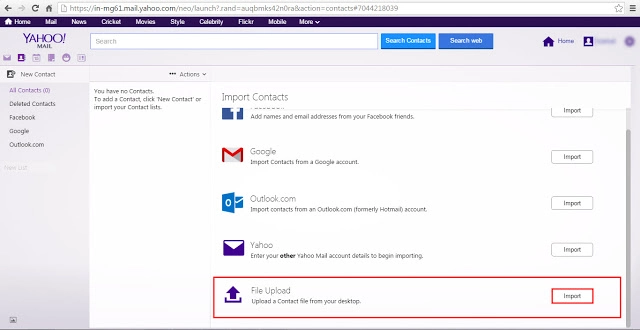 After that, click on the Import button.
After completing the process, you can access your Excel contacts in Yahoo Mail
Final Thoughts
In this technical write-up, you will get the best solution to import Excel contacts to Yahoo mail. We discuss the manual and the automated procedure, you can select between them as per your requirement. The manual solution has some limitations which we mentioned above, we personally suggest you go with the professional solution to complete conversion easily.