How to Import Contacts into Google Contacts from Excel?
Summary: Are you one of those people who are looking for a solution to import contacts into Google contacts from Excel? If your answer is yes! Then read this article. This post helps users to know how to transfer Excel contact files to Google account. So stay with us.
Microsoft Excel is already popular to store and manage large amounts of data.  Most users save their contacts on an Excel sheet with details. So, Let's start the article by discussing the query of how to transfer excel contacts to Google contacts. 
On the other hand, Gmail is an easy-to-use, free email tool that is widely used around the world for both personal and business purposes. Contacts and phone numbers play an important role in many people's lives. Also, users do not want to lose data in the future due to technical or human failures.
That's why it's very important to back up or copy your contacts to a secure platform such as Google Contacts. Moreover, since the user can quickly call or email her from her Office computer, there are many ways to import Excel file to Gmail.
Nowadays, all users are turning to cloud apps and also prefer to store important data such as contacts in cloud apps. A free cloud service for storing contacts is Google Contacts. before moving the conversion process. Before understanding this process let's take a look at the reasons.
Why Need to Import Excel File to Google Contacts?
The reason behind converting your excel contacts is Gmail does not support the import of Excel XLS/ XLSX files. This write-up brief you about the procedure to transfer Excel contacts into Google contacts.
Here are the top reasons why you should switch to Google Contacts now:
Using Google Gmail gives you extra security when signing in to your account.
This program manages tags in a systematic and organized way.
The flexibility of the e-mail client makes it easy to configure with other e-mail clients if the need arises in the future.
It has advanced features to add/mark specific emails as important, unread, read, etc.
This list is live and I need to quickly switch between Excel contacts and import them.
Expert Solution to Import Contacts into Google Contacts from Excel
The above-mentioned solution is capable to import excel contacts to Google contacts but Gmail supports CSV file format. You can import XLS/XLSX files straight to Gmail contacts quickly or easily, by using this Best Excel Converter Wizard, which lets you export your XLS files straight to Gmail formats with maintaining the details sequence. So you'll need to convert your XLS file to CSV, which is supported by Google Contacts.
The tool offers dual modes for uploading XLS files in batches or one at a time. This software allows you to add single or multiple files, and also convert Excel file to HTML, besides that it can convert multiple formats like convert Excel Contacts to PDF and other multiple formats. This wizard makes the procedure easy to transfer Excel contacts into Google contacts without any size error or data loss. It supports all the versions of excel and is also compatible with all the Windows versions. 
Important Tips: A free Download Excel Converter Tool, users can export only first 10 contacts per Excel File as a demo his version. User can purchase full his licensed version and activate this tool to enjoy seamless transfer of Excel contact sheets. The operation of this wonderful tool to convert Excel contacts to CSV is very easy and efficient.
Easy Steps to Import Contacts into Google Contacts from Excel
First, Install & Launch the software into your device
After this, click on the Browse button and select the Excel files which you need to convert
Then, you get a preview of selected files on the next screen
After that, select the CSV button from the Export option
Then, you will see two options standard CSV or Google CSV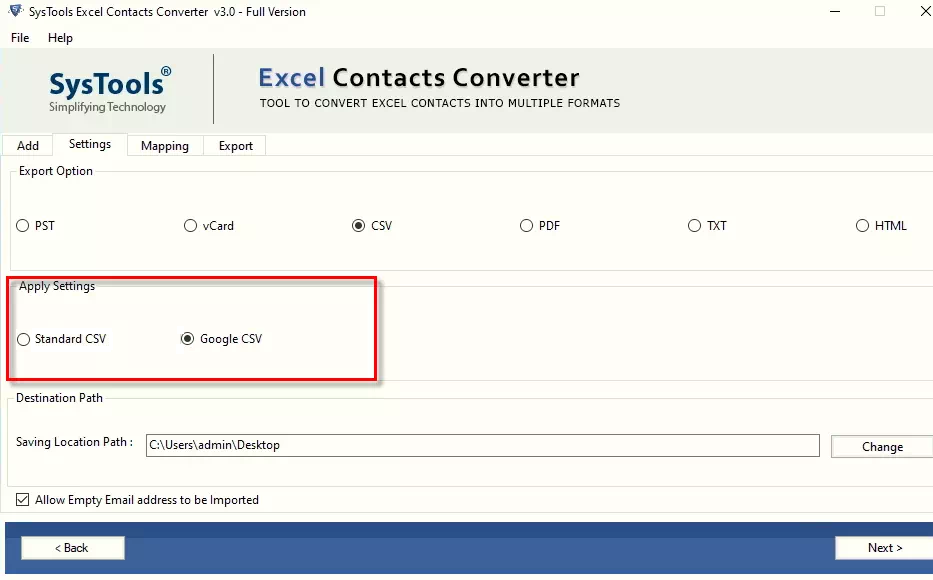 Click on the Browse button to select the destination path. 
 Then, Go to the Mapping window select excel fields and export file fields, and click Add button
You can also try the AutoMap option to map your files Automatically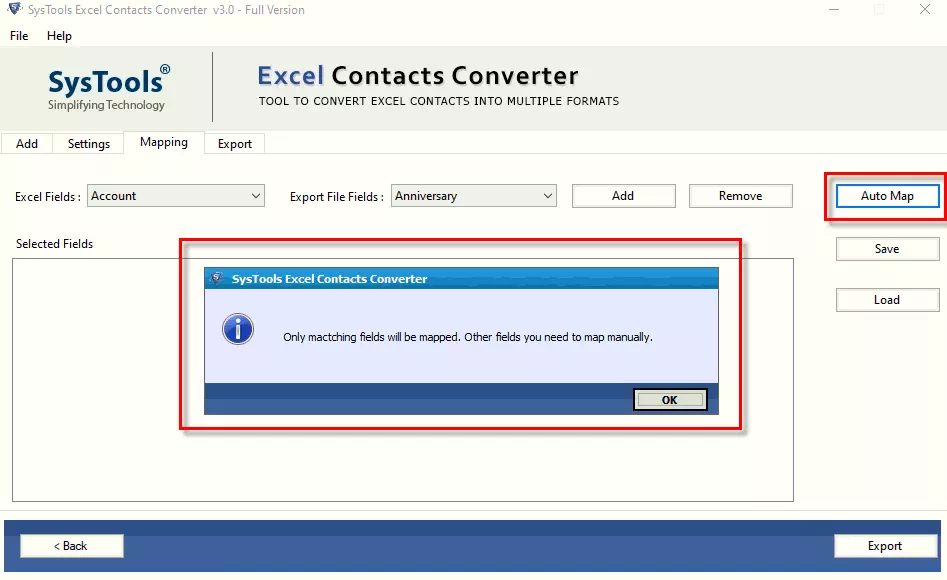 Save map fields by clicking on the save button and you can also add mapping by load button
At last, click on the Export button to complete the process.
Step 2: Import CSV Files into Gmail Contacts
First thing first, login into your Gmail account
After this, select the App icon and then select contacts
Then, select the import option to import contacts to Gmail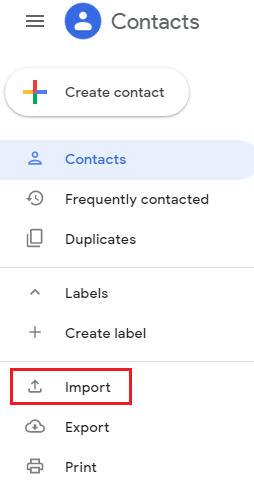 After that, go into the contacts wizard and select the CSV file which was created by you
Then, click the Import option.
Now, your Excel contacts are imported to Gmail contacts. 
Final Verdicts 
In this write-up, we talk about multiple solutions to import contacts into Google contacts from Excel. We know the importance and value of contacts, that's why we deliver the best possible solution to import contacts from excel.