How to Import Contacts Into Google Contacts from Excel – Know Here
Summary: Presently, if you have contacts in your excel sheet in a large amount & now, you are searching for the procedure to import contacts into Google contacts from Excel. If yes, then first you have to move your contacts to CSV or vCard format. In this article we talk about the best solution for the accurate conversion process.  
The reason behind converting your excel contacts is Gmail does not support the import of Excel XLS/ XLSX files. This write-up brief you about the procedure to import contacts into Google contacts from Excel. 
Gmail is a well-known free services provider used to send emails, contacts, tasks, notes, etc. In today's era, Nobody wants to lose their data so everyone wants a backup of their data, and Gmail is the best platform to store them. Users can easily synchronize their contacts straight to their phones. 
On the other hand, Microsoft Excel is already popular to store and manage large amounts of data.  Most users save their contacts on an Excel sheet with details. So, Let's start the article by discussing the query of how to transfer excel contacts to Google contacts. 
Import Contacts Into Google Contacts from Excel – Conventional Way 
As we said above, Gmail does not support XLS/XLSX files, you have to convert your XLS files into vCard or CSV file format to proceed with the procedure of how to import contacts into Google account from excel. 
Step 1: Convert your XLS files to vCard & CSV file 
First, arrange your contacts in a proper way like columns, rows, contact numbers, names, and other information.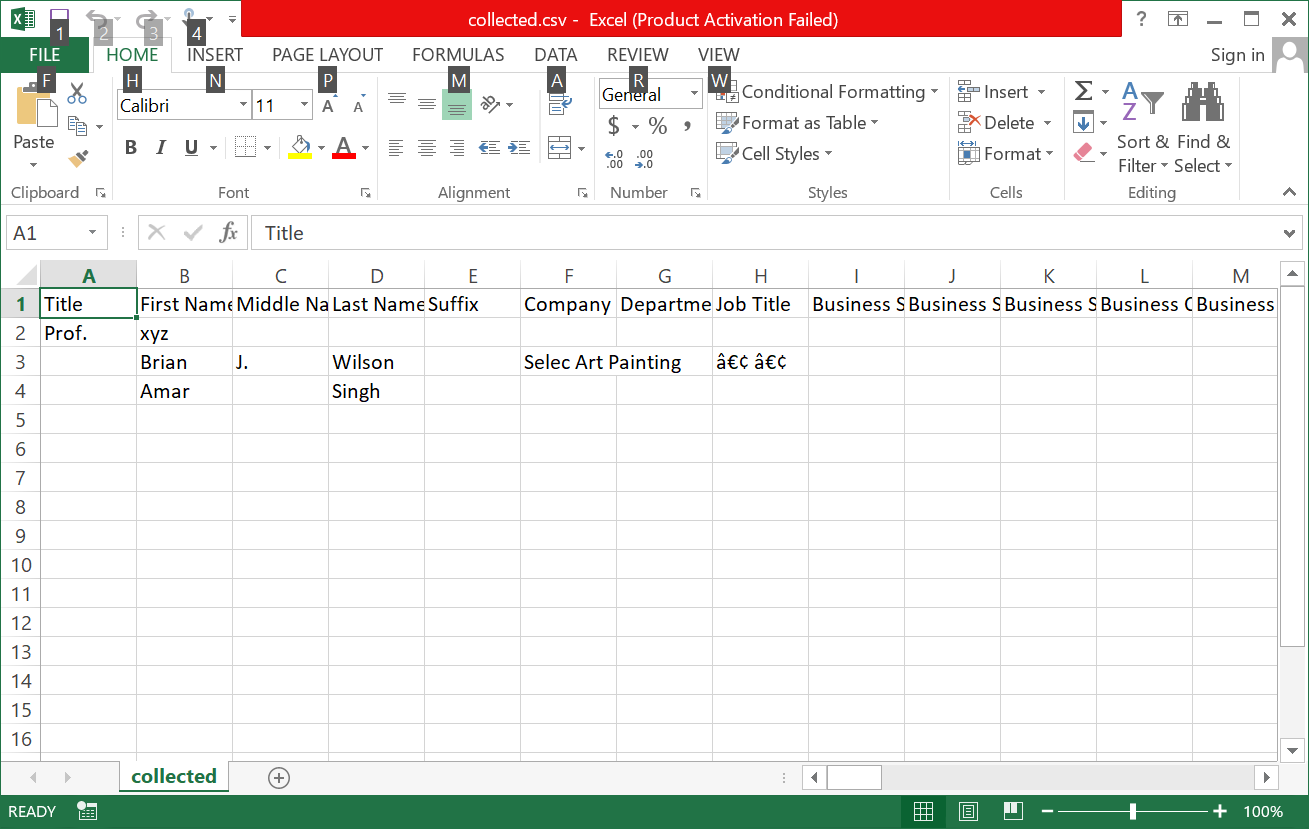 Then, go to save as an option.
Select Excel file as CSV ( comma-separated values).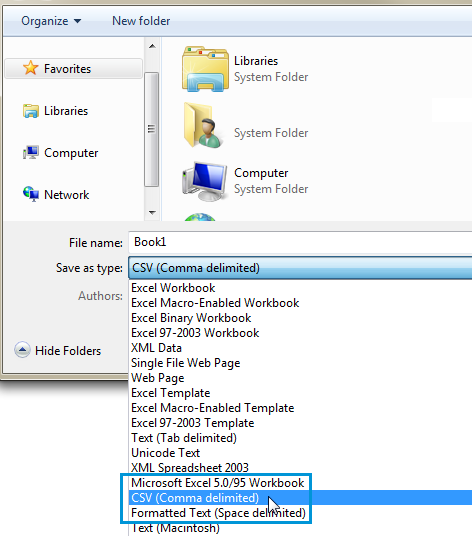 So, now your excel files are converted into CSV file format.  
Step 2: Import CSV files into Gmail contacts
First thing first, login into your Gmail account. 
After this, select the App icon and then select contacts. 
Then, select the import option to import contacts to Gmail.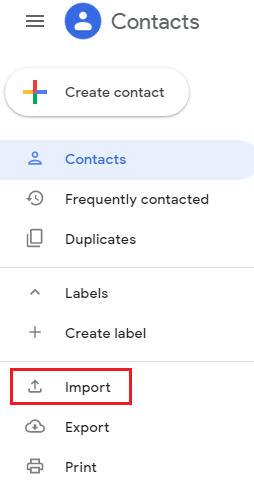 After that, go into the contacts wizard and select the CSV file which was created by you. 
Then, click the Import option. 
Now, your Excel contacts are imported to Gmail contacts. 
Also Read: Download Excel Contacts to iPhone
Professional Way to Import Contacts into Google Contacts from Excel
The above-mentioned solution is capable to import excel contacts to Google contacts but Gmail supports CSV or vCard file format. You can import XLS/XLSX files straight to Gmail contacts quickly or easily, by using this Excel Contacts Converter, which lets you export your XLS files straight to Gmail formats with maintaining the details sequence. This software allows you to add single or multiple files, and convert them into various file formats like PDF, HTML, vCard, TXT, and MSG. 
This wizard makes the procedure easy to import contacts into Google contacts from Excel without any size error or data loss. It supports all the versions of excel and is also compatible with all the Windows versions. 
Let's Learn How to Import Excel Contacts to Gmail Professionally 
First, Install & launch the software into your device. 
After this, click on the browse button and select the excel files which you need to import.  
Then, you get a preview of selected files on the next screen. 
After that, select the CSV button from the Export option.
Then, you will see two options standard CSV or Google CSV.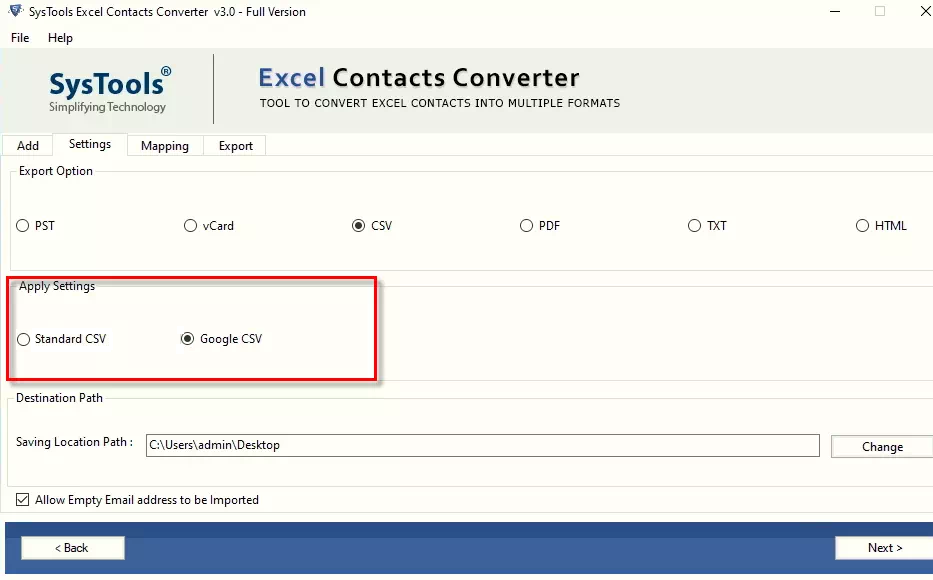 Click on the Browse button to select the destination path. 
 Then, Go to the Mapping window select excel fields and export file fields, and click Add button. 
You can also try the automap option to map your files automatically.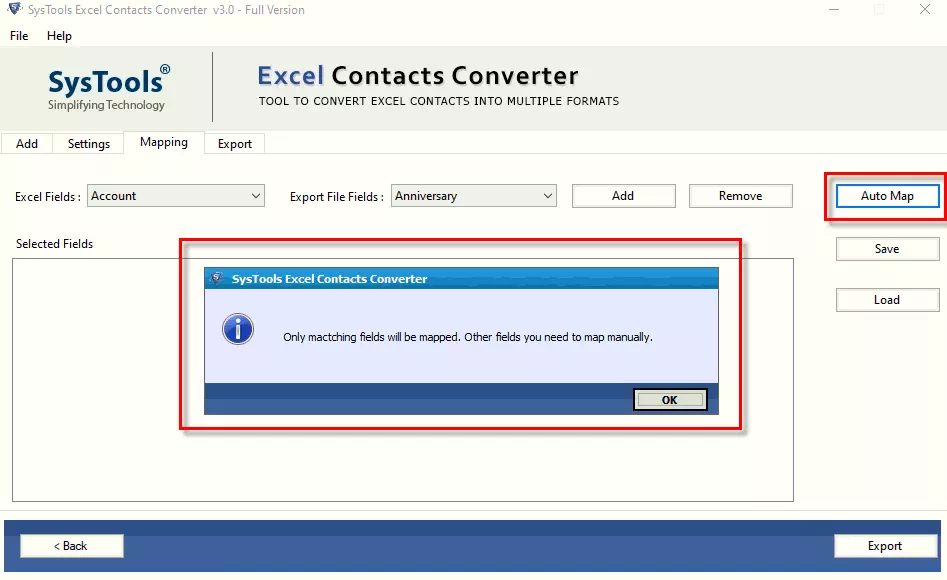 Save map fields by clicking on the save button and you can also add mapping by load button. 
At last, click on the export button to complete the process. 
Final Verdicts 
In this write-up, we talk about multiple solutions to import contacts into Google contacts from Excel. We know the importance and value of contacts, that's why we deliver the best possible solution to import contacts from excel.