Ways to Import Email from Thunderbird to Office 365
Mozilla Thunderbird is a free and open-source email client that is used by a large number of organizations. However, Microsoft Office 365 having powerful cloud services and security features provides a much more reliable email platform. So, organizations are migrating from Thunderbird to Office 365. Hence, there is a need to import existing emails from Thunderbird to Office 365. Here, we will be discussing some solutions/methods to perform this migration.
Why Migrate Email from Thunderbird to Office 365?
Following are some reasons to move emails from Mozilla Thunderbird to Microsoft Office 365:
Outlook 2016 comes as a part of a whole package of applications(Word, Excel, PowerPoint, etc.) in Office 365. It let users not just have an email client but a whole set of data management applications.
Excellent calendar capabilities to manage tasks on daily basis.
Improved security and excellent Office 365 cloud features.
Office 365 provides platform independence as it can be accessed at any time from anywhere.
Techniques to Import Thunderbird Email to Office 365
The techniques to migrate Thunderbird emails to Office 365  manually require the use of MS Outlook.
Important: Make sure that Office 365 account is configured and connected in the Outlook application before trying the manual methods.
I. Using IMAP
Configure a Gmail account in Thunderbird using the IMAP server
Create a new folder in Gmail and move all emails to be copied to that folder
After that, configure the same Gmail account in MS Outlook (using IMAP or POP)
Download all the emails in MS Outlook.
Then, move these downloaded emails into the connected Office 365 account
You have successfully copied data from Thunderbird to the PST file of MS Outlook and eventually into the O365 account.
II. Import Thunderbird EML Mails to Office 365
Save Thunderbird mail as EML files –
Create a New folder on the desktop
Then, start Mozilla Thunderbird and select the messages which need to be copied
After that, right-click on any selected message and select Save As an option
Once done, browse to the New folder created above and save the emails there.
Note: One can also drag and drop the messages to the new folder instead of using the 'Save As' option.
Start MS Outlook application
Create a New folder in MS Outlook or choose an existing one where the emails from Thunderbird need to be copied to
Then, drag all the saved EML files from the Desktop folder to this new folder in Outlook.
Finally, move the emails from the new folder into the Office 365 account.
Limitations of Importing Thunderbird Emails to Office 365 Manually
Complex Procedure: The process is time-consuming and complex.
Limited migration: This process is not meant for copying a bulk of files. It is only used for limited message exporting which is not viable for large organizations handling a large amount of data.
The Integrity of data is compromised, which itself is a disaster for big enterprises.
There are chances of Data loss especially since attachments are found to be empty in many cases.
Using Automated Tool
The manual methods due to their limitations are not viable for use by many organizations. A professional and trusted tool has always been sought after with which one can easily import email from Thunderbird to Office 365. One such efficient and comprehensive solution is Importing MBOX to Office 365. This tool is easy to use and is best suited for organizations trying to move their email messages from Thunderbird to Office 365 without using Outlook.
Steps to Import Thunderbird to Office 365

Step 1: Launch Thunderbird to Office 365 migration tool.
Step 2: Import Thunderbird MBOX files via 'Add Files'.
Step 3: Set 'Office 365' as your destination.
Step 4: Map O365 mailbox with Thunderbird mailbox.
Step 5: Click 'Export' to complete the import process.
Some of the remarkable features of this tool are:
It supports Batch migration i.e. this tool can move Thunderbird data to Office 365 in bulk.
It also moves all the deleted emails to MS Office 365 without any complications.
The in-built Date Filter helps users transfer multiple messages by date.
Emails can be transferred with or without Impersonation.
Enables users to maintain a complete folder hierarchy.
Detailed Guide to Showcase the Software Working
It's safe to say that the overall migration process via manual means is too complicated for a normal user. That's why people look for expert guidance or simply seek an external means to get the job done. And nothing is better than this smart automated software that handles the complicated stuff and lets you deal with the
Step 1: Launch the software. Open the Thunderbird to Office 365 migration software, then click the "Add File".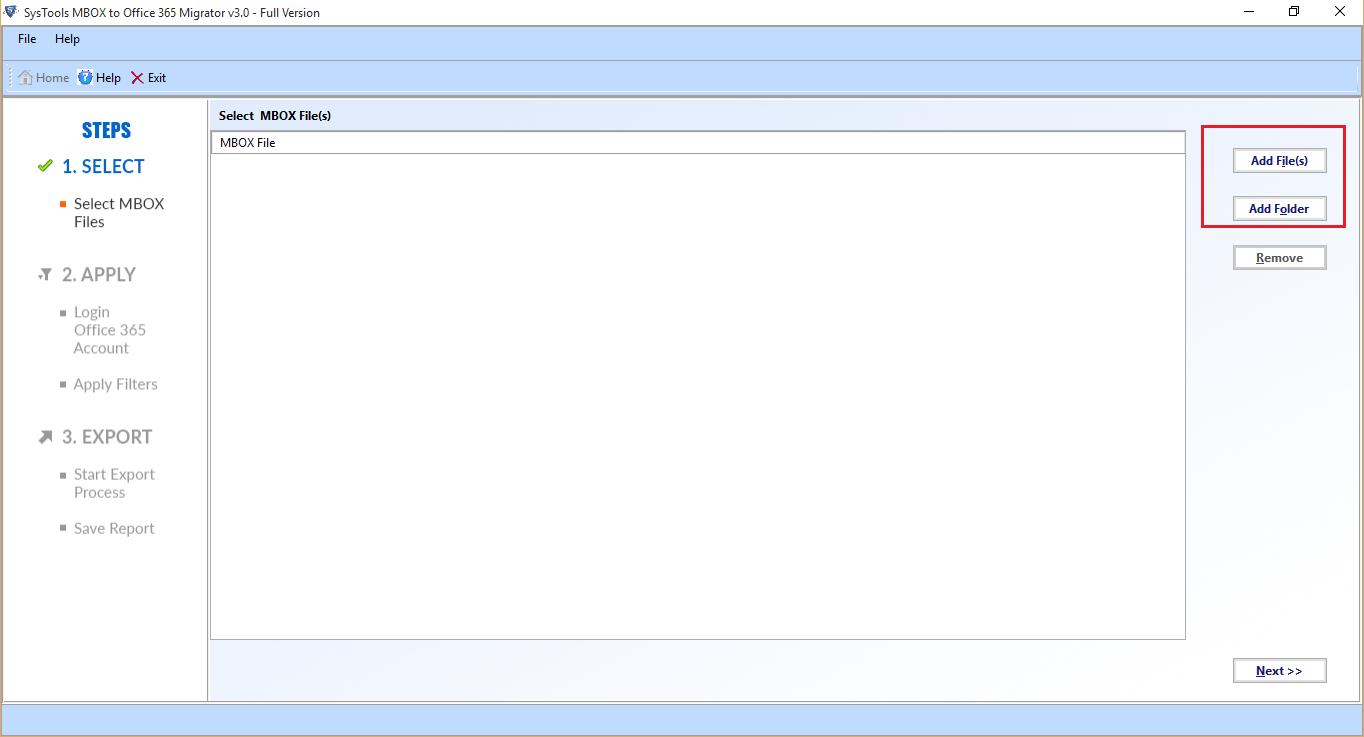 Step 2: Browse the Thunderbird MBOX file. Select the MBOX file that contains all the Thunderbird mailbox data.
Step 3: Select Office 365 account. In the next window, select Office 365 account and choose whether to maintain the on-disk folder hierarchy or not.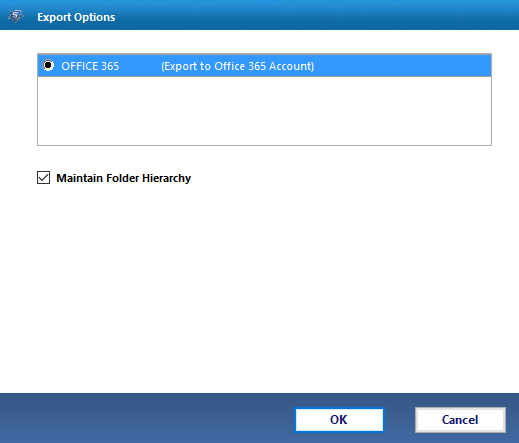 Step 4: Choose from "with Impersonation" & "without Impersonation". There are two options to map the Office 365 account with the added MBOX file(s):
User Impersonation – This requires Admin account access to map MBOX files with multiple Office 365 accounts and migrate them in on ego.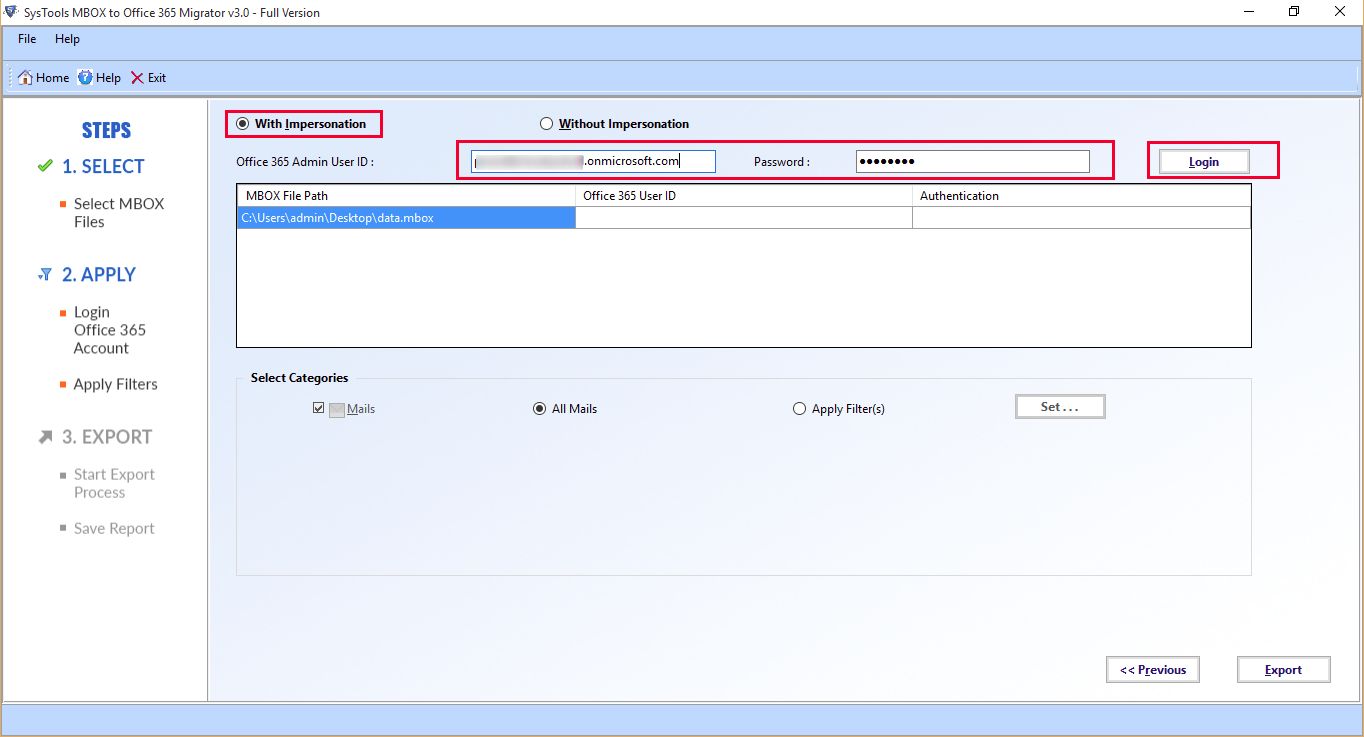 Without Impersonation – This option is for normal Office 365 users and requires only the id and password for one account to transfer all the MBOX data.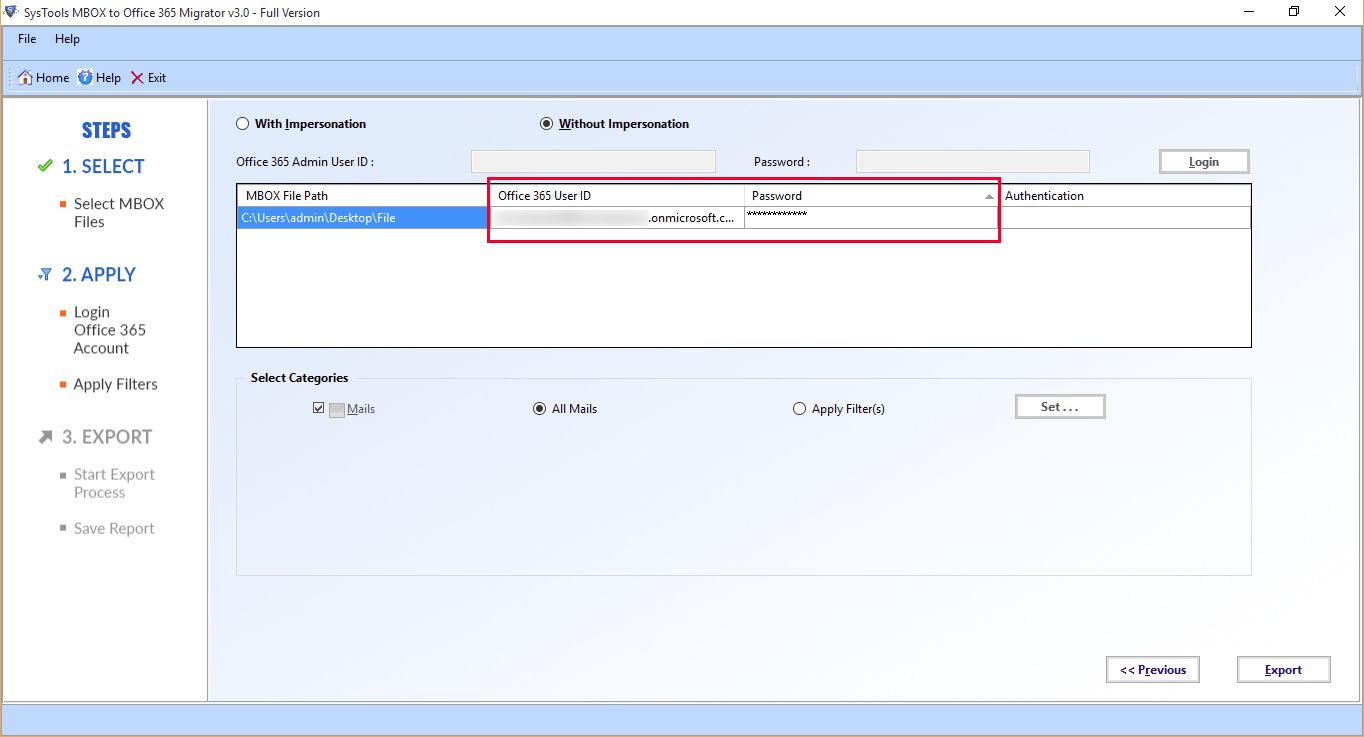 Step 5: Migrate data from Thunderbird to Office 365 account. Finally, click on the Export button to start transferring data from the added Thunderbird mailbox to the Microsoft 365 account(s).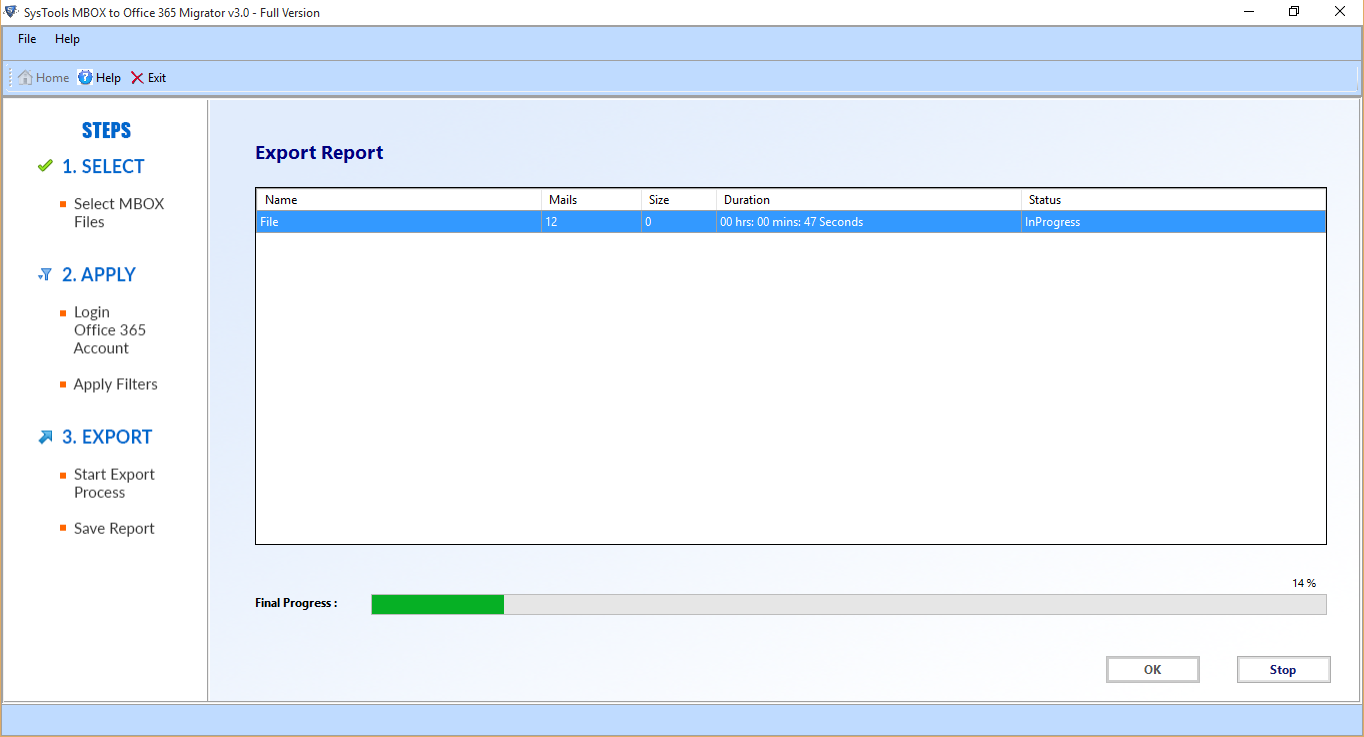 Step 6: Migration is completed successfully. Check the Office 365 account and you will find all the Thunderbird emails in there.
Conclusion
MS Office 365 with its features is making organizations using Thunderbird migrate to the O365 platform for their email purposes. Thus, the task of importing email from Thunderbird to Office 365 has become an important one for these organizations.
The aforementioned manual methods for email transfer are far too complex and unreliable to be implemented for such an important task. However, the provided professional tool approach overshadows those limitations and makes this tedious task much easier for administrators.