Import EML to Outlook 2019, 2016, 2013, 2010 – Verified Solution
EML is a report extension for an electronic message, keep report with inside the MIME RFC 822 format layout through Microsoft Outlook express additionally to many totally different electronic mail programs. Know all about how to import EML to Outlook.
The main purpose for creating an .eml report is to store documents offline and to permit for the forwarding of emails messages and their content. Because EML documents include only text and are formatted similarly to MHT (MIME HTML) documents, they may be opened directly in Internet Explorer, Mozilla Firefox, and Opera by changing the file extension from .eml to .mht.
Outlook provides several techniques for narrowing down what consumers are looking for, whether it is to seek, folders, categories, type of emails in inbox, or search folders etc. Outlook allows you to send and receive email messages, manage your calendar, record contact names and numbers, and monitor your tasks.
Why is it Necessary to Transfer EML Files to Outlook?
MS Outlook is trusted by hundreds of thousands of clients global as a secure and dependable service. It also stores its statistics in a PST document layout. So, in case you need to import EML files to Outlook electronic mail client, then it's obligatory to transform EML into Outlook document layout as it's supported through Outlook.
EML file to outlook export will also improves the dependability of the mail storage.
MS Outlook is a present day organizer with contacts, tasks and calendar. By switching from an old electronic mail client to Outlook, your productiveness will increase. It is a lot more handy to figure with e-mail in Outlook than with individual EML documents moved from the other electronic message program.
We will discuss the manual method and third-party software to export EML to Outlook. As manual method is not user-friendly with naive user and it also a time-consuming though.
Manual Methods for Transferring EML Files to Outlook
These are various manual techniques for converting an eml file to an Outlook file. Follow these steps:
Method 1: Migrate Data Using Windows Live Mail
To begin, install Windows Live Mail in your system and open it
Choose a file tab
Select the email messages from the export menu
Next, select Microsoft Exchange and press the Next button
A notification will appear on the system device informing you that all of your emails have been exported to
Microsoft Outlook
We can choose any option to export our folder based on our preferences
Click the OK button, and then the Finished button. Your EML file to outlook conversion is completed
Method 2: Use Outlook Express to Import EML to Outlook
Open MS Outlook on the system device
Go to the File tab
Just, tap on the Open and Export button
 Within the list, there may be an option to Import/Export
Select the Import Internal Mail and Addresses option
Then, hit the Outlook button and afterwards the Next button
Select the Finish option to import Emails files to Outlook
Method 3: Drag and Drop EML to Outlook Application
Install and open the Microsoft Outlook application
Navigate to the folder containing the EML files and open it
Drag & drop EML files into the inbox folder of the Microsoft Outlook application
If you want to go from one EML file folder to the next, repeat this step
EML files can now be opened and viewed in Outlook
Method 4: – Import EML Files to Outlook Using Software
As we know that the Outlook supports PST file format, but we have EML files. So, first we have to change EML file extension. In this case EmailDoctor EML to PST Converter Tool will help you. This programme also exports in HTML, MSG, MBOX, PDF, and NSF formats. It provides preview email messages in various styles and export all with all attributes, as well as apply a date filter to export Selected EML Files to Outlook.
Introducing Steps to Make EML Files into Outlook Supported Format
Download and Install Software:
Step 1: – Launch the The Software in your system by agreeing Terms&Conditions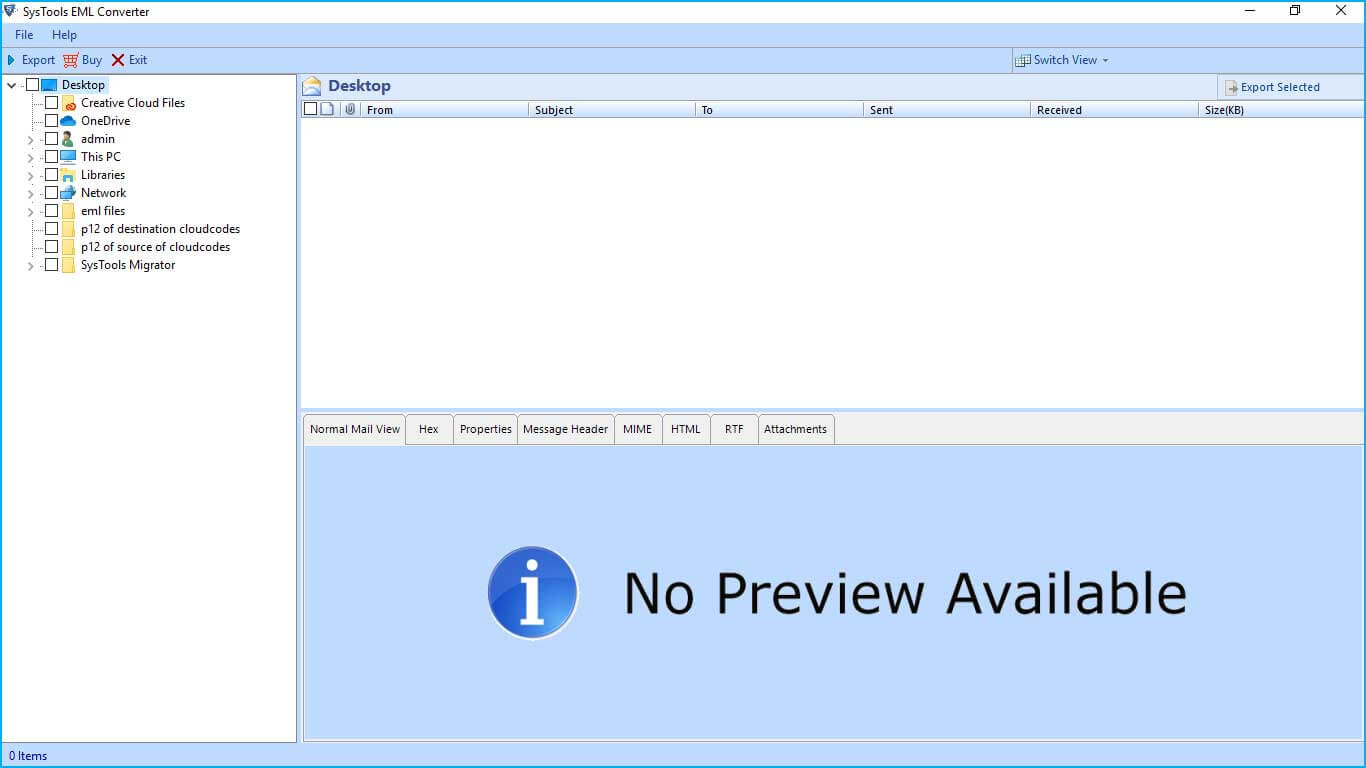 Step 2: – Navigate to the location where EML files are saved by exploring the folders in the left panel of the software window. Choose the folder containing the EML and EMLX files. You can also preview complete data onto different preview modes.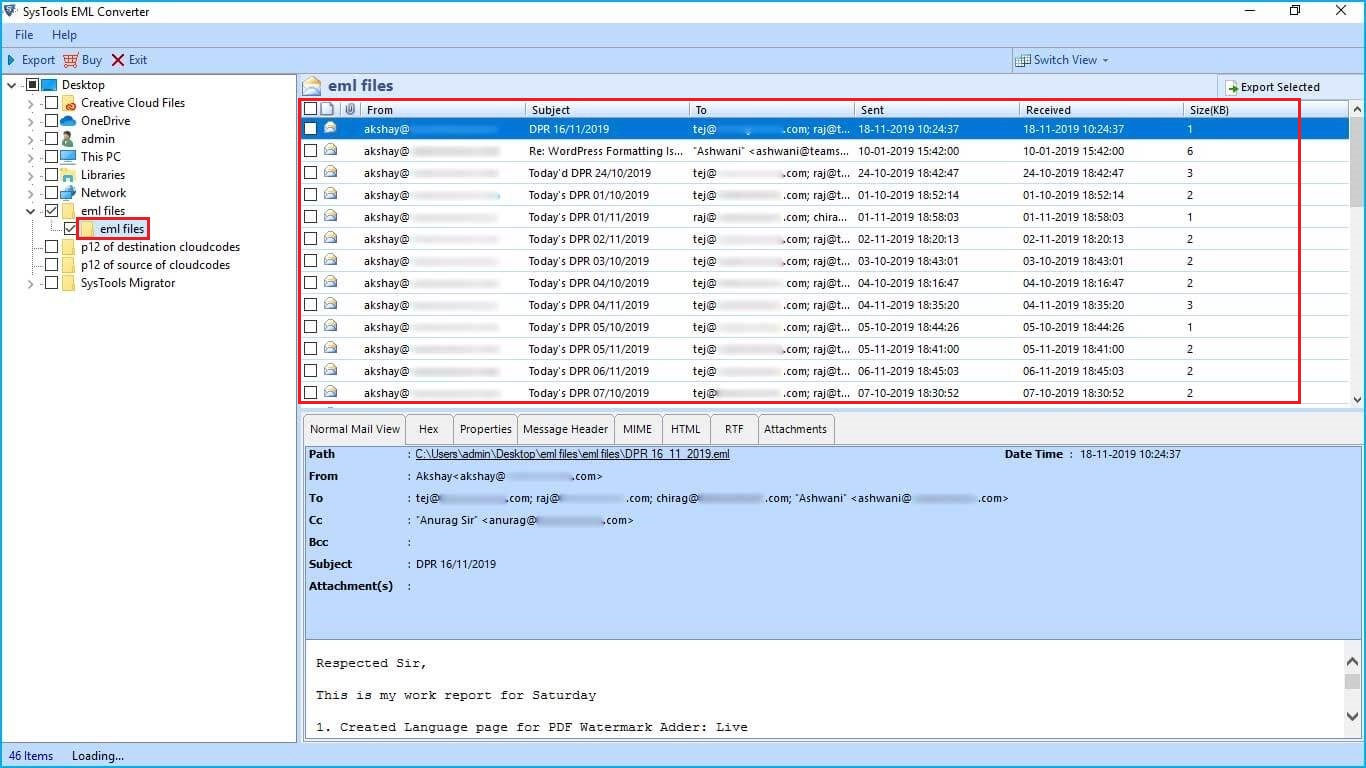 Step 3: – Now, click on the Export option in the menu bar to start EML to Outlook process.
Step 4: – To transfer EML files to Outlook file format, select the PST radio box and then select Advanced Settings. Click on Browse button and then select the New Folder button to store the exported data to a new folder. You can alternatively choose an existing folder. Then press the OK button.
Step 5: – Click on the Export button and your EML files import to Outlook is successfully done.
Step 6: – Now you have PST file, simply launch Microsoft Outlook and import it. Your job completed, enjoy using EML files in Outlook.
Conclusion
This article will completely solve your problems and concern of transfer EML files to Outlook.
Manual approaches, on the other hand, have several severe drawbacks that should make people think hard before utilizing them. As a result, an automatic and error-free solution for importing EML files into Outlook is also recommended.