How to Convert Thunderbird Email to PST Format – 100% Working Methods
'How to export Thunderbird emails to PST for Outlook 2019, 2016, 2013, 2010, 2007, 2003, etc ?' is a common query among Thunderbird users irrespective of their profession or requirements. And here in this blog, you will get 100% working methods to export Thunderbird to Outlook PST files.
Quick Solution for Thunderbird to PST Conversion
Use the expert suggested utility to complete the complete data migration:

Step 1: Download Thunderbird to Outlook Converter.
Step 2: Browse Thunderbird mailbox and preview data.
Step 3: Select "PST" and select detination location.
Step 4: Click "Start" to convert Thunderbird to PST.
Most of the users that require Thunderbird migration solutions are first-time users. The probability of a user looking to convert Thunderbird file to PST is very low if he/she has already performed the conversion beforehand. With the exception that the previous method was incompetent and resulted in the loss of data. Exporting Thunderbird mailbox to Outlook PST can be rough if you are a new user. With little to no experience in judging the quality and performance of the methods claiming to convert Thunderbird mail to PST, loss of time, effort & data is guaranteed.
After filtering out the five to six available methods, you get the best possible solutions to convert Thunderbird to Outlook PST.
Understanding the Concept of Mozilla Thunderbird Data Files
Being a desktop email client, Mozilla Thunderbird has a storage file format that it uses to save all the emails along with attachments. As a Thunderbird user, you probably know about MBOX files that store the mailboxes of Thunderbird. But there are users that work with Maildir files also. The difference between MBOX and Maildir is that MBOX stores Thunderbird data as files per mailbox (example: Inbox, Drafts, etc.). On the other hand Maildir stores data in a single file per message, i.e., one Maildir file is created for each email.
Click on one of the given options to jump to your required section:

Way to Export Thunderbird Emails to PST for (MBOX Files)
The method that works almost every time, provided that the users are willing to opt for it, is by using the IMAP method. For this process, we will first configure an email account in both Thunderbird and MS Outlook and then proceed with the conversion from Thunderbird to PST file.
Since the most used web email service is Gmail, we will define the complete steps with screenshots below:
I. First enable the IMAP option in Gmail Settings:
In your Gmail account, click on the 'Gear' icon, and select 'Settings'.
Go to the 'Forwarding and POP/IMAP' tab and choose the radio button corresponding to the 'Enable IMAP' option.
Click on 'Save Changes' and log out of the account.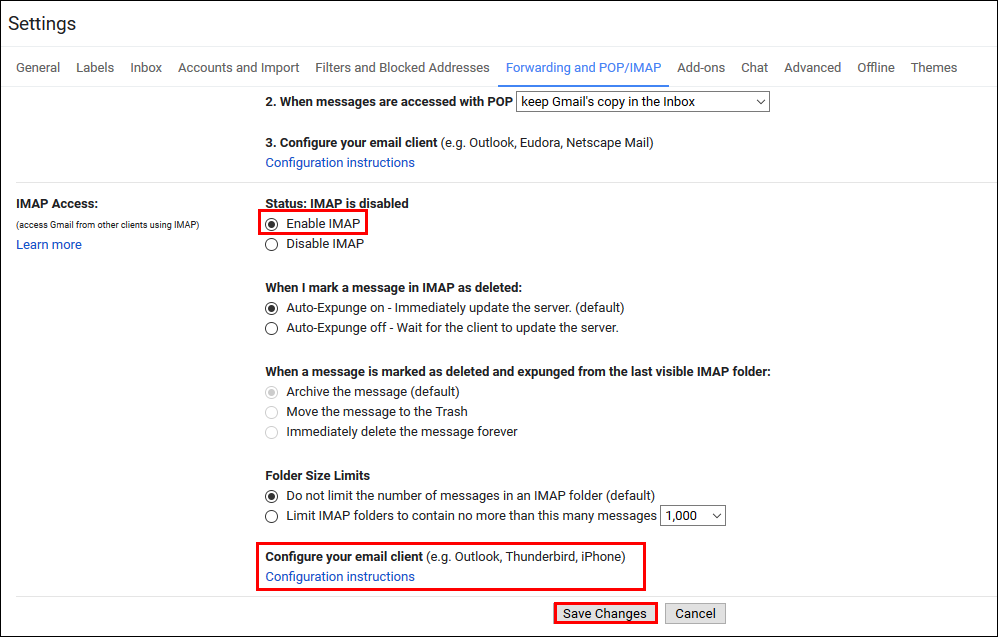 II. Now, you need to configure this email account in Mozilla Thunderbird.
Run Thunderbird and follow the steps:
Go to 'Tools' > 'Account Settings' and select 'Account Actions' > 'Add Mail account'.
Enter your name, email account address, and password in the designated sections.
Click on 'Continue', choose 'IMAP', and click on 'Done'.
Now, you can click on the mailbox folder that appears on the Thunderbird interface to access your new email account.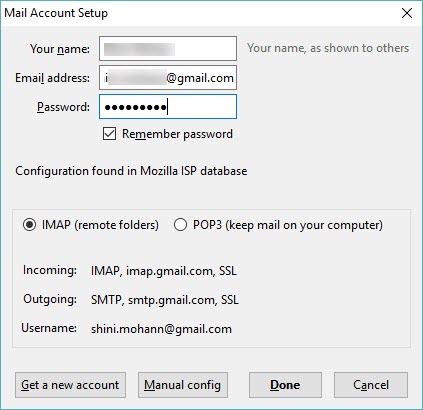 III. The Third Step
It requires you to transfer the emails that you need to convert from Thunderbird to PST into the Gmail Inbox. Simple drag and drop the messages into the Gmail folder or select and use the copy/move option of Thunderbird.
IV. Accessing the Same Email Account in Microsoft Outlook
In order to export Thunderbird to PST, you need to access the Thunderbird data via the same email account in MS Outlook. Use the following steps to do so:
Run Outlook, go to 'File' > 'Add Account' > 'Manual Setup' > 'Next'.
Choose 'POP or IMAP' > 'Next'.
Enter details as shown in the screenshot below: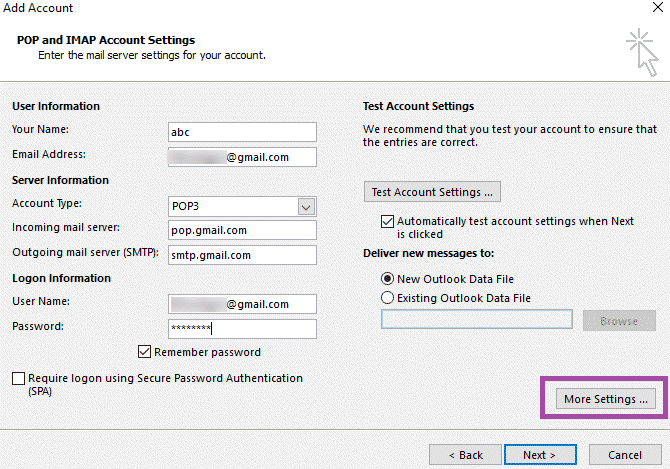 Now click on 'Advance Settings' and mark the first option in the 'Outgoing Server' tab.
In the 'Advanced tab set port numbers as 993/995 and 465/587 respectively.
Click on 'Ok' and 'Test Settings'. Click on 'Next' when every detail is verified.
You will have all your emails in Outlook. You can also export Thunderbird emails to PST with the native Import/Export option of MS Outlook.
Hassle-Free Method to Convert Thunderbird Mailbox to PST
It is clear that the manual approach is quite stressful and lengthy. You also require a fair amount of technical guidance as well as access to both email clients. This task in itself is time-consuming and impractical for most users. Thus, it is recommended to opt for a hassle-free tool such as EmailDoctor MBOX to PST Converter. This software can convert Thunderbird emails to PST without the requirement of MS Outlook. It provides an efficient mechanism that allows both batch and selective conversion to its user.
Before going through the steps of Thunderbird file conversion using software, take a look at the following infographic:
Here's how to export Thunderbird into PST without Outlook:
Launch EmailDoctor Export tool to start Thunderbird export process.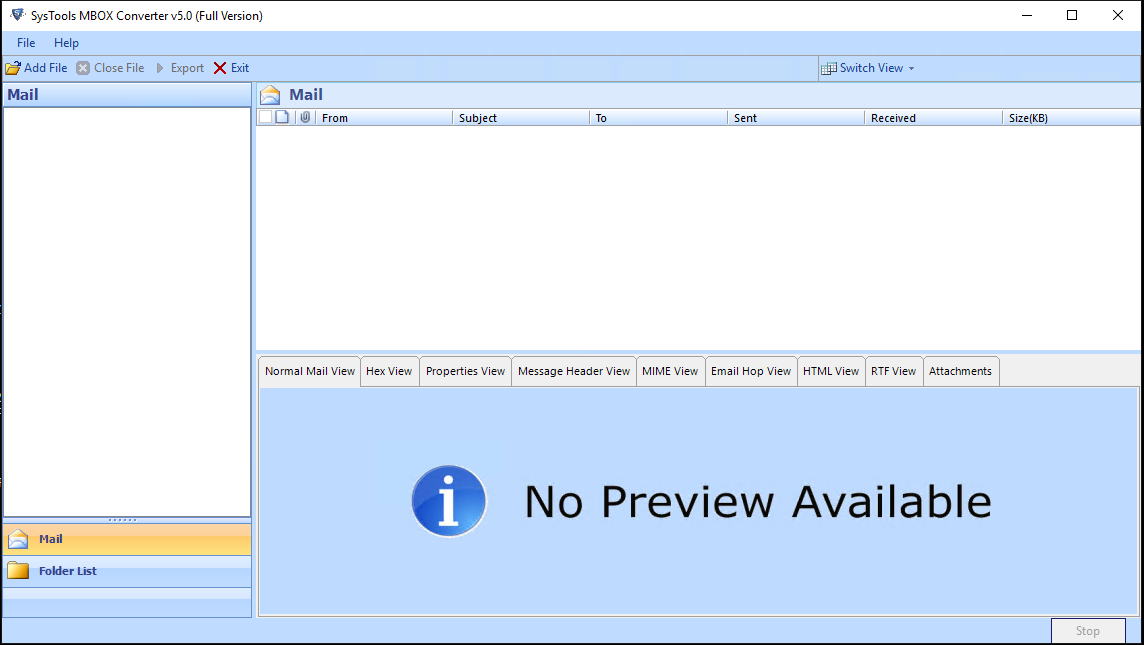 Click on 'Add File' button on the Thunderbird to PST software.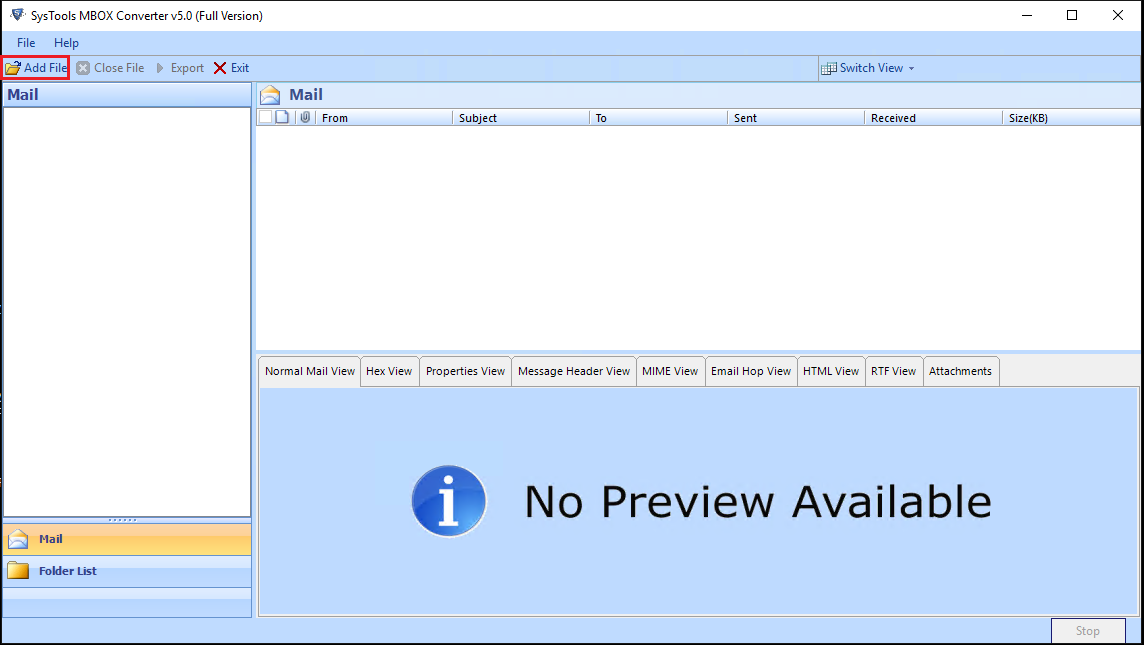 Click on 'Thunderbird' and select desired option to export Thunderbird mailbox files.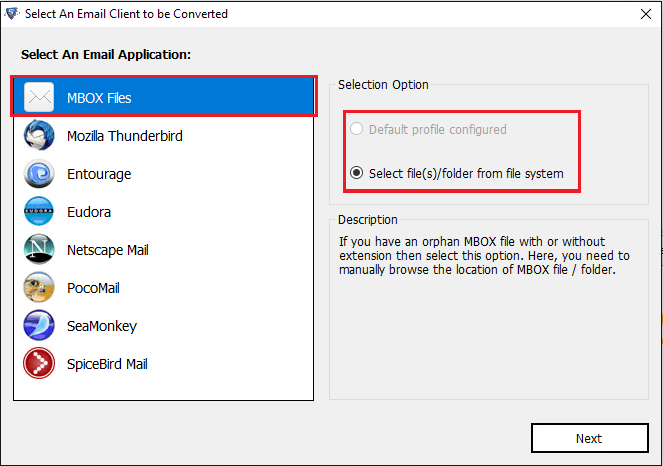 Choose 'Default Profile option' to auto-fetch Thunderbird database.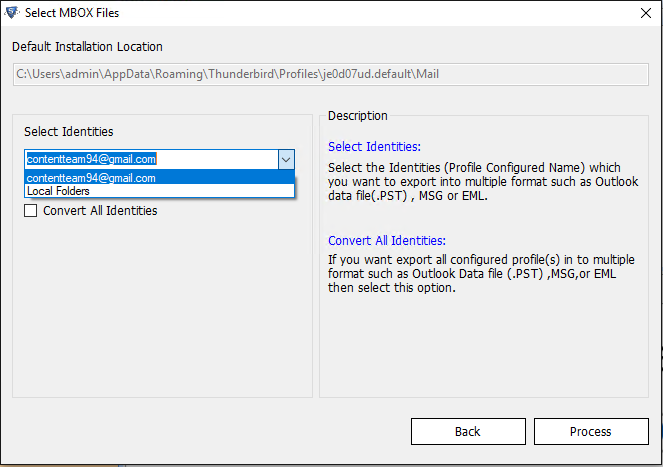 Alternatively, use 'Select File/Folder' option to add the Thunderbird mailbox.

Preview the emails on the tool's interface. Click 'Export' button to continue the Thunderbird to PST conversion process.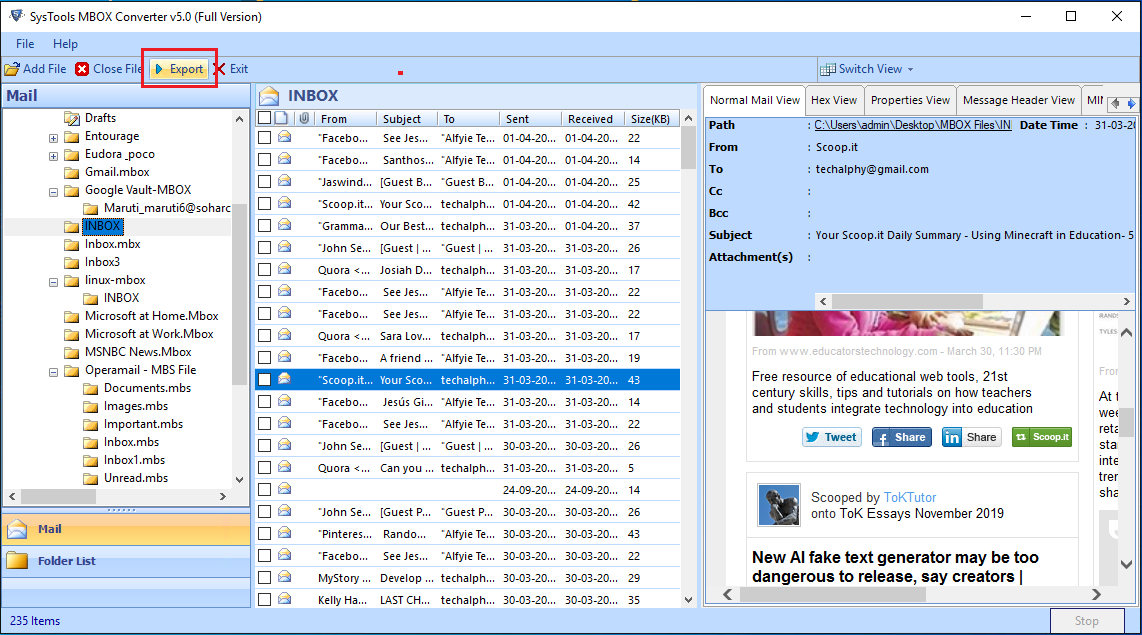 For selective conversion, mark the email checkboxes and right-click to Export them.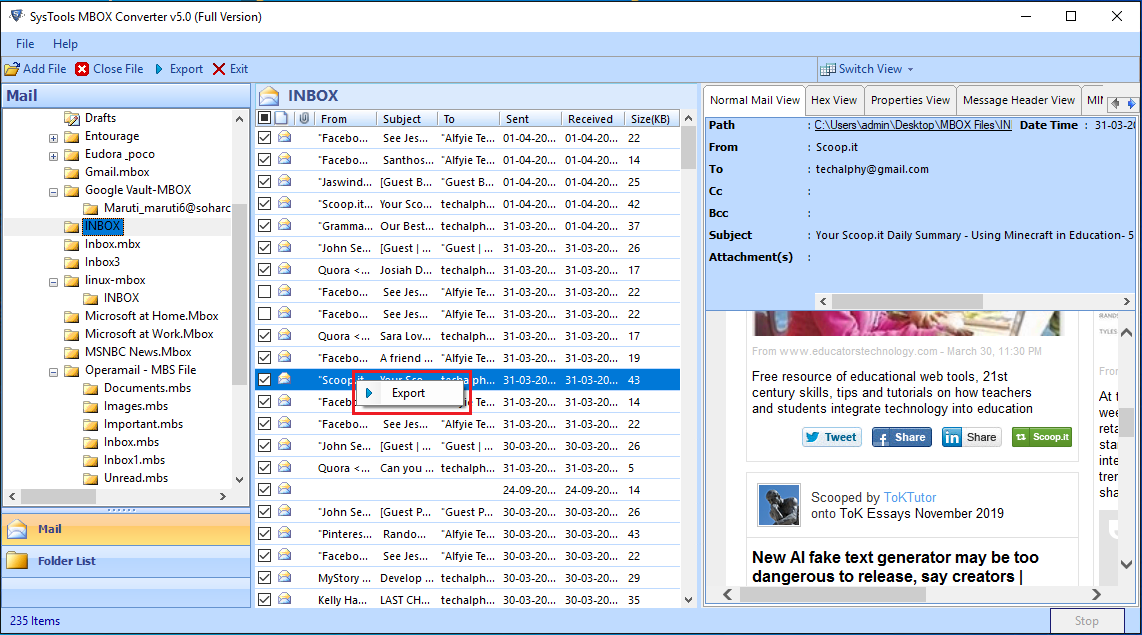 Select the relevant options such as 'PST', 'Split PST', etc.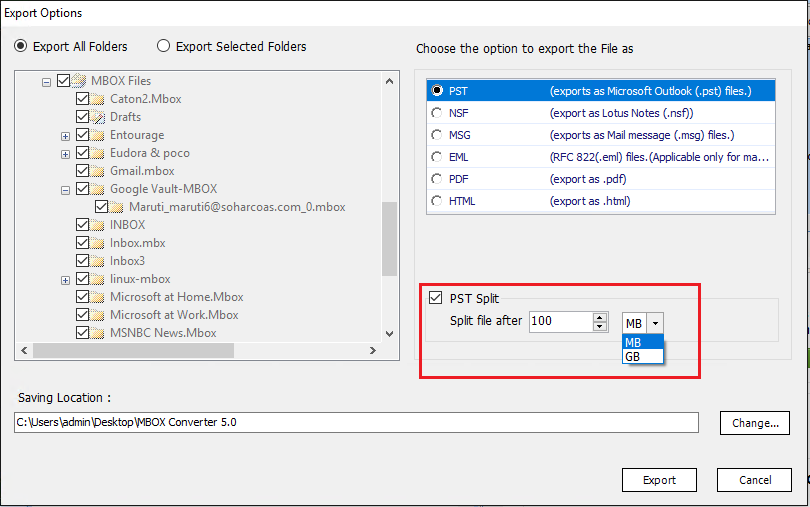 Click on 'Export' button to start converting Thunderbird emails to PST format. Here view the Thunderbird to PST conversion progress report.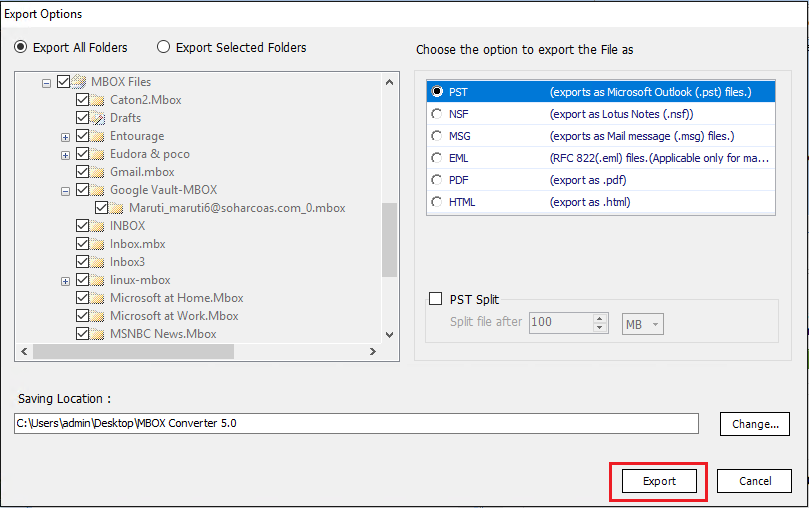 This is how you can easily export all your Thunderbird mailbox data into Outlook PST format. This data is now easily accessible in Outlook 2019, 2016, 2013, etc.
Migrate Thunderbird Emails to PST (for Maildir)
When it comes to Maildir files, no manual method can transfer them to Outlook PST format. Your immediate requirement is conversion software. You may not find many result-oriented tools. That's why we have included the best tool to transfer Thunderbird Maildir to PST. Click on the Download button to download the free demo version of the software for free.
This free version exports 25 emails/folder which is enough to test the efficiency and performance of the software.
Observational Verdict
With every launch and update of email clients, the cycle of email migration takes a new turn. Everyone seeks the best possible application for personal or professional use. And MS Outlook provides them with the most benefits. If you are also among these seekers who wish to export Thunderbird emails to PST format, then you now have the 100% working solution to do so. Simply try the free manual method or opt for the best Thunderbird to PST tool and access all your Thunderbird files in Outlook 2019, 2016, 2013, 2010 & 2007.