How to Fix Corrupted Files on an USB Drive – Automated Solution
Summary: Is your USB Flash Drive corrupted and suddenly become unreadable. Just read this article – Here, we provide a detailed guide on how to recover corrupted files from USB flash drive windows 7 and how to avoid files being corrupted in the future.
USB Flash Drives are the widely used storage drive due to their portability, smaller size, and huge data storage capacity. This drive stores all the data in its memory cells and keeps the track of it through a file system. When you connect a USB drive to the computer, the operating system uses the file system of the drive to fetch the data stored in it.
However, sometimes it shows an error when connecting it to the computer i.e. "The file is corrupt and cannot be opened". This happens when the file in the USB drive gets corrupt. There are numerous reasons that lead to file corruption and can occur at any point in time as corruption is always uninvited.
Let's get started with some factors that are responsible for corruption:
How Did The Files Get Corrupt?
Below are the most common scenarios which may result in corrupted files.
Sudden power outage due to a low battery charge.
Computer crashes when you are saving your files.
If the storage device has some bad sectors.
Presence of malware and viruses on your external storage device.
A bad update or unexpected computer shutdown.
Physical damage to the device
Improperly plug out the drive from the USB port
It doesn't matter whatever the reason for corruption is if you are trouble by files corruption but finding no way to recover lost data from USB Flash Drive, then do not need to worry, there is a simple solution to fix corrupted files on USB flash drive with great ease.
Before Going to the Solution Part Let's Understand the User's Query
"Hi, I have some important files and photos in my USB drive, when I tried to open I could not open them because they all get corrupted and showing an error message- "The file is corrupted and cannot be opened". Please help me to recover files from pen drive which is not visible, I really need my files back. Thank you."
Let's Explore Further to Resolve Such User Queries
Now, there is a simple and effective procedure that you can follow to know how to recover corrupted files from USB flash drive Windows 7 with USB Recovery software you can easily recover deleted pdf files from pen drive without any data loss. In fact, this software not only helps you to recover formatted files from USB flash drive, but it also helps you to recover data lost via any other means, such as accidental deletion, formatting, and virus attack, etc.
It is one of the best and most reliable software that is capable to recover exFAT, FAT, NTFS formatted external storage drives, and supports all brands of USB Flash Drives like Sandisk, Sony, and Samsung, etc. Moreover, the software is compatible with all versions of the Windows Operating System. It has the ability to recover deleted PST files from pen drive in a few simple clicks. Additionally, the software is integrated with a lot of amazing features. Some of them are mentioned below:
Recover and Restore videos, images, PST files, documents, etc.
Preview the recovered data with associated attributes.
Fix data from USB Flash Drive, USB key, and SD Card.
Filter-Based Advanced Search Option to search within the recovered results.
Provides a Refresh button to view the newly attached pen drive.
Support to recover permanently deleted data from pen drive.
Provides the option to save either selected files or complete files after recovery.
Highlighted permanently deleted files Red color.
Simple Steps to Recover Corrupted Files from USB Flash Drive
Step 1: Download & Run USB Recovery Software
Step 2: Select the "Scan" option to recover Deleted or Corrupted data.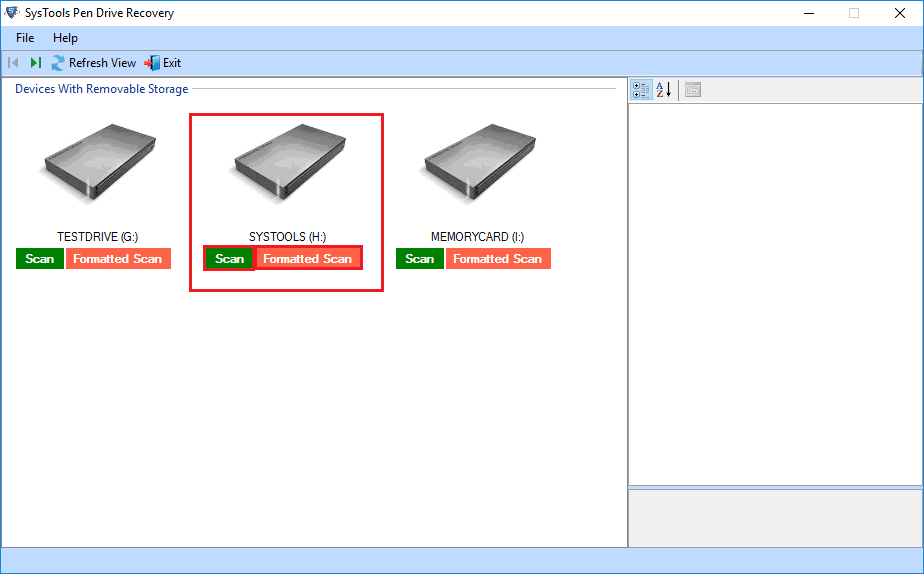 Step 3: Preview recovered deleted data from USB Drive. The software will highlight the deleted data in red color.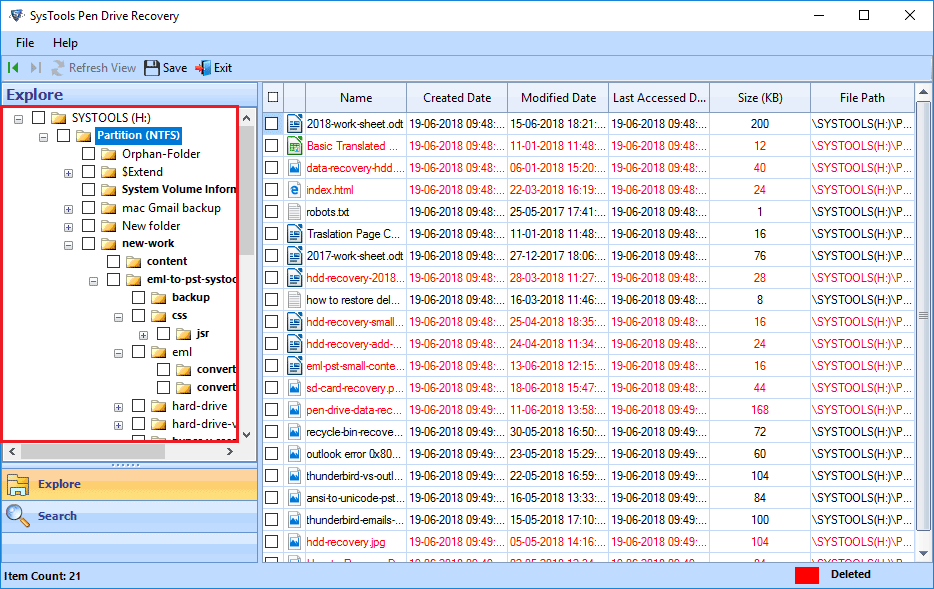 Step 4: Click on "Save" to restore data at any desired location.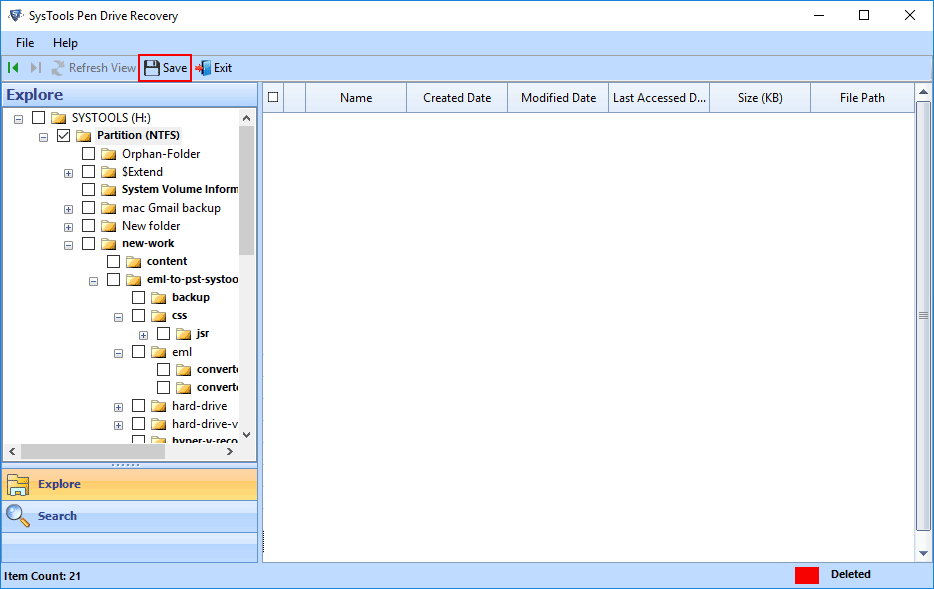 Step 5. After the completion of export the process, the software will display the Export Completed Successfully message. Simply hit on the OK button.
That's it, you are done! This is how you can use this utility to recover files from corrupted USB Flash Drives.
Let's Begin with the Tips that Prevent your Drive from the Corruption
Remove USB Drive carefully. Use the "safely remove & Eject media" option to remove USB Flash drive instead of just pulling it out.
Do not drop USB Drive otherwise, it will be subjected to physical damage, and data in it will get compromised.
Cap the Drive off when not in use.
The excessive number of bad sectors on the drive leads to drive failure.
Always eject the External storage drive when data transfer is complete. If ejection did during transfer, it leads to a corrupted file.
Wrapping Up
Using flash drives like pen drives, SD card, memory card, etc. have become so common today. But, sometimes it happens due to some unexpected reasons that your flash drives might get corrupted and data stored in them become inaccessible. It will be a very frustrating situation for the users, but with the above-mentioned solution, you can easily fix corrupted files on a USB drive, and any storage drives very quickly. Also, all other USB errors will get fixed with this software. You can start with the Demo version of the application. If it satisfies your requirement then you can switch to the paid version to unlock some advanced features of the software.