How to Fill Out Non-Fillable PDF Forms
It seems you have encountered a non-fillable PDF form. While it might seem challenging at first glance, filling out a PDF form that is not fillable is actually a simple process. Dive into the article to discover effective techniques to navigate this common hurdle.
Table of Contents:
Why Can't I Fill in a Fillable Field in PDF?
The main reason for a PDF form not being filled out is that it is password protected. In this case, there is an owner password (permission password) that restricts filling out form fields. Once removed, users will be able to fill out the form.
Users can check this by going to File > Properties > Security.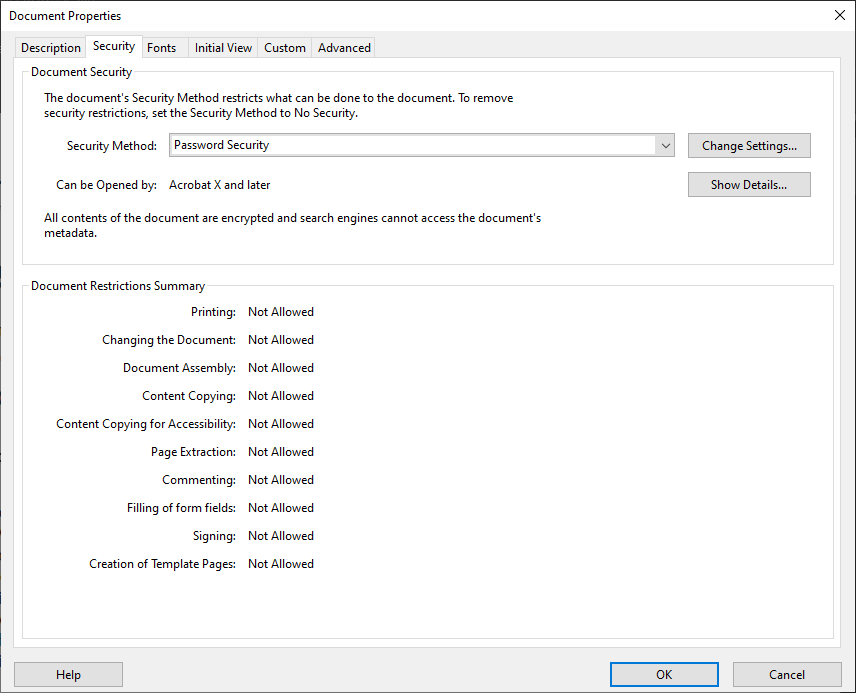 If it is Not Allowed, then use the methods described in Part 1to remove the PDF permissions.
If it is Allowed, and still there are problems with PDF forms. In this case, use the methods described in Part 2to make them fillable.
How to Fill Out a PDF Form That is Not Fillable [Not Allowed]
When Filling of form fields is Not allowed in the PDF, then users can use the following methods to bypass restrictions and fill out the form. Do note that the permissions of the PDF are restricted using an owner password (permission password).
Use Adobe Acrobat Pro DC if you know the password.
Use a Professional Tool if you do not know the password.
1st Method – Adobe Acrobat Pro DC (Password Required)
Open Adobe Acrobat Pro DC and open the PDF form in it.
Go to File > Properties > Securityand check if filling form field is not allowed.
Click on the Security method dropdown and choose No Security.
Then, enter the owner password and click OK.
Once done, close the dialog box with the OK button.
Finally, save the PDF file with Ctrl+S.
Now, you can fill out the PDF form that was not fillable.
2nd Method – Professional Approach (No Need for Password)
The most reliable professional approach to fill out a PDF form that is not fillable is using PDF Password Remover. It is a powerful and easy-to-use software that can remove owner restrictions from PDF files without any password.
This software is also available in a free trial version. Do give it a try to see if it can help in your case. Only when it is helpful, you can go for the paid version.
Download, install, and run the product on your computer.

Click on Add Filesand select the PDF file with forms.

Now, click on the Unlockbutton.

Once the process is done, check the properties of the PDF file to see if Filling of form fields is allowed.

How to Fill Out a PDF Form That is Not Fillable [Allowed]
Non-fillable PDF files can be a tad frustrating. Especially when users are pressed for time. Fortunately, turning them into editable documents is easy with the right tools.
Here are three methods to make PDF forms fillable when there are no restrictions on the PDF file.
1st Method – Using Adobe Acrobat Pro DC
Here is the process to fill out a PDF form that is not fillable using Adobe Acrobat Pro DC:
Open your non-fillable PDF form in Adobe Acrobat Pro DC.
Click on the Tools option at the top.
Select Prepare Form.
Click on Start and Adobe will automatically try to detect form fields. If it misses any, manually add text fields using the toolbar.
Once all fields are set, save the document.
You can now fill out the form by clicking on the fields you've added.
2nd Method – Convert PDF to Word
Another way to fill out a PDF form is to convert the PDF file to Word:
Use online tools like Smallpdf or Adobe's own conversion tool.
Once converted, open the Word document.
Fill in your details as needed.
Save the filled-out form.
Convert it back to PDF using Word's Save Asfunction or the aforementioned online tools.
3rd Method – Use PDF Annotation Tools
Users can also fill out a PDF form using PDF annotation tools.
Open the PDF in a reader that offers annotation tools, such as Adobe Reader or Foxit Reader.
Use the Comment or Annotate toolsto add text boxes or notes.
Position these text boxes over the areas you want to fill.
Type in your information.
Save the modified PDF once complete.
Final Thoughts
Non-fillable PDF forms are a pain for users and businesses alike. The problem is that most PDF forms are restricted to fillable fields. If users cannot fill out a PDF form that is not fillable, they can use one of the above methods. Whether the form filling is restricted or not, this article provides ways to deal with the problem. So, choose the one that works best for you and fill out PDF forms with ease.
FAQs
Q – Why are some PDF forms non-fillable?
Sometimes, creators restrict form filling either intentionally or unintentionally. The reason could be that they want to protect the form from being filled out by unauthorized users.
Q – Is converting a PDF to Word and back a safe method?
If the PDF has multimedia elements, then-No. For simple PDF forms, the conversion process is safe. But make sure to keep the original PDF file safe as well.
Q – Do annotated texts on PDF look professional?
Annotation texts on PDF serve their purpose as long as they are done well. But, for a more professional look, using Adobe Acrobat Pro to create form fields is a better option.