Convert OLM to PST Step by Step – Free Methods
Are you trying to convert OLM to PST files? Read the free method to convert OLM files to PST format manually step by step using this safe method.
Microsoft Outlook is among the most popular email applications to manage multiple webmail accounts in a centralized structure. It comes as a part of the widely-used Office suite. Hence, many organizations adopt Outlook as the default email client due to its familiarity and ease of work.
However, Outlook itself comes for both Mac & Windows. So, when an organization or individual switches from Mac to Windows, the application also switches from Outlook for Mac to Outlook for Windows. Therefore, it becomes necessary to convert OLM to PST free format in order to access the Outlook for Mac email application in its Windows counterpart.
Let's move ahead to understand why it is necessary to do so.
Topics Covered In This Blog:
All About OLM & PST File Format
Before we learn to convert OLM to PST, it's important to know about these file formats. Microsoft Outlook is available for Windows and Mac Operating systems. While Outlook for Mac works with OLM format, the Outlook for Windows email client deals with OST & PST format.
OLM files store emails, contacts, calendars, tasks, notes, and journals in Outlook for Mac email clients. It is only used by Mac Outlook and cannot be opened with the Windows version.
On the other hand, PST (Personal Storage Table) also contains email messages and other mailbox items and is saved on the computer. POP accounts download the mailboxes from the mail server and store them on the computer in .pst file format.
Table Comparison – OLM vs PST
| | | |
| --- | --- | --- |
| Comparison Parameters | OLM | PST |
| Abbreviation | Outlook for Mac data file | Personal Storage Table |
| Support | Supported by Outlook for Mac | Supported by both Mac & Windows Outlook |
| Creation | It is created by users manually to store Outlook for Mac data. | It is created automatically when using POP protocol as well as manually with Import/Export option. |
| Storage | OLM file contains data of an entire account mailbox in itself. | PST file can have the entire data as well as selective folders. |
| Options in Outlook Mac | Outlook for Mac has built-in option to import and export OLM file. | Outlook for Mac has built-in option to import PST file. |
| Options in Outlook Windows | Outlook for Windows has no built-in options for OLM file. | Outlook for Windows has built-in option to import and export PST file. |
Why Users Need to Convert OLM to PST File Format
Following are some reasons which are going to describe the reasons behind converting OLM files into PST format:
When Outlook users switch from Mac to Windows: When a user switches from Mac to Windows but wants to keep using the Microsoft Outlook application, he/she needs to import OLM file to Windows Outlook. And to do that, one must execute this conversion of the OLM files to PST format first.
Access orphan OLM files: If the user wants to access the data of an orphan file i.e., an OLM file not connected with the Outlook application anymore, in the Windows system.
Sharing OLM data in a compatible format: Sometimes, an Outlook user receives OLM files from others and needs to open OLM files on his Windows system. Also, there are situations where the user needs to provide other people with PST files, but he himself has OLM files.
How to Convert OLM to PST For Free
Open Microsoft Outlook on your system.
Set up a 'new email account' in Outlook for Mac.
Import the OLM file and transfer its emails to the new account.
Set up the 'same email account' in Windows Outlook.
Convert OLM file to PST format from Outlook.
There are several methods to convert OLM files into PST format manually. However, all of them work on the same framework i.e., email account configuration to move the mailbox data. Given above is the shortest and most practical solution.
Let's take a look at all four steps to convert OLM emails into PST file format one-by-one:
Step 1: Set up a New Email Account in Outlook for Mac
Create a new Gmail account and open it on your web browser to convert OLM to PST format.
Go to its Settings and Enable IMAP option in the Forwarding & POP/IMAP tab. Then, Save the changes.
Open Outlook for Mac, then go to Preferences and select Accounts.
Click on the plus (+) sign, select New Account, and enter the Gmail email address here.

After that, enter the password and hit the Add Account button.

In the Set up your Email window that appears, click on Continue.

Then, a message will appear 'your browser has been opened. Please sign in and come back when you're done. Here click on the Sign in to Google button.

After re-entering the credentials and verifying the details, click on the Allow button to confirm the configuration process.

A confirmation box will appear. Here, click on the Open Microsoft Outlook button to proceed.

At last, hit the Done button and the email account is successfully configured.

Step 2: Import the OLM file & Move Its Emails to the New Account
The second step to convert OLM to PST requires you to import the OLM file in the application that contains the newly configured account. Then, move the data from the OLM file into this configured account mailbox. After that, let the data synchronize with the mail server.
Step 3: Set up the Same Email Account in Windows Outlook
Now, launch Windows Outlook and go to File, then Add Account.

After that, enter the Gmail email address and click the Connect button to proceed.

The application will open the browser to sign in to the Google account and confirm the credentials. Re-enter the account details here and click the Sign in button.

Once done successfully, click the Allow button to close the browser and go back to the Outlook application.

At last, click the Done button once the account is added successfully.

Step 4: Lastly, Export OLM File to PST Format
Open File menu, then select Open & Export, then click on Import/Export to export emails to PST.

Select Export to a file in the Import & Export Wizard window and then click on the Next button.

Select Outlook Data File (.pst) in the Export to a file window, then click on the Next button.

Now, make sure to select the mailbox of the newly configured account that contains the OLM emails, then click on the Next button.

At last, browse the location to save the PST file and click on the Finish button.

With this, you have successfully converted OLM to PST format using the above steps.
Limitations When You Convert OLM to PST Manually
Application Dependent Approach: This conversion requires multiple applications for its execution. Hence, it is impossible to work with this method if any of the Microsoft Outlook email clients are missing.
High Risk of Losing Data Midway: When moving emails from one account to another, there are chances of data loss. Any manual error can lead to losing emails and other mailbox items permanently.
Indirect Approach: The manual method to convert Mac OLM to PST is more of a trick than an actual method. After all, it involves the usage of two applications and the transfer of emails between them. Lacking any step will result in data loss.
Only Applicable for Emails: This free method is only applicable to moving emails and does not take other mailbox items like contacts, calendars, tasks, and notes into consideration.
Best Way to Execute OLM to PST Conversion
OLM to PST Converter is one of the best approaches to convert Mac Outlook OLM into PST for Outlook 2019, 2016, 2013, 2010, 2007 & 2003. This software supports the OLM files of all versions without any issues. Evidently, it is a convenient software that does not require Outlook installation to convert OLM to PST files in a matter of clicks.
It's actually very easy to convert OLM files to PST format if the user opts for a professional solution. If you are looking for a powerful converter tool, you can skip the manual process and opt for the professional tool.
How to Convert OLM File to PST Quickly:
Step 1: Download OLM to PST Converter.
Step 2: Browse the OLM mailbox and preview data.
Step 3: Select "PST" and select destination location.
Step 4: Click "Start" to convert OLM to PST.
The working of the software is as follows:
1. Launch the OLM Converter software and use the Add File option to upload the OLM files.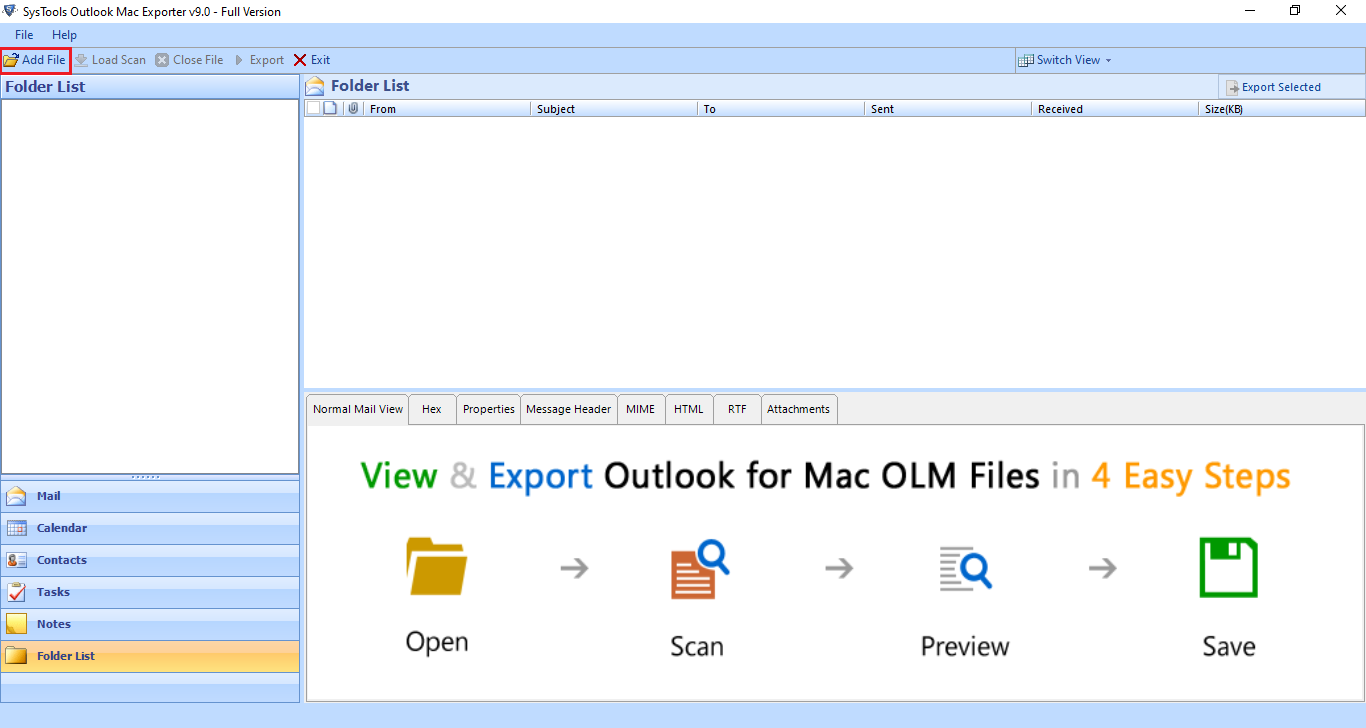 2. Click on the Browse (…) button to select and add the Mac OLM file from the local system. Then, click on the Add File button to proceed.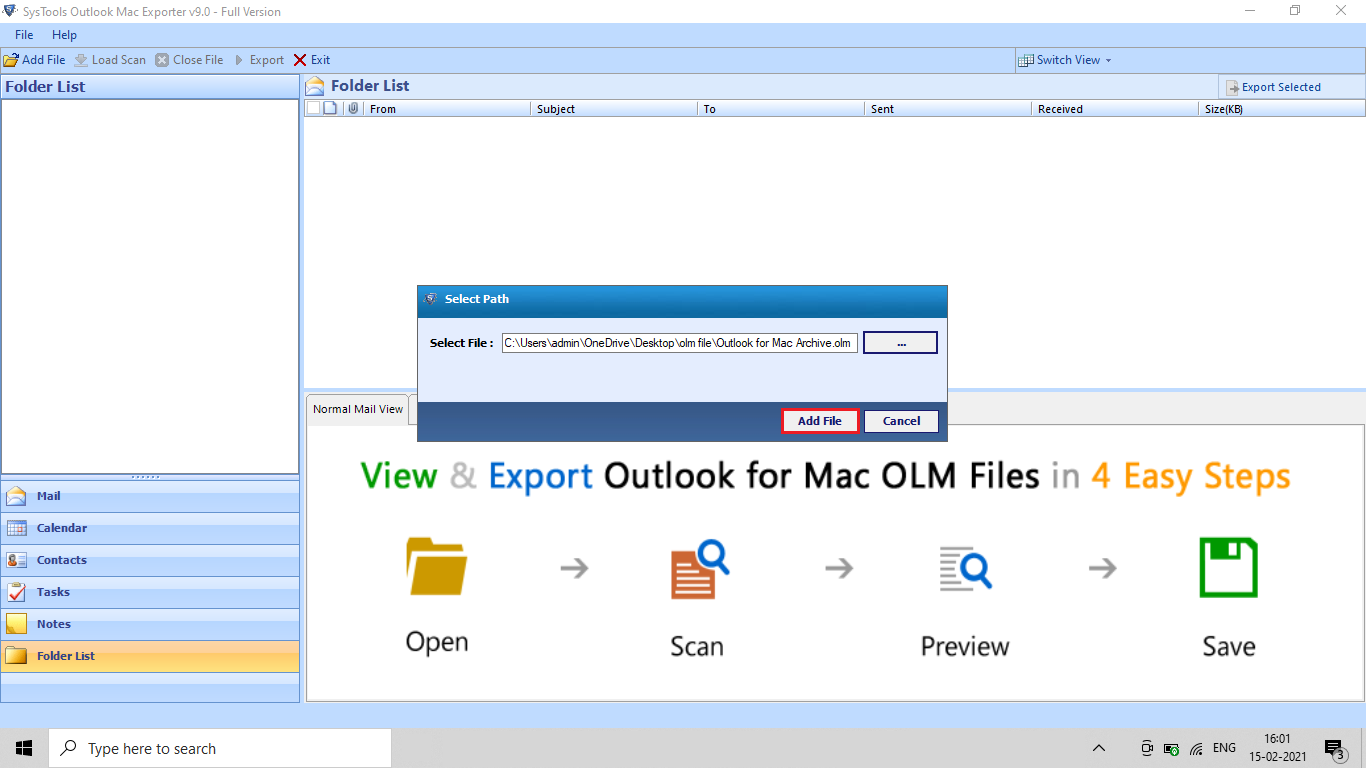 3. After selecting the OLM file, the software scans the OLM file renders the preview of the email messages in eight different view modes.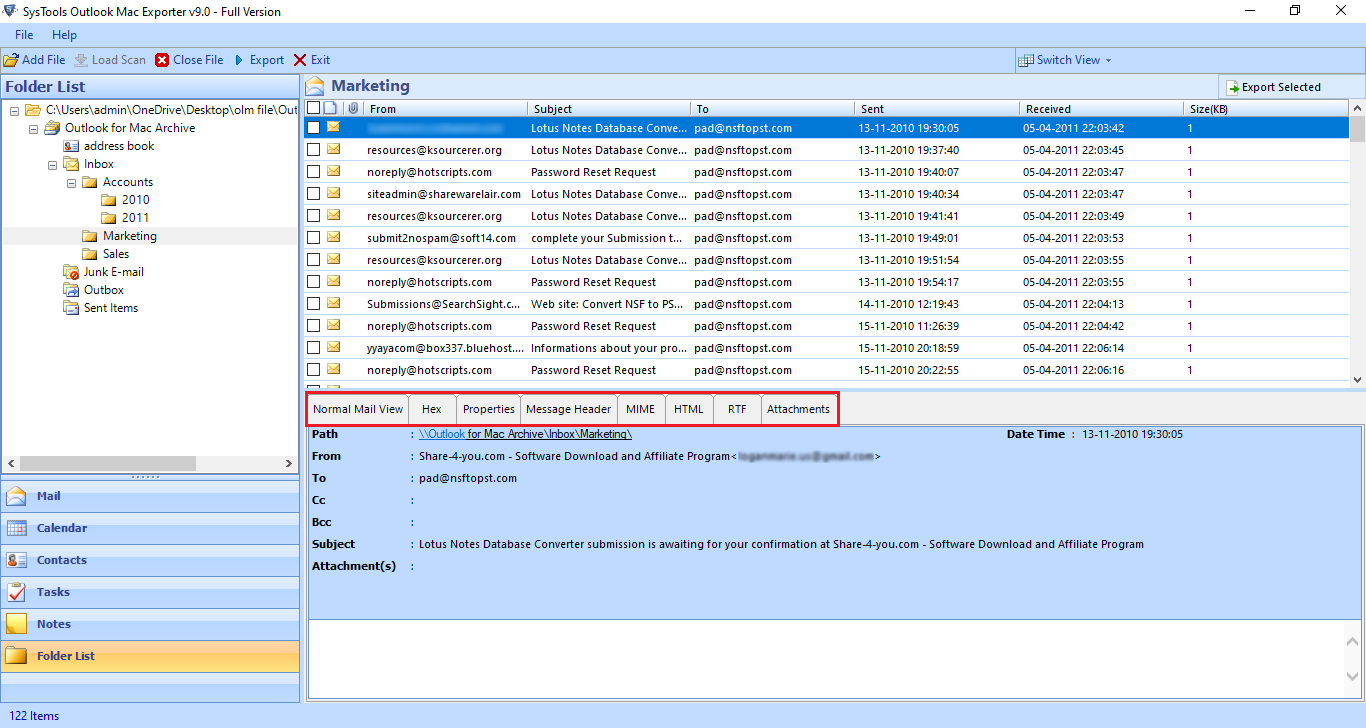 4. The software provides the preview of all the mailbox items including Mac OLM emails, contacts, calendars, tasks and notes. Click on the Export button from the menu to proceed.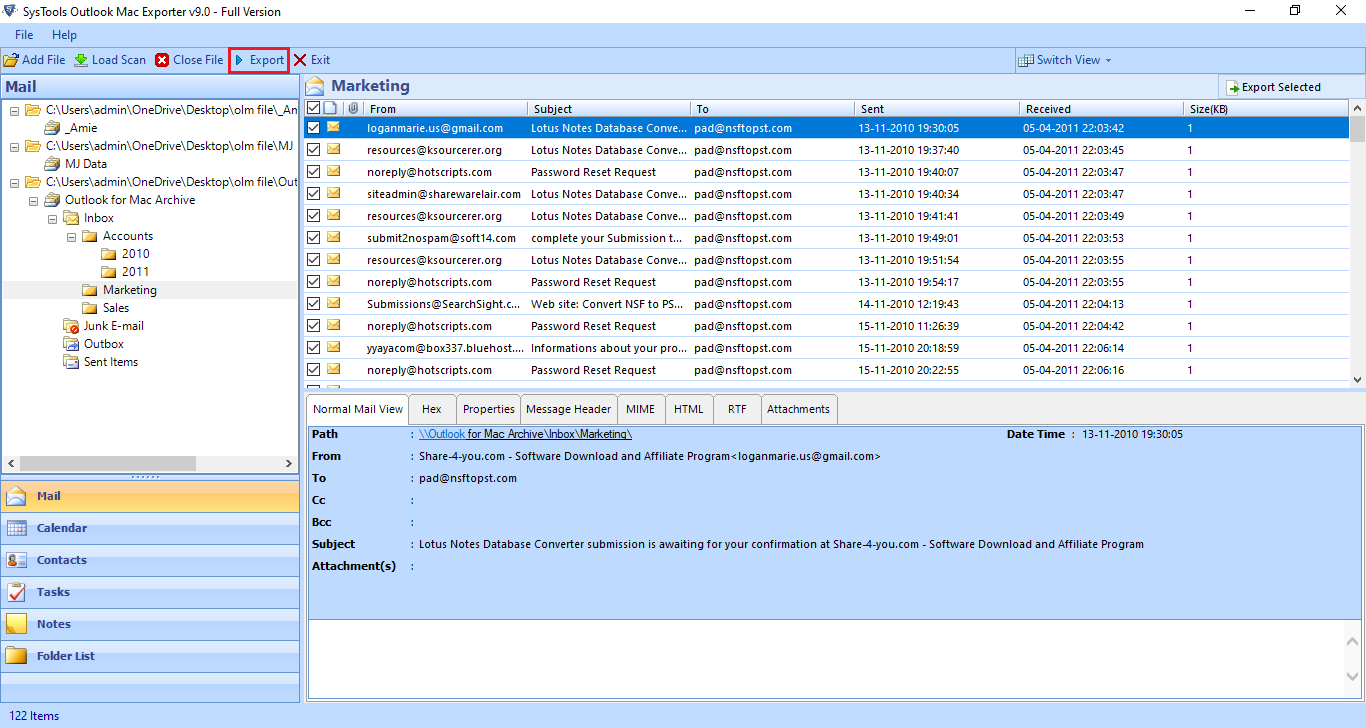 5. In fact, there is another way to proceed. Simply, select all the OLM data items to convert into PST and click on the Export Selected option to move to the next window. This option will only convert the selected OLM items to Outlook PST format.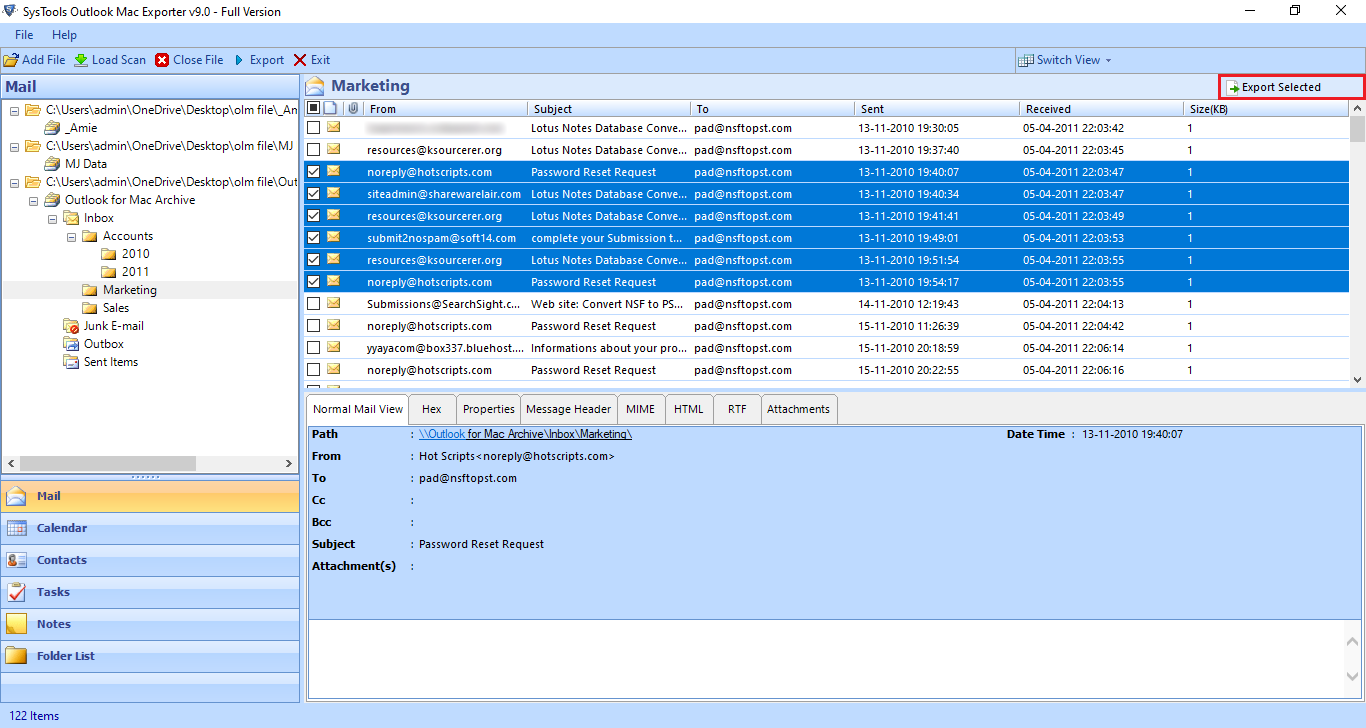 6. In the window that appears, select the PST format and then, go on to click on the Adv Settings button to apply several advance options on the OLM data file.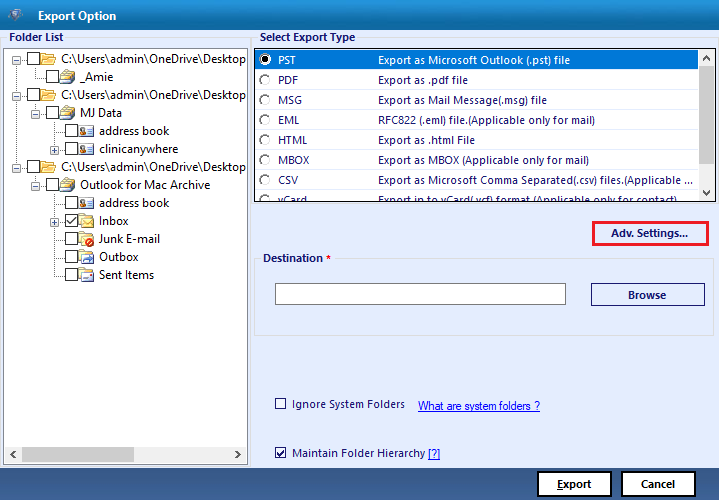 7. Then, apply the Advance PST Settings option, which includes Date filter, PST Splitting option, and export selective categories option. After applying all the settings, click Save.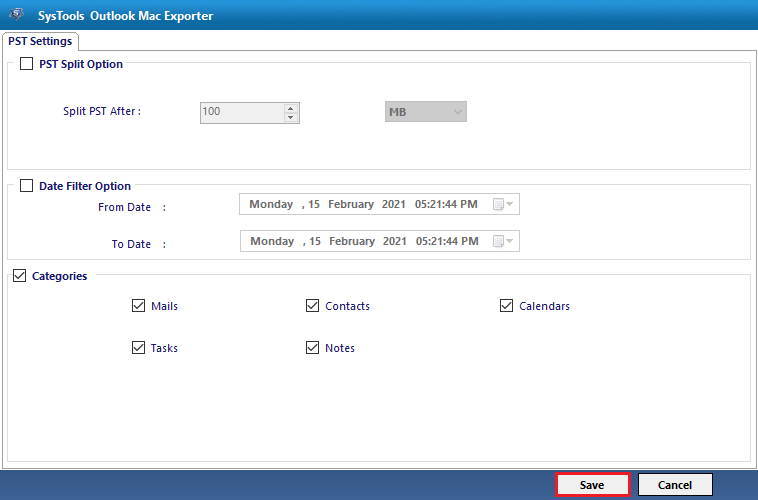 8. After that, click on the Browse button to give a location to save the resultant files on the local computer.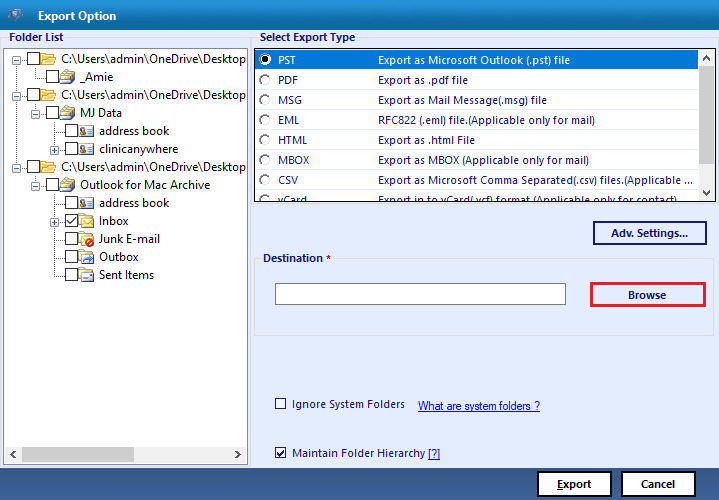 9. At last, click the Export button. After which, the software will generate an Export Report showing the complete status of the files in detail.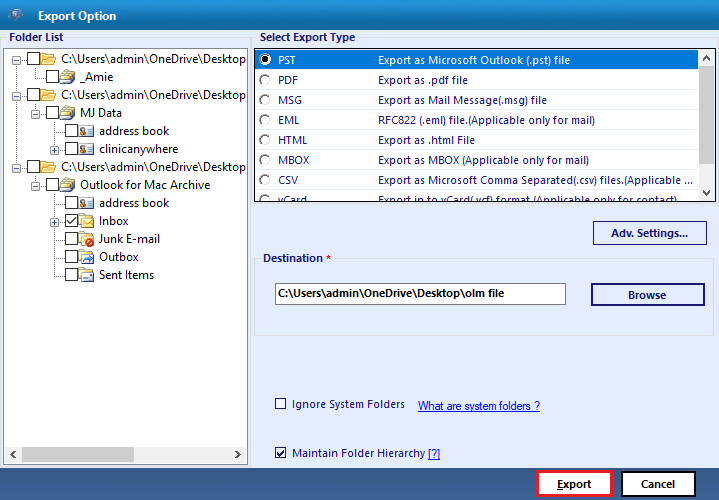 This completes the OLM to PST conversion process successfully. If the user wishes to access the data in Outlook, he/she can easily import this PST file to Outlook 2019, 2016, etc.
Benefits of Using the Professional Approach
Convert OLM along with Attachments: This OLM to PST Converter online tool is designed in such a way that it is capable enough to export all the OLM mailbox items along with the attachments, no matter whether the attachment is any document or an image.
Facilitates Export Selective Items: One can conveniently perform the conversion process with the help of this tool. This is because, it allows us to convert the desired data items, simply by selecting the checkboxes against the folder or item.
Converts Mac OLM to Multiple File Formats: This OLM to PST converter full version free download tool permits users to export batch OLM files to different email-supporting file formats, including Outlook PST format. Moreover, this process of batch conversion enables to save time to a large extent.
Option to Convert OLM to PST Selectively: This OLM file to PST converter provides an easy-to-use interface for the end-users. Additionally, one can make the best use of the Date-filter option as it allows to export of selective data from the Mac OLM file by specifying the particular date range.
Ensures to Preserve the Folder Hierarchy: One can easily convert OLM files to Outlook PST format with the help of this futuristic software. After the successful completion of the conversion process, all the files and folders are kept intact same as the original format. Hence, there is no need to worry about the data loss issue anymore.
Troubleshooting Common Issues That May Arise During the Conversion
Converting OLM to PST can be a complex process and users might face several problems during the conversion process. Below are some common problems and their solutions that can help users solve them.
1. Error when importing OLM file
Occasionally, users may encounter errors while importing OLM files into Outlook for Mac. This could be due to a corrupted OLM file or a problem with the Outlook application. To fix this issue, users can try to repair the OLM file or reinstall the Outlook application.
2. Data loss during conversion
If you skip a step or experience technical problems, you may experience data loss during manual conversion. To avoid data loss, users need to make sure all steps are done correctly and back up their data before starting the conversion process.
3. Compatibility issues
Compatibility issues can arise if the OLM file is an older version and your Outlook application is a newer version. In such cases, users can try to convert OLM files using third-party tools that support all versions of OLM files.
4. Large files
Large files can cause the conversion process to slow down or even crash. To avoid this, users can split OLM files into smaller parts or use tools that support batch conversion.
5. Incorrect configuration
Incorrectly configured email accounts can cause problems during the transition. Users should ensure that they have set up their email accounts correctly and entered the correct login credentials.
Conclusion
OLM to PST Conversion can be executed using a free manual approach and a professional approach. If users are only looking to move emails and discard other mailbox items, then they can opt for the free method. Otherwise, it is better to use OLM to PST Converter to get the job done. Unlike other converter tools, this tool is induced with the latest algorithm and it is also developed by the best technocrats to convert OLM to PST file formats. Moreover, to resolve any kind of queries related to this software product, one can easily approach the technical support team, which is always available at your service day and night.
FAQs
What is the best method to convert OLM file to PST for free?
The best free method is to use a webmail account like Gmail, Yahoo Mail, etc. to facilitate synchronization between Outlook for Windows and Outlook for Mac email clients. Thereby, moving the mailbox data without touching the file format.
What tools can perform such conversion?
It depends on your requirements really. Online tools (which we don't recommend), Outlook for Mac & Windows (free method), professional software (which we recommended here).
What platform do I need to apply the conversion instructions?
For the free method, you will need both Mac & Windows OS. Whereas, for the professional method, you only require one OS with OLM file.