How to Convert OLM to HTML File Format? Follow Quick Steps
Summary: If you are looking for ways to convert OLM to HTML, then you must read this article where we solve this query for you in the easiest way.
The OLM file is created by Mac Outlook and is its proprietary file type. Outlook can only open an OLM file for Mac and the majority of other applications do not support it. This makes it inflexible to work with since it is accessible only by a particular platform. The HTML file format is much more versatile because any web browser can open and read this file.
HTML files are simple to edit, lightweight, user-friendly, reflect changes instantly. The HTML file works independently of the operating system as it is accessible by Windows, Mac, and others. Given the advantage of its compatibility with web browsers, HTML is the best-destined file format one can convert OLM to.
Therefore, in this article, we are going to learn how to learn the ideal way of converting OLM files to HTML.
How to Convert OLM to HTML?
We shall see ways to easily convert the Mac Outlook file to the web browser-compatible format. The Best OLM Migration Tool is the smartest solution because it offers a direct way of conversion. It comes with many advantages as discussed below:
Convert emails, contacts, calendars, and notes to HTML.
Supports conversion of multiple OLM files into HTML.
Supports converting Outlook OLM 2019, 2016, and 2011 versions.
Can export selective files using the date filter option.
Provides various naming conventions to save files.
It can also convert OLM files to MBOX format safely.
Installation of Mac Outlook is not required for conversion.
Preserves folder hierarchy & metadata are well maintained.
Converts OLM emails to HTML along with attachments.
Steps for Converting OLM Files to HTML
Step-1. First, you must download the software on your PC. Then, click on Add file option.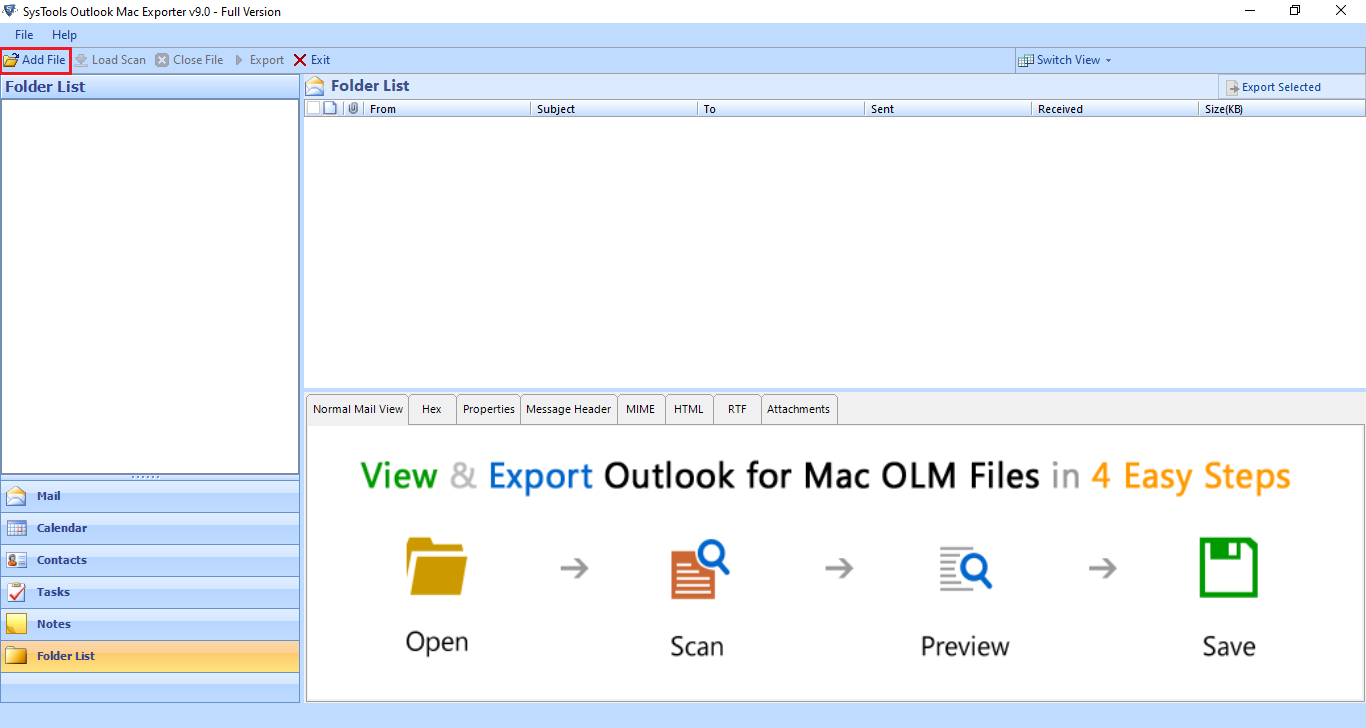 Step-2. Browse OLM files from your system & add them. This tool will provide you with a complete preview of the data with many view modes.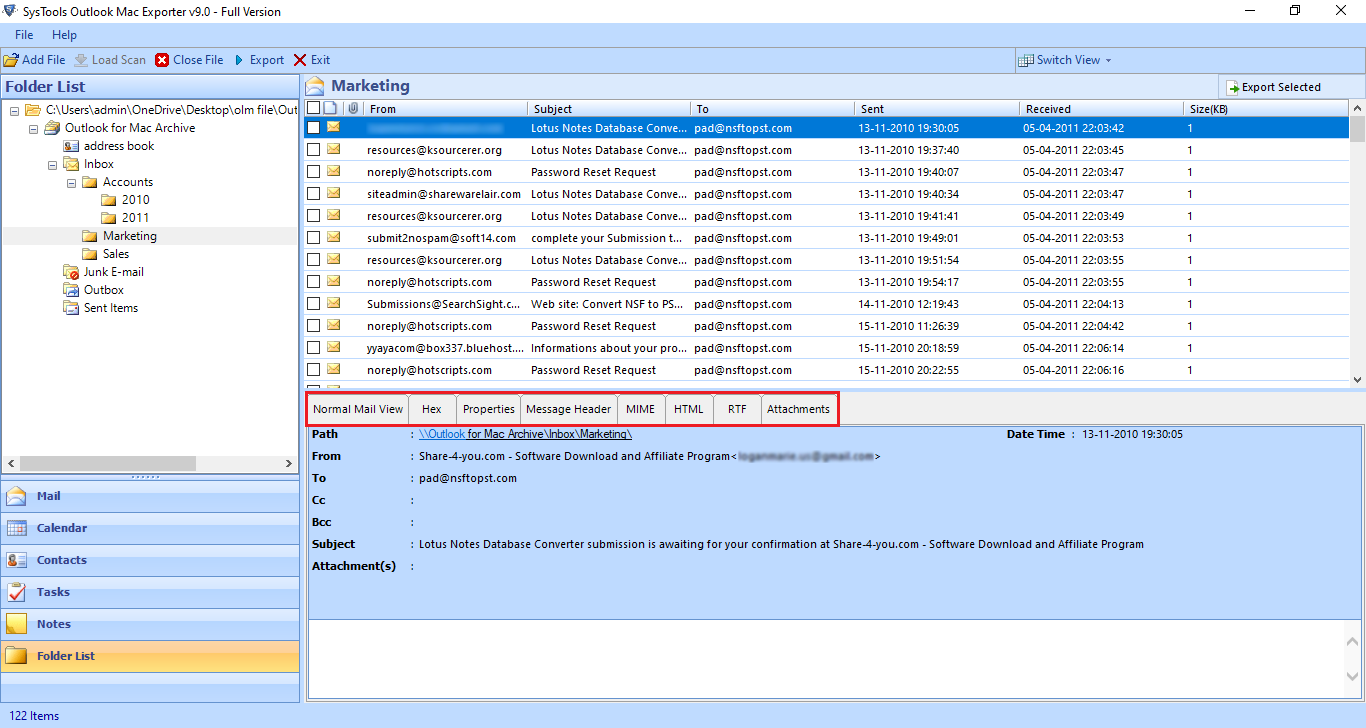 Step-3. On the next screen, you must choose HTML format and click on the Advanced Settings button. Here, apply date filter, naming convention, categories filter.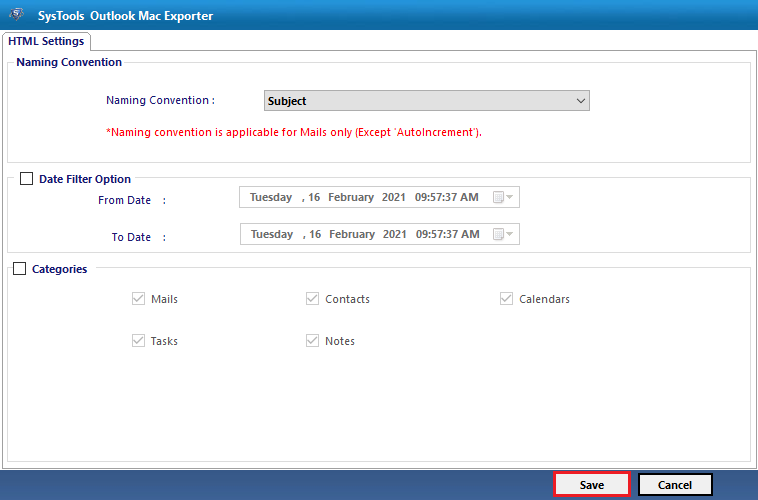 Step-4. Lastly, browse and give a destination to save the HTML file and hit on Export to begin converting OLM file to HTML.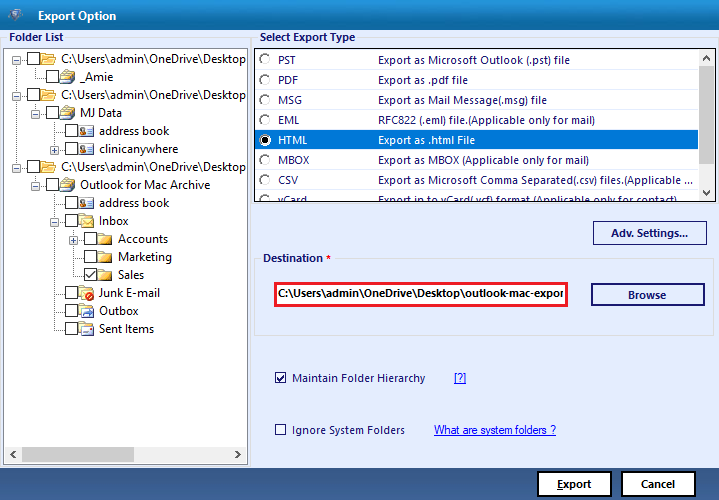 This will produce an HTML file that you can open on any browser.
Note: If you have the OLM files in the Mac system, then you must use the following tool that can convert Mac OLM files to PST, HTML & others:
Conclusion
In this article, we have learned ways to convert OLM to HTML format. It works on Outlook for Mac versions 2011, 2016, 2019. Users must follow the above-mentioned steps carefully to be able to produce the desired result. This method of converting OLM files to HTML is the safest way. It ensures the safety of your source files and gives a secured environment to execute the task.