Best OLM to MBOX Converter Tool for Perfect Conversion Process
Try the best OLM to MBOX converter and easily convert OLM files to MBOX file format. The tool enables users to transfer all emails stored in OLM files in just a few clicks. Hence, download the demo version of the OLM File converter for free and try all the features of the software. You can purchase the full version only if you like it.
OLM to MBOX Converter – Salient Features
Supports Bulk Conversion of OLM Files.
No File Size Limitation is Imposed on OLM File.
Easily Convert Mac Outlook 2016, 2011 OLM Files.
Apply Date Range Filter to Filter Unnecessary Emails.
Output MBOX File is Supported in 17+ Email Clients.
Option to Save Emails along with Associated Attachments.
Maintains the Folder Structure during the Conversion Process.
Convert OLM Files to MBOX Format with These Features
It is always difficult for users to migrate from one platform to another. This software makes it simple for the users to transfer OLM files into MBOX format. Additionally, a wide range of features and easy GUI makes it easy for the users to execute the entire process.
1. Creates Export Report – The OLM File Conversion Tool enables users to generate an export report which provides a short summary of conversion. It contains the count of emails that are converted successfully along with the path of the current folder, mail subject, and the number of errors that occurred during the entire process.
2. Maintain Folder Hierarchy – Another useful feature of this OLM to MBOX converter tool is that it maintains the folder structure while converting OLM files. It is an optional feature of the software. Thus, if anyone wants to keep the folder hierarchy intact, then users can enable this feature within the application.
3. Import Resultant MBOX File – After successful migration, the output MBOX file can be accessed in multiple email clients which support MBOX file format. Evidently, users can easily add MBOX file into Thunderbird email applications and several other clients.
4. Convert OLM File to MBOX – This tool makes it possible for the users to transfer OLM emails stored in multiple folders like Inbox, Sent Items, Drafts, etc. into MBOX format with ease. Also, it keeps the text formatting and attachments intact after process completion. Additionally, the software's demo version is available free of cost.
Why Users Prefer This Utility to Convert OLM files to MBOX Format
1. Folder Mapping – The free demo version of this tool allows users to map the source folders same in the destination. This feature helps in maintaining folder integrity of OLM file data. Thus, the Inbox folder of OLM file will be saved as Inbox folder in MBOX file.
2. User-Defined Output Location – The software to convert OLM files to MBOX format offers users to choose their desired location to save the output MBOX file. Moreover, the software panel allows users to create a New Folder anywhere in system and then save the file in it.
3. Keeps Meta Data Intact – This is considered as the best OLM to MBOX converter tool as it makes sure that the meta data of all the emails is not altered. Properties like To, Cc, Bcc, Email ID, Sent Date, Received Date, attachments, hyperlinks are kept intact while using this software for conversion.
4. Filter Output Data – Users also get the option to filter their email messages stored in OLM file using Date Filter option. Using this feature, users can set a specific date range using "From" & "To" option and the tool will only export emails from that date range. This feature helps users eliminate unnecessary emails and save their time.
5. Bulk Migration – This OLM File Converter software offers users to add OLM files into the application in two ways:
Add File(s) – This option allows users to import single or multiple files at once.
Add Folder – Using this option, users can add an entire folder containing OLM files in one go.
Download OLM to MBOX Converter Software To Begin
Demo Limitation – The free trial version of the software allows users to convert only 25 items per folder into MBOX format.
Simple Steps to Convert OLM File to MBOX Format
This software makes it simple for the users to migrate all email messages stored in OLM file in simple steps. The option to perform the conversion in batch using the Add Folder option makes the entire process efficient. Moreover, users can use this application smoothly on Windows 10, 8.1, 8, 7 and other lower versions.
Step-1. To Convert OLM files to MBOX format, Download & Run this tool.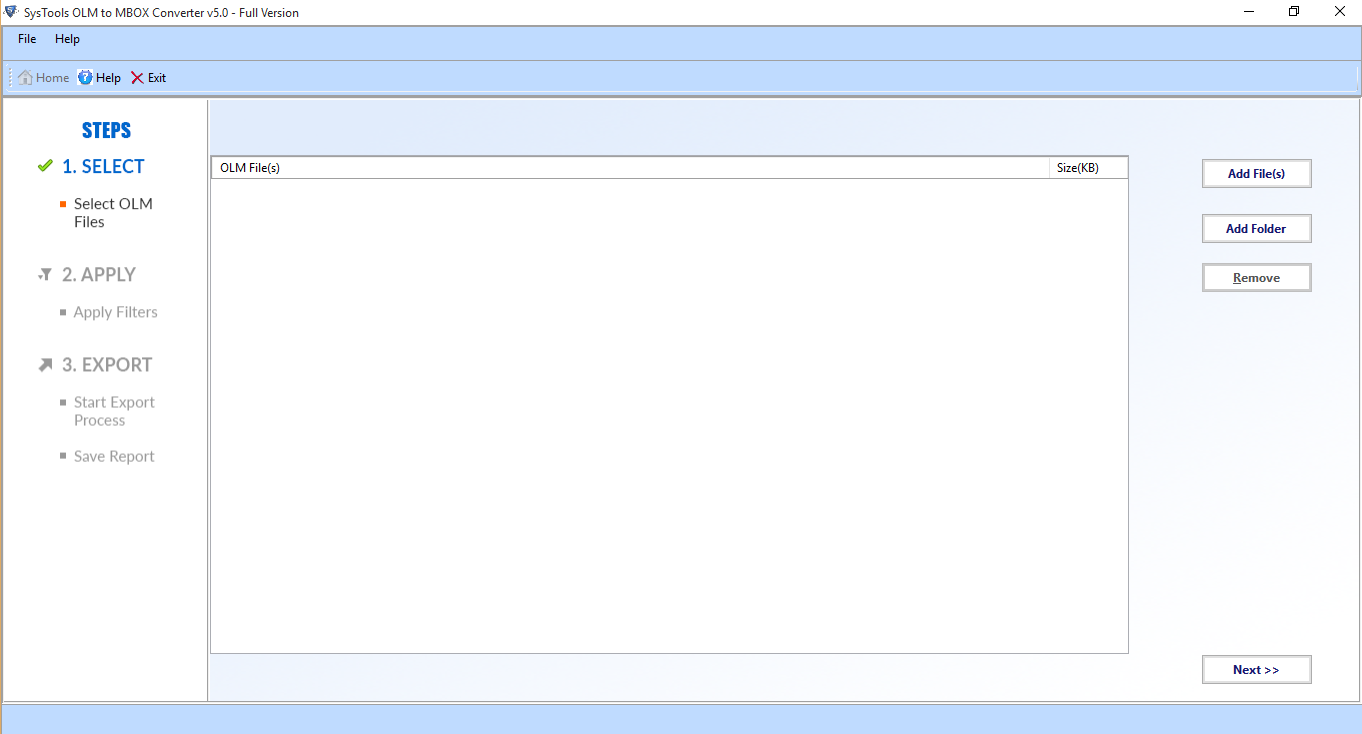 Step-2. Click on Add File(s) button to import OLM Files.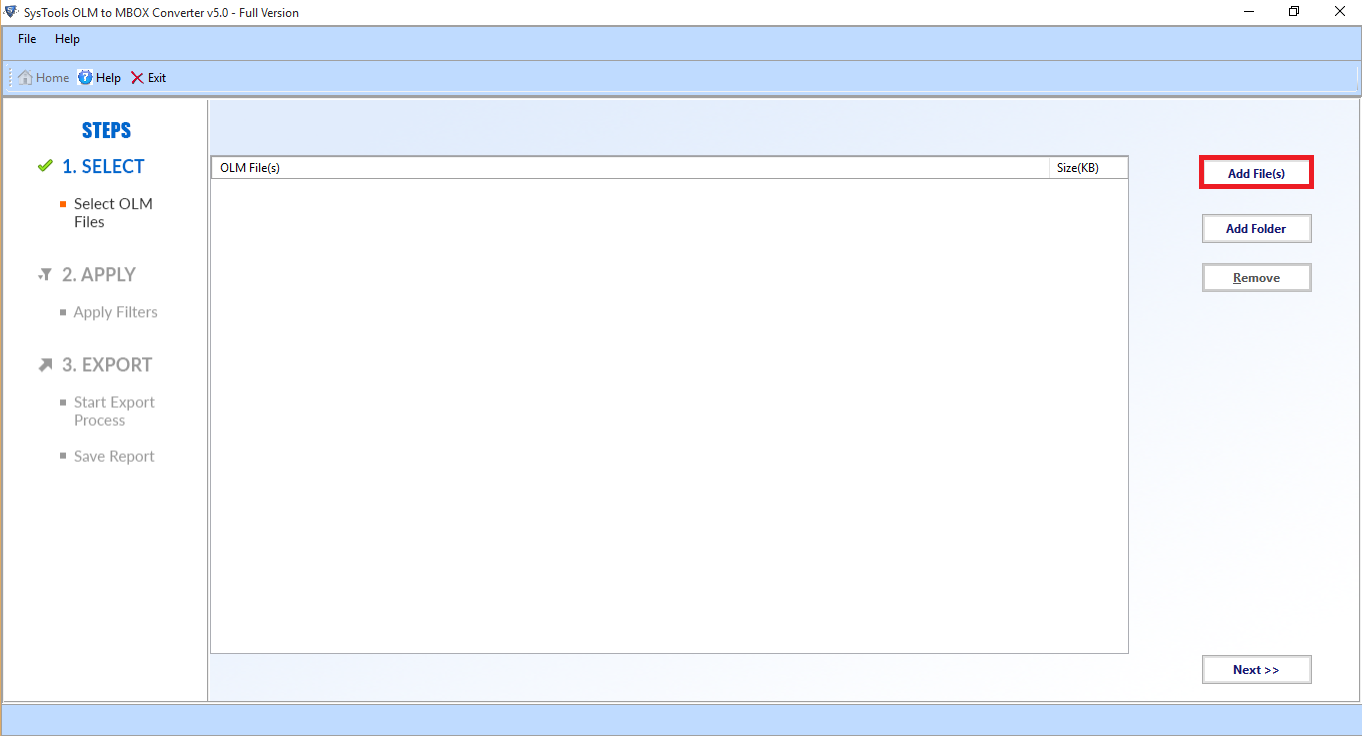 Step-3. Choose Destination Location & Click Export button.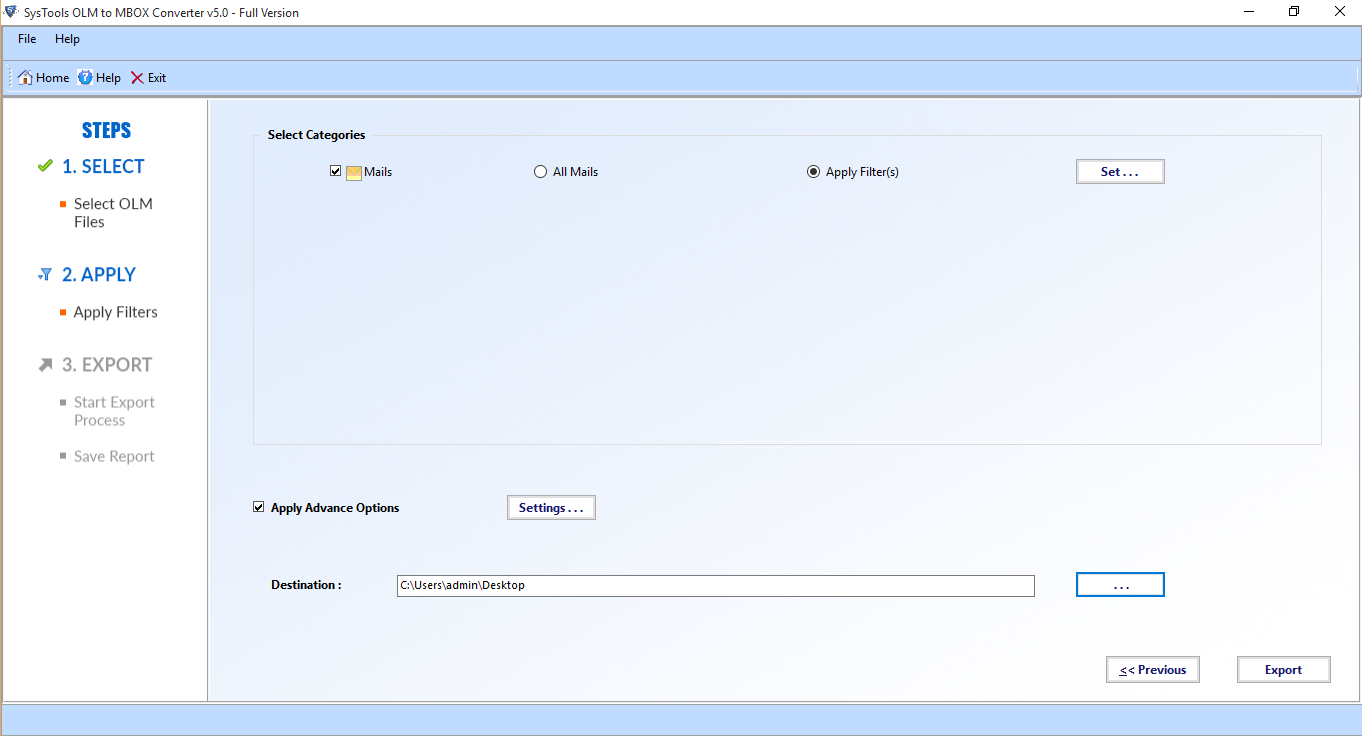 Step-4. Exporting Completed Successfully Message Will Appear.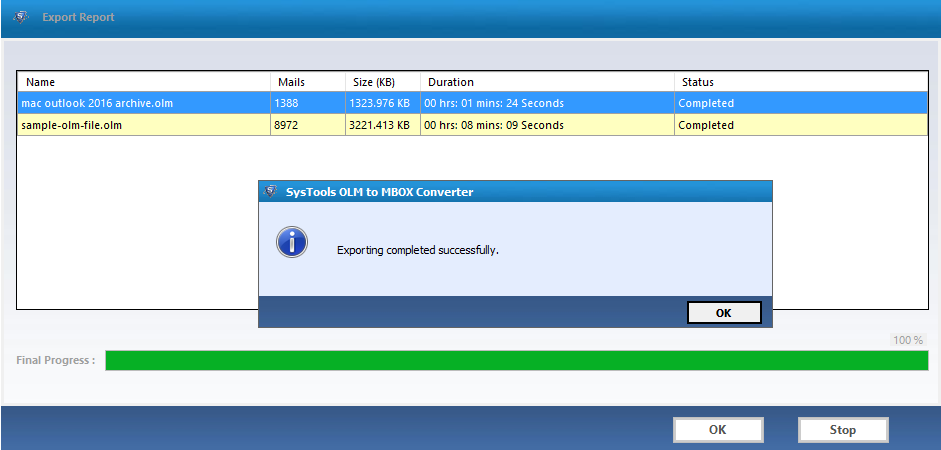 Frequently Asked Questions
Q. What are the unique features of this OLM to MBOX Conversion Tool?
A. Some of the advanced features of the tool are mentioned below:
Free demo version of OLM to MBOX Converter.
Scan & Add Multiple OLM Files in one go.
Apply Advance Settings & Filters to eliminate unnecessary data.
Convert OLM Files to MBOX & keep Meta Data intact.
Generate Export Report after completion.
There is No File Size Limitation on OLM files.
Runs on Windows 10, 8, 7, and below.
Q. Does this tool require any supportive application to convert OLM to MBOX ?
A. No, this is a completely independent software and does not require any other application to be installed on the machine.
Q. Is there any file size limit of OLM files before starting the migration process?
A. No, this software does not force any file size limitation and can easily transfer OLM files of any size.
Q. Can I use this OLM to MBOX Converter tool for free to migrate OLM files ?
A. You can download the demo version of the software totally free of cost. It will allow you to convert 25 items per folder. In addition, if you want to export the entire data then you need to purchase the licensed version of it.
Also Read: How to Transfer Outlook Email from Mac to Windows OS
The Final Say
A lot of users have queries like how to convert OLM files to MBOX format, is there any reliable solution to export OLM files without losing any data. So, all those users have their answers in this post as it introduces you with a secure and trusted application i.e. OLM to MBOX Converter Tool. Moreover, the unique set of features makes the entire process extremely simple and efficient.
What makes this utility special is the integration of artificial intelligence along with advanced algorithms. In fact, there are no other solutions available that can challenge the above-mentioned utility. Evidently, it's so far the best solution with advanced features.