Import OLM File to Windows Outlook – Best How-to Guide
MS Outlook is an email client used for both Windows as well as Mac Operating systems, but both platforms save mailboxes data with different file formats. In the case of Mac OS, the Outlook data is saved in OLM files but contrary to it on Windows, it is stored in PST format. In this case, we can consider many reasons why the users wish to import OLM file to Outlook Windows platform.
OLM file extension is limited to Outlook for Mac only. With Outlook 2011 for Mac, the OLM files came into existence. It has the same purpose and usage as MS Outlook PST files on Microsoft Windows. It implies that Mac Outlook stores all the data present in mailboxes like Inbox, Calendars, Address Books, and many more. If the OLM file is only specific to Mac Operating System, it does not open through Windows Outlook.
If a user has recently switched from a Mac platform to any Windows-based system, he/she experiences many issues while accessing his/her mailbox data saved in the OLM file via Outlook's Windows version.
Table of Content:
To access the emails, calendars, contacts, etc. the user needs to convert OLM to PST form and afterward import the resultant PST file to Microsoft Windows Outlook.
Methods to Import OLM File to Windows Outlook
There are two different solutions to open OLM file into Windows Outlook without changing email header, folder structure and data integrity.
Before proceeding with import process, let us first understand the process to locate the entire physical Mac OLM file. Of course, if you already have the OLM on your system, then there is no need to read this section, simply skip to the manual and professional solutions.
By default the location of an OLM file is either of the two system locations depending :
Documents/Microsoft User Data/Office 2011 Identities/Main Identity
Or
Library/Group Containers/something.Office/Outlook/Outlook 15 Profiles/Main Profile
But, in many cases, even if a user navigates to the hard drive locations mentioned above, then he/she may not be able to locate these files physically. For accessing these files, the users need to make it again by storing mailbox data in Mac OLM format.
Mentioned below are the steps through which users can export OLM files:
In Outlook for Mac, go to Tools in the menu bar and click on the Export option. It opens a new Export window.
Select the data listed in the window that you wish to export like Emails, Contacts, etc.
Afterward, click on Save As to rename the file and choose the destination location where users can store the OLM file.
Select the Save button and save the OLM files.
After creating the OLM file, it can be easily converted to Outlook PST form via the steps mentioned in the recommended solution.
Method-1: Import OLM to Outlook Windows Manually
Through this method, the user gets IMAP Server as an intermediate between both Windows Outlook and Mac Outlook. It is the same as that using an automatic storage device between the two systems for copying files easily. For receiving the IMAP server, users can easily receive the remote files. Let's begin with the first three phases of the manual method to import OLM file to Windows Outlook.
Phase #1 – Create a Gmail account (or any other IMAP server)
If you already own one, follow step 2. If not then simply create a Gmail ID.
Phase #2 – Configure MS Outlook in Mac OS with Gmail
Open MS Outlook for Mac and choose Tools >> Accounts option.
In Accounts window open, click on + button present on the left side for adding a new account.
Select the mail address pane.
Type all the credentials like mail id, password, user name for Gmail account.
Select the incoming server as imap.gmail.com.
Choose Use SSL Connect.
Enter the smtp.gmail.com as Outgoing Server.
Select both of the options from Outgoing Server.
Enter Outgoing port as port no.- 465 afterwards, click on the Add account.
On the left side of the pane, a yellow button appears showing a connection is made. It becomes green in case the password keyed-in is right & the connection is made.
Phase #3 – Migrating Data from the Mac Outlook to Gmail Account
Firstly, Right-click on the mailbox folder to be migrated and click on Copy option.
Select the destination folder in Gmail mail account.
The search bar present on screen's bottom shows the uploading of messages.
After uploading, Refresh Gmail account.
Import OLM File to Windows Outlook – The Final Fourth & Fifth Phase
Phase #4 – Configuring the Gmail with Windows Outlook
Open MS Outlook and opt on File >> Info >> Account Settings.
In the current window opened, opt on New Icon.
Check the Additional server type.
Afterward, Check Internet E-mail.
Enter your credentials like email address, password, and user name.
Select account type as IMAP Account.
Opt imap.gmail.com as the Incoming Server.
Enter smtp.gmail.com as the Outgoing Server.
Click on the More Settings option.
In the Outgoing Server tab, select my Outgoing server requires authentication.
In the Advanced tab, enter the Incoming Server Port as 993.
Select SSL as the encryption type.
Enter Outgoing Server Port as 465 Hit on OK button.
Choose the Test Account Settings and then click on the Finish option.
Phase #5 – Migrating mailbox data to Windows Outlook from Gmail
Sign in to the Gmail account and select the Settings icon.
Select Forwarding and POP/IMAP option.
Under IMAP Access, select Enable IMAP Option.
Enable the Auto-Expunge On if required.
Enable the Archive option, if a user wants to archive the messages.
Click on the Save changes option.
Open MS Outlook and Choose Send/Receive message.
Using this option, users can easily access MS Outlook for Mac emails to Windows Outlook.
Method-2: Recommended Solution to Import OLM to Outlook
From the steps mentioned above, users can import OLM file to Windows Outlook application. However, the entire process is very complex and appears confusing for any non-tech user. Also, it brings the users in a state of risk as a single misleading can cause data loss.
Thus, for performing a safe and exact OLM export process, opt for the OLM to Outlook importer software. This software can be considered the perfect choice when it comes to migrating Mac Outlook OLM files to Windows Outlook consisting of all emails and the mail components like Inbox, Address books, Calendars, To-do tasks, Notes, etc. The software even provides users with a smart option for saving converted emails into PST, MSG, and EML formats.
Steps to Import OLM Files to Outlook Windows
Step-1. Download and install OLM to Outlook importer
Step-2: Click "Add File" Button and Browse OLM File
Step-3. Preview OLM emails on Windows.
Step-4. Select "PST" for Outlook.
Step-5. Click "Export" to export OLM to Outlook PST format.
The task is complete. Now, you have the PST file, if you want to import it to Outlook, go through the steps mentioned in the Import PST to Outlook blog.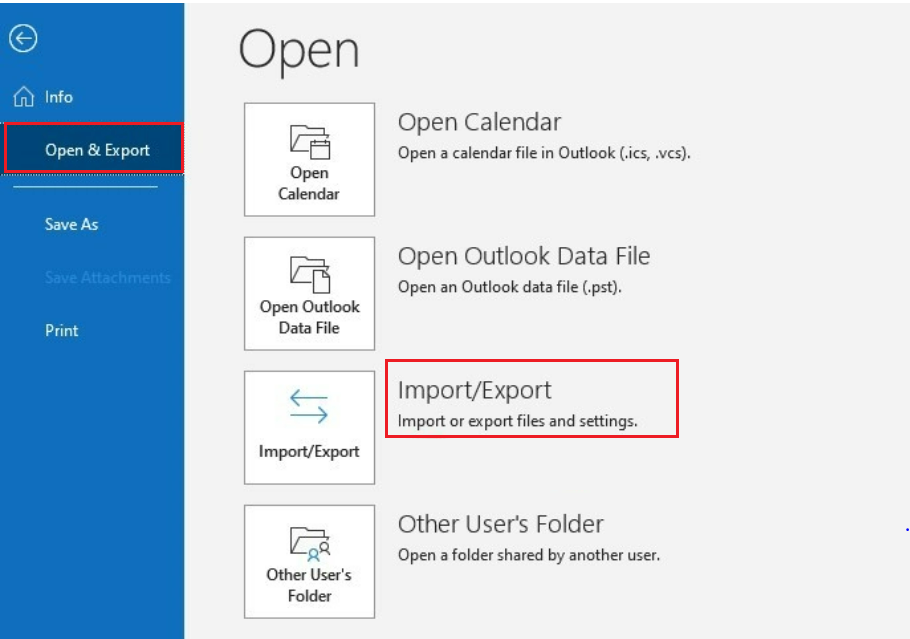 Video Tutorial:
Watch the video tutorial to understand how to open OLM file in Outlook Windows:
To Sum It Up
From the entire blog, the user now easily understands the conversion of .olm file and also helps the users to perform it manually along with the steps. So, the users can easily follow the steps to perform the OLM to Outlook Export Process.
But, the method has many drawbacks too as it can easily lead to corruption and data loss if any step is not performed properly. So, trying an expert solution like a tool to import OLM File to Windows Outlook should be given a try.