Export Outlook 2016 Contacts To vCard Like an Expert
Are you also trying to export Outlook 2016 contacts to vCard format? Well, in today's lifestyle Contacts became the most essential part of both business and personal life of an individual. Contacts are one of the best ways by which we can stay in touch or connect wisely. So, it is necessary to take routine backups of contacts by which you don't have to face the problems like data breaching, or in case you want to migrate on different email platforms like a Mac user wants to switch the platform or wants to preserve the data in vCard file format.
Evidently, this article is all about the ways to export Outlook contacts to VCF 2019 & 2016 file formats using the best method. This solution is having expert recommendations that even Microsoft's MVPs also use themselves. Stay tuned till the end to be aware of all the details. 
Also Read: Export Mac OLM File to Windows Outlook PST Without Any Hurdle
 Now, let's have a look at the reasons why users should convert contacts into the vCard format.
Export Outlook Contacts to vCard Mac – Critical Needs
Following are the reasons why one should export Outlook 2016 contacts to vCard file format:
vCard is capable to preserve unlimited contacts with complete details.
Both technical and non-technical users can easily understand vCard.
vCard is supported by many email clients like MS Outlook, Thunderbird, Google Apps, etc.
Permits you to access your data offline by many applications.
Now, let's have a look at available solutions to execute this operation in a smart manner.
Also Read: Don't Waste Time! Read this to Export Mac Outlook Calendar to Excel!
Ways to Export Outlook 2016 Contacts to vCard or VCF?
The best way to execute the operation is to rely on an automated solution. This tool permits you to convert email calendars, etc. along with contacts into 6+ file formats. Users can easily get the best results using this advanced tool to export Outlook contacts to VCF 2019, 2016 & other versions. Some of the additional features are listed below.
Permits you to export multiple Outlook OLM files into vCard format.
Using this tool one can also instantly preview the files before the conversion process.
Supported by all versions of MS Windows OS.
This tool doesn't require MS Outlook.
Provide authorization to export selected data files using the data filter option.
Phase-1 of Export Outlook Contacts to vCard 2019, 2016, Etc – Transfer Emails
Launch Mac Outlook 2019 on your Mac system.
Go to the File menu and click on the Export option.
An Export wizard will appear, check the checkbox of Contacts in the wizard.
Browse the destination for the resultant file and click on the Save button.
After the completion of the process, navigate to the location where you save the file and move to the further steps. Now you can move towards the main task to export Outlook contacts to vCard Mac OS.
Phase-2: Export OLM file to vCard format
Step-1. Download and Open OLM to vCard Converter tool.
Step-2. Hit the Add file/folder button to add the OLM file to begin export Outlook 2016 contacts to vCard.
Step-3. Select vCard format from export type.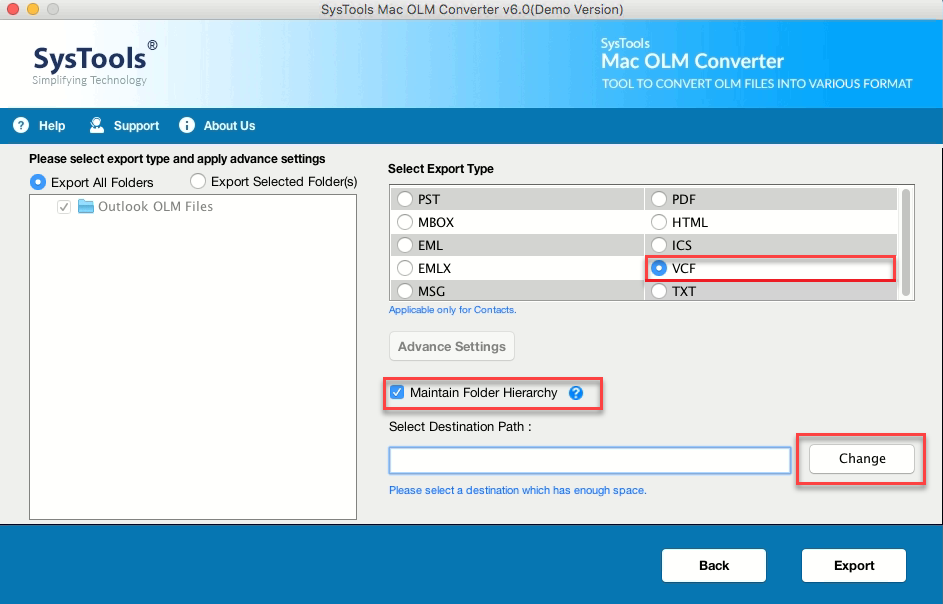 Step-4. Then, go to the Advance settings to apply filter option as required.
Step-5. Locate the destination folder to Save your resultant file.
Step-6. Click on Export button to finish export Outlook contacts to vCard Mac Operating System.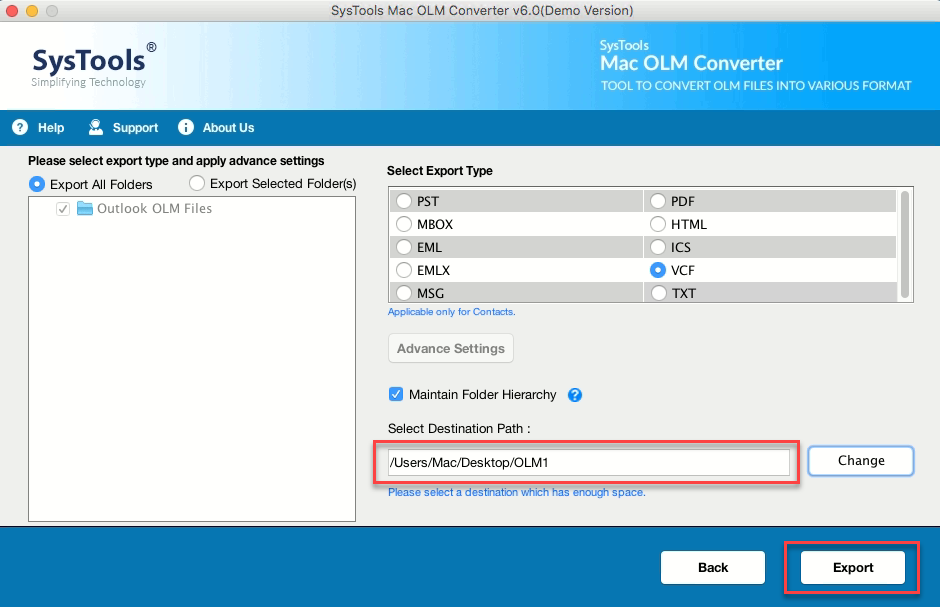 Step-7. Hit the OK button once the process is completed.
All your Outlook 2016 contacts are successfully exported to vCard.
Note: If you are a Windows users then you should opt for the OLM to PST Converter. Along with PST, Windows users can easily save Mac OLM files in PST, vCard, EML, MBOX, etc file formats with ease. Downlaod the tool now for free to get the best solution.
Also Read: Complete Solution to Save Mac Outlook Emails in PDF File Format
Conclusion
Locate your resultant folder and access the vCard file, now you can see all your contacts are available in vCard. In this article, we discuss the needs of export Outlook 2016 contacts to vCard and discuss the method that how one can easily export Outlook 2016 contacts to VCF file without any extra effort. VCard is simple to understand both technical and non-technical users can easily access the contacts available in vCard.
Following the entire guide carefully can help users to export Outlook contacts to VCF 2019, 2016, & several other versions without any issues. Do not skip any of the steps to avoid having any issues later in your operation. Hence, we can say that users can get the best answers by using the most ideal solution available at affordable prices.