How to Export Opera Mail to Outlook? Get Expert Solution Here!
Opera mail was indeed a brilliant email & news client of its time. However, it's not popular among users nowadays due to a lack of technical support. That's why users search for a solution to export Opera Mail to Outlook 2021, 2019, 2016, etc.
Microsoft Outlook is one of the leading email clients in current times. Moreover, after integrating MS Outlook with Office 365 bundle, it received a massive boost & observed a broad userbase.
Still, most users are not technically sound enough to execute Opera Mail to Outlook transfer. Thus, to perform this conversion procedure effortlessly, team EmailDoctor will assist you.
So, let's begin
Manual Way to Import Opera Mail to Outlook
Let me clarify one thing for you. No manual approach is available to export Opera Mail to Outlook 2016, 2013, etc. Both Opera & Outlook applications are different in terms of functionality and compatibility.
Outlook store its data file in PST format. In contrast, Opera mail creates an MBS file that is present in the local directories of the computer.
So, users must convert the MBS file to PST format to perform the Opera mail to Outlook transfer process. Follow the steps mentioned below to locate the MBS file in Windows OS.
TRADITIONAL WAY:
Launch Opera Mail on your Machine.
Now, from the "Menu Bar," click on the "Help" button >> "About Opera Mail."


In the following directory, Window users will get Mail directory that contains the MBS file.

A BETTER WAY!
Simply, right-click on the mailbox that you want to export to Outlook and click the Export option.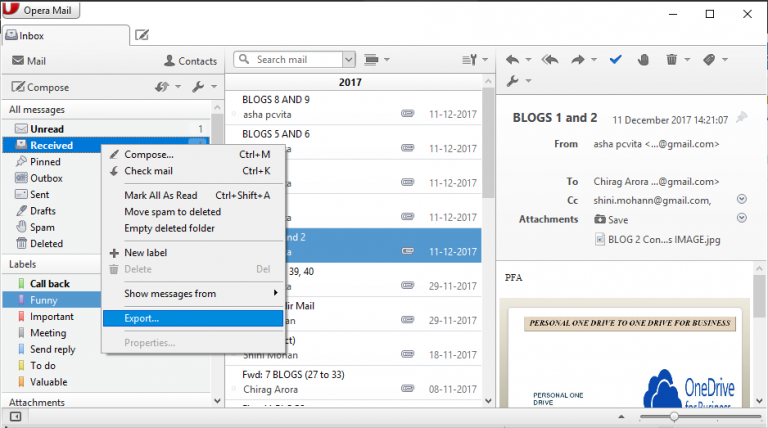 Now, users have the MBS file. Now, let's check out the process to export Opera Mail to Outlook.
Perform Opera Mail to Outlook Transfer Effortlessly – Know How!
The picture is clear from the above: Opera and Outlook are different platforms supporting different file extensions. Thus, to accomplish this task effortlessly, users can download the EmailDoctor MBOX to PST Converter.
It's an advanced solution that allows exporting Opera Mail to Outlook with all attributes. The toolkit's advanced AI allows unlimited migration from Opera mail to Outlook without failure.
The best thing about the software is its interactive and user-friendly interface that makes the entire conversion process more straightforward. Users can download this software on all Windows and Mac OS editions to execute the conversion process for good.
How to Export Opera Mail to Outlook? Automated Solution Working Explained
Open the wizard on Windows or Mac OS, and follow the steps mentioned below:
In the software first window, click on Add File.


Now, Browse for the data file, and select the required checkbox. Hit on "Process".

Next, the software will scan and list all data folders in toolkit directories.

Open the email message to preview its content with all Meta Properties.

Afterward, move to the "Export" tab and select the Export type to "PST" format.

The software offers various data filers apply them, and select the designation location. Click on the "Export" button to start the process.

That's it for an automated solution to export Opera Mail to Outlook format. Users can import the resultant data file to the Outlook profile by following the string mentioned below:

Questions? We Have Answers

Q) Can I Export Opera Mail to Outlook 2021 with Attachments?

Users can import Opera Mail to Outlook all editions with attachments using the advanced. No, direct manual solution is available to execute this conversion process.

---

Q) What is Opera Mail?

Opera Mail is a free desktop mail client that offers multiple advanced functions to end users to send and receive email messages with POP and IMAP configuration support.

---

Q) What Happen to Opera Mail?

The Opera Mail reached its technical end in 2016, and no further development exists in the toolkit's technical part.

---

Q) How Do I Import Opera Mail to Outlook Manually?

To perform the Opera mail to Outlook transfer process manually, users must move Opera Mail MBS to Thunderbird. Then, later on, users can import MBOX File to Outlook profile.
So There You Have It
As promised, all of the crucial aspects regarding the Opera mail to Outlook transfer procedure are discussed above. Users will not face any difficulty if they follow the Post sincerely. Additionally, no manual solution is available to export Opera Mail to Outlook 2021, 2019, 2016, etc. So, users have to analyze all of the factors carefully & then go for the most effective and efficient solution.