How to Migrate Opera Mail to Thunderbird – Full Guide
Opera Mail is outdated! So why continue using it when you have other attractive options like Mozilla Thunderbird? Migrate from Opera Mail to Thunderbird today while we take care of your data migration worries.
Many users complain that they want to switch to Thunderbird but cannot as they do not know how to move their Opera Mail data to Thunderbird. This blog is all-in-one solution to this problem as this will convey the ultimate solution to migrate Opera Mail to Thunderbird. Before that, let's have a look at the reasons why people want to move to Thunderbird from opera Mail.
Opera Mail VS Thunderbird: A Brief Comparison
Opera Mail users do not get Technical support anymore while TB users get regular update
Thunderbird users also get a number of add-ons while Opera Mail users are deprived of that facility.
Secured message signing is available in Thunderbird but not on Opera Mail
How to Migrate Opera Mail to Thunderbird
If you want to migrate Opera Mail data to Thunderbird, you have to go through a two part process.  The first part is Opera data extraction as MBS and the second part is to import MBS file in Mozilla Thunderbird. But first, we will know about MBS file.
What is MBS File?
In simple language, MBS file is a variant of popular MBOX file. Opera mail generates MBS file and uses it to store email messages of Opera Mail. So, if you are willing to export Opera Mail email data in Thunderbird, migration of MBS file has to be done.
Opera Mail to Thunderbird Migration – Part 1
At first, we will export MBS File from Opera Mail in order to migrate Opera Mail to Thunderbird.
1. Launch Opera Mail and highlight the mailbox folder you want to migrate.
2. Now, right-click on that folder and click Export.
3. Use a suitable name for the MBS file and save.
Opera Mail to Thunderbird Migration – Part 2
In the next part of the process, import the MBS file to migrate Opera Mail to Thunderbird.
1. Download and install Thunderbird Importer and then launch the software.
2. Click on Add File option and then navigate to the location where the MBS file is located. Select the file and click on Open.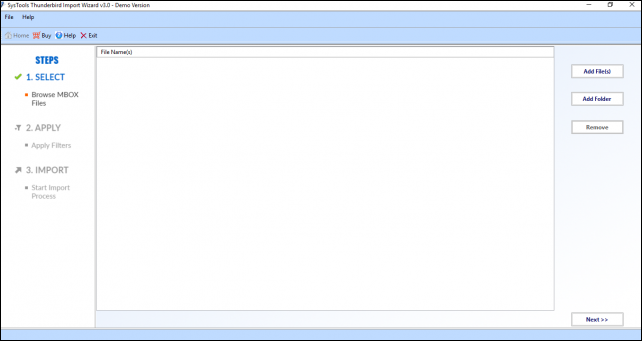 3. After the MBS file is listed in the interface, click on Next to continue the migration process.
4. On the next screen, either choose All Mails or select Apply Filter(s). If you choose to filter the emails, click on Set button and enter the date range.
5. From the Select Identities list, select the destination account / profile. If you want to migrate in an IMAP configured account and select that, the application will prompt to select Local Folder. Once you select it, the data will be imported successfully. Then one can easily drag the imported folder into their IMAP account after opening Thunderbird.
6. Click on Import button to start importing the MBS file data.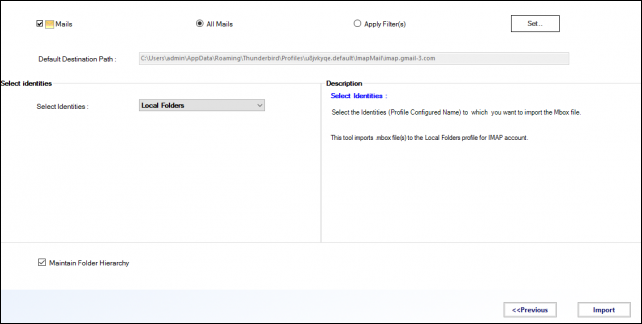 7. A window will appear that will display live progress of the email migration process. Once the migration is done, you will get a notification message. Restart Thunderbird to access the Opera Mail emails in it.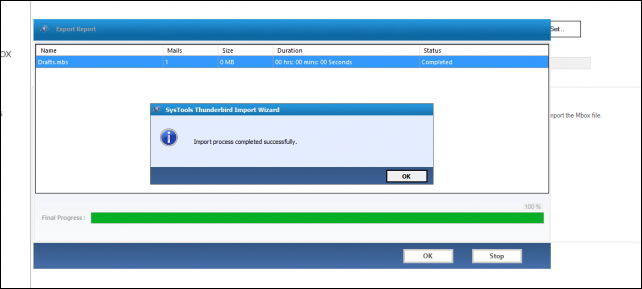 Looking for Free Opera Mail to Thunderbird Migrator?
In case you are wondering about any free application, the add-on of Thunderbird, ImportExportTools NG, does not allow importing MBS file. So, you need to take the help of the software for migration. However, you can try the free trial version of the software before purchasing that imports 25 emails only.
Thunderbird Importer: The Amazing Tool that Migrates Opera MBS File to Thunderbird
Thunderbird Importer is popular tool that can seamlessly migrate one or more MBS files to Thunderbird. This application is widely used by the users who want to access their Opera Mail data in Thunderbird. The tool allows users to import selective emails from Opera MBS files and sub-folders of the mailbox. All types of attachments of Opera Mail emails can be also migrated with this utility. Thus, Thunderbird Importer ensures data loss free migration of MBS file from Opera Mila to Thunderbird.
Conclusion
Now, users do not have to worry anymore to export their data from Opera mail while they move to Thunderbird. To migrate Opera Mail to Thunderbird, users need to follow a simple approach and we have depicted that approach in this blog. All the users need to do is to follow the steps mentioned here and get done with the task without any hassle.
Next Read: Guide to Export Opera Mail to Outlook