How to Export AOL Contacts to Gmail? Complete Guide
Overview: Looking for an easy way to export AOL contacts to Gmail? If So, you came to the right page. In this article, you will get an easy way to import your contact list to Whatsapp platforms. So, keep reading this article.
Some users are moving to Gmail for the new features and stability it offers. AOL email client users are also rushing to migrate to Gmail. In this blog, we'll guide you through the process of exporting data from AOL to Gmail, specifically exporting contacts from AOL to Gmail.
However, Gmail and AOL email clients have their advantages. However, Gmail is superior to the latter in every way. AOL is short for American Online. It was acquired by Verizon in 2015 and is a popular email service provider in the United States. On the other hand, if we talk about Gmail, it is one of the most used email clients today.
Reason to Import AOL Contacts to Gmail
Users moving from AOL to Gmail should import their AOL contacts into Gmail for the reasons listed below.
If you forwarded from AOL to Gmail and didn't export your contacts from AOL. All contact information will be lost and you will not be able to manage your email effectively. This can cause problems when sending emails.
Gmail is one of the most secure email clients that prioritizes user privacy. We would like to use these privacy services to keep our contact information safe.
AOL is currently experiencing frequent server issues that cause server downtime. At this time, we do not have access to his AOL email with his contact information. A user wants to export AOL contacts to her Gmail to avoid such incidents.
Large companies and organizations may suddenly switch from one email client to another. Since Gmail is the most prevalent, the employee has no choice but to switch to her Gmail, so she forwards all her contacts and emails.
Now you understand why users want to export their AOL contacts to their Gmail. Now let's move on to ways that can help you do this.
Technique to Export AOL Contacts to Gmail
There are three ways to transfer contacts from AOL to Gmail. Let's start:
Now let's elaborate on each phase by providing the necessary processes
Phase 1 – Export Contacts from Your AOL
First, Launch your AOL Profile.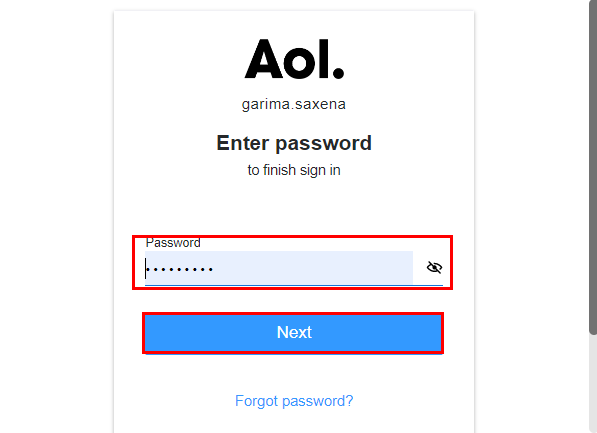 Choose the Contacts option.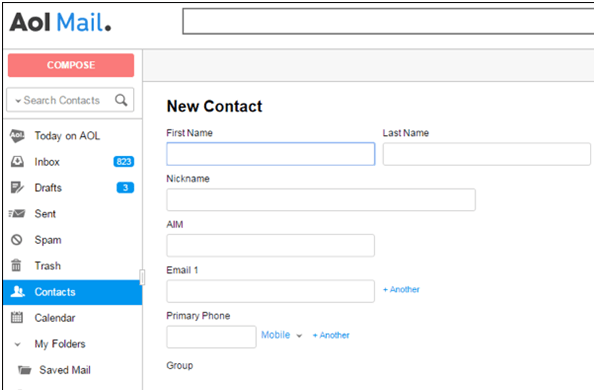 Under Contacts, select More and click the Export option.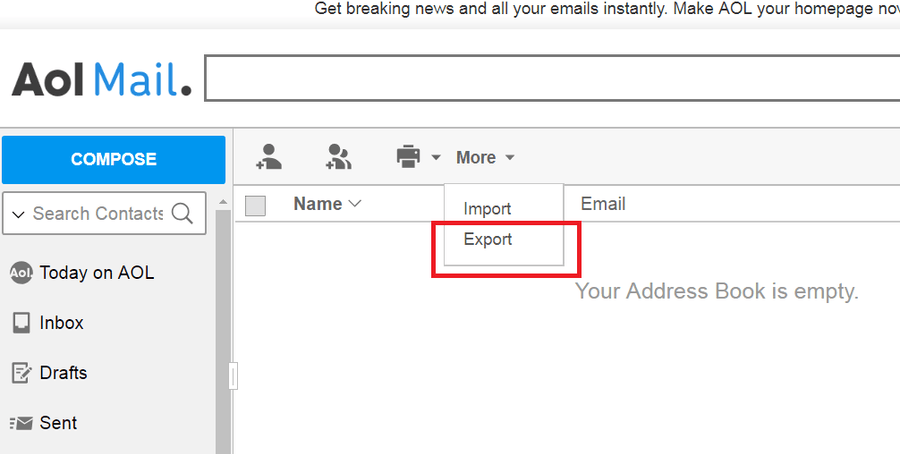 Now, choose the CSV option. After that, Select  the "Export" Tab.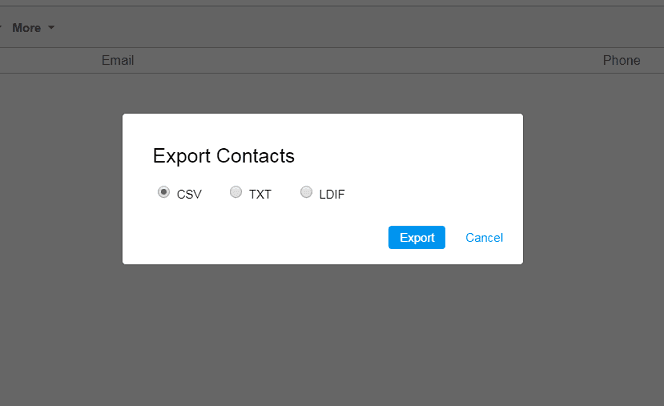 That's all. Follow the process to export all contacts from your AOL account.
Phase 2: Converted CSV Contacts into One vCard File via Export Solution
Importing one file at a time can be time consuming, so you should first combine all your contacts into one file. This is not professional advice. Therefore, it is recommended to combine them into a single file and then import all the data at once.
To convert all your contacts into one file for easy import into Gmail, we recommend download the Expert Recommended Software. This is the most reliable, secure and accurate solution. With this app, you can easily convert Excel contacts to vCard and at the same time convert them into a single vCard file. Both technical and non-technical people can easily use this app without any problem.
Free Demo – Download the conversion tool for free to see how efficient and functional the software.
First, Download this application and launch it on your computer.

Pick the browse option to upload your CSV contacts file.
Preview all selected workbook contacts files.
Select Map all Excel fields to vCard Contact fields.
Select any desired vCard version 2.1, 3.0 or 4.0 depending on your needs.
Hit on the Convert button to convert your contacts file to VCF.
Just that. The software starts converting your AOL contacts into a single file. After you create the file, import it into your Gmail account.
Step 3: Import the Contact File to Gmail Account
This is the final stage of the process. Once processed, you will have easy access to all your AOL contacts in your Gmail account.
Click on the 9 square dots in the upper right corner and select Contacts. Or go here: https://contacts.google.com/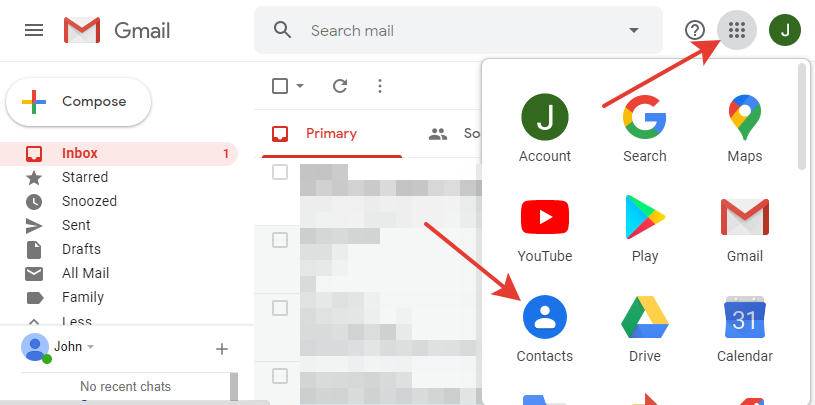 Click More and select Import.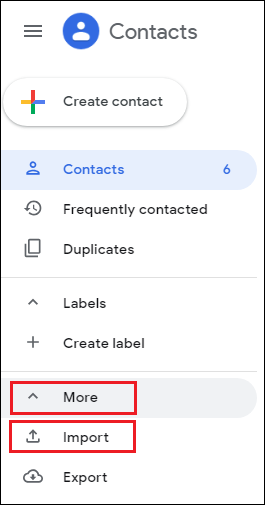 Select the CSV file for contacts.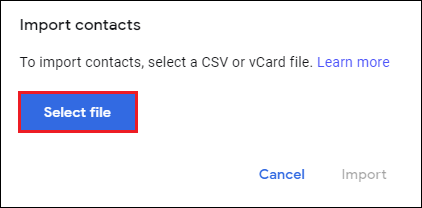 Select the exported contacts.csv file for the AOL account. Click Open.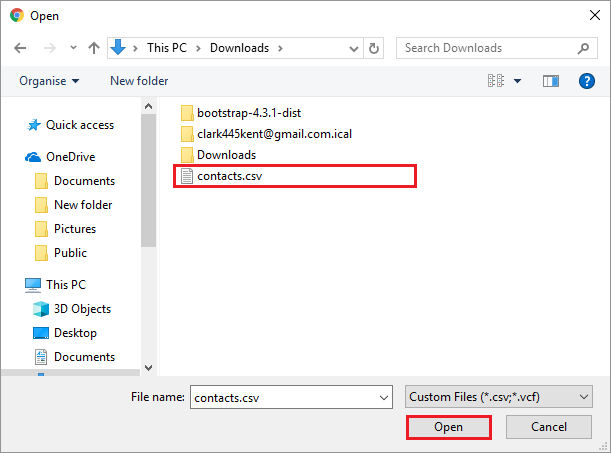 Select the generated vCard file and click the Import button.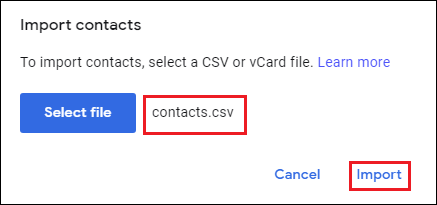 When the import process is complete, Gmail will show how many contacts were imported.
Just that. All contacts are now imported to the Gmail account. Now you can easily access it.
Amazing Features of Recommended Software
A completely secure, reliable and easy to use application to convert multiple contacts into one single file.

There is no file size limit for importing AOL contacts into your Gmail account.
While converting contacts, this reliable app keeps all the properties.
Also, this solution works on Windows 11, 10, 8.1 and other previous editions.
This app allows you to import your AOL contacts to your Gmail account without any hassle.
The software also allows you to choose where the resulting output should be retrieved.
Conclusion
In this post, we've answered some similar questions from AOL users, including how to move your address book from AOL to Gmail, how to export AOL contacts to Gmail, and more. These are all the same solutions described in this blog. With the provided program this process can be done easily without data loss. The above steps have been tried and tested. Provides accurate results in all qualities. If you need to do this kind of work, have a look at this page.