Error "Microsoft Inbox Repair Tool Not Responding" : Solved and Made Simpler
Outlook is a simple emailing application provided by Microsoft. It often receives corrupt messages which may damage the personal data file(.pst) that stores emails on the back end. It can be fixed by using an inbuilt Inbox repair utility 'Scanpst.exe'. While running this tool, many have found that it hangs or freezes in the middle of the recovery process.
Hence, clicking or other tricks work at this time not going to work. It can be quite a hassle for a regular user just looking to access their mailbox again. In this post, one can learn all about the issue where Inbox repair tool not responding for any reason. It discusses many solutions which can help with the situation. It mentions all the necessary instructions to repair PST file. It can be useful for anyone looking having similar problems with Outlook client.
Reason for Microsoft Inbox Repair Tool not Responding
This signifies that the recovery is taking a little bit more time than usual. The tool is running in the background with a progress bar to show the status. It can hang for usual reasons that there are just too many errors or the size of the PST file. It can take hours for the repair process to complete. After which, a message box is shown indicating the same.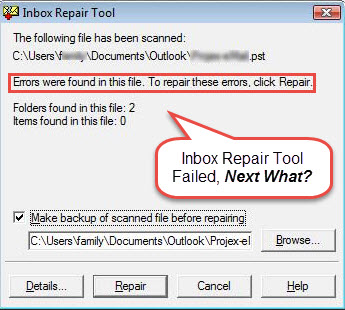 Need For Using Microsoft Inbox Repair Tool
Here are some of the errors that people might have faced when using Outlook. The Scanpst.exe utility can help in following situations:



Possible Reasons for Microsoft Inbox Repair Tool not Responding
Listed here are some common issues faced by users on multiple occasions. These can be the root cause of Outlook.
Issue with the Outlook email client
Virus Infection
Damage to the sector/partition/drive/system where the file is saved
PST file corruption
Abrupt Closure of Outlook application
Problems with the installed Add-ins
Large PST file issue
Re-installing Outlook on the same machine
Corrupt email message
Limitations of Scanpst.exe Tool
Important Data Lost: It scans the folder structure and if it is unable to read the data, it deletes it. All the folders, subfolders and information stored within is lost.
Data Integrity not Ensured: This corrupts the existing structure and using Inbox Repair Tool creates more problems for the user.
Not a Guaranteed Solution: It checks the low-level objects like file directory structure and file headers. There can still be some upper-level objects like email messages, contacts which may not be recovered.
An Automated Approach to Recover Outlook Without Any Hassle
There is a lot of important data saved in a user's mailbox. It can be multiple emails, contacts, calendar items, etc. all saved in a single .pst file. It might take hours sometimes just to repair this database. Many professional users opt for a faster, more efficient way to fix Scanpst.exe errors.
They look for tools like the Outlook PST Repair Software which is much more reliable than any manual method. It provides multiple functionalities built in a single application. It can remove any errors or corruption from a .pst file and recover data. It provides guaranteed solutions with 100% accurate results. A healthy file can be saved to PST/MSG/EML or Office 365 format. The tool works on all available Windows version for 32 and 64-bit machines.
Also Read: Recover Outlook files via Inbuilt Utility ScanPST.exe
Conclusion
The Scanpst.exe is a single point of recovery from any Outlook errors or corruption faced by users for free. It is the preferred method to try and fix any problem found in a PST file. At times, there may be issues with the tool itself. Many users have complained that the Inbox Repair Tool not responding in the middle of processing. It can be a real hassle for any user. It can be resolved by manual means most of which have been covered in this post. There is a detailed study to examine the leading causes of errors in a PST file. If this does not work, one can always opt for the automated solution discussed at the end of this post.