Fix Outlook Error: Default Outlook Profile OST Must Be Restarted
Suddenly, your Outlook Client is crashed or refused to re-open. When restarting Outlook it continuously showing error "default Outlook profile .ost must be restarted" message repeatedly and Outlook data file cannot be opened. Then you are in the right place.
In this blog, we are going to give you some effective solutions to fix this error.
First, check the error is like as shown below: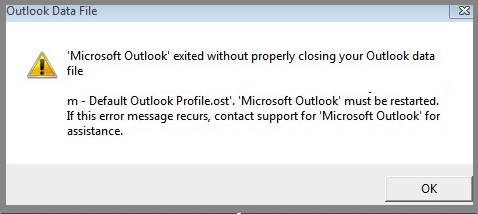 Then, if you are clicking on "OK", another error message displays as:

Each time when Outlook opens, these messages appear on the screen and Outlook data file cannot be accessed.
Therefore, in the next section, we will discuss the reasons behind this default Outlook profile .ost error.
Why MS Outlook Suddenly Closed without Properly closing Outlook Data Files?
If the user cannot start Microsoft Outlook 2016 / 2013 / 2010 / 2007 / 2002 / 2002 then, there may be various reasons, these includes:
1. OST Files are in use with other Programs – Default Outlook profile .ost is in use and cannot be accessed, if a user is using another program while handling Outlook-like Office 2010, Lync Client is used by Outlook as an add-in.
2. Installing Windows Updation – Sometimes, error may be caused due to installing specific windows update while working on Outlook OST files. This leads to improper Outlook closure.
3. Windows not updated – If windows administrators fail to update their machines, this may also lead to the sudden closure of Outlook & Outlook data file cannot be opened.
Note: The user can also read the another post to know how to backup Outlook data file OST.
Manually Fix The Error By Using Different Techniques
Various approaches are available, to overcome these errors "default Outlook profile .ost must be restarted". Some of the easy and effective solutions are given below:
Approach 1: Reboot your System and the Application
When the Outlook data file cannot be found, simply reboot your email client and the system you are using. After it, the whole process will restart and load files again and maybe the issue will resolve.
Approach 2: Close the attached programs
Close the programs attached to MS Outlook, processing in the backend. May be these programs interrupting Outlook data. Steps to process are as follows:
Install and run Process Explorer. It contains two windows – top window showing active programs and other bottom windows displays handles or DLL. The select process from the top window.
Go to the tab "Find Menu", and locate "Find handles and DLL"
Search for "OST". This will open all handles attached to Outlook OST files.
Close all handles to OST data by selecting them.
Then, Restart Outlook.
This method may work to resolve this error but not able to fix Outlook data file corruption error, this is a temporary solution.
Approach 3: Recreate a new profile to Outlook
To uninstall and reinstall MS Outlook may help to resolve this issue. But this process is risky and can cause to data loss or corruption. However, steps for the procedure are as follows:
Go to Control Panel, locate Mail and select data files from the Outlook Mail Setup.
In the Account Setting Page, the files listed with .ost extension
The active OST files are check-marked, by default.
Delete these OST files and restart Outlook. It will rebuild your Outlook data.
In cases, when an error is caused due to windows updation issue data files corruption, then error resolved after reinstalling MS Outlook and its other programs.
Approach 4: Uninstall specific Windows Updation
Sometimes outlook data file cannot be found due to Windows updation KB 3020338, then uninstall the windows update by the help of windows administrator, and restart Outlook.
These are some solutions, which might be helpful for you to fix this "default outlook profile .ost must be restarted" error.
NOTE: But these solutions are not working if your OST data files which are missing or corrupted because of some other reason and cannot start Microsoft Outlook 2016 / 2013 / 2010 / 2007 / 2002 / 2002. In such cases, you can try OST to PST Exporter.
Download OST to PST Exporter Purchase Now 100% Secure
If Outlook is not responding! Convert OST to PST without using Outlook
This software is specially designed to convert Outlook OST data to Offline PST. This utility helps the user to convert OST data into PST without using Outlook. When the user has a bulky vital data and it becomes inaccessible due to outlook data file corruption error, it creates a serious problem. To manage the situation user must have to convert their important OST data into PST or other file formats by using this tool. The software also helps to recover intentionally or accidentally deleted data.
Follow these simple steps to Export the OST data into PST file format:
Download and install the software in Windows OS.
Add files, and the software preview panel will show the OST data files.
Select the PST radio button to convert OST into PST.
Finally, browse the destination location to save the converted file into the system.
Final Verdict
In this blog, we have discussed different causes of error "default Outlook profile .ost must be restarted" and solutions to troubleshoot this error. This error displays on screen due to various reasons, and it's important to apply the appropriate method for the resolution of the error.
Similarly, if Outlook is not opening and that's why Outlook data file cannot be accessed. Then, to overcome this problem I have suggested to convert OST data into another file format. The OST converter software is trusted and specially designed & developed to convert OST files without any data loss risk. Use this tool to save your vital data in your system locally, so that you can use it anytime.