Why Am I Getting Junk Mail in My Outlook Inbox? How to Fix?
Microsoft Outlook or Outlook.com is considered to be an important email client in today's technological world. However, despite the popularity, reports claim that Outlook users face problems from time to time. And recently, users are getting fed up with the "Why am I getting junk mail in my Outlook inbox folder" issue. Due to this obvious problem they are unable to maintain a clean inbox in Outlook mailbox.
However, it is quite possible that a spam email or junk email may not be in your inbox or target inbox folder. For that, Outlook also lets users have some features to prevent junk emails from ending up in the inbox.
However, Microsoft tweeted after receiving reports from all users about persistent spammers in Outlook inbox. Microsoft said that the bug has been fixed by their Outlook engineer and soon users will get clutter free Outlook inbox again.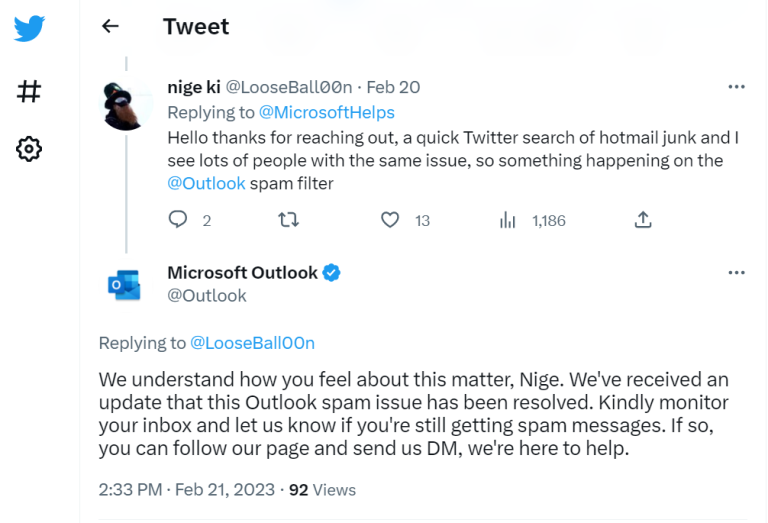 But, so far no user has shared the current status regarding this issue. So, if you are still getting junk emails in the inbox of Outlook mailbox. Then, you can either manually report the email as spam or block the email addresses. In addition, you may also unsubscribe from unwanted third party websites or mailing lists. Or simply delete those spam emails to make the inbox clutter free.
Why Am I Getting Junk Mail in My Outlook Inbox – User Queries
User Query 1 – I have been using Outlook perfectly fine but on Monday I have noticed that my inbox is filled with junk emails. Checked with my other friends as well and they have the same issues. I am still unable to identify the reasons behind this. Please, Microsoft fix this bug asap as we are getting hundreds of spam messages directly in inbox.
User Question 2 – I am unable to figure out what is happening with Outlook junk folder emails lately. Not a single spam email is getting filtered and sent to junk folder, instead I am receiving them in Outlook inbox. Even though I have manually deleted them from the inbox, the situation is getting worse. Since the junk in the inbox folder has taken over, I am completely fed up with it. If this continues to happen then I will have to switch to some other platform to manage my data. Please someone share solution to fix it ASAP.
Important Note: If somehow email have been deleted from Outlook application and if you are wondering how to restore them. Then, go for smart Outlook Database Recovery Software solution that will help to repair and restore all emails. After recovery, you can also safely save the repair on the desktop in any required file format.
Reasons That Might Cause this Issue
"Why am I getting junk mail in my Outlook inbox folder" is the major concern of every user now a days. However, there are many reasons that directly affect Outlook junk email, such as-
Chances are the junk filters in Outlook or Outlook.com have been broken recently. Therefore, if the junk filters are broken, all spam emails will fill up the Outlook inbox.
Also, there might be a high chance that Microsoft's spam detection is not working for many Outlook users.
This may happen because the particular email has too many attachments.
Similarly, most users use third party email filters to filter spam email in Outlook mailbox. But if there is any technical glitch in the third party email filter then all the junk emails will be sent directly to the inbox folder.
Now, that you have already got junk or spam emails in your Outlook inbox folder, you can refer to the next section to fix it.
Steps to Move Outlook Junk Emails to Block Sender Option
Technically, there's nothing you can do about junk email you receive in your Outlook inbox folder. But, all you can do is either block the email addresses or delete them manually. So, follow the below steps to get the spammer addresses listed in Outlook Block Sender list-
Open Outlook account, and on Home tab click on Junk button and select Junk Email option.
Then tap on Blocked Senders >> Add button.
Next, just enter spammer email addresses in the designated field at the top of the junk email you receive.
After adding the address, hit the Apply option and OK to save all the settings.
With these steps, all junk email will be stored in the Blocked Senders section. Therefore, you will never receive any junk or spam email from the same address again. However, if the junk filter is working efficiently again, all spammer emails will automatically be sent to the Junk folder. Also remember that the system will keep them for 30 days before deleting them permanently.
Why Am I Getting Junk Mail in My Outlook Inbox – Conclusion
However, since Monday, many Outlook users were having this issue in their mailbox. This really bothers them which ultimately results in reduced functionality of Outlook. So Microsoft has reported that their Outlook engineers have fixed the bug. Hence, in this article, we have shared the reasons and solutions that can be helpful in this regard. Also, we have also shared what steps can be taken to move those junk emails again to junk or spam folder.