How to Import Contacts from Outlook into iPhone?
Do you want to import contacts from Outlook into iPhone 11, 10, 8, 7, 6? Here in this blog, we will explain the safe and secure solutions to transfer Outlook contacts to iPhone without losing any information.
In case if you use your Outlook Address Book a lot then, the thought to import Outlook contacts into iPhone might be overwhelming for you. Because that's not as easy as it seems to be. Moreover, you can't spend several hours to retype all your contact information to Outlook contact list.
Therefore, here is an easy solution to fix how to transfer Outlook contacts into iPhone query. The solution given here is completely safe and it is highly recommended to follow the guidelines carefully to avoid any kind of data loss or contact fields mismatching issues.
How to Import Contacts From Outlook into iPhone?
Since there's no direct option to import / export address book data from Outlook into iPhone so, the complete import process is categorized into 3 major steps:
#Step 1: Export Contacts from Outlook
Exporting your contacts from Outlook saves a copy of your contacts as a CSV file or other file type. You can use this file to import your contacts into another email account.
In Outlook on your PC, Choose File Tab.

Select Open & Export > Import/Export.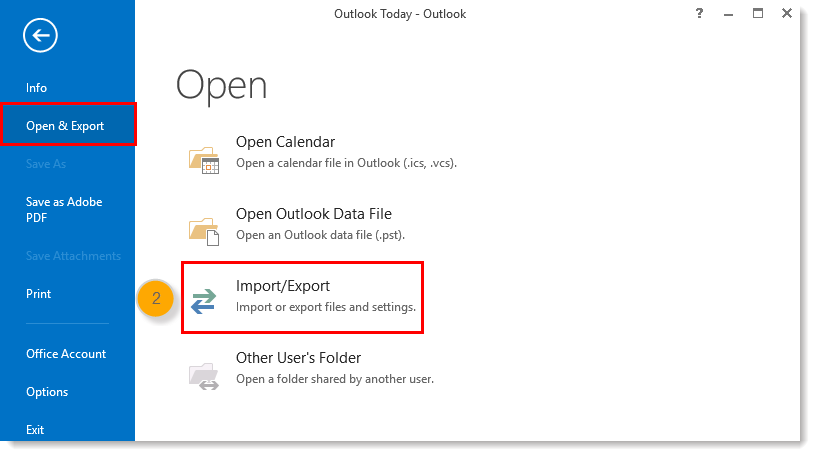 Choose Export to a File Option.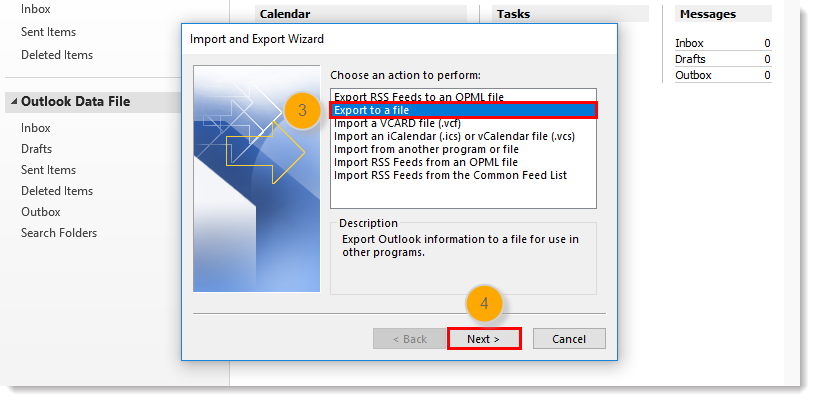 Pick the comma values separated.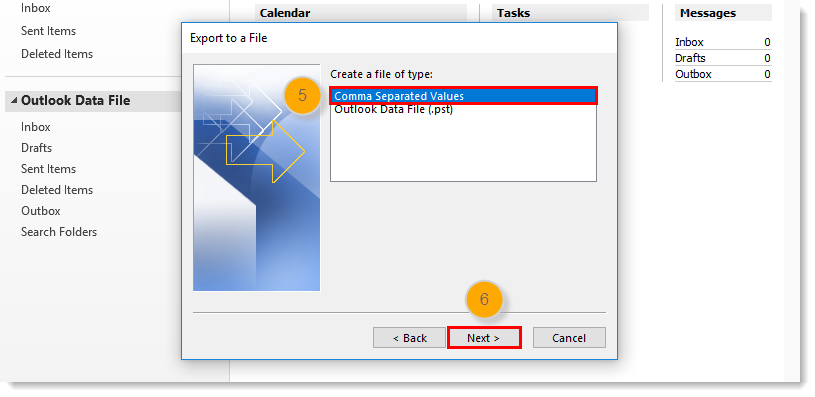 In the Choose folder to export box, scroll to the top if necessary and click your Contacts folder. Select Next.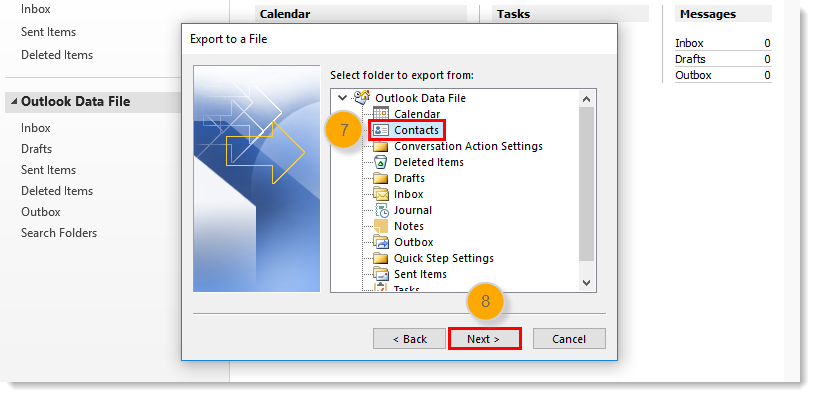 Select Browse, name the file, and Click on the Next .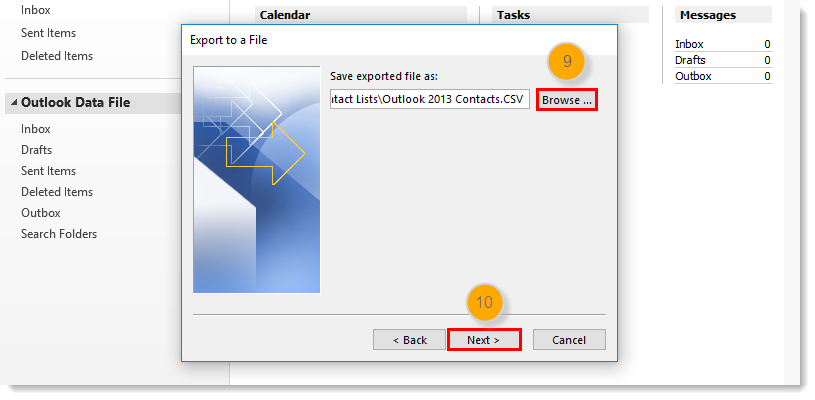 Select Finish  Button to start exporting your contacts immediately.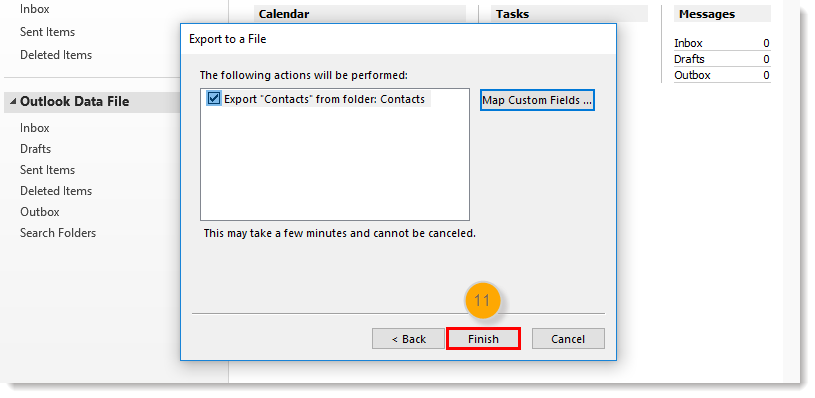 Automatic Solution to Import Contacts from Outlook into iPhone
A Word of Caution: Exporting contacts to vCard from your MS Outlook account directly might lead you to permanent data loss and other issues like missing contact information, mismatched contact columns or wrong contact information. Therefore, it is recommended to export Outlook Contacts to CSV first and then proceed move Outlook contacts file into iPhone with the steps below.
#Step 2: Convert Exported Contacts to vCard
Download and launch Mac CSV Contacts Converter tool
Click on Add File(s) button and add the contacts CSV exported above
Select VCF as export option and choose Mac vCard and vCard v3.0 or v4.0. Map CSV Contacts with vCard Contact Fields
Browse a destination location and hit the Export button.
Right after this, all the Outlook Contacts saved within the CSV will start converting into vCard file format and it is highly advised to not to interrupt the on-going process.
#Step 3: Import Converted vCard to iPhone
Simply follow the steps below to import an iCloud compatible vCard file to your iPhone.
Open https://www.icloud.com/ and sign in with your credentials.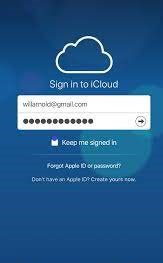 Go to iCloud Contacts Option.
Select the Settings icon in the bottom right corner and Click on the Import vCard.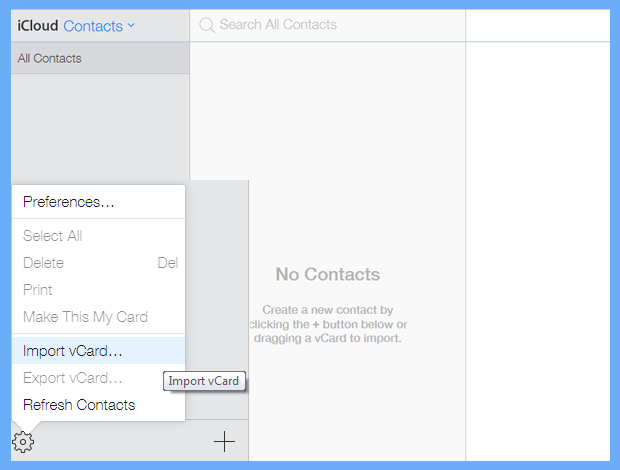 Then go to the exported vCard file and click the "Open" button to start the transfer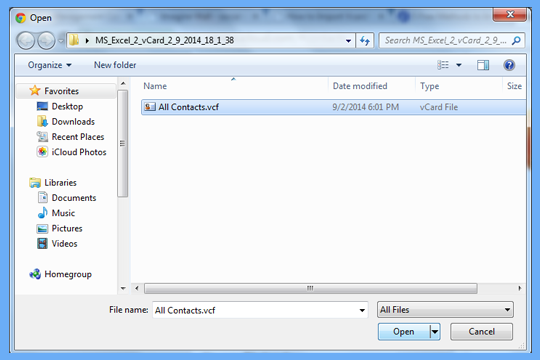 Finally, to verify that the vCard file has been successfully imported or not, go to the Settings app on your iPhone.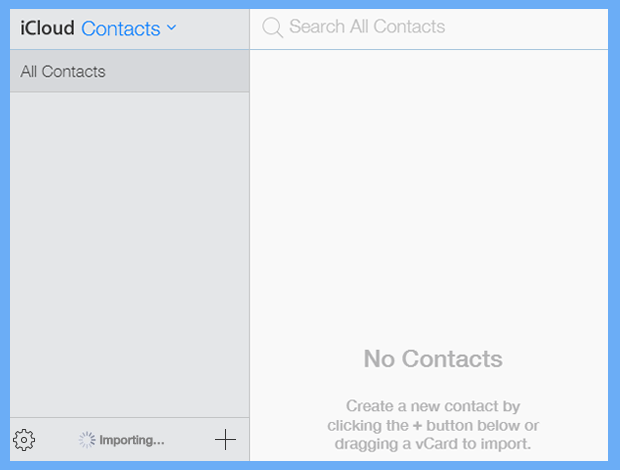 Choose your name and iCloud account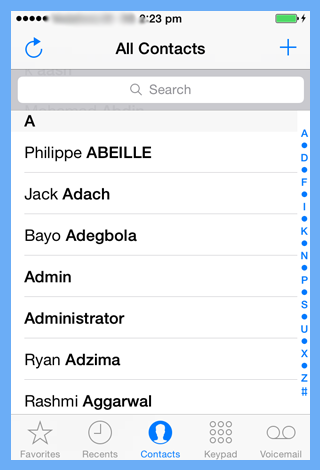 After that, you need to open Contacts and click Merge option to import contacts from Excel spreadsheet to iPhone.
Final Words
The day-by-day increasing craze of iPhone emerging queries like how to import contacts from Outlook into iPhone. Also, today everyone wants their crucial data on fingertips. Hence, in this tutorial, we have talked about a simple and efficient approach to import Outlook Contacts to iPhone. The solution is safe, easy, and non-tech-savvy people also can implement it.