What Happens When You Delete a File From a USB Flash Drive – Recover Data
Most users have suffered data loss problems, Whenever they store their important data in USB flash drive. Basically, most of the users are unaware of the reality i.e., when they normally delete or permanently deleted by pressing shift+delete button any file from a flash drive. So, the file will be deleted permanently from USB drive alternatively of going to the recycle bin. After permanently deletion, users find an instant solution to recover permanently deleted files from USB flash drive.
There is no manual method that guarantees to recover deleted data from USB drive. Basically, using software is the best way to get prominent results. So, with the help of this article, we are to resolve the most commonly asked queries; like what happens when you delete a file from a USB flash drive and how to retrieve the deleted data.
Topics Covered in this Blog:
Where do deleted files from USB go?
How to recover deleted files from USB flash drive?
How to recover deleted files from USB without software?
Where Do Deleted Files From USB Go?
Normally deleted files from USB flash drive are deleted permanently instead of going to the recycle bin. So you cannot just restore the items from the recycle bin. After all, the deleted files from USB are not in recycle bin.
But if you consider the answer in technical terms, then the deleted files actually are still present on the physical drive. It's just that the storage used by it is marked empty and cannot be seen by users. This is also the reason that if you overwrite the USB drive, then the "empty" storage space gets used and you lose the chance the recover the deleted files ever.
Here, we come up with an effective technique to instantly recover deleted files that are either emptied from the recycle bin or permanently deleted beforehand. This is a third-party tool named Pen Drive Recovery Tool. This tool has the capability to recover corrupted, deleted, and formatted files from USB flash drive.
However, this software consist of a unique feature i.e., it highlights the deleted files in red color. So, it turns simple to define which data is deleted permanently. Moreover, this tool does not have any compatibility issues.
Steps to Recover Deleted File From USB Flash Drive
Here, in this segment, we are going to disclose the directions to recover lost files from USB flash drive in a smart way. Just follow all the steps in a sequential way to implement the recovery procedure effectively:
Step 1: Firstly, download and install the software on your desktop. The home screen will show the list of all connected USB flash drive to your system.
Step 2: Here, this recovery software provides you with two options to scan your flash drive i.e. scan and formatted scan. You can choose Scan option to recover corrupted data from USB drive or Formatted Scan to retrieve deleted files from drive.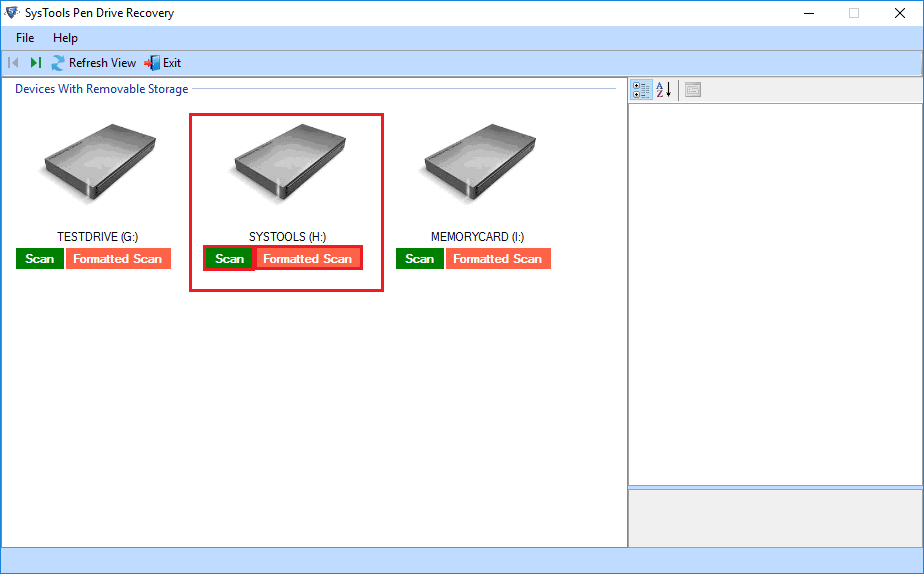 Step 3: Subsequently, the tool will list all recovered folder into the left panel and highlight in bold black all the folders contained inside. So, you can explore the folder and view the entire data in the right pane of the software.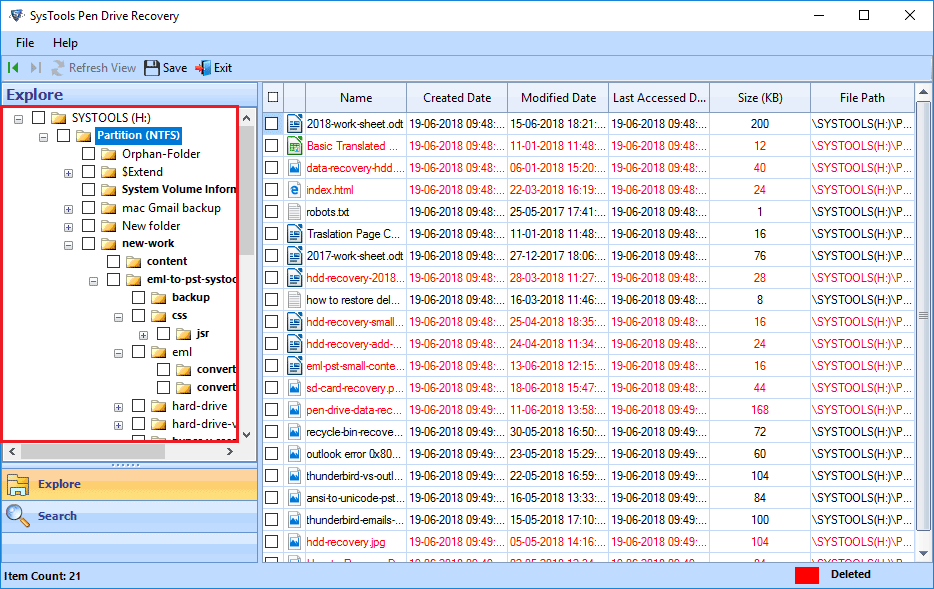 Step 4: This USB flash drive recovery tool will give you two options to store the recovered data such as either save specified data or complete recovered data. Here, you can choose the option according to your need.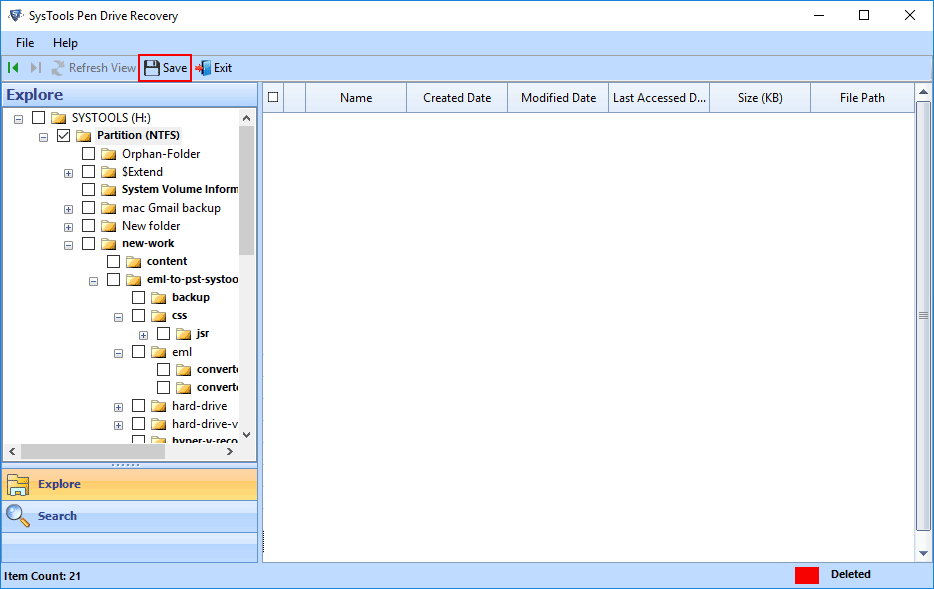 Step 5: All listed files are successfully recovered.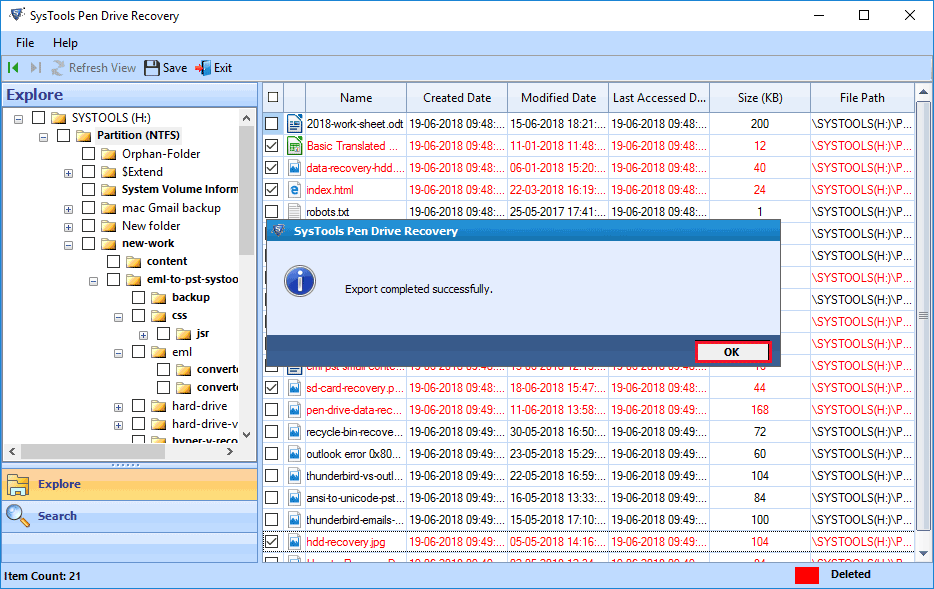 How to Recover Deleted Files from USB without Software?
If you do not wish to use the software, although it is recommended, there are two other options to bank upon. If you are lucky, then either of these methods should do the work for you.
I. Use Command Prompt to Retrieve USB data
After connecting the USB drive to the computer, hit Windows+R key. Now, type cmd and click the OK button.
You can also search for CMD in the search bar to launch the Command Prompt screen.
Once it opens, type attrib -H -R -S /S /D Z:*.* (here, replace Z with the drive name of your connected USB drive).
Press the Enter key.
Windows will now attempt to recover the deleted files from pen drive. Once the process completes, look for them in the USB.
II. Use "Restore Previous Versions"
If the feature "System restore" was enabled before deleting the files, then you can restore the deleted files that existed when the system created a restore point for it. Without the protection feature turned ON, the below steps are of no use:
Right-click on the folder that once comtained the deleted files or do it for the complete USB drive.
Select Restore previous versions.
If the restore points exist, then they will be shown.
Select the file version you want to recover and click the Restore button.
Users Queries

Hello, I used Samsung pen drive last two years. I stored my all important data like pictures, videos, document etc. in pen drive. Yesterday I was deleting some unwanted data from pen drive. I don't know when I had deleted my important official folder from it. Now I want my data back because all data is very crucial for me. Please help me and suggest me How do I recover permanently delete files from my flash drive?

Yesterday I gave my HP pen drive to my friend. He wants to copy our vacation pictures. When he return pen drive to me. Pen Drive was empty. There was no data. Now I want my data back please give me better suggestion to recover permanently deleted files from pen drive.
Its Time to Verge
In the above article, we have explained what happens when you delete a file from a USB flash drive. To overcome this situation you can try the above-mentioned software and recover your data safely and securely without any trouble.