The Operation Failed An Object Could Not be Found (0×8004010F) Error Resolved
"The operation failed An object could not be found" error popping up when we are trying to click Send /Receive in Outlook. This error is known as Outlook reported error (0×8004010f) and is generally seen in Outlook 2013 and Outlook 2010 versions, however, it appears on other versions of Outlook when the Outlook profile is configured with Exchange Server.
Factors Responsible For The Operation Failed an Object Could Not be Found
The error message "The operation failed in Outlook" in Outlook can be caused by a variety of issues, including problems with your internet connection, conflicts with other software, or corruption in your Outlook data file. It can also be caused by temporary issues with the Outlook program itself, such as outdated software or a damaged profile.
Whatever the reasons repairing the Outlook OST file and export Outlook OST email into another file format is the direct solution to resolve this behavior of Outlook error. But here we are describing some troubleshooting to fix objects could not be found in Outlook error.
Method to Fix The Operation Failed An Object Could Not Be Found
Well after knowing the reasons that are responsible for this annoying error in Outlook. Let's move towards the solution part where we deal with all the reasons one by one.
#Method 1: Creating New Outlook Profile
Creating a new Outlook profile is a very simple task, you just need to go through below procedure.
Step 1. Go through Start -> Control Panel -> Mail, and hit the "Show Profiles" tab under "Mail Setup" dialog box.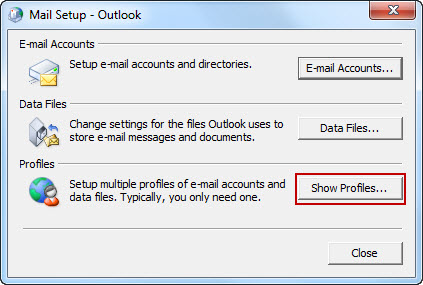 Step 2. Choose your Outlook profile and hit the "Properties" tab and click on "OK" tab.
Step 3. An Account Settings screen will appear, here you need to press the "Data Files" tab.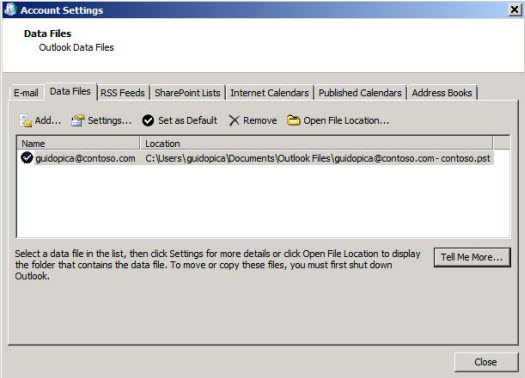 Step 4. Under data file tab you will see the current location of Outlook data file that you are using.
Step 5. Once you have located your data file you need to close this Window and create a new Outlook profile.
Step 6. Open Control Panel > Mail Setup and hit the "Show Profiles" tab in Mail Setup – Outlook Window.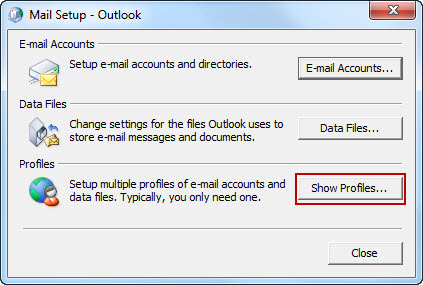 Step 7. Hit the Add tab in the General tab and enter your new Outlook profile name and make this profile as your default profile, just by selecting "Always Use this profile" tab then click OK.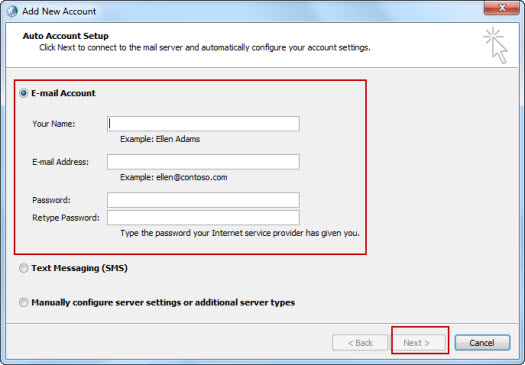 Step 8. Configure your new profile by entering your name, email, and password then hit the Next tab.
Step 9. Finally, click on Finish. Now, you have successfully created new Outlook profile.
#Method 2: Repair Outlook Data File
However, as we've already discussed the root cause behind "The operation failed an object could not be found" 0×8004010F error is corruption issue in the Outlook data file. So to fix this issue we have to fix the corruption of the Outlook data file.
Now, to fix the corruption of the Outlook data file you can use the Outlook inbuilt inbox repair tool which is known as Scanpst.exe. Using this tool one can easily repair minor corruption and able to resolve the Outlook issue. But in the case of major corruption, the tool will not that much effective.
So, to overcome this issue here in this section we are going to introduce one of the most advanced tool that helps users to repair any level of corruption of Outlook data files. Outlook PST Repair Software by EmailDoctor is best and most reliable option to fix the damaged PST file. The tool supports all the Outlook version PST files including the latest Outlook 2021.
Working of the Tool
1. First, start with downloading the tool.
2. Once the download is over open the tool and click on Add Files to add an Outlook data file.
3. Choose the Scan option such as Advance or Quick.
4. Select the PST option from the Export option.
5. And in the last click on the Export button to complete the task.
After completion of a task open Outlook to check whether the issue is resolved or not.
Conclusion
Well, that's all you get through this blog post. So, if you are facing the issue of the operation failed an object could not be found, then explore this guide and resolve this issue by yourself. Here we have mentioned all the possible solutions that fix this issue.