How to Sync Gmail Contacts to iPad Device?
Summary: If you are searching for an easy way to sync Gmail contacts to iPad then, this article will help you to import your Gmail contacts to the iPad.

Thousands of people struggle with transferring Google contacts to the iPad. It's difficult to store all Google contacts manually into iPad because it is a time-consuming process. So, we need an expert solution to store all the Gmail contacts to iPad. Here we are going to define some appropriate steps to resolve this problem.
Why Need to Transfer Google Contact to iPad?
One of the most common reasons to export Google contact to iPad is switching from an Android or iOS device to an iPad device. Moreover, communication is an another reason by which people communicate with each other through the contacts. In such scenarios, the first thing that strikes in user's mind is how to import Gmail contacts into iPad device.
How to Sync Gmail Contacts to iPad?
Follow the steps below to export Google contacts to iPad:
Step 1: Export Contacts from Google
1. Open Gmail then, select Google apps >> Contacts.


2. Click on the Export button to move Gmail contacts file to iPad.

3. Select the contacts that you want to export.


4. Now, Choose the Google CSV file format.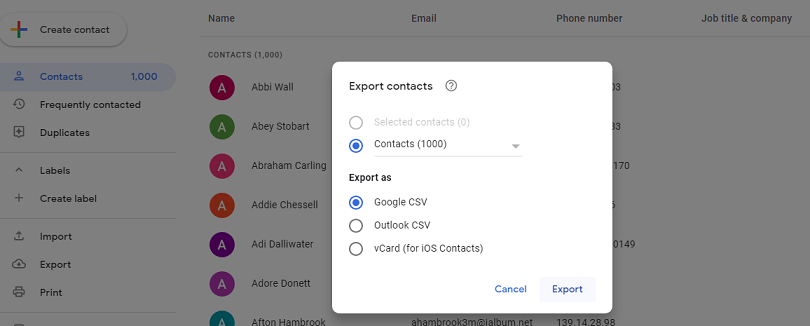 5. Click on the Export button to export contacts file.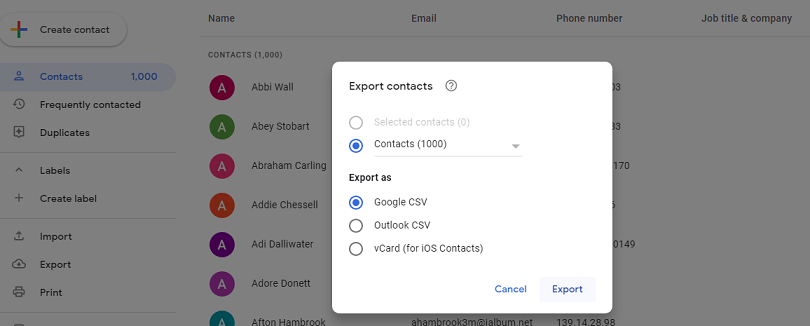 6.
CSV file will automatically start downloading on your system.
Step 3: Convert Exported CSV Contacts File into vCard
Since one cannot import CSV directly to iPad so, we have to convert CSV to vCard. Also, everyone uses a different platform to access their contacts so, here we will show you how to convert Excel to vCard (for iPad) on Windows and Mac platform.
Download and Install the Software.
Browse Google CSV file from your system, click Next.
If the file loaded successfully into the software then it will display the content of the file, click Next.
Now, we have to do manual mapping, click Next.
Select Single vCard file for all the contacts checkbox and select the radio button for vCard versions 3.0 or 4.0.
Change the saving location for storing the resultant file and click Convert Button.
Step 2: Import vCard File to iPad
Open iPad Settings Option.
Click on Mail, Contacts, Calendars then select Add Account.
Choose Google account from the list.
Enter your email address, click Next.
Enter your Gmail account password, click Next.
Now, turn on Contacts option to export Google contact to iPad.
Transfer Gmail contacts to iPad problem SOLVED!
Conclusion
In this article, we have discussed a common query how to Sync Gmail contacts to iPad. Here we have given simple steps to import CSV contact to iPad. From now on, users can easily import Gmail contacts into iPad. This expert solution store all the Gmail contacts to iPad