Complete Solution to Save Mac Outlook Emails as PDF File Format
According to the research, most of the users search how to save Mac Outlook emails as PDF file format but they don't get the results that are convenient and reliable.
Don't worry. Here is the solution to your problem. In this article, we will provide you different ways to save email as PDF Outlook 2016 Mac.
 So let's begin.
Why do We Need to Save Mac Outlook Emails in PDF File Format?
Generally, we convert emails in PDF file format because a PDF file can be stored with Word, Excel, and other types of documents in an individual folder. This file format is easily sharable and one can easily view PDF file format regardless of the type or types of equipment or software they have. We can also secure our PssDF file by applying a password to it.
Common Techniques to Save Emails from Mac Outlook to PDF
Mac Outlook users can choose the manual method or any automated tool to save Mac Outlook emails in PDF file format. This blog will describe both methods in detail.
We can assure users that by the end of this article, users can easily make a wise decision to save their emails in the desired file format without facing any difficulties. Moreover, users can become technically wise after reading this article for their future projects.
Native Method for Mac Outlook to PDF Conversion
If you want to save the emails for free in Mac, the manual technique will be helpful for you. To perform this free method, you do not need any extra software. With the help of integrated Mac Outlook features, any Mac user can save Mac Outlook emails asPDF.
1. Open Mac Outlook 2016 and select the email you want to save as PDF file format.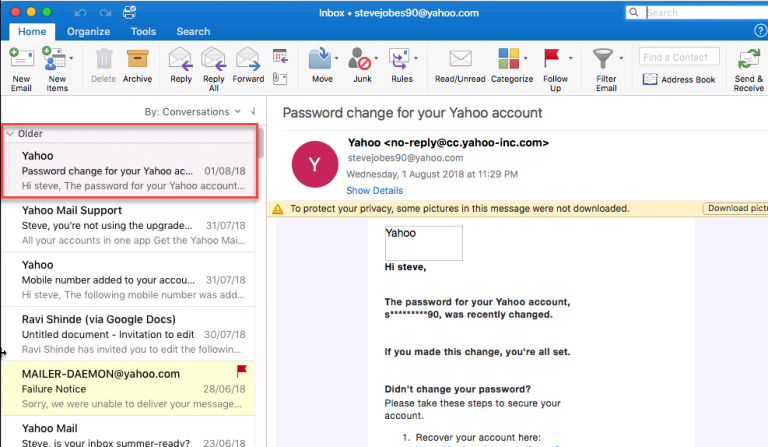 2. Double-click on the email to open it in a separate reading window.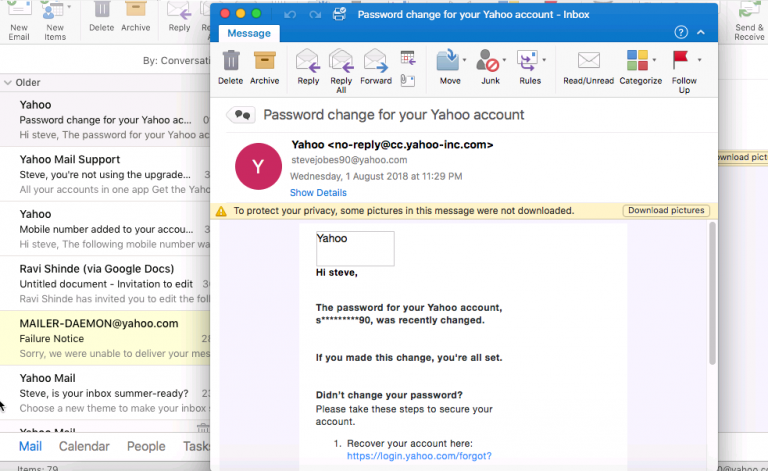 3. Click on File and then choose Print option.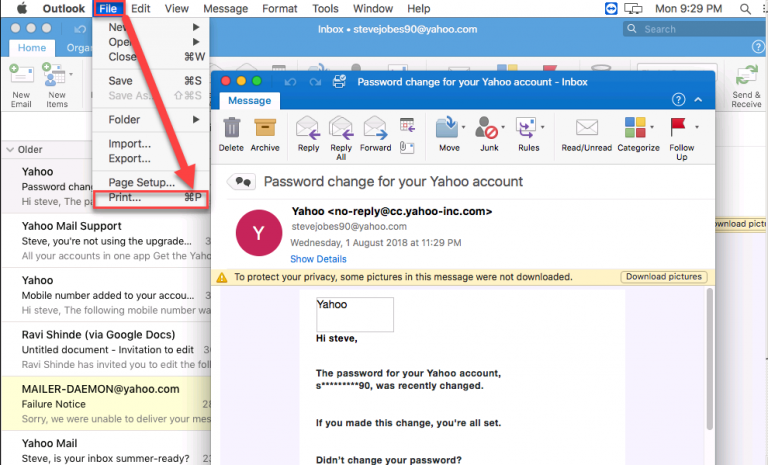 4. When Print window appears, select Save as PDF from the drop-down menu of the bottom left.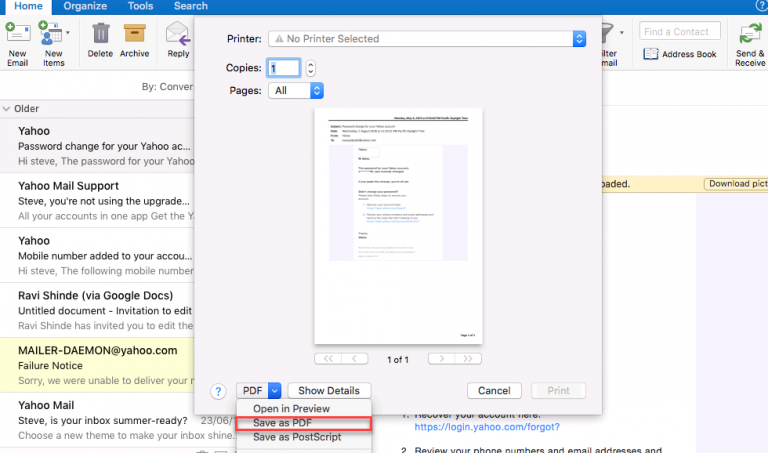 5. In Save As window, enter a name and click on Save button.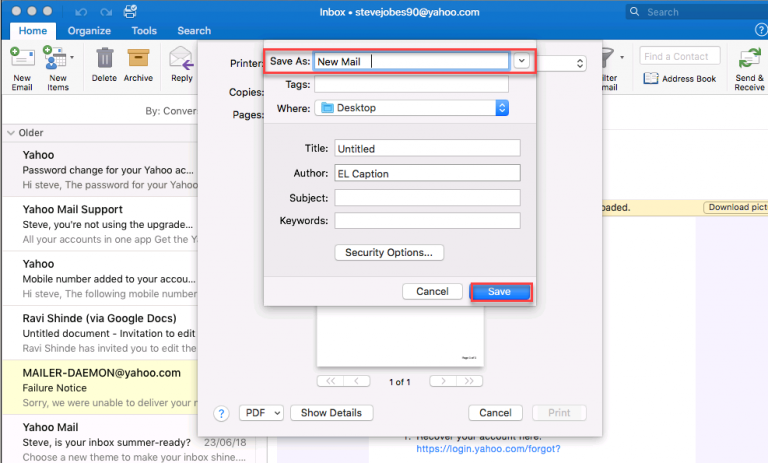 6. Thus you can seamlessly save emails from Mac Outlook to PDF format.
Save Mac Outlook Emails in PDF Format by Converter Software
If users think that the manual method is lengthy, then they can choose applications like OLM to PDF Converter. This Mac-based software can convert email messages into PDF without any data loss.
Step-1. Download and open the tool.
Step-2. Select an Add File button to add you OLM file.
Step-3. Enter the desired location and tap on Add file option to initialize the scanning.
Step-4. Select PDF format from the list to your OLM file.
Step-5. Browse your folder and select Export option to save email as PDF Outlook Mac operation.
After completing the process a confirmation window will appear. TO save the export report, provide the desired name for that file and hit the Save button. The given address will be displayed in the window. Navigate the path where you save the PDF file.
Why the Software is Better to Save Emails from Mac Outlook to PDF
For the following reasons, Mac Outlook users choose the software over the manual approach.
The manual Method cannot process an orphan OLM file without Mac Outlook. But you do not need Mac Outlook to save the emails from its data file.
The application can add and process multiple OLM files while the manual method will let you save only one Mac Outlook email to PDF at a time.
The software runs on all Mac machines from Mac OS version 10.8 to 10.15.
The manual technique does not allow users to save emails based on date. On the other hand, this software can save multiple emails at a time based on date range.
The tool also offers multiple naming conventions/styles for saving emails. This feature is not available in the manual method.
With this utility, you will get the chance to customize the PDF files using features such as Bates Number, Date Stamp, Page Margin, Paper Size, and Paper Orientation.
Note: If you are a Windows user, then you don't need Mac Outlook save email as PDF. Instead, you can opt for the Mac OLM to PST Converter for better results.
Conclusion
In this article, we were discussing the different ways to save Mac Outlook emails in PDF file format. With the help of an expert method, one can easily save email as PDF Outlook 2016 Mac format without any extra effort. All the methods discussed above are convenient and easy to use.
F.A.Qs to Save Email as PDF Outlook Mac OS
Q- How to save an email as a PDF in Outlook Mac bulk? Should we use this tool for bulk Operations?
A- Yes, this automated utility works perfectly fine even with a heavy workload. It can easily handle bulk data files & can save them in PDF in the fastest time possible.
Q- Is Opting for the automated solutions economical or is it expensive?
A- It simply depends on the solution you are referring to save email as PDF Outlook Mac. In some cases, expensive solutions are a disaster & in some, vice-versa. Email Doctor offers similar affordable tools with utmost accuracy.
Q- Can we save Outlook email as PDF Mac for free?
A- Yes,  the above-mentioned solution also offers a demo version to users. Users can easily save 25 Contacts, Calendars, Tasks, and Notes Per Folder or 100 Emails Per Folder. Users can purchase the full version only if they are satisfied with the results of the demo version.