A Stepwise Guide to Recover Deleted Contacts From PST Files of Outlook
Sometimes, a situation occurs in which few contacts get deleted (intentionally/unintentionally) from Contacts folder of Outlook. Therefore, there is a need to have a solution by which one can recover deleted contacts from Outlook 2016 2013, 2010, 2007, etc. In this post, I am going to discuss all possible solutions to recover contacts from PST files.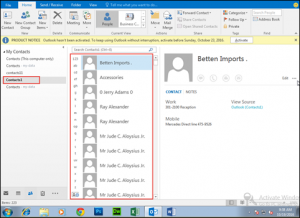 Problem Description
Consider the following scenario by which you will easily be able to understand the situation that is demonstrated in this post: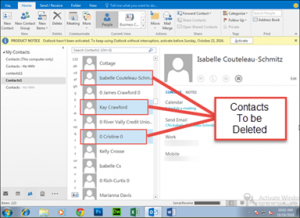 An Outlook user is having contacts in his PST file. After a short time duration, he realizes that some of the contacts are useless and thus, wants to remove them from his PST file. He selects the contacts that are to be deleted and press Delete button to remove them from PST file. Now all these deleted items are moved to deleted items folder of Outlook.
While accessing Outlook, the user unintentionally eliminates contact detail of Kay Crawford from deleted items folder that results in permanent deletion of it.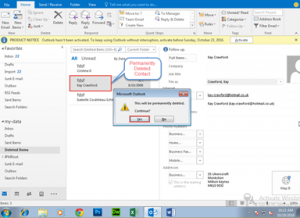 This Outlook user realizes that there is urgent need of Kay Crawford details but, he had deleted the contacts. Therefore, a query is generally by such clients that How to retrieve deleted contacts from Outlook PST file that are either temporarily deleted or permanently?
Note: If the deleted data is in Deleted Items folder of Outlook then, it is termed as temporary deletion. In addition, if the items are removed from deleted items folder also then, it is considered in permanent deletion.
Approaches of Restoring Deleted Outlook Contacts From PST File
Well, the solution of extracting deleted contact from Outlook is dependent upon the fact that whether the items are in deleted Outlook folder or not.
Solution 1: Recover Contacts from PST Files from Outlook Deleted Items 
Launch Microsoft Outlook on your machine and browse towards Deleted Items folder
Now select the contact, which you want to move back to contacts items list of Outlook PST file. For example, I have selected Isabelle Couteleau – Schmitz contact details to be restored
Right-click on selected contact and choose Move >> Other Folder options
A Move Items window will appear in front of you. From this window, explore the PST file where you want to restore deleted contacts. Select Contacts option from the list of items and then click on OK button
Now you will find that the selected contacts is removed from Deleted Items folder of Outlook and is moved to its original location (which you had browsed in above step). Therefore, you now succeeded in retrieving deleted contacts from Outlook deleted items folder.
Solution 2: Recover Permanently Deleted Emails In Outlook
As such, there does not exist any manual procedure by which you could retrieve deleted contacts of Outlook 2016 and below versions. Therefore, you will require a utility, which recovers permanently deleted contacts from Outlook PST file and save them in PST file itself.
Note: It is discussed earlier that Kay Crawford contact is permanently deleted from Outlook PST file. Therefore, we are going to restore this contact from our PST file with help of this second approach.
The best-suited technique to recover contacts from PST files is to use Outlook Recovery tool. The way of retrieving contacts from such application is given below:
Download Outlook Recovery software on your computer and install it on your machine. This will enable users to recover deleted contacts from PST file without Outlook installation.

Launch this recovery tool and click on Add File button
Click on Browse button and move towards the location where the PST file is stored
Select the desired PST file from which you want to extract deleted contacts and click on Open.

Enable the checkbox of Advance Scan for recovering permanently deleted items from PST file and then click on Add file button

Now all the data will be loaded on Outlook Recovery tool window.
Click on Contacts item of PST file (from LHS of tool window) and then you can see the entire data of it. Moreover, you will find the items that you had permanently deleted while accessing Outlook.
For example, I had deleted Kay Crawford contact from Outlook but, when I viewed contacts with this software I was able to view the Kay details.
Select the recovered deleted contacts and then right-click on it to select the Export option

An Export Options window will appear in front of you. From this window, select PST option and click on the Browse button

Now go to the location where you want to save the resultant PST file and then click on OK button. If required, then you can also create a new folder from tool window and select it as the destination folder.
Analyze all the settings made by you and click on Export button. This will start saving recovered deleted contacts in PST file format on your computer
Close the Outlook Recovery tool window after clicking on OK button
Launch MS Outlook 2016 (or any other version) on your machine and go to File >> Open & Export >> Open Outlook Data File

Now browse towards the location where you have saved PST file in step 10 and select the file. Click on OK to continue
Selected PST file will be loaded in Outlook application and now you can view your contacts information by clicking on Contacts item in Outlook folder

This procedure scan PST file in deeper manner and extracts all data from it. Then it recovers deleted contacts from PST file and loads them on the preview window.
Conclusion
One can wind up with the fact that the relevant solution to recover permanently deleted contacts in Microsoft Outlook PST file is the second one. This will extract shift deleted as well as temporarily deleted data from the source Outlook file.