How to Reduce the PDF File Size Using 6 Simple Ways
How do you reduce PDF file size without compromising its quality?
There are multiple ways to go about this. You can compress the PDF file just like shrinking videos and images. or you can split the PDF file into smaller parts and use them together. Many other solutions also exist that directly or indirectly resize your PDF file.
Here, we will describe many possible methods to reduce the PDF file size. As for what method you wish to choose will depend on how much you want to compress your file. After all, each solution shrinks your PDF file to a certain extent. Whether you want to send the file via attachments, simply keep it after optimizing it, or sell them online, it's all about your requirements.
Anyhow let us start with these helpful methods.
Six Easy Methods to Reduce PDF File Size:
Before opting for any method, make sure to create a copy of your main PDF file. This way, even if the output PDF file after size reduction is not upto mark, you will still have your source PDF file completely unaltered.
#1 Optimize your PDF File with Adobe
Adobe provides the option to optimize your PDF file by removing unused space and other optimization parameters. It can be found in 3 ways:
Go to File > Save As Other > Optimized PDF > Advanced Optimization > Audit Space Usage.
Go to Tools -> Optimize PDF > Advanced Optimization > Audit Space Usage.
Click on View > Show/Hide > Navigation Panes > Content > choose Audit Space Usage from the Content pane's navigation menu.
#2 Decreasing the PDF File Size Using Google Chrome
Many of you might be unaware of this smart technique. By opening the PDF files and using the print option in Google Chrome you can easily split, extract, and print the files. Follow the steps to know how to reduce the pdf file size by using Chrome.
Locate the PDF file on your system and open it with Google Chrome.
Click on the Print option or press "Ctrl+P".
The print window will open, now select "Custom" in place of "All Pages" and enter half of the pages your PDF has (if your PDF file has 20 pages, enter 1-10).
After the process finishes, at last, hit the Save button.
Do this process for the other half (11-20) and save it in another PDF file.
With this, you now have 2 PDF files with half the size of the original PDF file.
#3 Use PDF Editors
Most PDF editors give the option to reduce file size of PDF documents. In Adobe Acrobat Pro DC, the process is as follows:
Open the editor.
Open the PDF file in it.
Go to File > Compress file option.
Choose a location to save the shrunk PDF file.
It's done.
#4 Use Web-based PDF Compressor Tools
This method is for those who don't have the Adobe Acrobat DC and DC Pro versions. Here the user can type & search for a web-based tool to compress PDF files in the browser and use the official Adobe online version. However, most of these online compressors have a file limitation that can split a PDF of size 100 MB or less. So, if you have a PDF file size exceeding 100MB, then this solution is not for you.
Search for the online Adobe Compress PDF size tool.
After opening the website, drag and drop your PDF file to the given space.
Or, click on Select File to add the PDF file manually from your system.
Once added, choose the Compression level: High, Medium & Low.
Do understand that the PDF quality will take a hit the higher the compression level.
Click on Compress.
Congratulations, you have successfully reduced the size of your PDF file.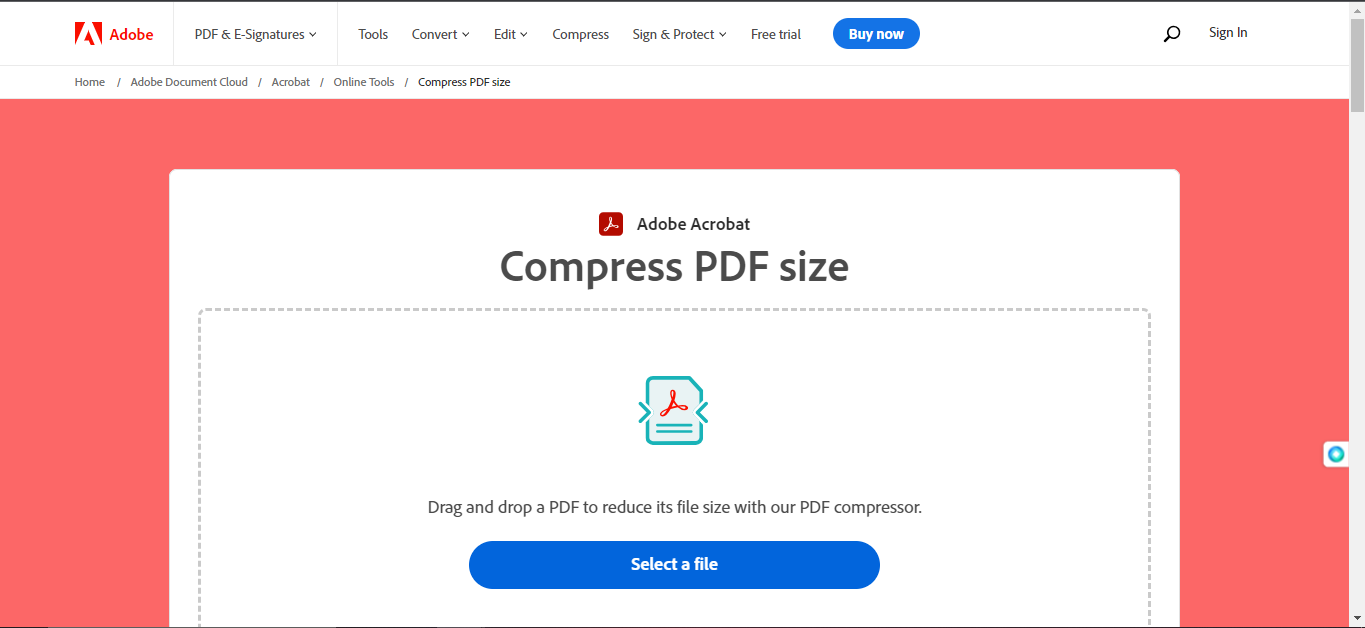 #5 Reduce the PDF File Size via Splitting
By using PDF Split & Merge Tool, you can reduce the size of normal and secured PDF files. With this method, you get more PDF files with smaller sizes. It has several options like Even pages, Odd pages, Each Page, Page Range, etc. You also get the option to skip attachments which drastically reduces the PDF size.
Following are the steps to use this utility:
Hit the 'Add File(s) 'or 'Add Folder(s)' option to load PDF files and don't forget to select the First Option.
Then, you get multiple PDF options like Page, Range, Even & Odd Pages, Size, and Each Page. Use them as per your need.
Now to save the resultant split PDF files, press the "Change" button and set the file location.
After the steps mentioned above are executed, then press the button to reduce the PDF file size.
You may also be interested in: Know – How to Change PDF Security Settings in 2 Ways
#6 Export and Print the PDF file to Drastically Reduce Size
Do note that this method will hamper the quality of your PDF file a lot. So, use it to shrink PDF file size at your discretion. Here, we will simply export the PDF file to an image which will drastically reduce its size. Then, we will open this image and convert it back into PDF file. The exact steps are as follows:
Open the PDF file in Adobe Acrobat.
Go to the Tool panel and click on Export PDF.
After that, select JPEG in the export option.
Click Export.
Save the file on your desktop.
Now, search for online Adobe JPG to PDF tool.
Drag and drop the JPG file to the given space.
Wait for the process to complete.
Click on the Download button to download the PDF file.
Conclusion
This article mainly focuses on the solution to reduce the PDF file size. So, here, we have explained 6 different ways to shrink the size of PDF file such as compression, optimization, breaking and export. You can choose a solution as per your requirements.