Learn How to Merge Two Office 365 Tenants Safely – Step By Step Guide to Follow
Summary: In this guide, you'll learn about the best possible solution to merge two Office 365 tenants without any data loss. Go through this guide step-by-step to find out the ins and outs of the entire migration process, and execute it with confidence.
Office 365 comes with various advantages and many organizations' work operations totally rely on it. However, when a company decides to acquire or merge with another company, along with other IT infrastructure changes, it becomes equally important to merge two Office 365 tenants, too.
By doing so, it becomes easier for ‌enterprises to consolidate & manage the workload and minimize data duplication. But, the question is, how can you do it without any errors?
So, without further ado, let's get started by discussing all the important aspects of merging two Office 365 tenants.
Reasons Behind Merging Microsoft 365 Tenants
Merging two or more Office 365 tenants is all about transferring mailbox data from one account to another. In other words, merging O365 tenants is nothing but performing an Office 365 tenant-to-tenant migration.
One of the common reasons for the need to execute Office 365 tenant migration is scenarios like company mergers or acquisitions. Another reason would be if a company decides to move tenants to a parent Office 365 tenant.
What are the Cons of Having Multiple Tenants?
You can not use the same domain in multiple tenants, which makes it impossible to use the single namespace of the company domain.

Setting policies and different required settings is complex to apply to multiple tenants.

Microsoft manages multiple geo-locations for having multiple tenants, which can create different licensing costs and conflicts. 

Multiple tenants have multiple admins who manage them, which creates data insecurity as the company's data is in the hands of each admin managing its tenant portal.

Maintaining, and configuring compliances are difficult to control and implement on an individual and invariant level.
Above all, the main reason for merging two Office 365 tenants is to make the work easier for administrators and end-users. Admins can smoothly manage all the attributes including user & permissions, security, eDiscovery, monitoring, billing, and more. Besides, after merging the tenants, you will require only one global admin account.
More importantly, combining two tenants is a much more suited option from a security point of view.
Now, let's come to the question what are/is the way to execute the tenant migration?
How to Merge Two Office 365 Tenants?
Since migrating Office 365 data between tenants is not an easy task to accomplish, you need to have a proper plan for the same.
Prepare the pre and post-migration checklist beforehand to avoid the probable challenges. In addition to planning the whole process, choosing the right method to carry out the same is also crucial.
So, IT experts around the globe recommend using a professional tool to make the migration process a success. For that, you can take the help of the Most Trusted Office 365 Merge Tool. 
Merge Microsoft 365 Tenants Easily With The Reliable Tool
First of all, the whole process is automated. So, with just a few clicks you can achieve the goal of merging two tenants conveniently.
This tried and tested software is easy to use for its design. The user-friendly GUI makes it possible even for non-technical users to work with the tool efficiently.
Secondly, when migrating your mailbox data, such as crucial emails, contacts, etc, it's essential to make sure the data integrity is maintained throughout the process. And, to benefit users, the tool not only maintains data integrity but also makes sure you don't lose a single file while attempting to merge two Office 365 Tenants.
With these advanced facilities of tools, it is the first choice for many IT admins regarding Office 365 migration.
Let's have a look at the working steps of the software.
Step-by-Step Procedure to Merge Two Office 365 Tenants
Follow the given steps;
Step 1. Download the tool from the given link and launch it on your system.
Step 2. Then, set up the source and destination. Choose Office 365 as both the source and destination for merging Microsoft 365 tenants.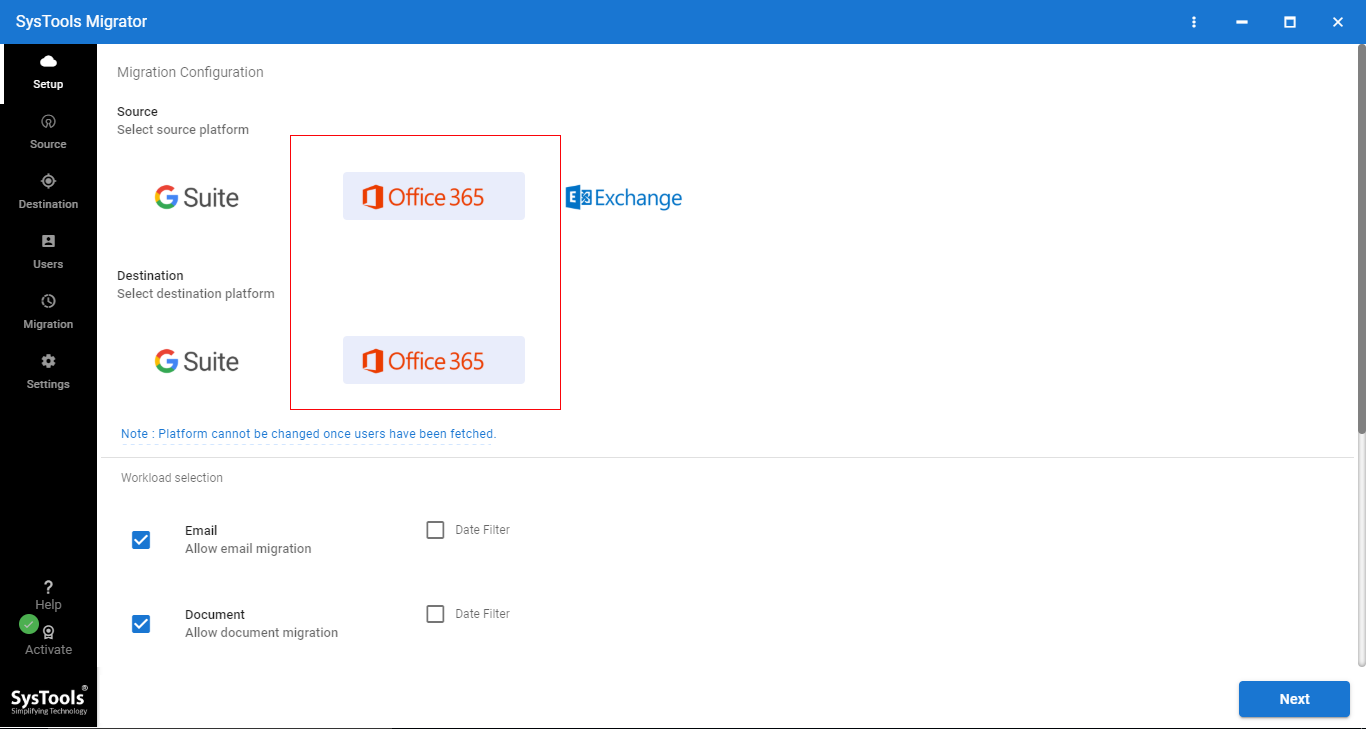 Step 3. Navigate to the workload section, and click on the checkboxes to migrate email, contacts, calendars, and documents. 
Note: You can use of the options the 'date filter' option to select the time duration for each category and migrate only selected files.
Once you choose the dates and select the categories, click on the Next button.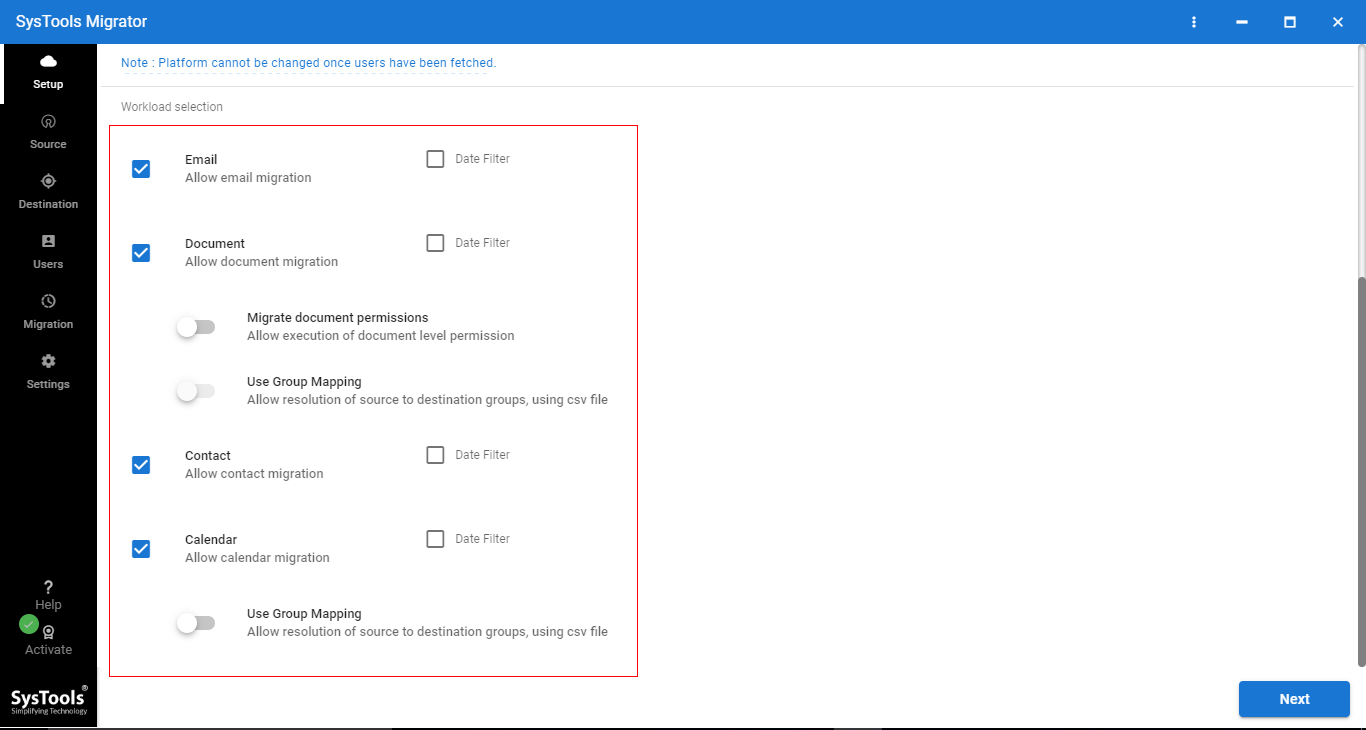 Step 4. Next, enter the source Office 365 admin ID and application ID in their respective fields and validate the source permissions.  Then, hit the Next button.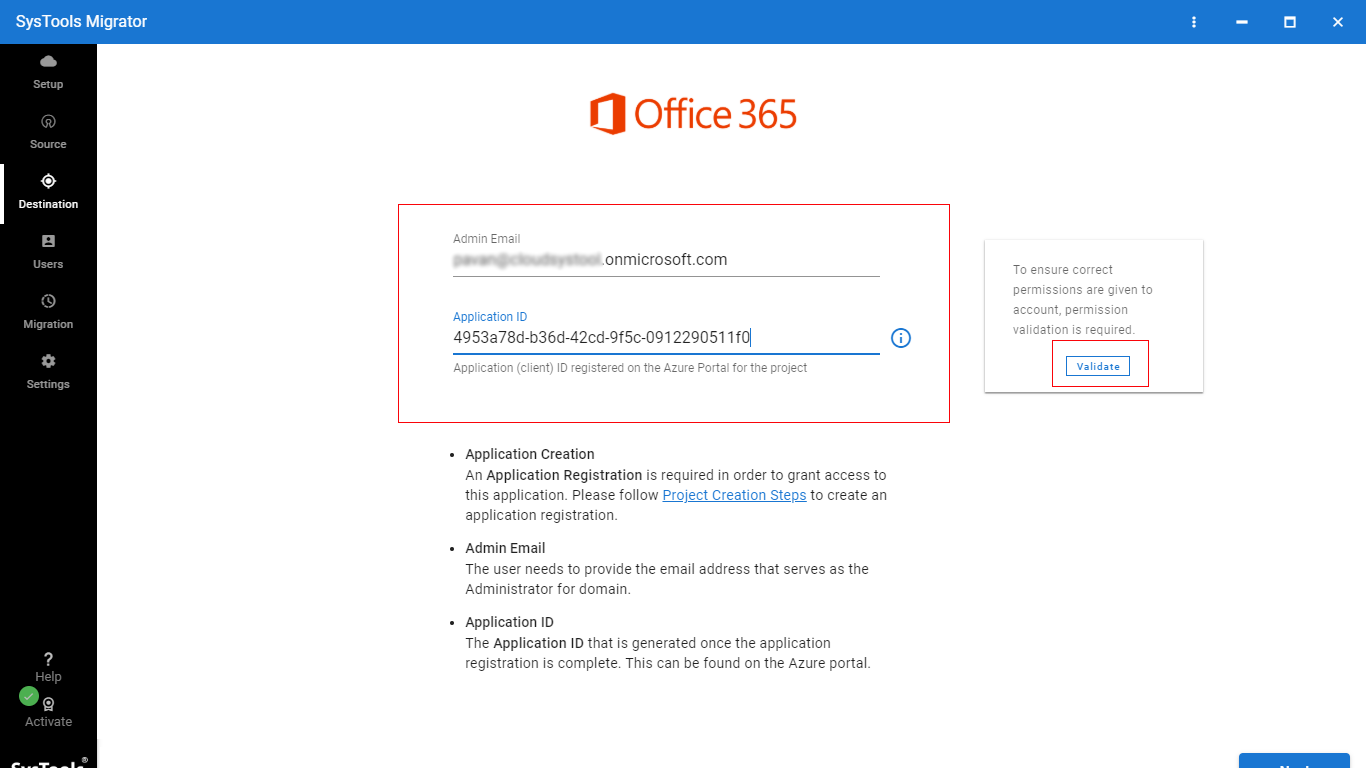 Step 5. Then, you will see all the parameters turn green, which means you can merge two Office 365 Tenants.
After that, click the 'Next' button.
Step 6. Now, you need to verify the 'Destination' permissions. But first, enter the destination Office 365 admin ID and Application ID. Then, click on 'Validate'.
Step 7. Once you see all required destination permissions turn green, you can now press the 'Next' button.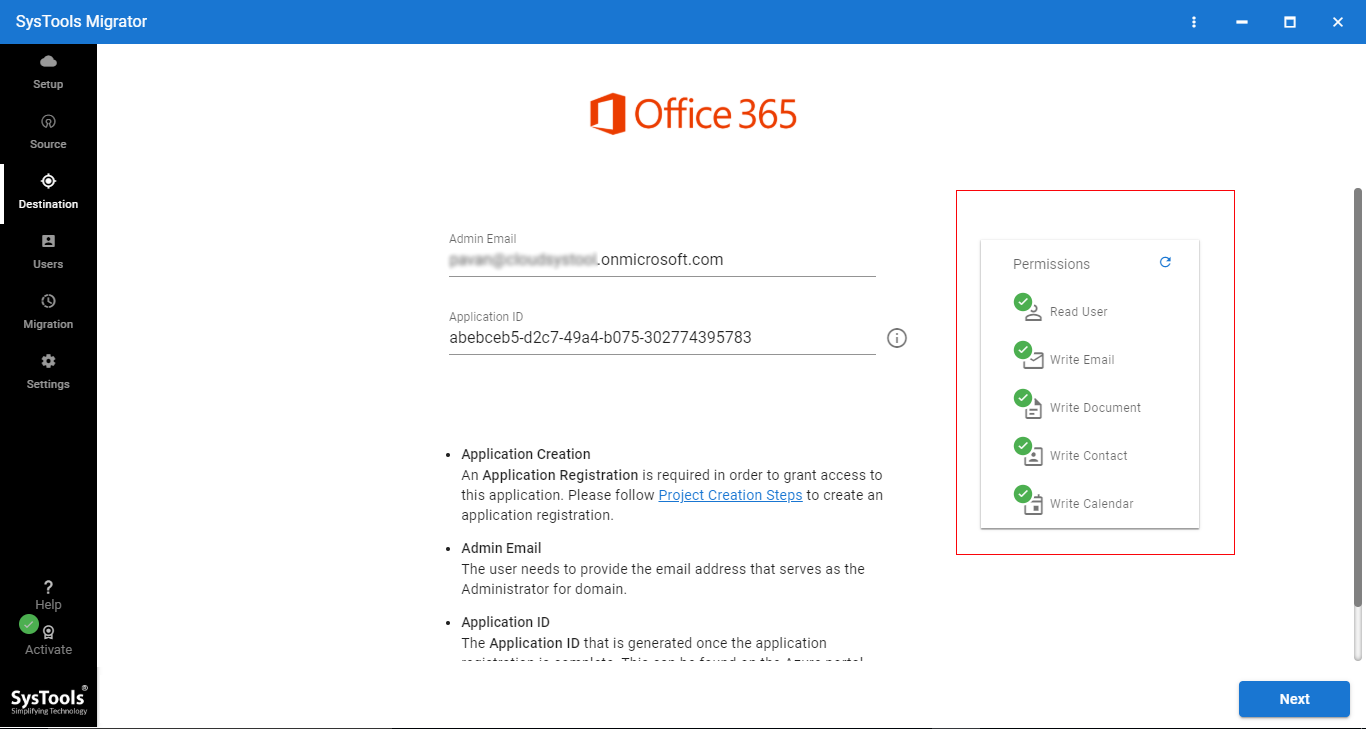 Step 8. Next, you need to map the source and destination users to merge two Office 365 Tenants. To carry out the same, the software provides three options: fetch users, import users, and download templates. Choose any one of the options and specify the source users.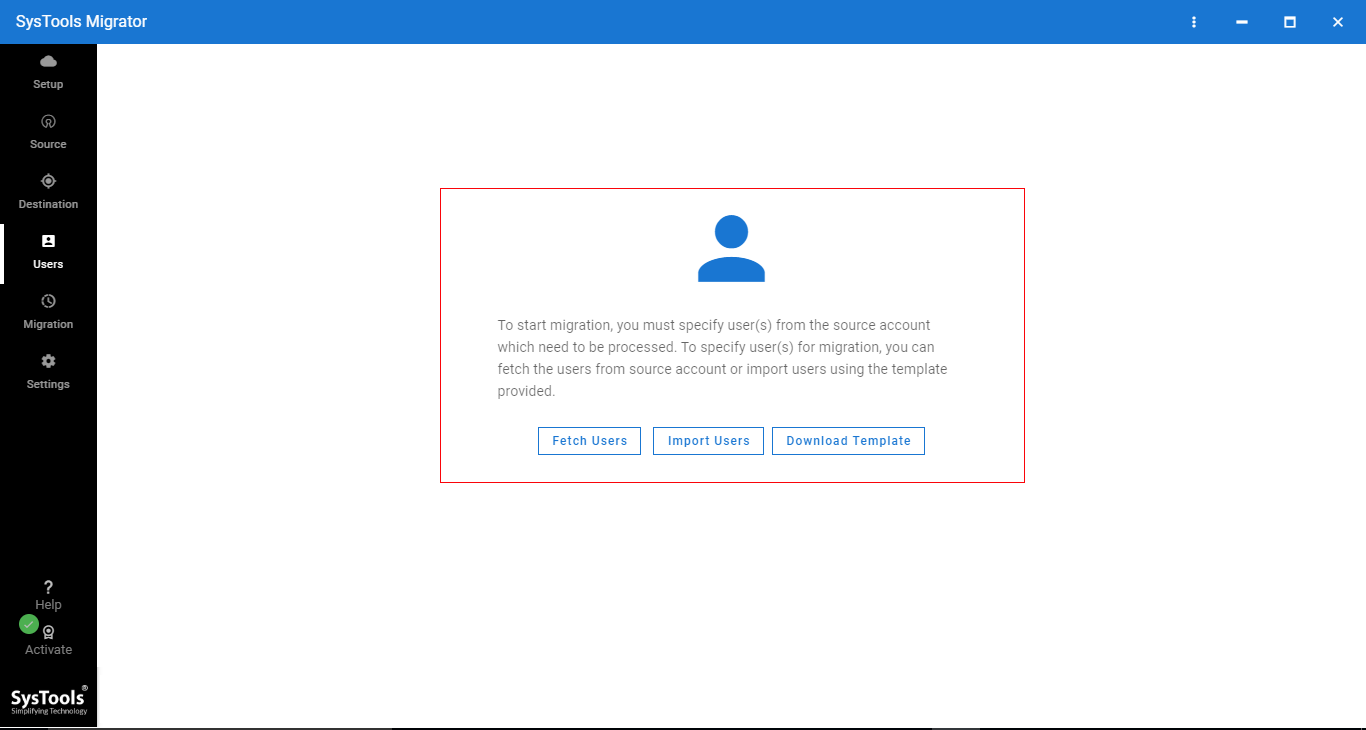 Step 9. On the next screen, you will see both the source and destination user email addresses as shown.
Step 10. Next, verify the source and destination permissions once again. To do so, click on the validate button & then you will see all the required parameters will turn green.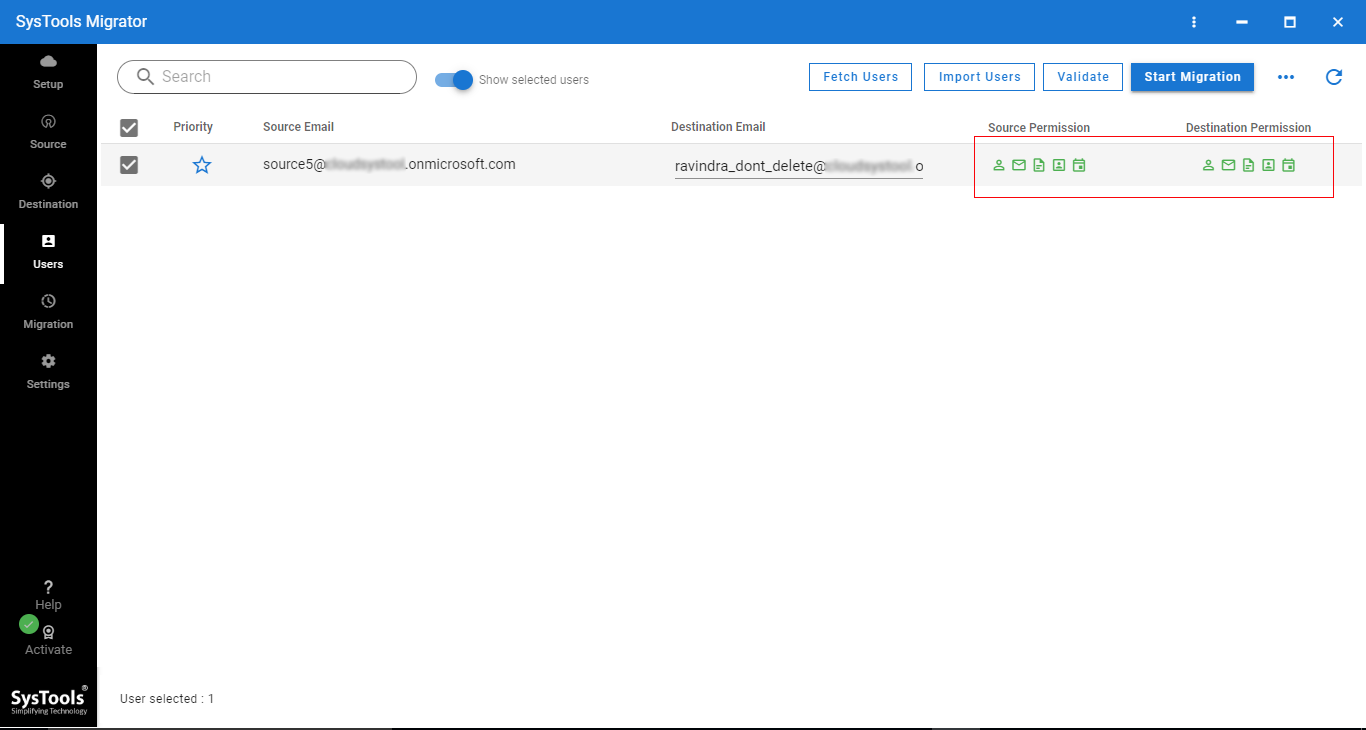 Step 11. At last, click on the 'Start Migration' button to start the process of merging Microsoft 365 tenants.
Also Read: How to Import PST to Office 365?
Now, What About Manual Approach to Merge Two Office 365 Tenants?
Well, to talk about the manual method, there is no direct way, that you can use to perform this task easily. However, using the PowerShell Script and lengthy manual technique, you might be able to transfer emails but wouldn't be able to merge the complete mailbox. Hence, many admins avoid opting for this method because it requires technical expertise and it has various limitations and it can create potential data loss.
So, why risk your sensitive information when you have the automated tool to carry out the process of merging Microsoft 365 tenants?
Takeaway
In short, when you are merging two O365 tenants, it's nothing but migrating your mailbox data to another tenant. Hence, don't get confused; make the complex task easier with the help of the expert-recommended tool.