Convert Lotus Notes to Outlook 2021, 2019, 2016, 2013, 2010
Converting Lotus Notes to Outlook is now become quite easy. Follow the instructions explained in below section and easily export complete mailbox from Lotus Notes to Outlook 2021, 2019, 2016, 2013, 2010 and below versions. All the steps are verified and safe to perform.
Nowadays, it has become a common scenario to switch the email application for better management and security. At times, there comes a similar circumstance to import Lotus Notes to Outlook. Unfortunately, the Lotus Notes NSF file cannot be accessed in Outlook, just because Outlook uses PST files for import and export process.
So, in order to access the IBM Notes mailbox data in Outlook, one must convert the Lotus Notes data file to Outlook data file format. If you are a user who is looking to transfer Lotus Notes to Outlook, then this write up is for you. Here we will discuss the cost-effective solution to mitigate this need in a comprehensive way.
Lotus Notes came into existence in 1989. It was later rebranded to IBM Notes in 1995 when IBM purchased the client-server email platform. Now, it is known as HCL Notes, as the Indian firm HCL Technologies acquired the client-server in July 2019. So, let's not confuse ourselves between Lotus Notes, IBM Notes and HCL Notes.
Why Migrate from Lotus Notes to Outlook?
Microsoft Outlook in comparison with Lotus Notes offers advanced data management and high-security options
Outlook has the option that enables users to configure multiple accounts simultaneously
IBM Notes has got a complex user interface than Outlook, which moreover makes it difficult for a novice or a non-technical user
Microsoft Outlook requires less maintenance cost and also one can easily share data with Outlook program unlike HCL Notes
Outlook provides the accessibility of Offline data to work in Offline mode.
Get Quick Solution to the Entire Solution – Quick Shortcut
How to Import Lotus Notes to Outlook Manually?
A manual method is a cost-free approach, but it does not render a direct method to convert Lotus Notes database to Outlook data file. It is a two-step process in which one needs to convert the IBM Notes NSF file to CSV format and later import the CSV file to Outlook. Follow the instructions and easily export Lotus Notes to Outlook with complete mailbox data.
Step-1. Export Lotus Notes File to CSV
Initially, launch the Lotus Notes application on your system and Open
Now, hit on Mailbox >> File >> Export and save the file by providing a name to it
After giving the file name, select Comma Separated Value format from the Save as type option
Then, from the CSV Export window, select the desired options and hit OK to import NSF files in Outlook
At last, the exported data will be saved in CSV format at the destination location. Now you can move toward the second step to import Lotus Notes to Outlook application.
Step-2. Import CSV File into Microsoft Outlook
To begin with, open Microsoft Outlook and click on File >> Open and Export >> Import/Export option
In the next wizard, select Import from another program or file option and click the Next button
Under Import a File window, choose the file type as Comma Separated Values and hit Next
In the next window, click the Browse button and navigate the CSV file to upload and click Next to import HCL Notes files into Outlook
Now, select any of the Outlook folders to save the exported data and hit Next as shown in the image below
From Import a File dialog box, tick the checkbox and tap the Finish button
By this, Microsoft Outlook imports all the data from the CSV file successfully. After which, one can easily access the IBM Notes data in Outlook
Hold on! Here comes the twist!
 Limitations of Manual Method
No doubt, the native approach holds complex steps, which makes the process tedious. This approach fails to transfer a large amount of Lotus Notes data to Microsoft Outlook. Hence it is less preferred by organizations when there is huge HCL Notes data, which is to be transferred to Outlook. Apart from that, if a user fails to implement the accurate step-by-step process, then there are chances of NSF file corruption. With this, it can convert only one NSF file at a time, which ultimately makes the process more exhausting and time-consuming. Additionally, it is not possible to import corrupt files into Outlook with this native workaround.
Then, what is the best solution to overcome these manual method failures?
Expert Recommended Way to Convert Lotus Notes to Outlook
With the help of this amazing software you can easily Convert NSF to PST file format, one can effortlessly get the expected results. It's very easy for even new users to import Lotus Notes to Outlook seamlessly. It offers a bunch of result-oriented features, which are included with the simplified interface that easily helps a tyro user to adopt this tool.
It is capable to convert the entire data such as emails, contacts, calendars, etc. from Lotus Notes mailbox to Outlook data file format. Even after migrating the IBM Notes mailbox data to Microsoft Outlook format, it ensures to maintain the original folder structure intact as that of the source format.
Furthermore, one can easily manage the output PST file by splitting them into smaller or manageable sizes. Altogether, the tool is cost-effective which is efficient to export HCL Notes to Outlook 2021, 2019, 2016, 2013, 2010, 2007, and so on.
This tool works with Lotus Notes 9.0.1, 9.0, 8.5, 8.0, 7,0, 6.5 & 6.0. Please confirm the working with the free demo version before purchasing the software.
Steps to Import Lotus Notes to Outlook
Step 1: Click "Add File" to import Lotus Notes.
Step 2: Choose Lotus Notes categories.
Step 3: Apply filters for Outlook.
Step 4: Click "Export" to finish.
Pre-requisites of the application:

For screenshots, refer below:
Step-1. First, Download Lotus Notes to Outlook Converter from the above-provided download button.
Step-2. After that choose the Select NSF Files radio button and Click on the Add Files button.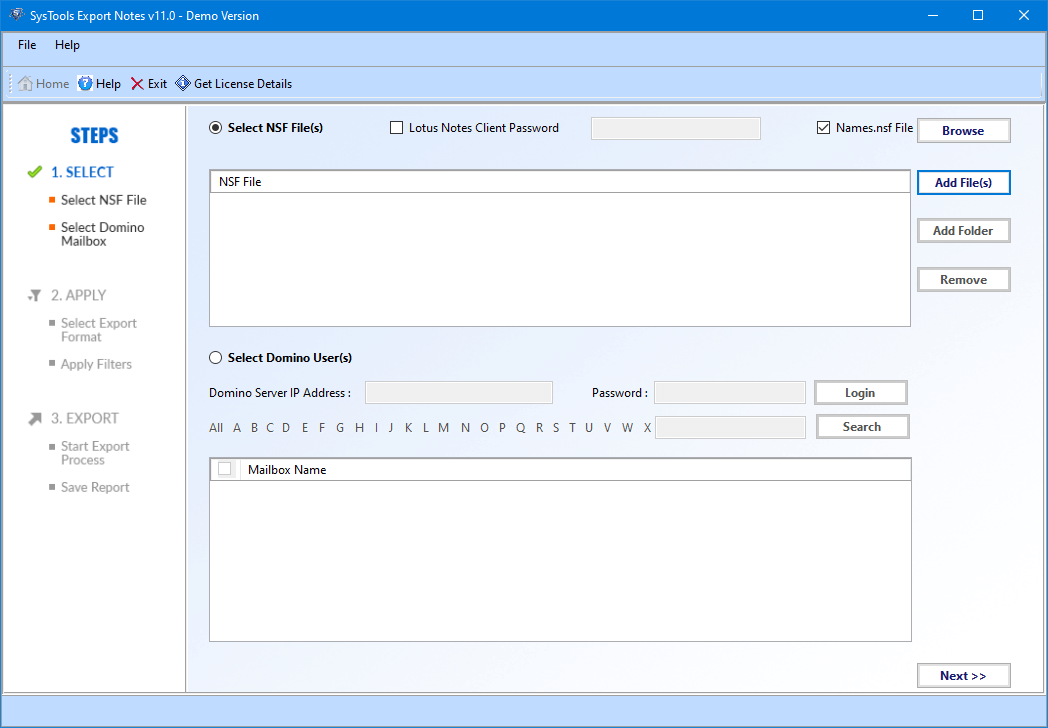 Step-3. Choose the Categories and Select Apply Filter(s) option.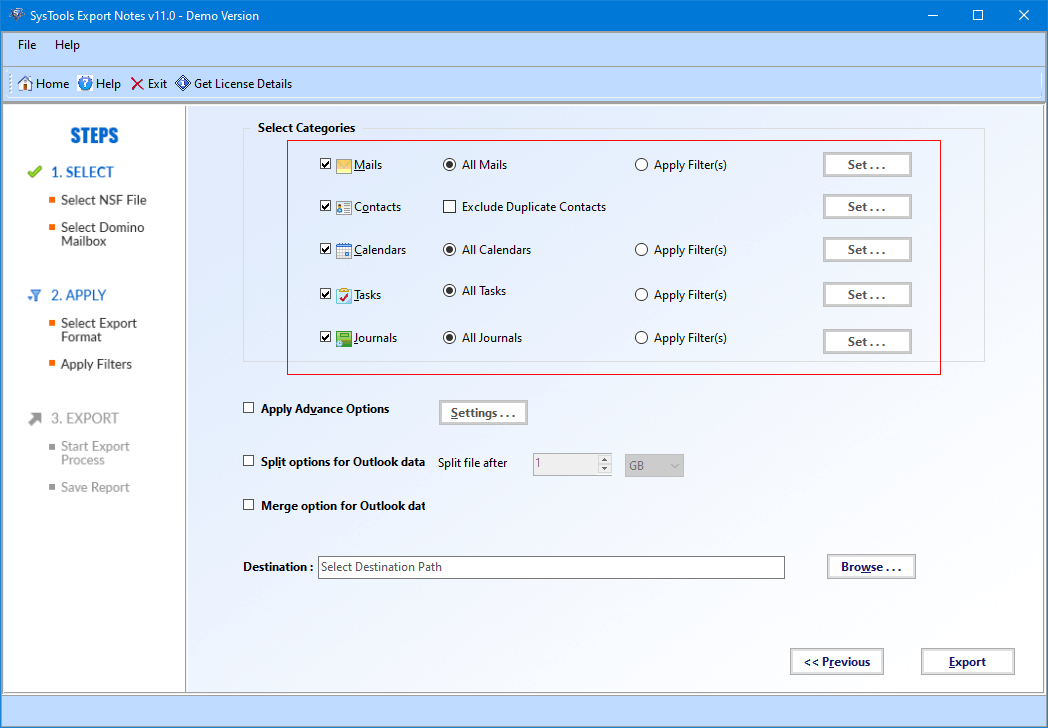 Step-4. After that Click on the Export button to convert Lotus Notes to Outlook data file format.
Step-5: Now you have PST file, simply launch the Outlook and then follow File >> Open & Export >> Import/Export. Check the steps by step guide to import PST in Outlook.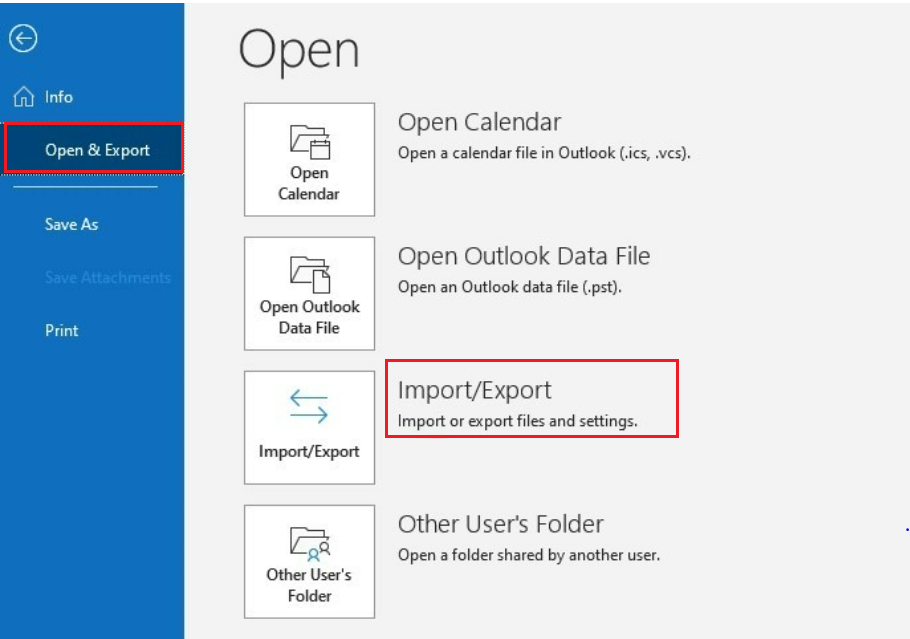 Finally, the Task is Complete!
For the purpose of migrating Lotus Notes NSF file to Outlook application, users are looking out for a reliable solution, which can effortlessly implement their needs. Therefore to resolve this rising user demand, we have elaborated on the solutions to import Lotus Notes to Outlook.
If you are not satisfied with implementing the manual way, then this blog also recapitulates the best-automated HCL Notes solution to overcome all sorts of manual failures.