Import Eudora to Outlook, 2019, 2016, 2013, 2010, etc.
Are you one of the 'dedicated' users of Eudora having a large database that contains years of email messages ? Have you finally decided that Eudora can no longer support your needs and is halting your productivity ? Then, its time to move. And what better client to choose than Outlook. In this blog, you will be shown exactly how to import Eudora to Outlook in the easiest way possible.
Qualcomm Eudora once hailed as one of the best email clients to use, is now a ghost of the past. Even since Qualcomm decided to put a halt to the development of Eudora Mail, slowly it faded away with time. The probable reason is said to be the increasing adoption of Microsoft Outlook, an email client built for corporations. Now, Eudora is completely outdated when compared to the modern email applications including the current leading email client for desktop, MS Outlook.
Due to these circumstances, the old users of Eudora who haven't made the switch to other email clients are forced to think about it. The reasons for keeping Eudora for so long even after its development was stopped can be many. One of the primary reasons was having a large database that is not so easy to move. But don't worry, the process defined in this blog works irrespective of the amount and number of Eudora files to import into Outlook.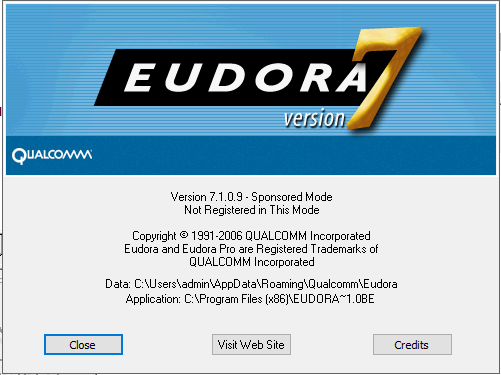 How to Import Eudora to Outlook ?
First and foremost, you need to be aware of the fact that although Outlook provides an official Import option for Eudora files, it is limited to Outlook 2010 and earlier versions. If you are using one of the latest versions (a most likely scenario), you cannot implement any manual method to import Eudora to Outlook. So we have divided the methods for two scenarios:
Transfer Eudora email to Outlook 2010 & Earlier versions
Import Eudora to Outlook 2016, 2013 & 2019
We will start with the manual method first.
Migrate Eudora Email to Outlook Mailbox
This process may be an official method. But the results are still awful. Typically the users have these two issues:
The Send and Receive dates for each of your Eudora emails get overwritten with the date of Import.
The email messages contain more HTML tags thus changing the complete formatting of your email messages.
To avoid these issues, you can install Thunderbird and import all the Eudora messages in it once it starts. Since you cannot convert Thunderbird to PST directly, import the emails back in Eudora. And afterward, execute the import process.
The process to import Eudora mail into Outlook early versions is as follows:
Launch Microsoft Outlook, go to "File" > "Import and Export". For Outlook 2010, the option is in "File" > "Open" > "Import". The main goal here is to open the Import wizard of MS Outlook.
Select "Import Internet Mail and Addresses" and click on the "Next" button.
Select "Eudora Pro & Light" from the list of options.
Choose what exactly you want to import (mail & address book) from Eudora. Click "Next".
Click on "Finish" and browse the Eudora files to end the import process.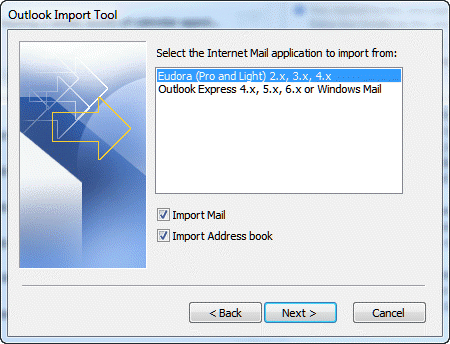 Note: The default location of the Eudora mailboxes is "C:\Program Files\Qualcomm\Eudora". The mailbox files are present in .mbx format.
Import Eudora to Outlook 2013, 2016 & 2019
The Import feature of the latest Outlook versions does not provide the Eudora option. So, your only choice here is to opt for a special tool. Ensure that it can not only migrate Eudora files to Outlook but while doing so, it ensures that no metadata, Html tags, and attachments are lost or added. Emaildoctor's recommended MBOX to PST converter is the best choice for this task.
Since Eudora keeps its emails and attachments in separate folders, incompetent tools will only migrate your emails and leave the attachments. However, with the auto-detect feature of the Eudora to Outlook Converter tool, all Eudora files can be accessed directly from its database without any manual intervention. It ensures that all the emails perfectly retain their formatting, attributes, images, and attachments.
Steps to Export Emails from Eudora to Outlook easily
Step 1: Run Eudora to Outlook converter & click "Add File".
Step 2: Select "Eudora" & choose "Default Profile Configured" option.
Step 3: Choose the identities/profile to import into Outlook.
Step 4: Preview & Import Eudora mail to Outlook with attachments.
Note: This method works irrespective of the versions of involved email clients i.e., Eudora & Outlook. You can use this method to transfer Eudora (4, 5, 6, 7, 8) emails to Outlook (2019, 2016, 2013, 2010, 2007, 2003).
The screenshots for the step-by-step guide are given below:
1. Run the software and then click on the Add File button from the top-left window sreen.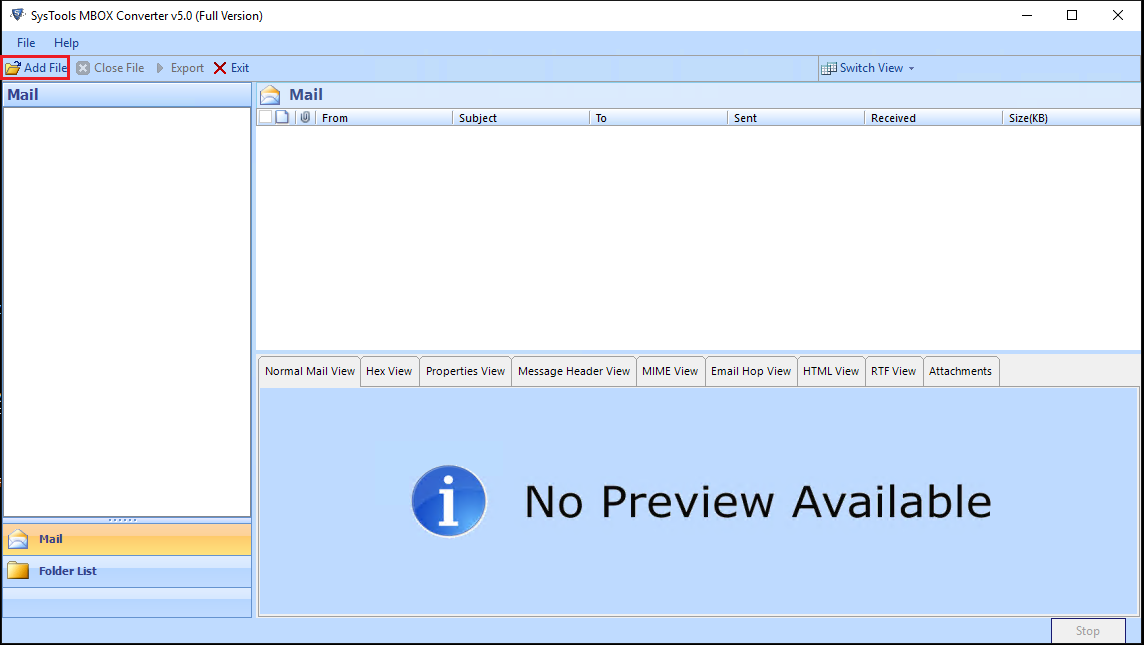 2. Choose Eudora email application and then select Default Profile configured option to proceed.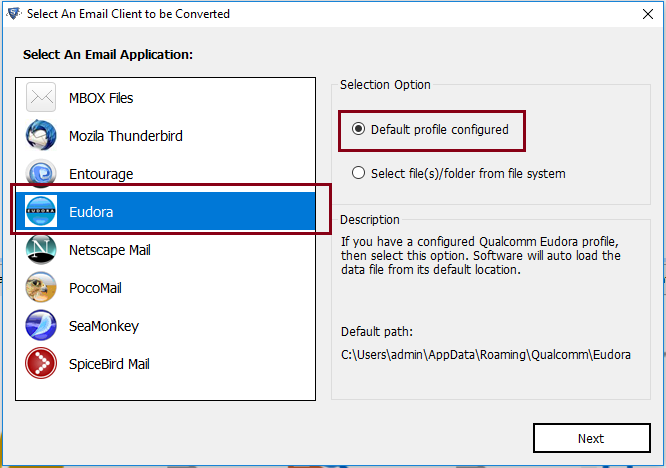 3. The 'Select file/folder from file system' is to be used if you do not have Eudora installed and are actually want to convert MBX file, the keep in mind that the Eudora MBX file does not contain attachments. Hence, only the email messages will be converted to PST.
4. Select the identity/account set up in your Eudora client that you wish to import to Outlook.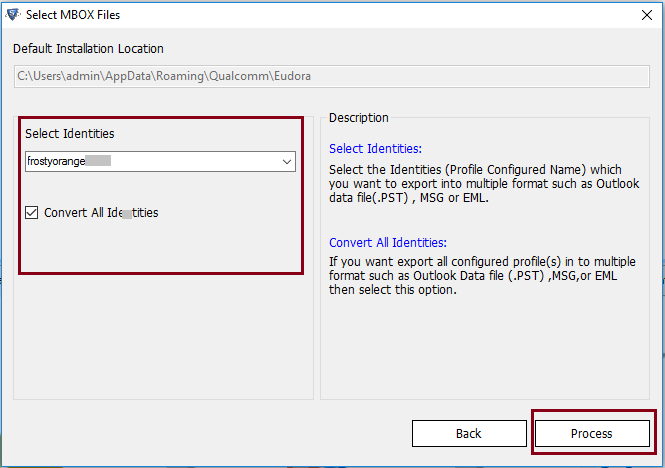 5. The software will preview all the emails. You can select particular email messages from this window for conversion. If you want to export all, then click Export from the ribbon bar to proceed.
6. Now, you will get this screen. Select PST from the list of export options and click the Export button to start the conversion process.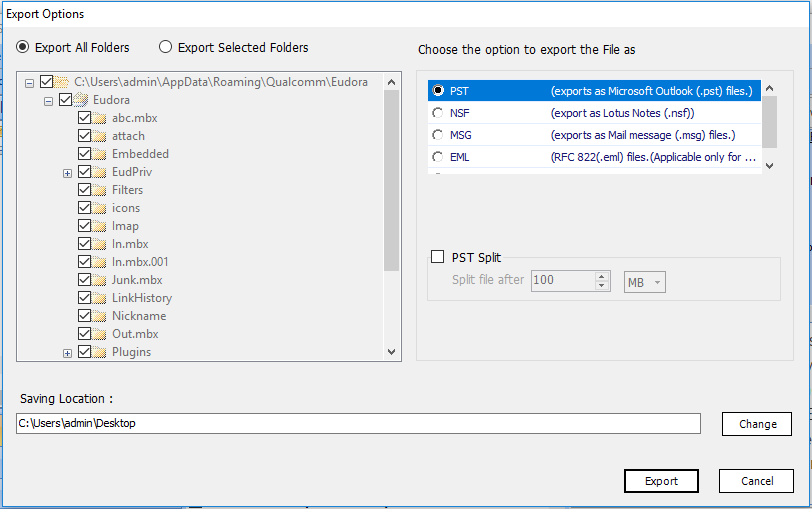 7. The file is successfully converted. Now simply import the generated PST file(s) in MS Outlook.
Conclusion
Importing Eudora to Outlook is an easy task if you use a special tool such as the one defined above. However, if you are thinking of doing it manually, do note that only Outlook 2010 and earlier versions support it. There is no such option available for Outlook 2019, 2016 & 2013. Consider this a good thing as the manual way for earlier versions of Outlook has its own set of limitations from modifying the dates to losing your email formatting. Luckily, Emaildoctor's recommended software skips all these issues and provides the easiest way to import Eudora emails into Outlook.