How to Import Entourage to Outlook 2019
Do you want to import Entourage files into Outlook? Do you want to do this on a Mac system or maybe a Windows one? Well, irrespective of the OS you are using, it is possible to import Entourage to Outlook easily. This article will answer all your questions and provide you with an easy method to perform Entourage to Outlook conversion.
Microsoft Entourage used to be a very popular email client among Mac users. Its sleek design and functionality made it the standard for Mac email applications. However, Microsoft, the developer of Entourage decided to discontinue Entourage 2011 in favor of the "giant" email client we now know as Outlook. Although it provided Entourage users a way to port over to Outlook with a built-in Import feature, many users stayed with the Entourage application.
But after so many years of discontinued support, and the development of new and improved email clients including Outlook, it is finally time for Entourage users to switch over to a better platform. And at this point of time, be it for Windows or Mac, no platform is better than Microsoft Outlook. Therefore, in this article, we will cover the entire procedure by which one can import Entourage emails into Outlook application.
About Entourage & Outlook Database:
Entourage archives its entire database in .rge file format. This RGE file contains all the mailbox items including emails, contacts, calendars, etc. Users can open the .rge file to reveal the .mbox files responsible for saving Entourage email messages.
Outlook also saves all its mailbox contents in a single file (PST). This file is responsible for storing every mailbox item in Outlook.
Preparing Entourage Messages for Import Process
Although Outlook 2011 had the import feature to directly import the Entourage database, it has been discontinued in the later Outlook versions. Therefore users now require software to get the job done. But the first step is to prepare the messages of Entourage i.e., extract Entourage data in MBOX files for the conversion of MBOX to Outlook platform. There are 2 different ways to do this:
1. Extract the mailboxes directly from Entourage application:
Users can drag and drop the mailbox folders directly from the Entourage interface to desktop. This action generates an MBOX file having the same name as the selected mailbox.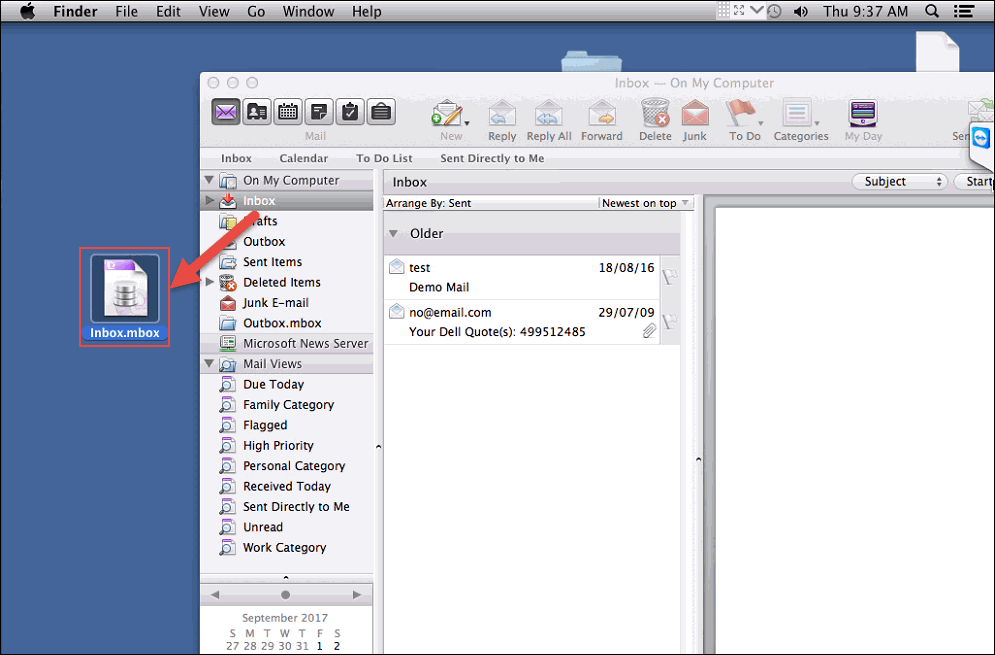 2. Export and Extract Entourage Items from its Archive
This option ensures that the folder structure of your files is automatically maintained during the data preparation phase. The steps to prepare Entourage emails for the import process are as follows:
Run MS Entourage on your Mac & hit File >> Export from the menu bar.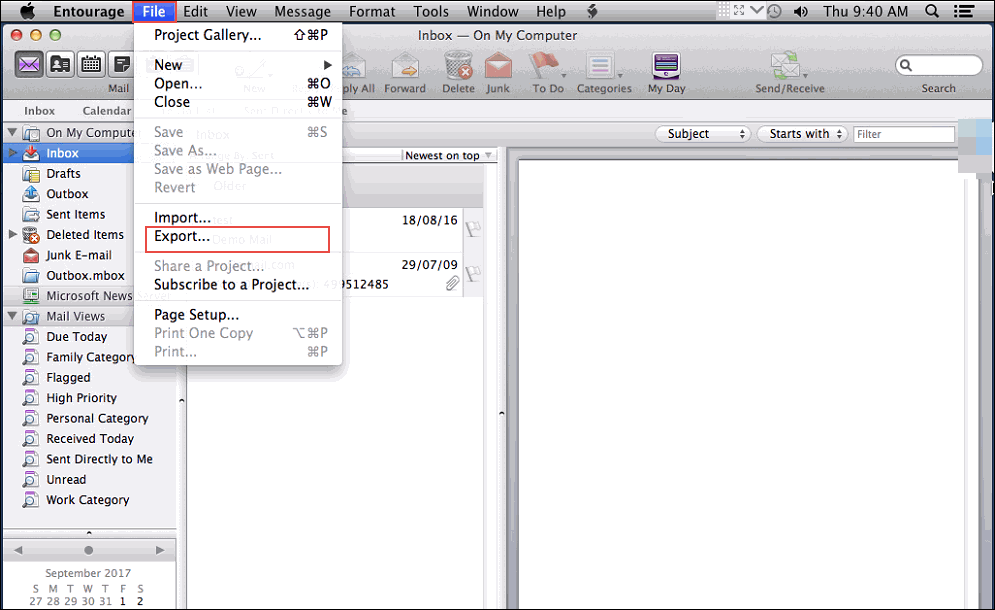 Select Mail & hit the right arrow to continue.
Choose if you wish to deleted data from Entourage after the archive process or not.
Select the location which will store the Entourage archive and click on the Save button.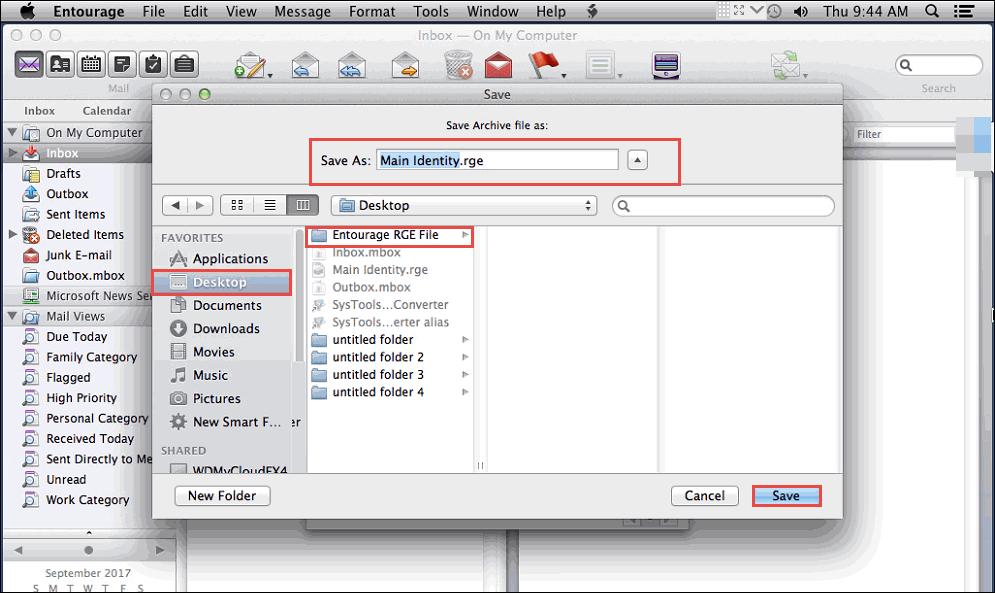 Entourage will export all your data to the selected location. Click the Done button.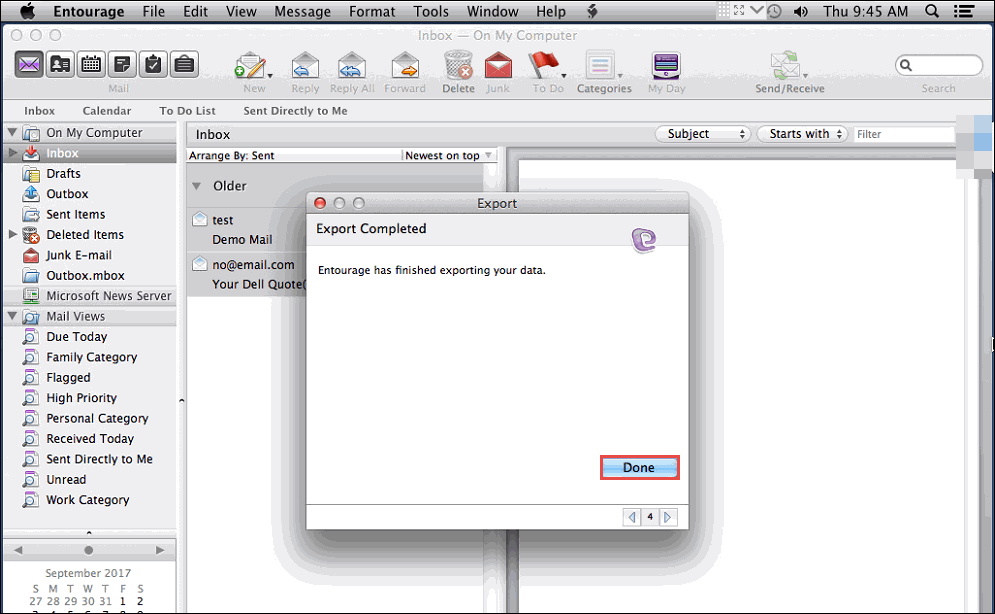 Now right-click on the saved .rge file and select the Show Package Contents option.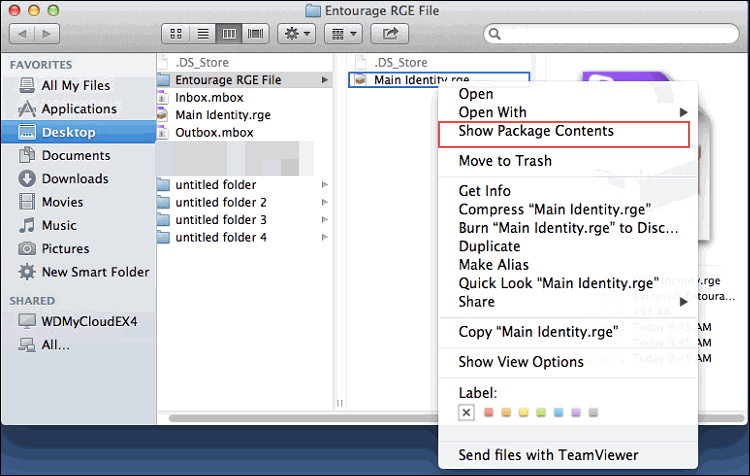 Open the folder Mail > On My Computer to find the subfolders containing .mbox files.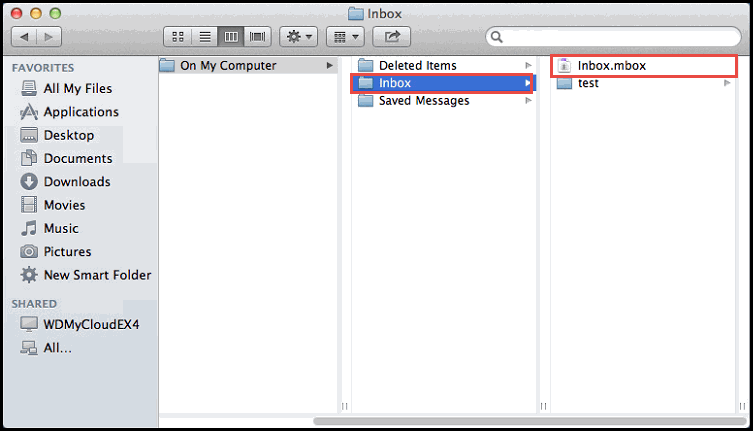 Copy this file to other location to convert and import them into Outlook.
Importing Entourage Files Into Outlook with Conversion Software
The incompatibility of Entourage and Outlook data files leaves the user with no choice but to seek a third-party conversion software. However, the main issue here is to choose a tool that is worth its pay. The solution here is EmailDoctor MBOX to PST Converter that can convert all the Entourage mailbox files into PST file format. It makes the emails compatible with the Outlook import process. Whether its Mac or Win, this software strives to perform Entourage to Outlook conversion in an efficient manner.
The instructions given below are for Mac users.
Steps to import Entourage to Outlook:
Step 1: Select Entourage .mbox file with Add file/folder.

Step 2: Set Outlook PST format & select saving location.

Step 3: Apply filters and Advance import settings.

Step 4: Start exporting Entourage to Outlook PST.

If users want to extract the archived files of Entourage on Windows OS, the following steps need to be followed:
Transfer the archive file to the Windows system. It will become a normal folder there.
Open the folder and find the .mbox files in it. You can directly convert the files to PST with the conversion tool and import it in Outlook.
The instructions given below are specifically for Windows users (convert Entourage emails directly on Windows).
Simple Steps to Convert Entourage to Outlook:
Step 1: Run Windows software and click "Add Files".
Step 2: Import Entourage mailboxes for conversion into Outlook.
Step 3: Preview Entourage emails.
Step 4: Choose "PST" and convert Entourage to Outlook.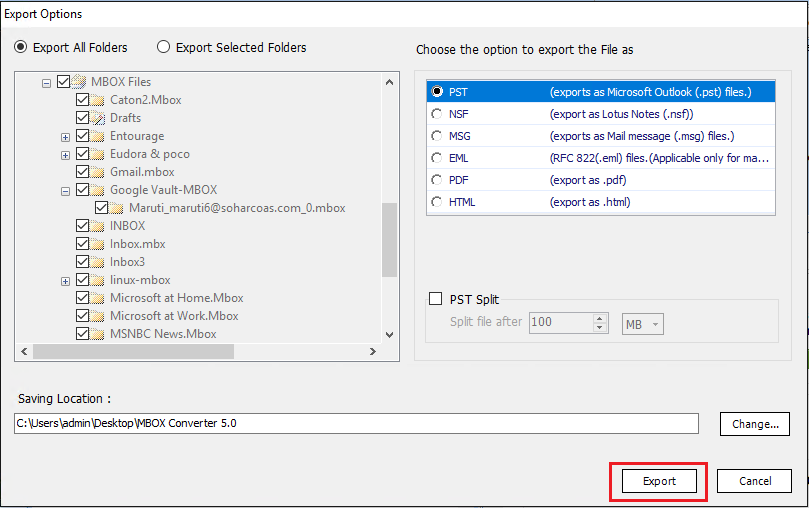 Wrapping It Up
Entourage, developed by Microsoft is outdated and lacks many features that the latest Outlook version provides. Hence, Entourage users have now decided to switch to Outlook and wish to import Entourage files in Outlook. In this article, we provided users with the method to prepare Entourage files and use a tool for seamless conversion. Users can download the free demo version of the software and import Entourage to Outlook without any issues.
FAQs
I transferred all my Entourage data into an archive. Can I verify its content?
Yes, you can open and verify the content of your Entourage files. Simply right-click on it and select Show Package option to view what's inside the file.
What will happen to my attachments after the import process?
The attachments will remain intact of course. You can view them in Outlook along with all the emails.
To import Entourage data, which Outlook version is required?
You will require Outlook 2011 for Mac to directly import the Entourage files. However, the solution provided in this article can help you in importing your Entourage emails into all Outlook versions. For example Outlook 2019, 2016 (Mac/Win), Outlook 2013, 2010, 2007(Win), Outlook 2011(Mac).
Does the given solution work on Windows or is it for Mac only?
The solution to import Entourage to Outlook works on both Windows & Mac.