How to Repair Corrupt SQL MDF File? – Query Resolved Here
The MDF file is a primary database file in SQL Server that contains the database schema and data. If the MDF file is corrupted or inaccessible, the situation is the worst for the user or organization. Due to corruption, users can not open and access their individual data. Therefore, the user must repair corrupt SQL MDF file to access data. To fix this problem, we are here with the top solutions to recover MDF file. Before we go to the solution, we need to know the reason for the corruption so that the issue can be easily rectified.
User Query

"Hello, My SQL Server data file is corrupt and I have no backup of the database. But it seems there is no problem in the log file (ldf). Can someone please help in recovering data from corrupt MDF file? Can anyone suggest me how can I recover corrupt MDF file? I have already tried DBCC CHECKDB repair options but no success. Please help."
Causes of MDF File Corruption
If a user has the SQL database stored in a compressed folder
Any changes are made to a SQL Server account
Damage to the storage medium on which all MDF files are stored
If the file header is damaged, the MDF file will be corrupted
If the SQL database is used and a network error occurs in the middle
Hard drive failure, virus attack, sudden power failure, improper system shutdown, etc.
Repair Corrupt SQL MDF File Using DBCC CHECKDB Command
Steps to recover corrupt MDF files via DBCC command are as follows;
1. Run DBCC CHECKDB Command
DBCC CHECKDB (Name of the corrupt Database)
2. Next, check the index ID
If index ID > 1, drop it and create it again.
If index ID is either 0 or 1, then run DBCC CHECKDB again with the appropriate repair options like repair_rebuild, repair_fast, or repair_allow_data_loss.
DBCC CHECK (name_of_corrupt_database, repair_fast)
DBCC CHECK (name_of_corrupt_database, repair_rebuild)
DBCC CHECK (name_of_corrupt_database, repair_allow_data_loss)
When DBCC CHECKDB Command Does Not Work?
This command is unable to fix major MDF file corruption. If you need to fix several MDF files, this process may fail. Moreover, you need strong technical knowledge to perform this manual solution. Overall, the above process is complex, does not give a 100% guarantee for recovery, and takes a long time. For avoiding all these issues and professionally recover MDF file, you can use some alternate solutions.
However, if you don't want to fic the files & just want to view them, the SQL Database Viewer is the right choice for you. If let you view the MDF files without any need of the SQL server. Otherwise, continue the article to get the solution you are searching for.
Repair Corrupt SQL MDF File Using SQL Recovery Software
Recover SQL Database Tool is a proven solution to recover corrupt MDF file. This tool offers the option to recover and restore deleted SQL database with all objects such as tables, triggers, rules, etc. It lets you recover deleted database in SQL Server without backup. Once the data is recovered you can also save the database as CSV file, or as SQL Compatible script. The tool also allows you to export the recovered data into SQL Server present in the same machine or over a server network. More so, the MDF file repair tool free supports the repair of files created in any version of SQL Server.
Follow these simple step to recover MDF file SQL Server 2019, 2017, 2016, 2014, 2012
Step-1. Download and Launch the tool. Then click Open to load .mdf files.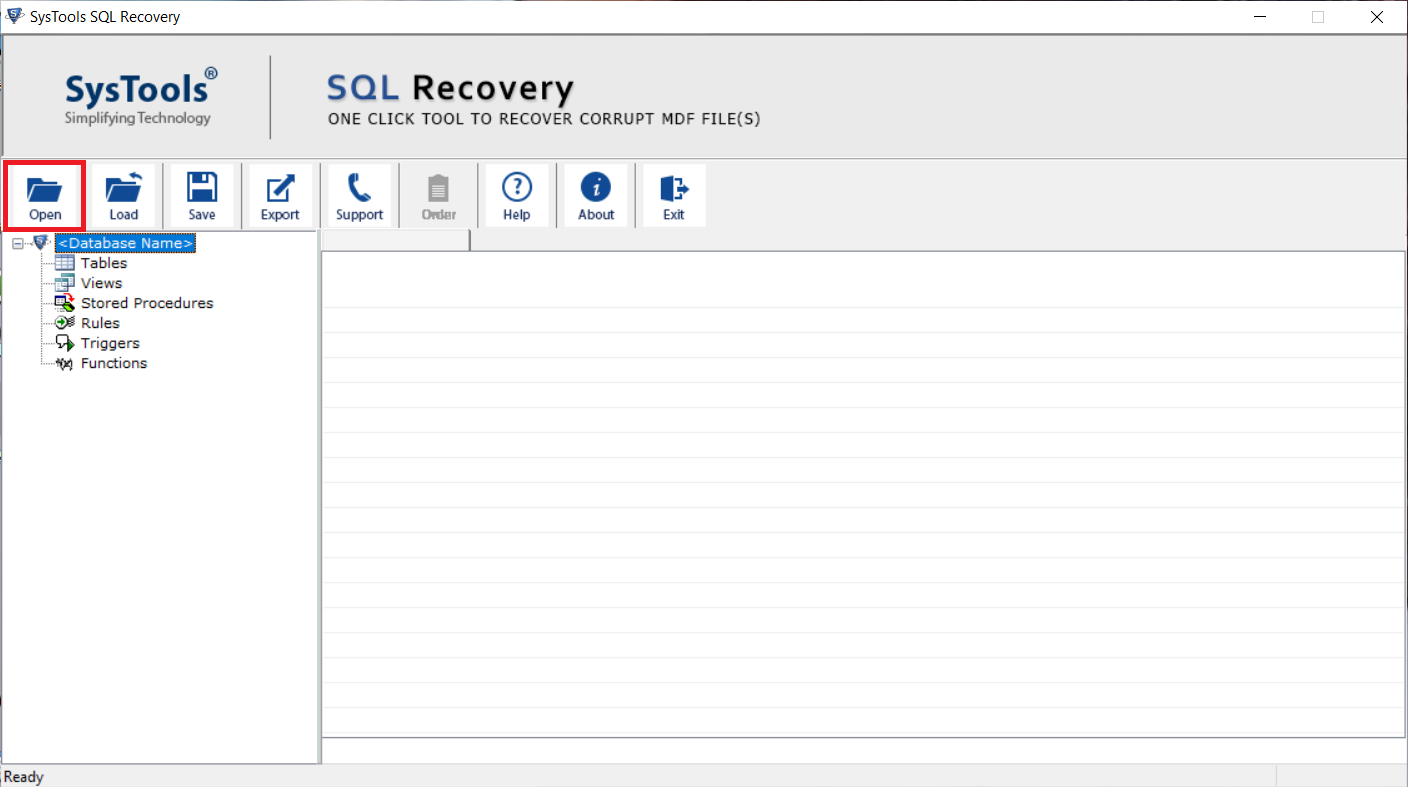 Step-2. Choose Scan Mode "Quick" or "Advance". Also, check the "Auto detect" box to detect the SQL MDF file version.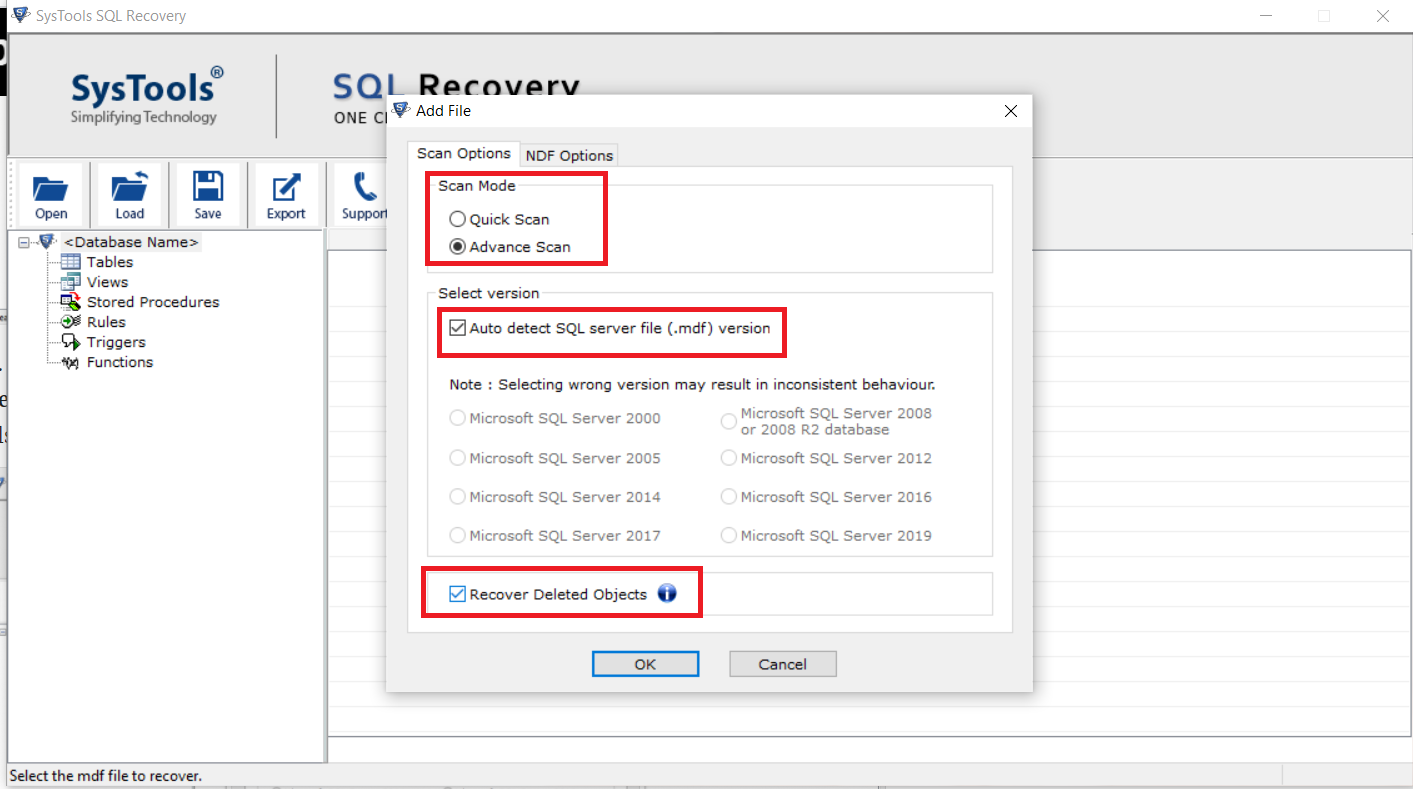 Step-3. After the scanning process, click the database objects to preview.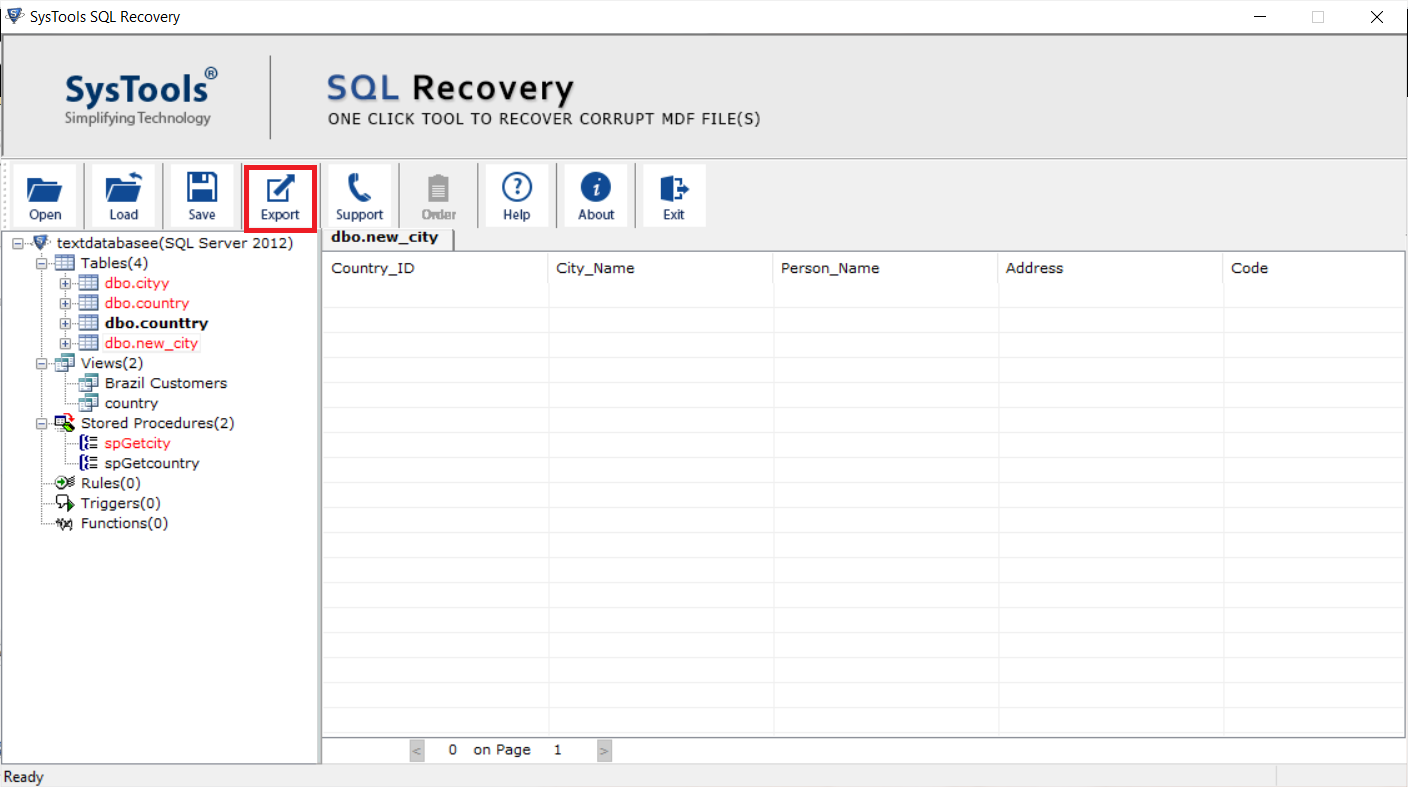 Step-4. Choose Export to "SQL Server Database" and enter the credentials of your SQL account.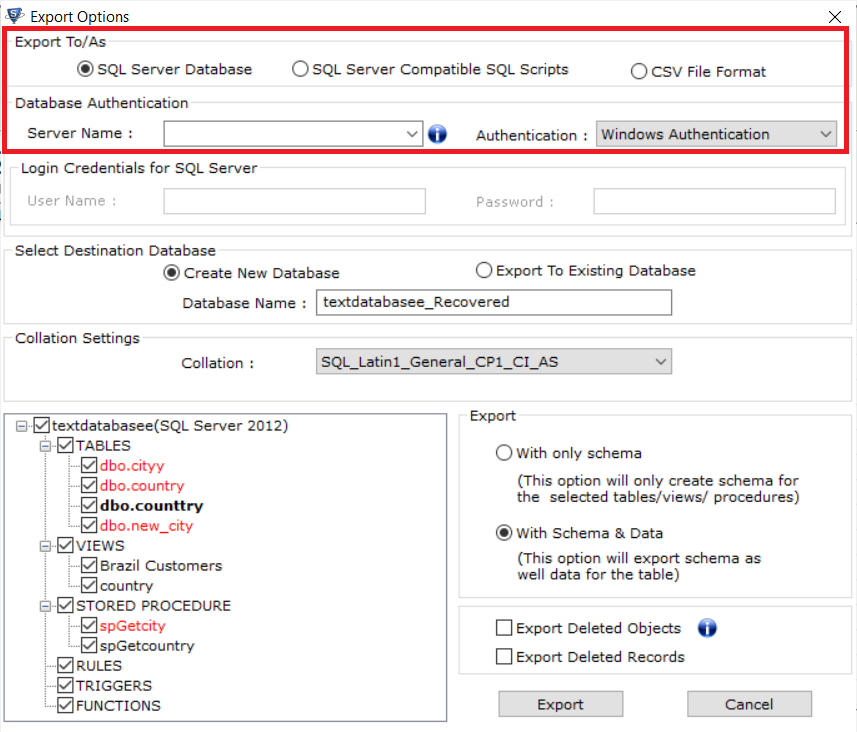 Step-5. Select the destination where the SQL database file should be restored to a "new or existing database".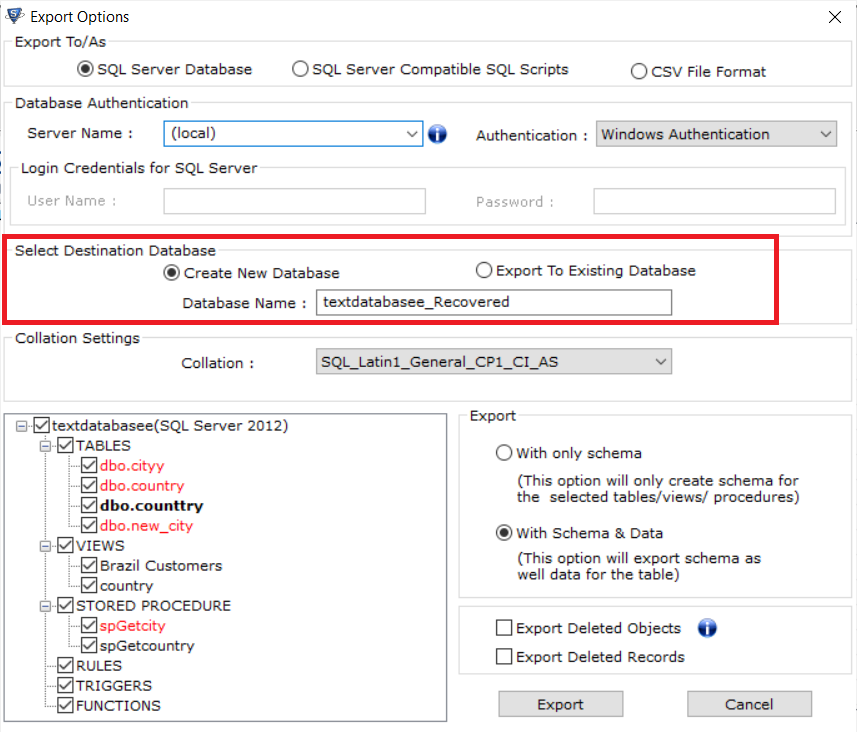 Step-6. Select Export With Only Schema" or "With Schema & Data". Now, click on the "Export" button.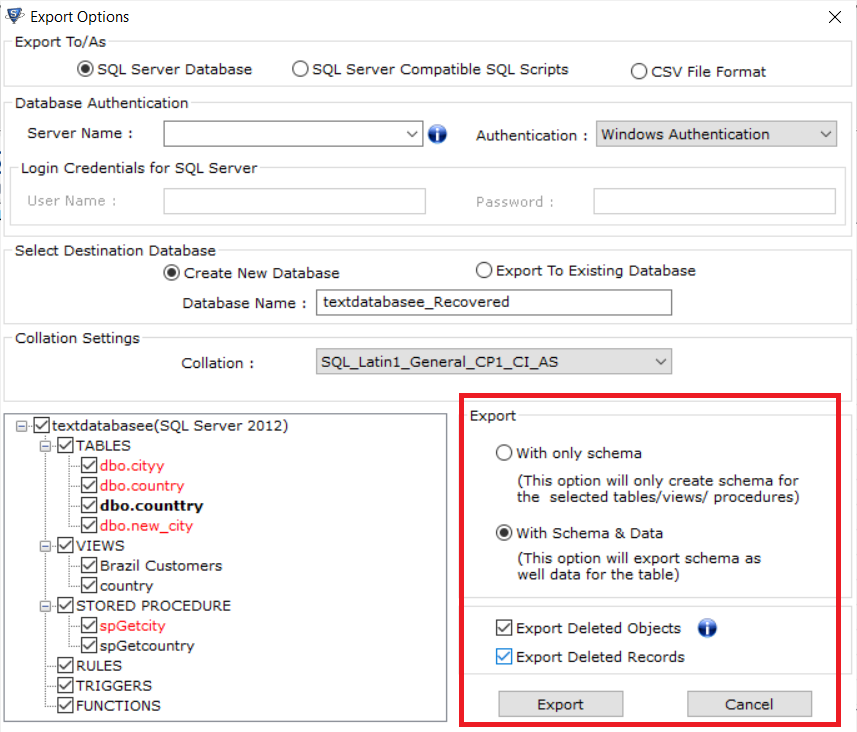 Note:- Learning how to recover MDF file from corrupted database is easy with the right tool. Evidently, make sure you enable the Run as Administrator option if your'e working on the Windows 7, 8, 8.1, 10, & 11 OS.
Why Prefer Recovery Tool to Recover Corrupt MDF File?
The manual process does not always help you repair corrupt SQL MDF file free, as there are some limitations. Therefore, the recovery software is a good choice to repair MDF file perfectly and with a full warranty.  This is why it is considered the best tool for MDF repair operation. The tool mentioned above has various features and those are:
Comes with a user-friendly control panel.
Offers 100% virus-free & secure environment.
Able to recover MDF files as well as NDF files.
Repairs and find deleted records in SQL server.
Tool provides users with Multiple Export options.
Supports all Windows platforms making it universal.
It can export SQL Server database to SQL file scripts.
Repair MDF file SQL Server free & restore them to save time & effort.
The Demo version enables users for free MDF repair of 25 records/table.
Also, supports the MDF  repair of SQL Server 2019, 2017, 2016, 2014, 2012, & below.
Concluding Words
We know how important SQL databases are, and any corruption in MDF is intolerable. To repair corrupt SQL MDF file, we have suggested the best software. Because using the manual process, it is not possible to fix major corruption issues. So, it is better to use the tool recommended by an expert and get a fruitful solution to recover corrupt MDF file. In addition, even experts use this solution for MDF file repair operations.
Frequently Asked Questions
Q- Can I repair MDF file without backup?
A- Using SQL database recovery tool, you can repair corrupted MDF file without backup.
Q- What's the quick step-by-step tutorial?
A- To learn how to recover MDF file from corrupted issues, follow the steps mentioned below.
Launch Too

l &

Click

the

Open

button.

Set Quick

or

Advanced Scan

option.

Now

Set

the

Destination

folder path.

Click

on the

Save/Export

button option.
Q- Does it is possible to repair damaged MDF file with all objects?
A-
Yes, SQL repair software allows you to
repair MDF file SQL Server free in demo version with all database objects like tables, stored procedures, rules, etc.
Q-  Can we use this MDF file repair tool free demo version for actual repair operations?
A- Yes, users can repair MDF file SQL Server free by the demo version. However, users can not export the data to SQL Server after the repair operation.