How to Import Emails from Mac Mail to Outlook 2019
With compatibility for both Mac and Windows along with hundreds of millions of users, Outlook is definitely the most popular choice for email clients. More and more people are switching to Outlook to increase their scalability and productivity. The same is true for Mac Mail users. Importing emails from Mac Mail to Outlook is one of the most common queries in the field of email migration. Although Mac Mail has its own benefits, Outlook is still preferred over it, especially in the business environment.
Quick Overview:
Mac Mail is the default email client on all the latest Mac systems. It uses the .mbox extension file to store all its mailbox data including emails and attachments. On the other hand, Microsoft Outlook is available for both Mac and Windows. It stores multiple information in PST files including emails, attachments, contacts, calendars, etc.
How to Import Emails from Mac Mail to Outlook?
There are supposedly three methods to complete this task. But, due to the discontinuation of Eudora, the method involving the Eudora email client is now outdated and does not work. Hence, don't waste time with that method. The two ways that do work are as follows:
Both the given methods are capable of providing you with the desired results. However, you will either need to indulge in the process yourself which can cost you a lot of time and effort, or you can go for the instant approach that requires a small expense. What you choose depends on your requirements and affordability.
Transfer Mac Mail to Outlook using Manual Method
In this method, you need to configure both your Mac Mail & Outlook application with a Gmail account using IMAP. Follow the steps given below for the same:
Step 1. Pre-Requisite
Create a new Gmail account and sign in using the web browser.
Click on the Gear icon on the right and click on the Settings option.
Select the Forwarding and POP/IMAP tab and mark the Enable IMAP option.
Save the changes and quit the browser.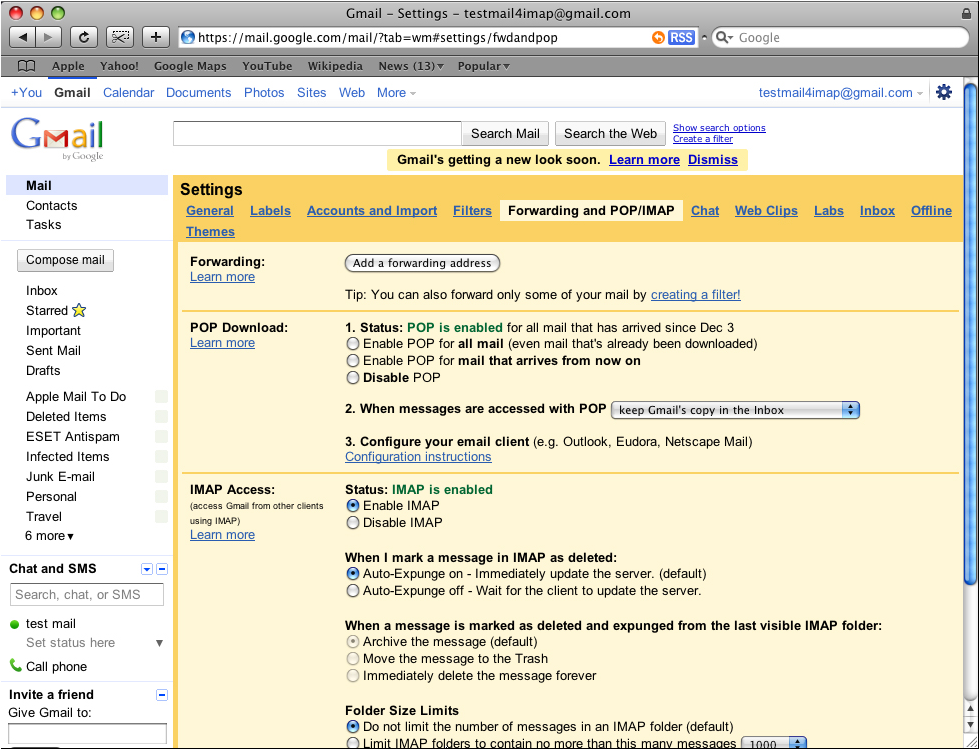 Step 2. IMAP configuration in Mac Mail
Run Mac Mail on your Mac.
Select Mail > Preferences and click on the Accounts tab.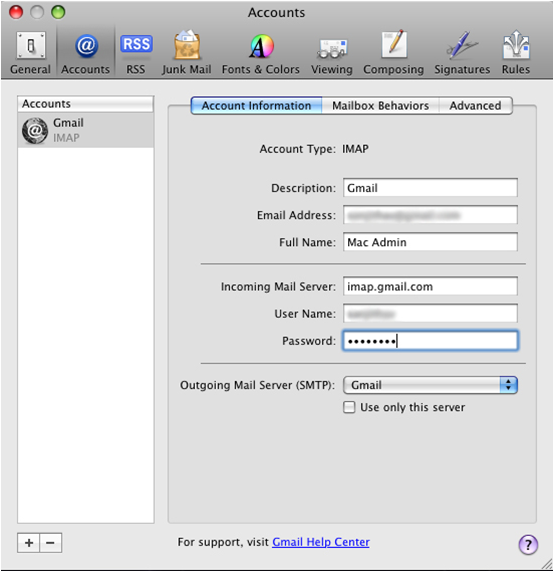 Click on the "+" icon and enter credentials for your Gmail account, click Continue.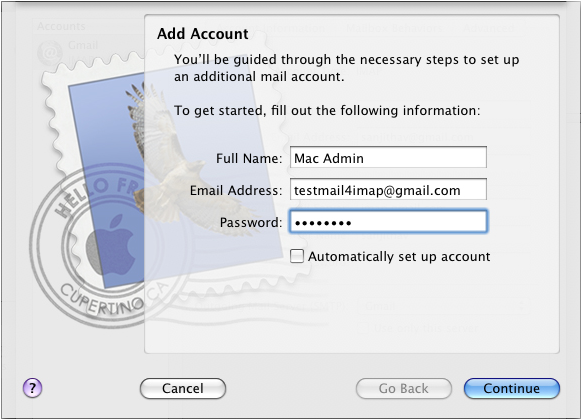 Now enter "imap.gmail.com" in the incoming mail server field and input other details as per instructions, Click Continue.
In the next window, enter "smtp.gmail.com" in the Outgoing Mail server and input other details as instructed, click Continue.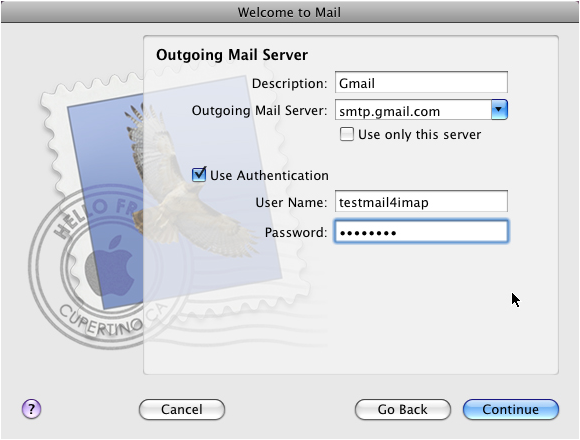 Verify the settings and click on the Create button.
Step 3. Import Mac Mail data in Configured Account
Until now, we have configured the new account in Mac Mail via IMAP. Now, in order to import emails from Mac Mail to Outlook, we will move the messages into the configured account. Here's how to do it:
Select and move the emails from other Mac Mail mailboxes into the newly created Gmail mailbox.
You can also import the MBOX files that contain all the Mac Mail data directly into this account. The default location of the MBOX file: /Users//Library/Mail/Mailboxes
Step 4. IMAP configuration in Outlook
Run Outlook and go to Preferences > Accounts.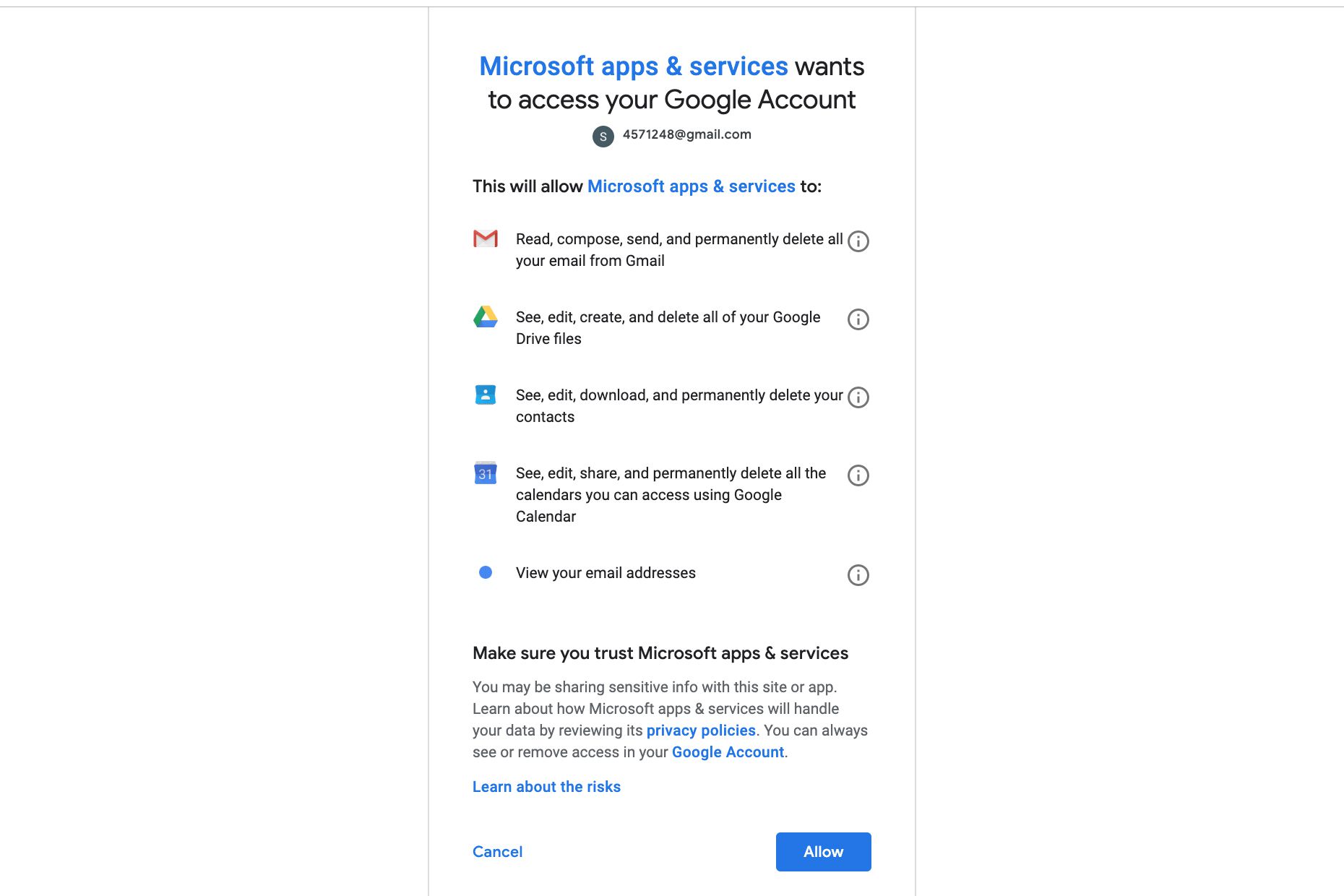 Click on the "+" icon and select New Account.
Enter the credentials of the same Gmail account previously configured in Mac Mail.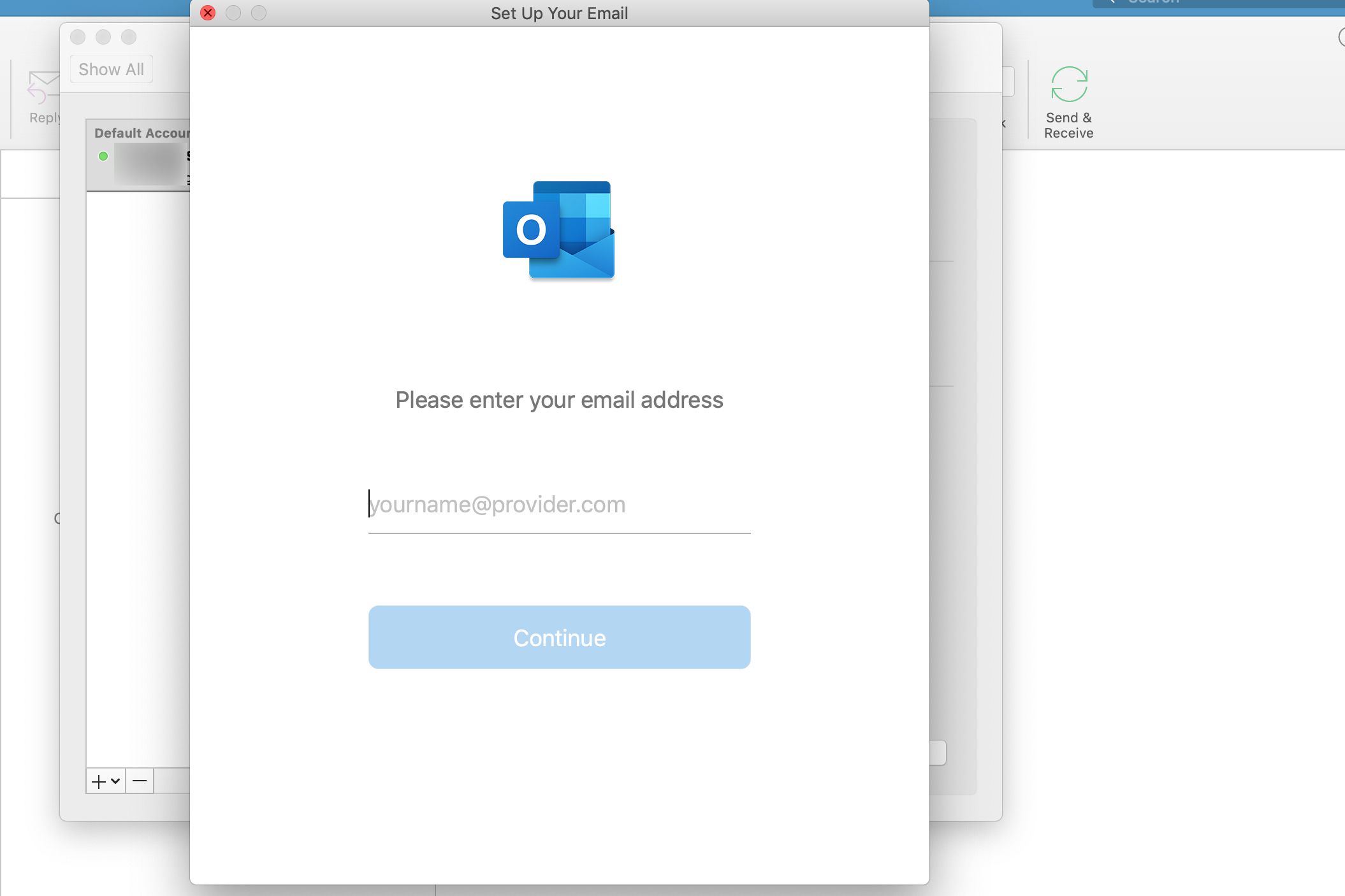 Click Allow on the confirmation window.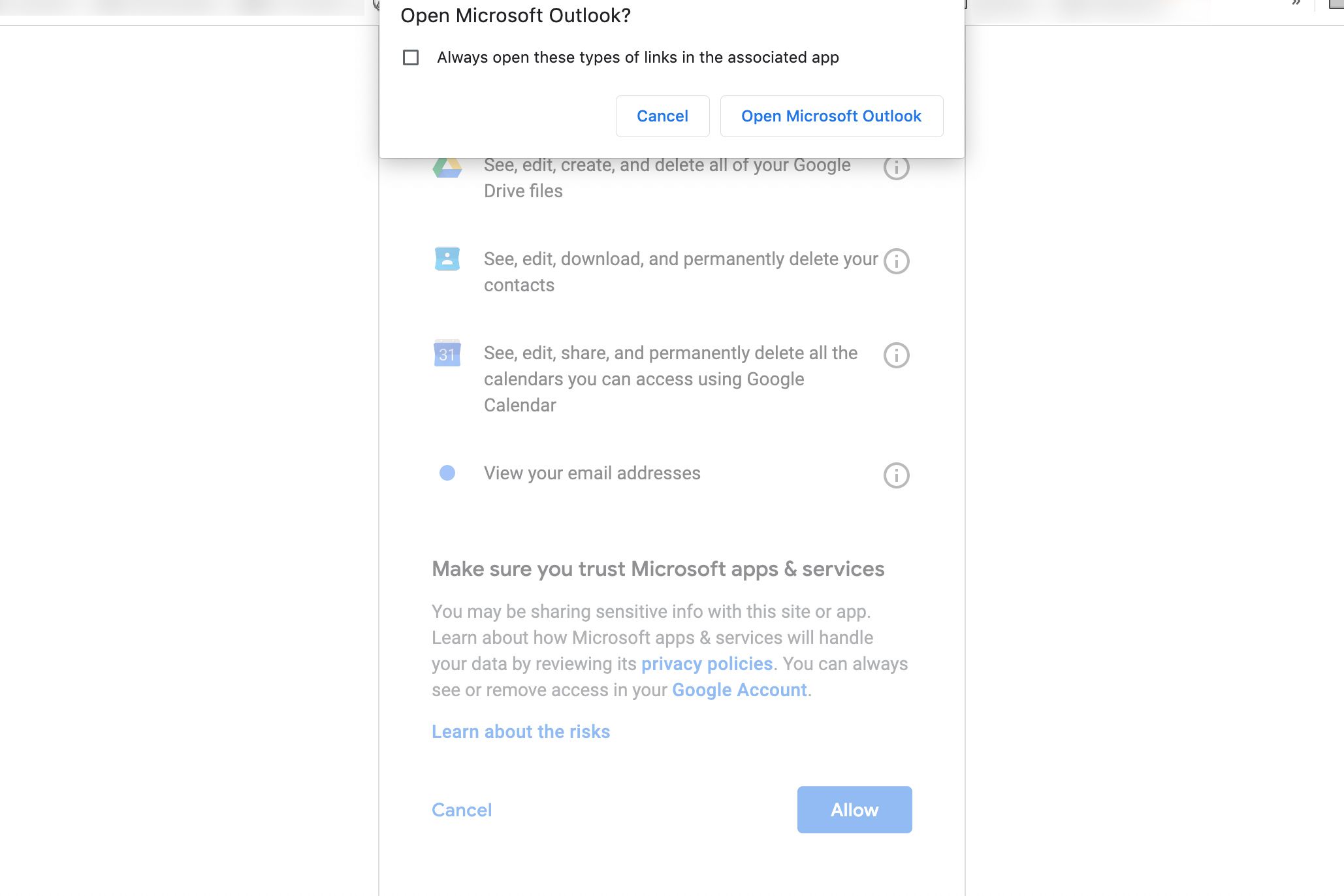 A popup may appear, click on "Open Microsoft Outlook".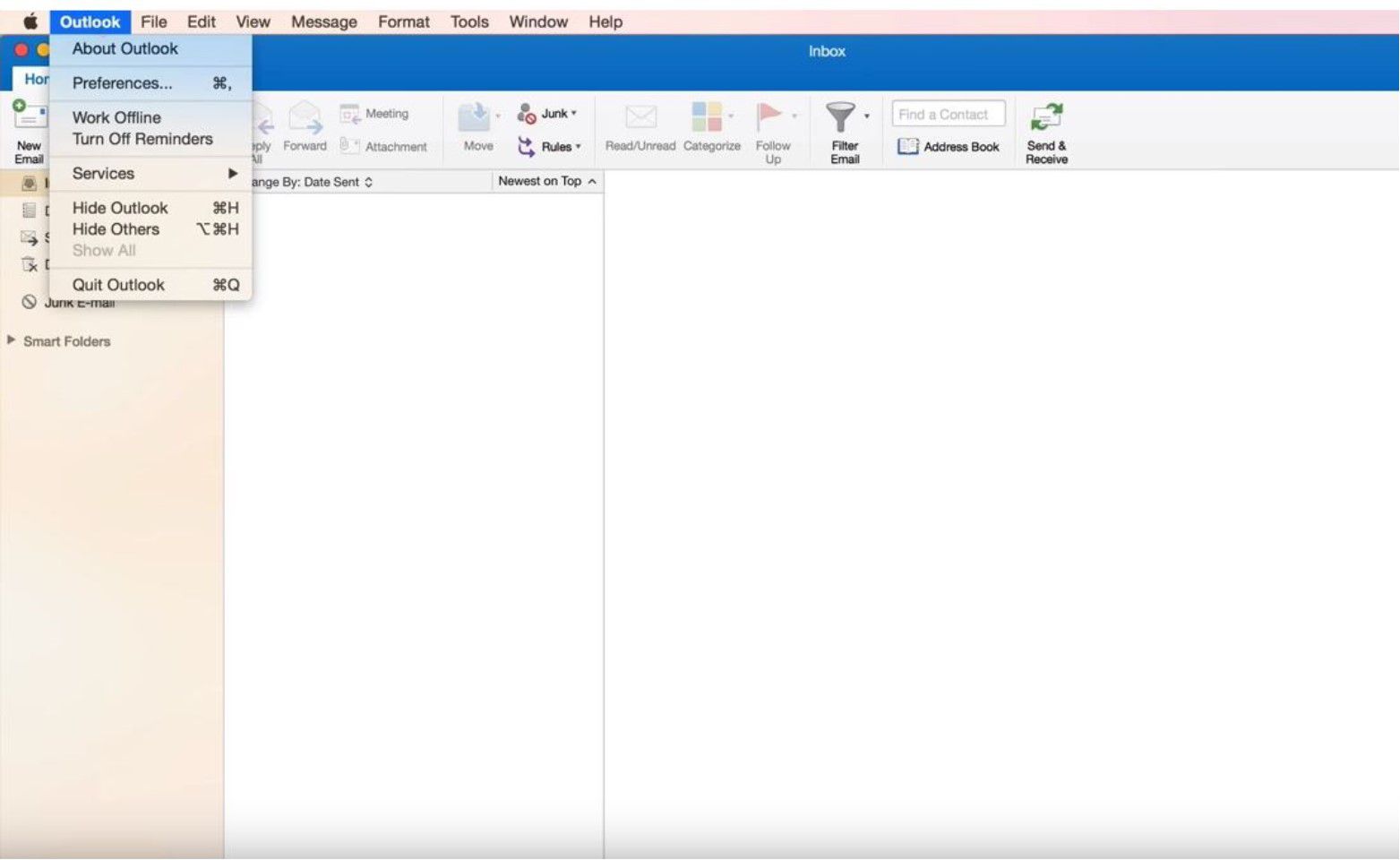 Once the process completes, click on Done.
Now, you can access all your Mac Mail emails in Outlook. You can move the emails from the Gmail account into other Outlook mailboxes to access them without requiring the configured account.
Note: If you are using an Exchange account, all your data is already saved in the Exchange server. So, all you need to do is configure the Exchange account in Outlook to access and move all messages. If that's not the case, you will need to either follow the manual method using IMAP or opt for the faster and reliable conversion program.
Export Mac Mail Emails to Outlook with Automated Solution
The manual method is not trustworthy because it modifies the email metadata. Human error is also a huge possibility (more than 80%) that may lead to data loss. Additionally, the time frame required for such migration is huge, and depending on the number of email messages to import from Mac Mail to Outlook, it may take days to complete. Hence the safer and more effective approach here is to use a professional tool – EmailDoctor MBOX to PST Conversion Tool. It is lightweight, fast, and accurate and provides multiple benefits to its users. Some of these are as follows:'
Developed to serve both Mac & Windows users.
Converts multiple Mac Mail mailboxes in batches.
Prevents any metadata modification and retains email attachments.
Provides filters to export only selective data from Mac Mail.
Supports migration to PST, PDF, EML, MSG, NSF, and HTML.
Creates PST files easily readable in all Outlook versions.
Fast and Accurate Conversion of Mac Mail emails to Outlook.
Steps to Import Emails from Mac Mail to Outlook:
Step 1. Run EmailDoctor software.
Step 2. Click "Add File" to import Mac Mail mailboxes.
Step 3. Click "Advance Settings" to customize the export process.
Step 4. Select "PST" and Export Mac Mail emails into PST for Outlook.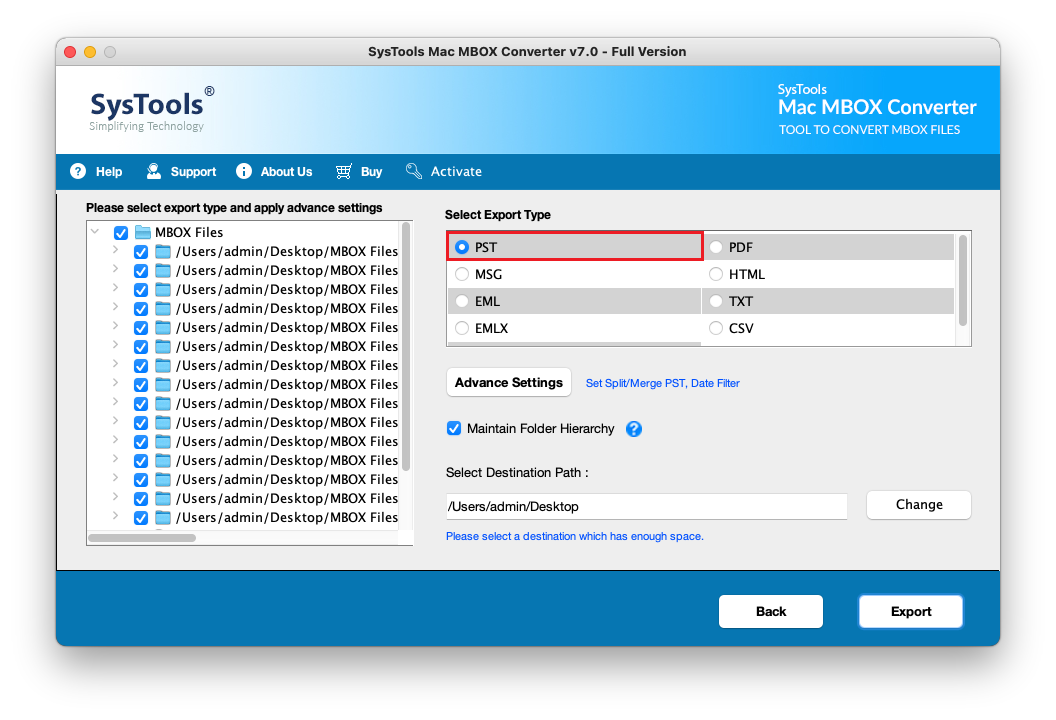 Note: The Advanced Settings option includes features such as Split Outlook PST file, Create a single PST by merging all Mac Mail files, and the option to filter emails within a selected time period.
Conclusion
This article you with everything required to successfully import emails from Mac Mail to Outlook. Whether you choose the manual method or opt for the automated solution is entirely your decision. However, we would suggest going for the EmailDoctor conversion tool for an effortless and safe migration experience. This tool is also available for free as a demo variant to import 25 emails per folder from Mac Mail to Outlook. For unrestricted migration, a licensed version is required.