Learn How to Import / Export Exchange Address Book to Outlook PST Format
Many users who use Exchange Server, don't know how to import Exchange contacts to Outlook. Because MS Exchange Server plays a vital role in every organization. An Exchange Server use the EDB file to store the data items like inbox, calendars, contacts, drafts, notes, journals, tasks, and many more.
In any case, Exchange database contacts get damaged or corrupted. Then, this might be problematic for the company. As it could lead to complete data loss. So, in that scenario, it is very necessary to import Exchange contacts to Outlook.
Before jumping to its importing procedure into Outlook. Let us understand why it becomes necessary to export the contacts from Exchange Database.
Why do we need to Import Contacts into Outlook?
Some of the major reasons to convert Exchange contacts to Outlook are listed below:
Back up Necessity – For instance when an employee leaves the organization, it is important to backup the mailboxes data. Exchange admin needs to take the backup of all the email data in the database.
Portability – One of the features to convert the data in .pst is portability. Once it is converted to PST format, you can move data quickly to other locations through external storage devices.
Improve Server Performance – It reduces the mailbox size that helps to increase server performance. And also avoid extra expenditure on infrastructure.
For Legal and Compliance requirements – It is necessary to fetch, save, and retain some specific data for a long time.
Manual Solution For How to Export Contacts From Exchange to Outlook?
Here are the diverse solutions from which customers can import the Exchange data contacts. We have a manual (Exchange PowerShell) or automated approach to import the Exchange mail contacts. The manual method needs technical abilities because all this is to be accomplished through commands.
Apart from this, it is a completely time-consuming method to import multiple EDB contacts in batch. You need to use Exchange PowerShell commands to export contacts to PST.
Note: Before using the Manual Solution users need to assign the Mailbox Import Export role.
Follow the commands in a sequential manner:
To get the list of mailboxes in a database.
Get-MailboxStatistics -Database
To export contacts from Exchange to PST.
New-MailboxExportRequest -Mailbox -FilePath \\ExchangeBackup\PST\MailboxName.PST -IncludeFolders "#Contacts#"
Check the status of the mailbox export request.
Get-MailboxExportRequest -Mailbox "Mailbox Name" | Format-List
Now, remove the export request.
Remove-MailboxExportRequest -Identity
Using these commands, you can import the Exchange contact into Outlook. However, it will export the data from a single mailbox.
Automated Wizard For How to Import Exchange Contacts to Outlook
EDB to PST Converter software converts multiple Exchange Server offline/dismounted .edb files with all data items such as mails, contacts, calendars, tasks, journals, notes to convert these files into PST. The categories filter option of this tool allows you to export the select mailbox items to the Outlook PST file in no time.
With the help of this tool, you can easily perform this task. This proficient software is designed to extract mailboxes (archive, shared, legacy, disconnected, user) from EDB and export it to PST Outlook and other file formats.
This utility is capable to convert Exchange Mailbox to PST / MSG / EML / HTML / PDF / MBOX file formats. Scan mode option of this tool recover corrupted Exchange database file. To remove minor corruption from EDB file select quick scan and for highly corrupted .edb file go for advance scan.
You can also recover purged mailboxes and data items from loaded Exchange EDB file using advance scanning mode of this automated tool. Now, user can recover mailbox from EDB file Exchange 2016, 2013, 2010 & from various other version easily by using this scan option.
Also Read: Rectify the Exchange Server Error 550 5.7.1 Unable to Relay
The software automatically generates the export report of export Exchange data in CSV file format and save success and fail count information of export Exchange mailbox data.
Key Features of Automated Software
The tool supports EDB and STM files
Extract data from priv and pub Exchange data file
It converts dismounted/offline .edb file into various file formats
Maintains the actual folder structure and data integrity
Multiple filter option allows user to selectively convert EDB Mailbox/data items
Provide scan mode option (Quick & Advanced) to recover Exchange Database file
Compatible with Exchange Server, Windows OS, and MS Outlook version
Step by Step Process of How to Import Exchange Contacts to Outlook
Follow the simple steps that make it easy to convert Exchange contacts into Outlook Data File format.
Step 1: Download, install and run the software > Click on Add File button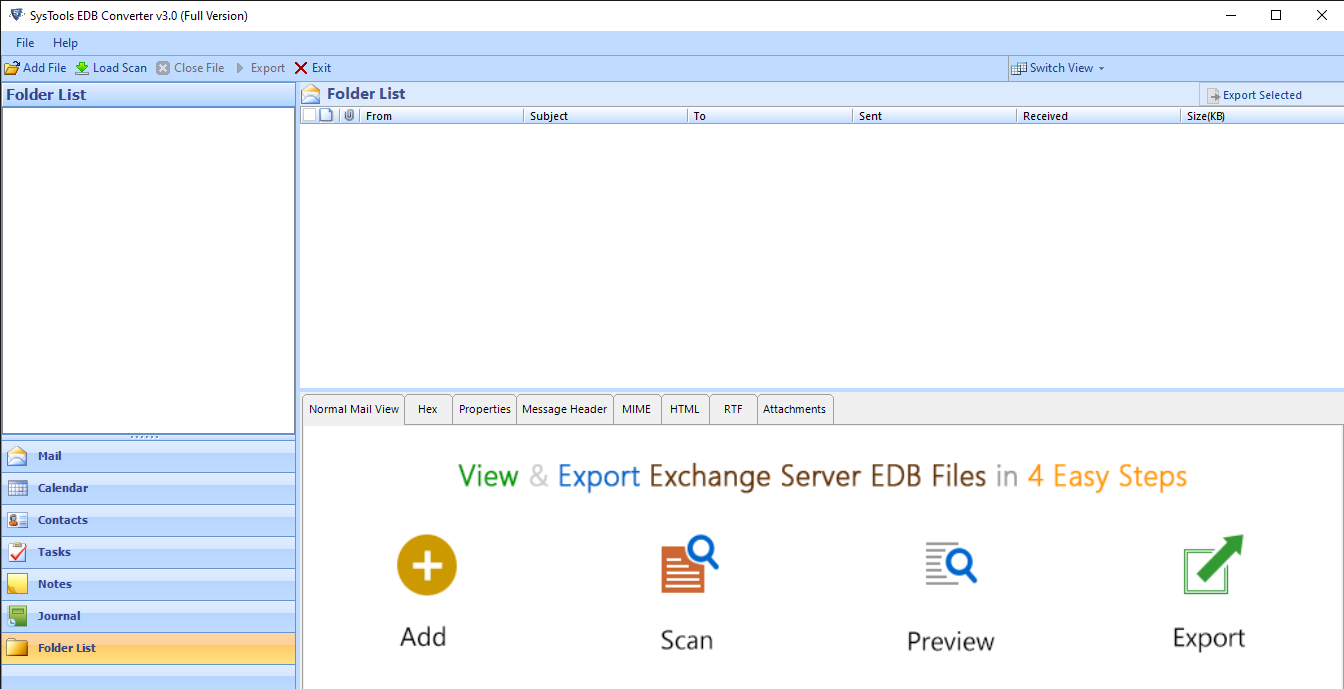 Step 2: Load .edb file using select or search Files options > Click Add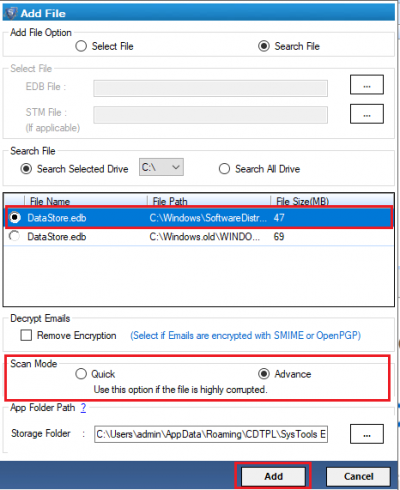 Step 3: View .edb file into the software > Select contacts > Click on Export Select Button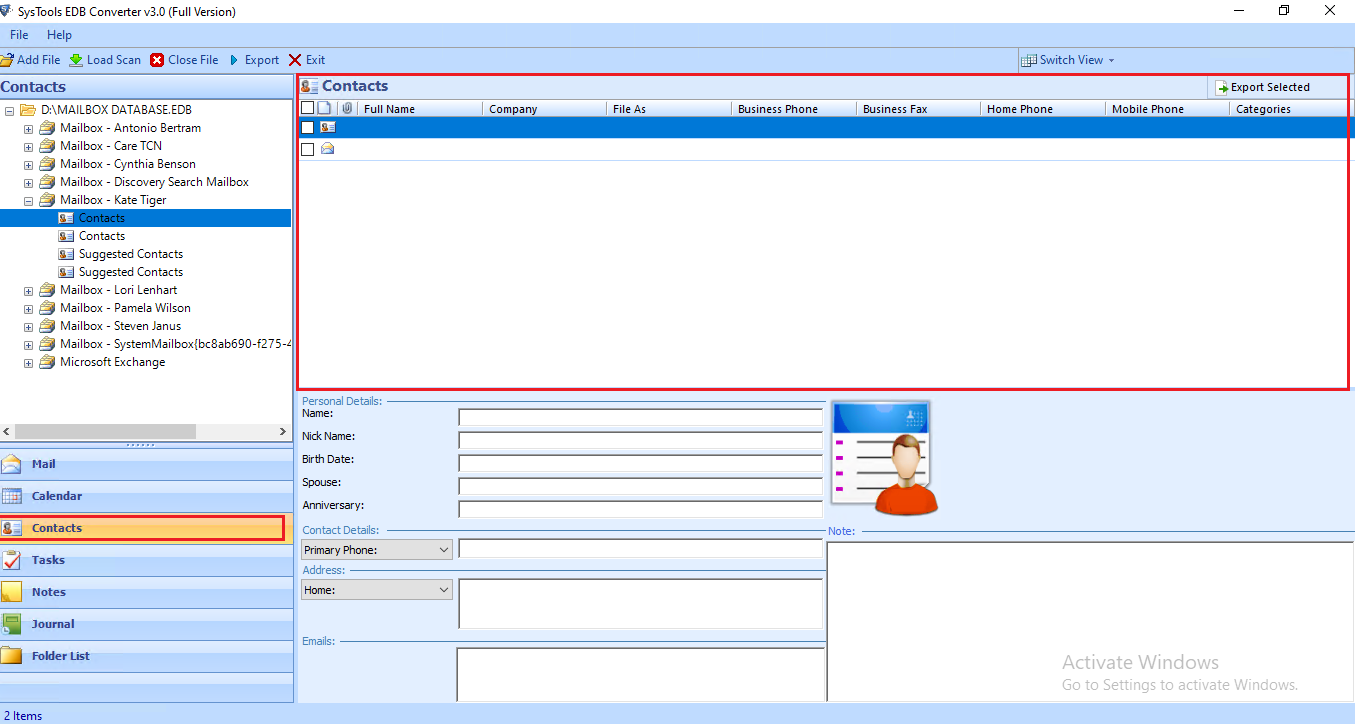 Step 4: Select PST > Click on the browse button > Set the destination > Click on Export
Note: Click on Advanced Settings. Select contacts on categories option. This will help users to export only contacts from Exchange Mailbox to PST.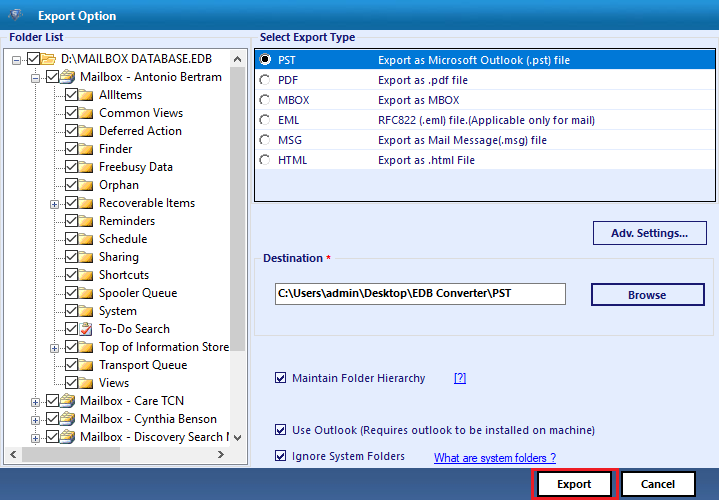 After completing all the above-mentioned steps, you get the PST file in your local device. Further, you can import the personal storage folder(.pst) into Outlook to access those contacts.
Note: Use Exchange Export Tool to import Exchange mailbox contacts from Live Exchange Server 2003, 2007, 2010, 2013, 2016 version to PST Outlook with no loss of data.
Concluding Thoughts
However, the Manual approach is indeed a free method to import the contacts from Exchange to Outlook. It may attract users, but satisfactory results are not guaranteed always. Also, there are possibilities of data loss and file size limitations. Hence, we mentioned the professional software that tells users, how to import Exchange contacts to Outlook in the most efficient and reliable way. This smart converter easily performs the task without losing a single bit of data.