How to Convert Exchange Mailbox to PST File – Know the Reasons
Either you are IT admin, Technical Geek or an ordinary user who loves to use Microsoft Exchange. Everybody asks one common question i.e. how to convert Exchange Mailbox to PST file. Exchange Mailbox is used by most organizations whether it is Private or Government.
Exchange server helps them to manage all their employee mailboxes. In an organization, multiple people use Exchange Mailbox and its entire data store in the Exchange Database (.edb) file format.
EDB file is very important in Microsoft Exchange. You can say that its the heart of the Entire Exchange server that helps it working properly.
Reasons for Exchange Mailbox to PST Conversion
Database Corruption
Motherboard Failure
Overheating (That damages the Hard Drive)
Hard Drive failure
Missing Log File
Low Disk Space Issue
These are the issues and reasons that help you to know why to convert Exchange Mailbox to PST. Any user or Organization Exchange Database is very crucial and storing it in one place is not a good idea.
There are only two options that help to save EDB file i.e.
Take Backup Regularly
Convert Exchange database Items into PST
Note: Taking backup of EDB file regularly is not a piece of cake because Exchange Database files require a large amount of storage to store its data. The minimum size of the EDB file is in Terabyte (TB).
Convert Exchange file to PST is the best option to keep Mailbox data safe and it doesn't require any special skill or technical knowledge to change it into Outlook PST. Automated software can convert Exchange Mailbox file to PST within seconds/minutes. You can use  EDB to PST Converter tool. This software is one of the best software that can convert Exchange Database in bulk.
Before converting one file to another you should probably know about what edb and pst file is:-
EDB: It is an acronym for Exchange Database. Where the mailbox database is stored in the Exchange Database (.edb) file. EDB files are store in-process and non-SMTP messages. Exchange Database files are formatted using a b-tree structure. Where each file is corresponding using the STM file which contains the actual SMTP messages. EDB files are used by Microsoft products.
EDB File Location: \Program Files\Microsoft\Exchange Server\v14\Mailbox\Mailbox Database\ abcd.edb
PST: It stands for Personal Storage Table. It is an open proprietary file format that is controlled by Microsoft and free to be used by everybody. It is used to store information such as copies of messages, calendar, events and other Microsoft software like Microsoft Exchange Client, Microsoft Outlook, etc.. This file is also known as Personal Folders (File) or Post Office File
PST File Location: "C:\Users\ \AppData\Local\MicrosoftOutlook" and Under Window 7 ,Vista and XP at: C:\Documents and Settings\ \Local Settings\Application Data\Microsoft\Outlook\
Features of Automated Software
It can convert offline Exchange Mailbox to PST.
It maintains Folder Hierarchy.
Provide the option to convert Corrupted files to PST data format.
Users can selectively convert Exchange db to PST using multiple Filter option.
Users can create an Individual PST file while converting from Exchange Mailbox.
This software is compatible with all Exchange Server like 2019, 2016, 2013, 2010, 2007, 2003 & all below version.
It provides Date based filter option to convert database file specifically.
Provide scanning mode (Quick / Advanced) for recovery of Exchange Database file.
This tool provides the option to decrypt SMIME or OpenPGP Email Encryption.
Allows the user to extract Public Folder and Private Mailbox to Outlook PST.
How to Convert Exchange Mailbox to PST File | Step-by-Step Method
Step 1: Download this best conversion tool & Launch it.
Step 2: Click on the "Add File" button to select the EDB file.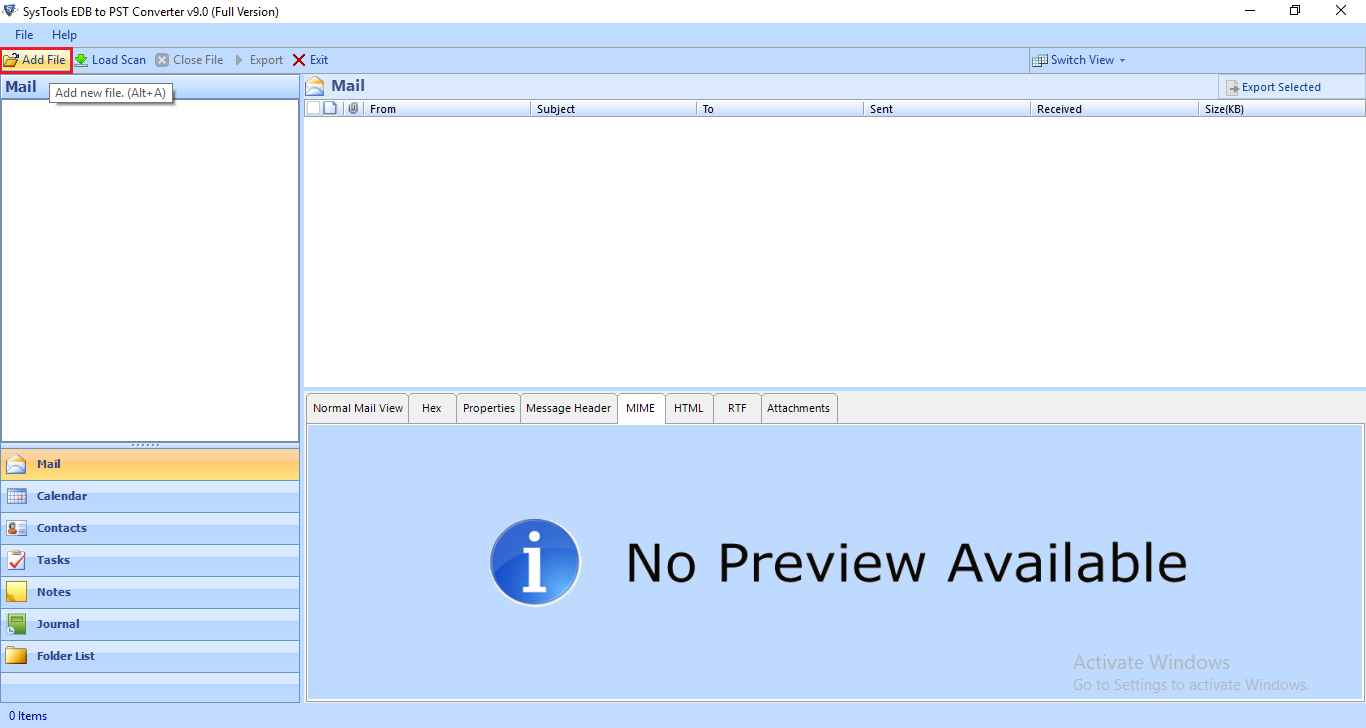 Step 3: "Add File" window pop up. Here you have to select one option like Select file / Search File.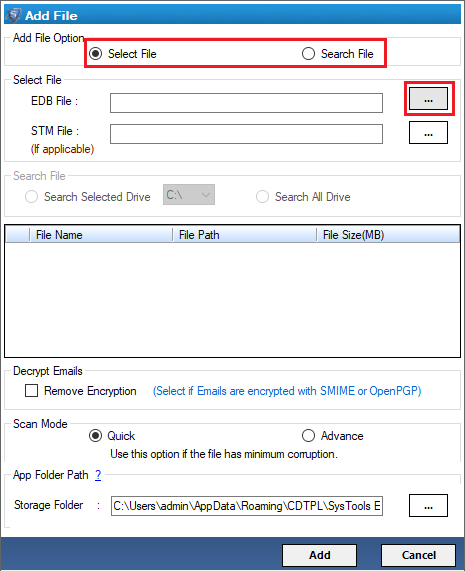 Note: In Select File Option user can directly select the EDB / STM file by click on the "…" button.
In Search File Option users can search selected / all drive to search EDB / STM files. This option also repairs the EDB / STM files.
Step 4: Click on the "Select File" option and on the EDB option click the "…" button and select the EDB files.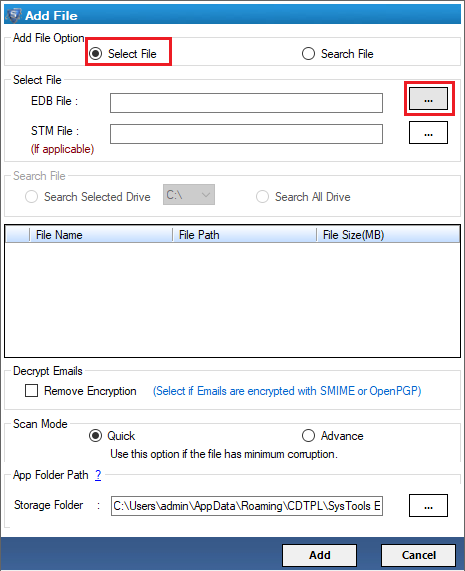 Now, select the EDB file and Click on the "Open" button.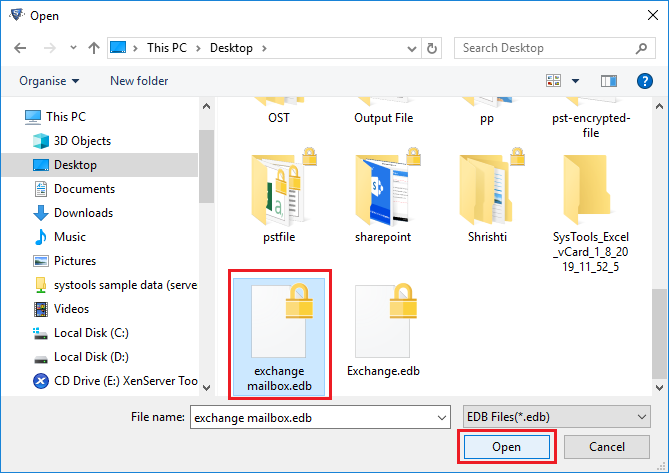 Step 5: If there is any encryption on your email file like SMIME / OpenPGP. Click on the checkbox option to remove encryption.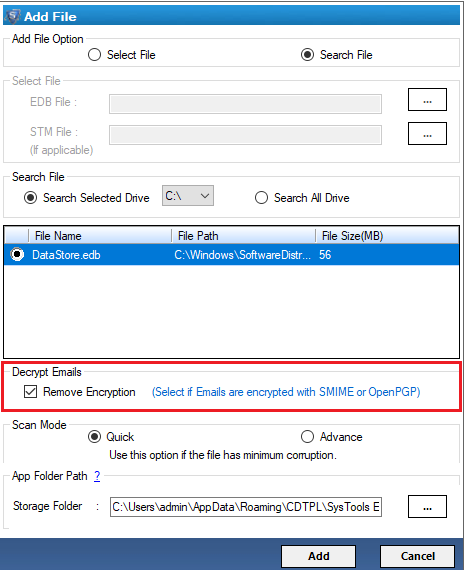 Step 6: In the Scan mode there are two options i.e. Quick / Advanced and after that click on the "Add" file.
In Quick scanning Mode user can recover EDB files.
Highly Corrupted EDB file can recover by using Advance Scanning Mode. It can also recover permanently deleted mailbox or data items while convert exchange database file to PST.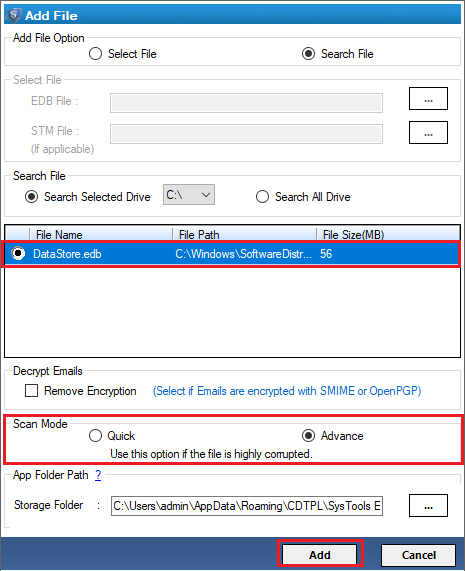 Step 7: The tool will start scanning the EDB file.

When the scanning process is completed a dialogue box will appear that ask you to save the scan results. Click on Yes button if you want to save the scan result.

Step 8: The left panel will display the existing folder in the Source EDB files. It shows all scanned EDB file and all the Exchange Mailbox present in the EDB file in the preview panel.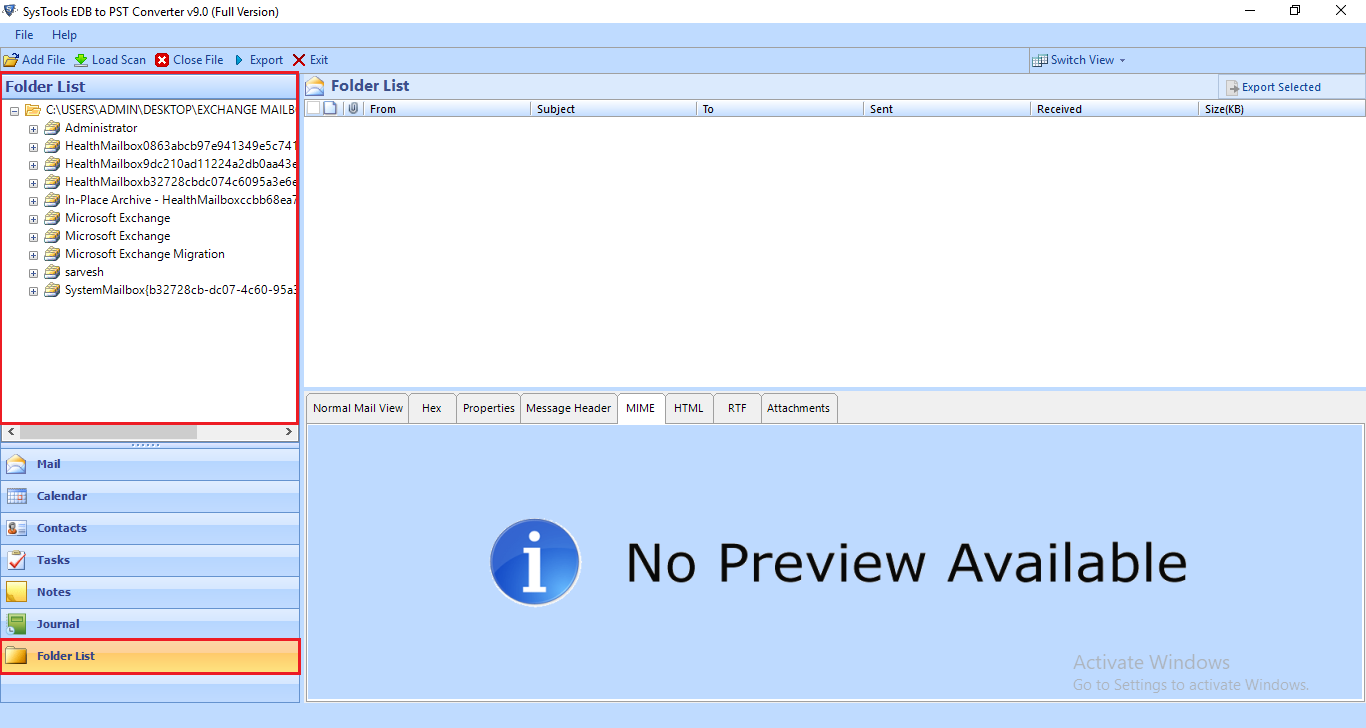 Step 9: Now, click on the "Export" button to convert Microsoft Exchange Mailbox to PST or you can select the Mailbox specifically by clicking on the checkbox.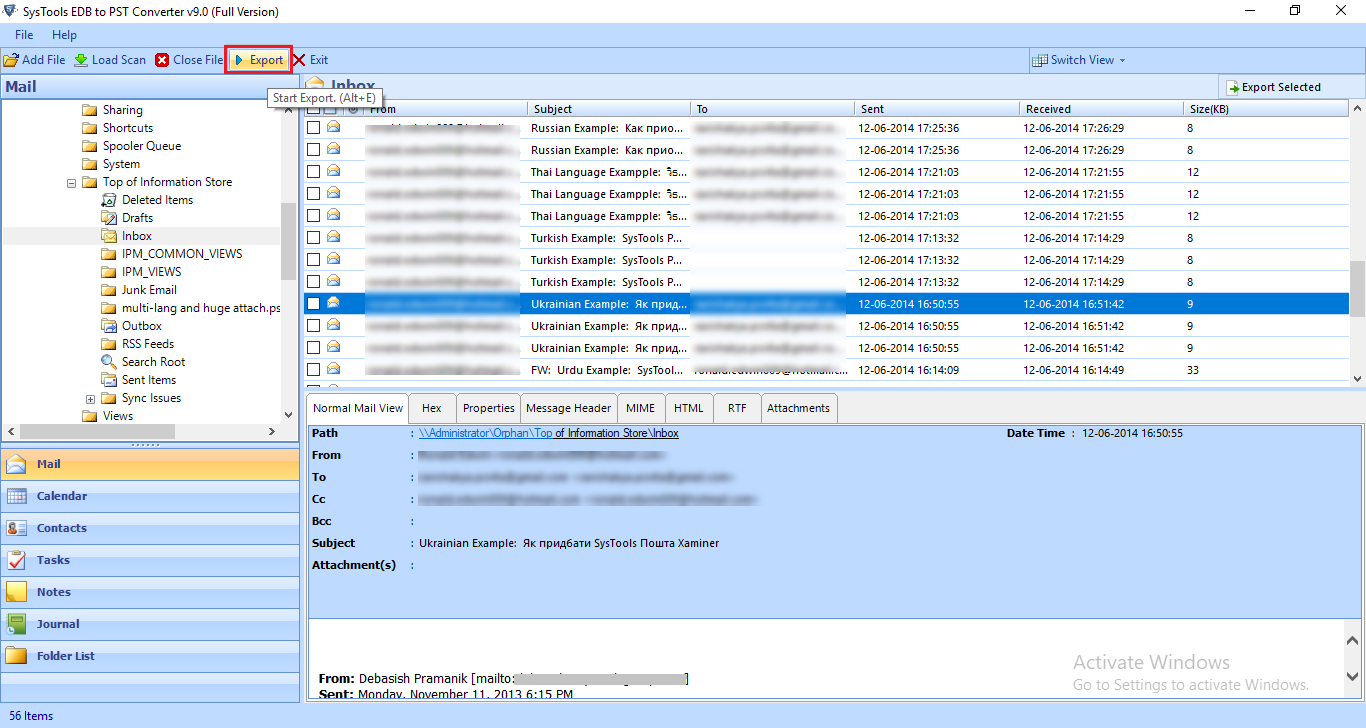 Step 10: Click on the "Browse" button to select the destination folder to save the result.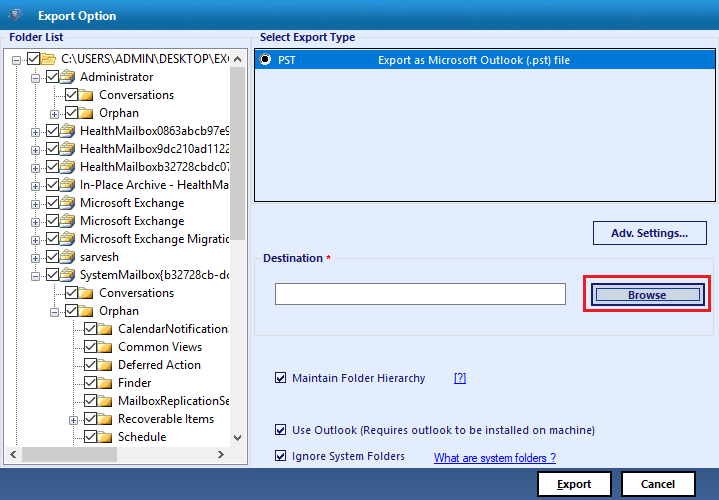 Note: There are additional options provide in the "Advance settings".
Split PST Option: It split the PST file according to the size user the decide.
Date Filter Option: This option allows user to convert emails to PST specifically.
Categories: In this option, the user can convert Exchange Mailbox Database to PST by select the following categories like mail, contacts, calendars, etc..
Then click on the "Save" button.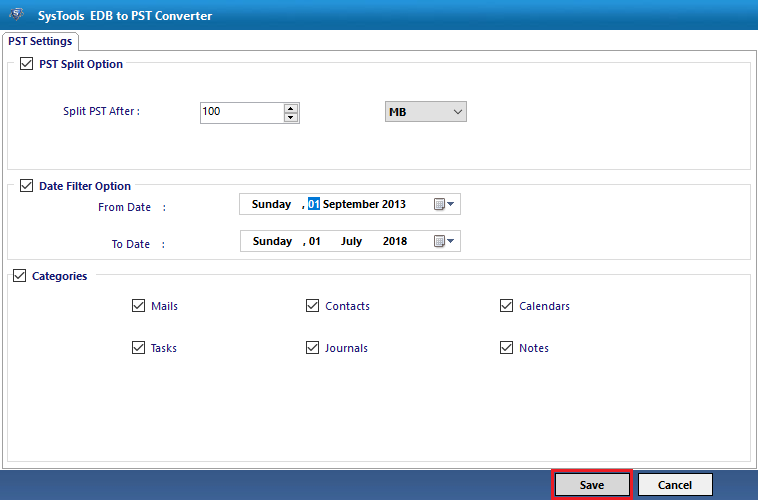 Step 11: After adding the destination folder, click on the corresponding "text box". Then click on the "Export" button to convert Exchange Mailbox to PST.
Step 12: When the conversion of DB data items into Outlook PST complete. The following message will display. Then click on the "OK" button.

The window will appear that shows the "success" and "fail count".
Click on the "Save" button to save the conversion report in the CSV file format.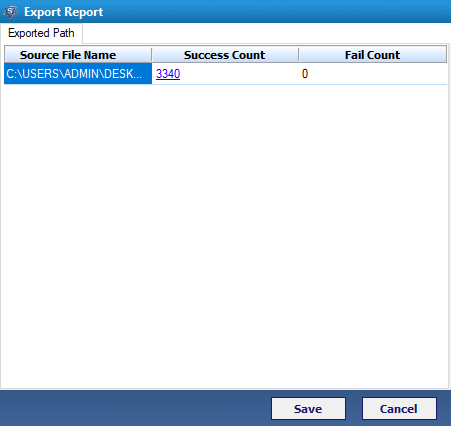 Step 13: User can open the PST file in Outlook 2019, 2016, 2013, 2010, 2003, etc..
Bringing It All Together
After reading this article, now the user should have complete information about how to convert Exchange Mailbox to PST file. In spite of that users have information about the Exchange Server, Features of Automated Software, etc.. There are plenty of reasons due to which users need to convert EDB Mailboxes into Outlook Data File. By using a manual solution like Powershell and Exchange Admin Center users can change their Exchange Mailbox into PST but this solution has their own downsides too. That's why most of the users opt Automated Solution because it provides a simplified, easy, and secure solution.
Frequently Asked Questions from Users
1. Can I convert the offline Exchange Database file to PST?
Yes, you can convert the offline Exchange Database file to Outlook Data File (PST). Then you can easily open the resultant PST file in Outlook.
2. Is this software recover purged emails from Exchange Database?
Yes, this software is capable to recover deleted emails from EDB Mailbox. The user has to select the Advance Scan option in order to retrieve purged emails from EDB.
What are Mailbox types supported by this software?
The software supports User, Archive, Legacy, Disconnected and Shared Mailbox.