How Can I Migrate Google Drive to OneDrive account? 2 Quick Ways
Summary: This blog talks about the two different ways that a user can utilize to send, transfer or migrate files from Google Drive to OneDrive for Business accounts. If you are approaching the same operation then follow this guide till the end to perform a hassle-free and cost-effective migration.
Google Drive and OneDrive are both tremendous cloud storage drives that can store your prestigious data on cloud platforms safely. The OneDrive application is developed by Microsoft and Google Drive is launched by Google LLC.
Most people use Google Drive as it improves and manages user data more efficiently. They can save documents, images, videos, and many other types of data. However, there are several reasons, which create an urgent need to transfer files from Google Drive to OneDrive for business and then they try to find an efficient solution that can easily carry out the G Drive to OneDrive exportation process.
Let's discuss the ways that can be used to perform this task safely.
Manual Method to Move / Migrate Files from Google Drive to OneDrive
Step 1.

Access your Gmail account and click on the Google Apps icon situated in the upper-right corner. Then, opt for Google Drive.

Step 2.

Within Google Drive, mark all your documents, perform a right-click, and opt for the Download option.

Step 3.

Once your files have been compressed and transformed into a downloadable .zip file, select Save as located at the lower part of your screen. Proceed to save this .zip file onto your desktop.

Step 4.

On your Windows desktop, locate and click on the OneDrive cloud icon present in the System Tray, situated within the Windows Task Bar. This will prompt a menu where you should choose Settings.

Step 5.

Within the Microsoft OneDrive dialog box, select Add an account. Following this, sign in using your Microsoft 365 email address and corresponding password.

Step 6.

Carry out the instructions provided in the setup wizard, then pick Open my OneDrive folder.

Step 7.

Retrieve the .zip file that you previously downloaded from Google Drive and stored on your desktop. Open this file and choose all of its contents. Subsequently, drag and drop these selected files into your OneDrive folder.
As the files synchronize and upload to OneDrive for Business, you will observe green check marks indicating the progress of migrating Google Drive to OneDrive completion.
Here are some of the most common issues with the manual method:
Takes a Lot of Time –

Doing it manually involves many steps like downloading from Google Drive, making a compressed .zip file, logging in to OneDrive, and uploading the compressed file. This can take a long time, especially if you have many files.

Chances of Human Error –

This manual way has lots of steps, and each step needs careful attention. Individuals can mess up at any of these steps, which might lead to incomplete transfers or losing data.

Lack of Automation –

The manual way doesn't let you do things automatically. You need to do each step yourself, which isn't easy or fast, especially if you have lots of files.

Not Great at Keeping Folders Permissions –

This manual way does not keep your files in the same folders when you move them. Additionally, the permissions associated with them get changed at the destination.

Requires Technical Know-how

– The manual way needs you to perform technical steps like making files smaller and handling cloud accounts. If you're not good with the technical aspects of Office 365 and G Suite, this could be complex for you.
The main drawback of the manual approach to migrating Google Drive to OneDrive is that it is a lot of time-consuming and the internet connection plays an important role throughout the data conversion. Moreover, if the process to migrate Google Drive to OneDrive is interrupted due to certain errors like a power outage or internet connection, then you cannot resume it. This can result in complete data loss and hence, the data cannot be recovered.
Automated Way to Transfer Files from Google Drive to OneDrive
Users who are not familiar with using a manual solution can choose and go for a reliable and secure tool. It ensures full data migration from G Drive to OneDrive account efficiently. One such solution is Google Drive to OneDrive Migrator Tool. It is equipped with certain salient features which differentiate it from the various available online tools to sync Google Drive with OneDrive.
Some of the features offered by the tool are mentioned in the preceding section of the blog.
Remarkable Features of the Software
Transfer Google Drive Mailbox to OneDrive Seamlessly – It is an advanced tool that lets you export Google Drive data to OneDrive account for Business. It permits you to import all your data like photos, archive files, PDF, .txt, Docx, .jpeg, and more in an organized way.
Prioritize User Account Migration – The utility to transfer Google Drive files to OneDrive allows users to export any number of users. This process can be executed using the provided list of source and destination accounts. Moreover, you can also prioritize any specific user and export Google Drive mailbox to OneDrive account.
Three Options to Add Users in Tool –In order to transfer Google Drive files, the user must provide the credentials of the source and destination mailboxes. This can be included via the two provided methods.
Fetch Users – It allows users to automatically download all source accounts to the software.
Import Users – This option allows users to import a CSV file that contains information such as source and destination accounts.
Download Template – This option provides users with a sample CSV file that contains sample data for source and destination accounts. Users can download this sample to add users accordingly.

Preserve Original Folder Hierarchy – The application allows you to maintain the folder structure during and after the entire G Drive to OneDrive exportation process. It simply means that the user receives the transferred file with the original structure as before. This feature is very useful for accessing files after transferring Google Drive files to OneDrive without any restrictions.
Full migration – This tool is designed in such a way that you can efficiently send files from Google Drive to OneDrive account entirely. To save time, users can send their data from multiple accounts simultaneously through concurrent migration. The utility can send data such as photos, document files, PDF, video, audio files, email client data files, Excel files, etc. Once the process of sending files from Google Drive to OneDrive account is completed, you can view the migrated data in the OneDrive account using the current date.
Delta Migration – The tendency is to only send newly arrived or newly arrived data between the Google Drive to OneDrive account. Using this function, data will not be repeated. During the first migration, all the data will be migrated. If the user wants to send data again, on the second attempt, it will only send new data.
Stop migration – Another powerful feature provided by this tool is to stop ongoing migration. By using this feature, users can stop the ongoing migration with just one click. In addition, users can pause and resume the process to send files from Google Drive to OneDrive account. It guarantees that user data will remain untouched and unaffected.
Concurrent migration – The software used to send Google Drive files to OneDrive allows users to send data at the same time or for multiple users at the same time. Moreover, by enabling the multiple accounts option in the settings window, users can add multiple accounts and effectively complete the migration process.
Re-run Migration – This software also allows users to run the entire process again. This can be done in three ways. Retrying failed items allows you to resubmit failed data items that were not sent during the initial run. Moreover, re-running the full migration allows you to run the entire migration process again, and only newly arrived data can be sent through Delta migration.
Now, let us have a look at the working steps of the tool. These steps should be followed in a sequential manner in order to achieve the desired results to send files from Google Drive to OneDrive account.
Also Read: Have a look at a secure solution to transfer one Google Drive data to another Google Drive account efficiently.
Software Steps to Transfer Files from Google Drive to OneDrive for Business Accounts
Step 1. Download, install, and run Google Drive to OneDrive Migrator on your Windows / Linux machine.
Step 2. Here, make your Source and Destination preferences. It would be G Suite and Office 365 respectively.
Step 3. After that, choose your Workload category and apply the desired filters.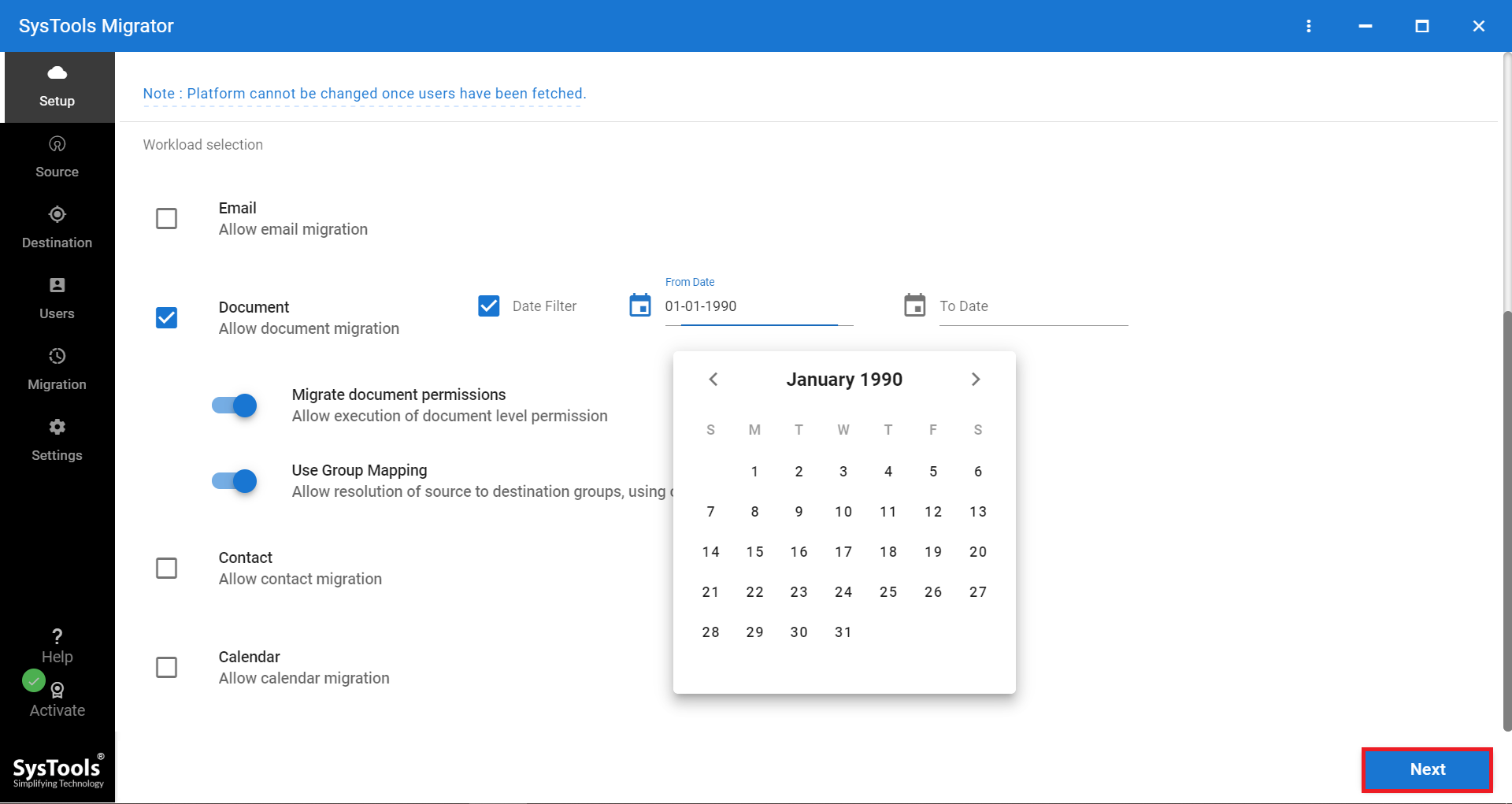 Step 4. Next, with the utmost care, fill in the details of Source Admin and validate them.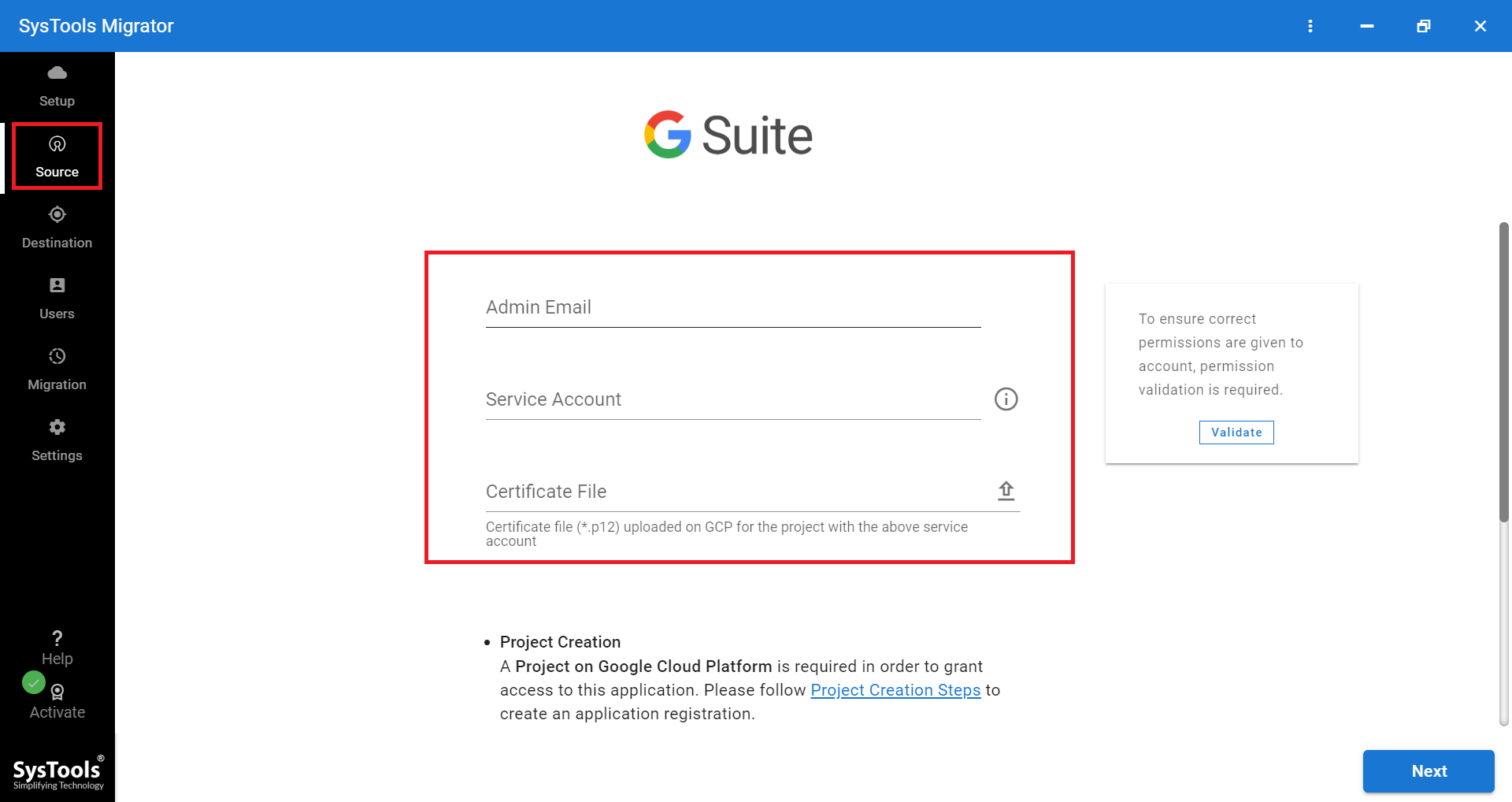 Step 5. Once the source validation is successful, enter the destination Office 365 details. Validate the added information.
Step 6. Further, go to the Users window and add users to the software.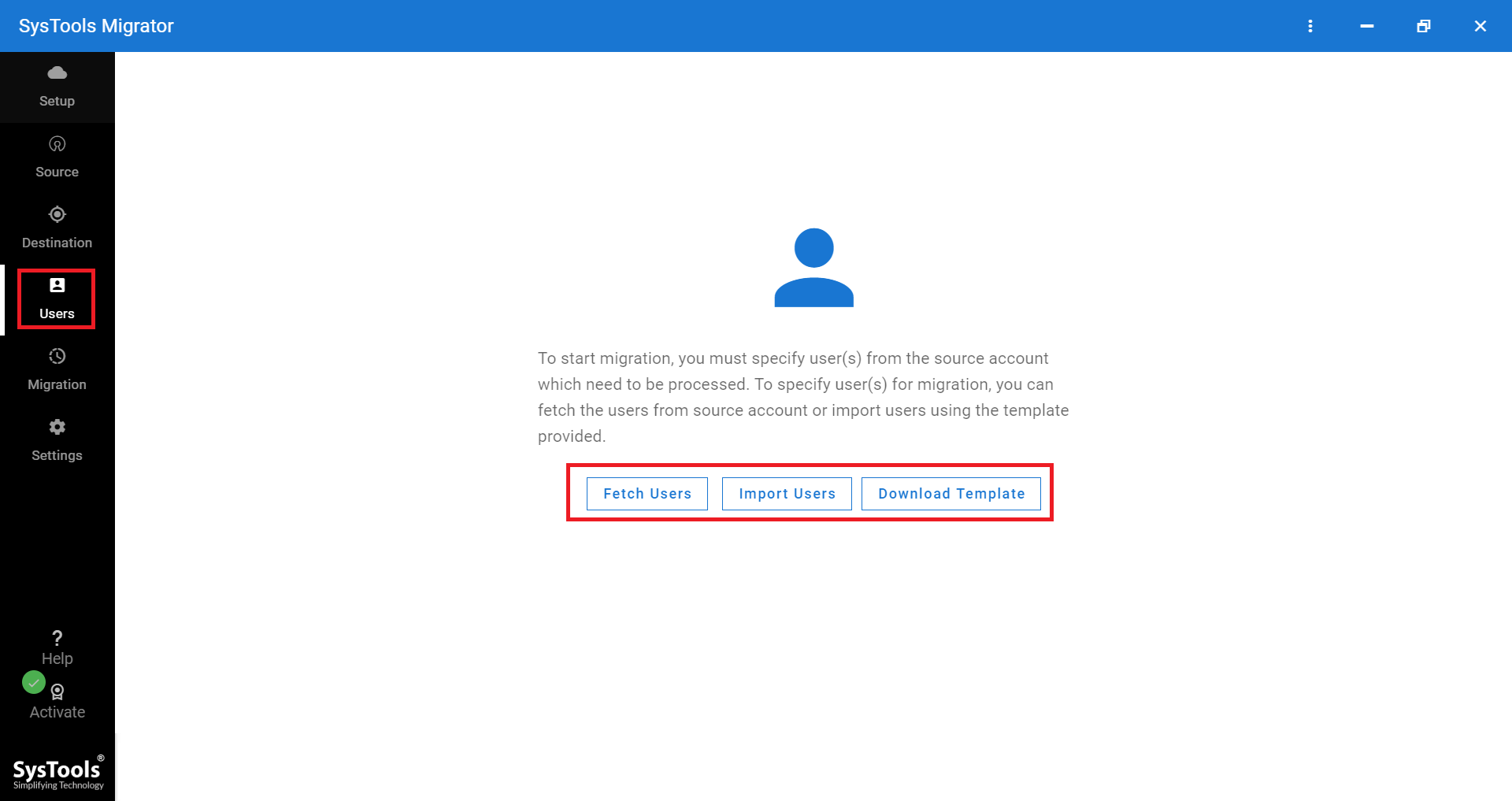 Step 7.  Select all required users and click on the Start Migration button to migrate Google Drive files to OneDrive for Business accounts.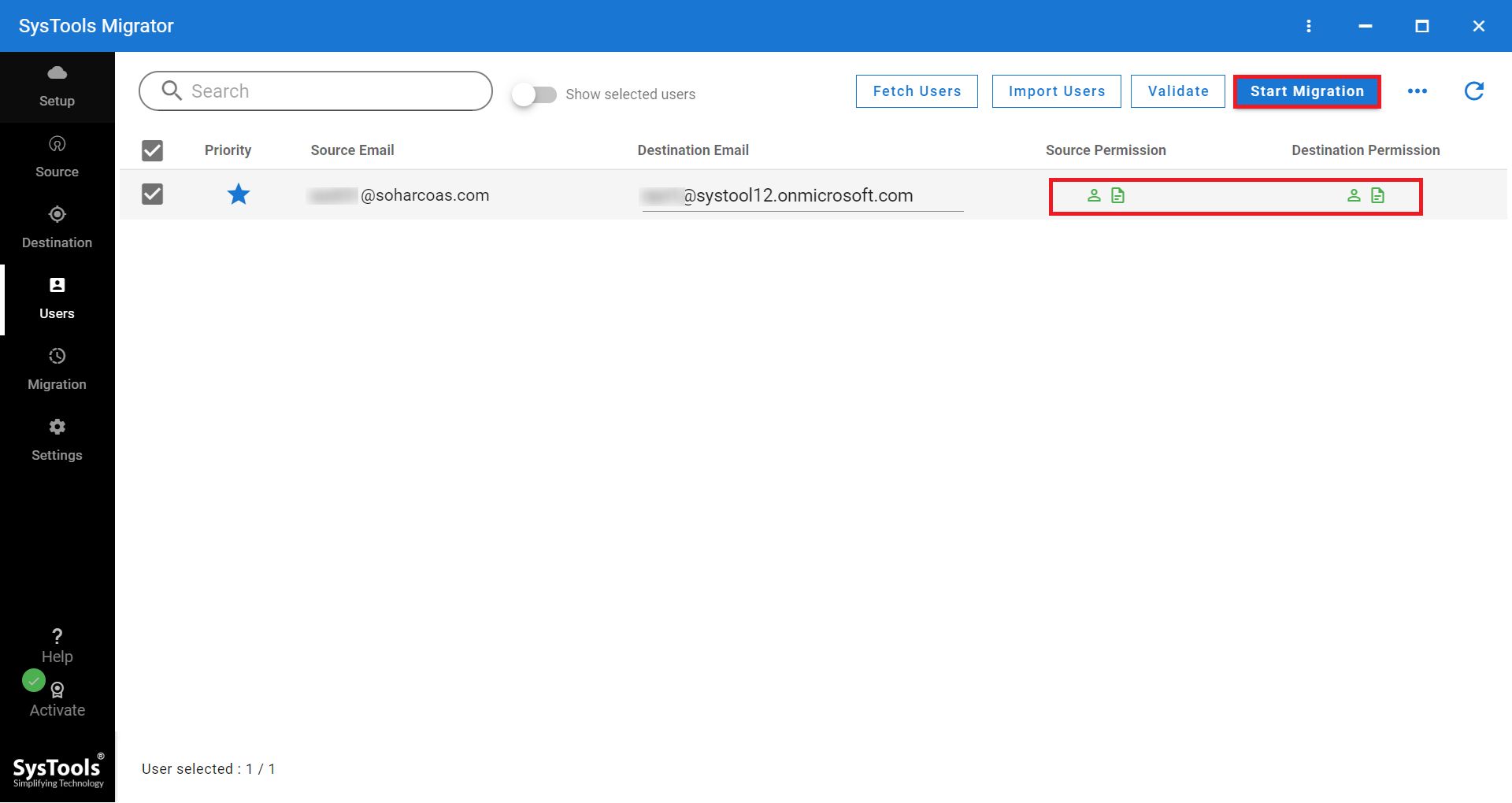 Conclusion
In this blog post above, we have explained the fully automated steps to migrate Google Drive to OneDrive account with all of its data. We have also discussed the shortcomings of the manual method. Therefore, we strongly recommend that you use the above-mentioned tool to migrate Google Drive files to OneDrive.