G Suite No Longer Free – Google's Legacy Free Changes in 2022
From May 1, 2022, Google will be pulling its plug for the Legacy Free Edition. This means G Suite is no longer free and a subscription from all users is required.
When Google launched the legacy free edition on December 6, 2012, a lot of users moved towards the free account but the business services were reduced.
Those users who were fine with a non-business Google account quickly adopted the free edition.
However, the guidelines have come again from Google that it will be discontinuing the legacy edition from May 1, 2022.
Users will have until July 1, 2022 to move the entire mailbox data. After that, it will mean that G Suite is not free anymore.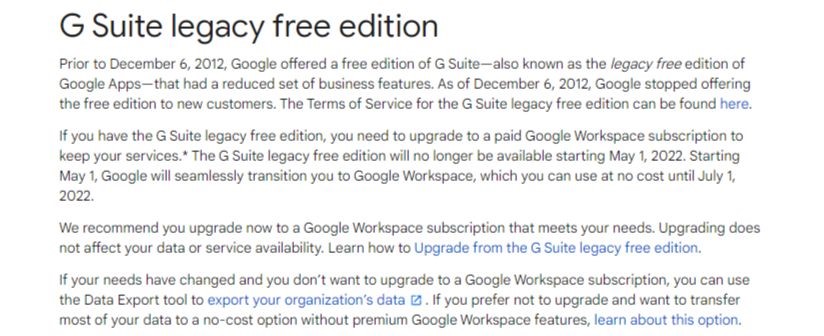 Google itself recommends users to upgrade their accounts to a paid Google Workspace account to get the business services. Also, it states that upgrading the account will not modify or alter your data or the service availability.
It also says that after upgrading the account, users will get a no-cost subscription till July 1, when the legacy edition will finally be discontinued.
Who Does G Suite No Longer Free Announcement Affect the Most?
Let's cut to the chase, the majorly affected users would be family members or small businesses that were using custom-domain names for free.
Users with the domain name "@gmail.com" are not the ones getting affected as the changes only apply to custom-domain names only.
If you choose to not pay for your accounts from July 1, & the data that you have on the server is not exported, it will be deleted forever.
There is nothing to do but migrate from G Suite before it is no longer available.
What Happens If You Pay When G Suite is Not Free Anymore?
When you pay for your account, it will become a Google Workspace account which will have pricing for the features that you are currently using.
The best feature of Google Workspace is that it has a Google office-and-email setup that the enterprises use. Smaller businesses with less than 300 users will have to pay $18 or less for every user per month.
The educational & non-profit organization using G Suite will be exported to Google Workspace for free.
After G Suite no longer free is applied, users having a Google account but are not tied to any custom-domain name do not have to worry as they are safe from this change.
However, it is a suggestion to steer clear of the abrupt changing of Google services as it can change its services & devices anytime.
Best Option to Be Able to Use Your Google Account – Pay Google
The most basic thing that you can do to keep your data stored on Google's server and use the account is by paying Google before G Suite is not free anymore.
Here is the pricing chart for Google accounts: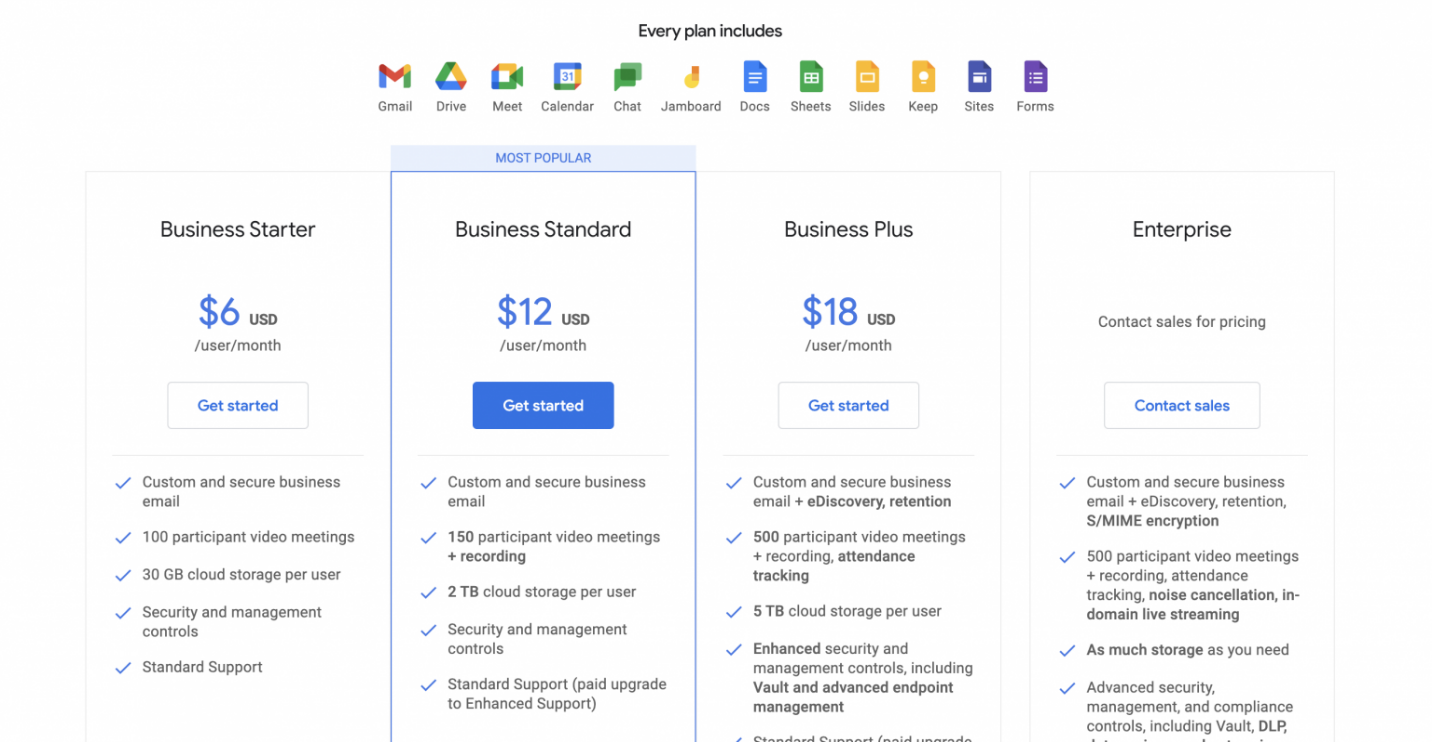 The original free version available from 2006 to 2012 was the Google Apps version. The existing free groups were allowed to continue when the phasing out started. Google Apps became G Suite and the users could still use the free accounts.
Then, in 2020, G Suite became Google Workspace and is not removing the entire idea of free domain names. If your uncle set up an account in 2007 with the domain "abcfamily.com", the admin will have to pay at least $6 per user per month.
G Suite No Longer Free – Either Backup Your Data or Migrate to Other Platforms
If the upgrade is not an option for you, then you can take a look at some of the best alternatives to G Suite. Maybe you can find something better suited for your needs compared to paid Google Workspace subscription.
You can also backup G Suite data to your computer for future use. With the help of backup, you'll always have your emails, contacts, calendars, and drive documents on hand that you can migrate to other alternatives should the need arise.
Here, we will provide answers to two scenarios that were requested of us:
Moving all data to a standard free Gmail account
Migrating to Office 365
Ist Scenario – Moving all data to a standard free Gmail account:
To move all data, you simply need one desktop email client like Mozilla Thunderbird, Microsoft Outlook, Mac Mail, etc.
Configure your G Suite legacy free edition account in the email client.
All the emails will be visible.
Now, configure the standard Gmail account in the same email client.
Create a folder within this email account that will contain the emails of the G Suite account.
Go to the visible G Suite emails and drag and drop them into the new folder of your Gmail account.
Voila! All your emails are now in the Gmail account.
You can use the same set of steps to move the data to other webmail accounts like Outlook.com. Do make sure to gradually replace the G Suite account with Gmail over time and let others know of this decision. the end goal is to stop receiving new emails on the G Suite legacy free edition and replace it with a standard Gmail account.
IInd Scenario – Migrating to Office 365:
For migrating your data from the free account to other alternatives like Office 365, you can use the Finest Solution – G Suite to Office 365 Migration.
The software is an expert suggestion for those who cannot afford delay in migration or to have an error-free migration.
Users can transfer the entire mailbox data including Emails, Contacts, Calendars, & Documents altogether.
It has quite an easy-to-use interface that will help you to migrate the data by just entering the credentials for both Source & Target.
Before G Suite is not free anymore, the software will transfer each of your files from the mailbox. In case you receive some data after the migration, you can use the Delta Migration option to choose only the new data for the transfer avoiding any duplicate content creation.
Remember – Backup, Migrate or Pay for Upgrade Before July!
Make up your mind on whether you want to continue as a paid subscriber or use one of the aforementioned methods to move your data quickly. Because Google is asking for your billing details and the stipulated time period is drawing near.
Remember: If you do not enter the billing details for a new Google account by July 1, 2022, Google will suspend your account.


Once the account is in suspension and crosses the 60 days period, users will no longer have access to their Google Workspace core services. After G Suite no longer free is applied, users will not be able to access Gmail, Calendar, & Meet.
However, they can access additional Google Services like YouTube & Google Photos. If you want to restore your suspended account, you need to enter a valid form of payment for your account.
Final Words
With the recent announcement of Google, users have been going crazy asking how they can migrate their data in less time. Well, the answer is in this article.
On July 1, 2022, when G Suite no longer free is finally implemented, & the legacy free edition is retracted, all the users will have a Google Workspace account. If your choice is to not pay, you will have a suspended account which will not work until you enter a payment form.