How to Extract Attachments from MBOX File Regardless of Origin
Do you know, there are no direct methods to extract attachments from MBOX file manually. There used to be add-on available for Mozilla Thunderbird email client (that uses MBOX to store data), but even that is now outdated and of no use.
The lack of manual methods push users towards the alternative third-party solutions. The internet has abundance of such tools, but the question remains if they can be trusted or not.
Therefore, in this article, we are going to introduce to you a simple, efficient and tested MBOX Attachment Extractor wizard. It has high performance and accuracy and best of all, it comes from a trusted brand.
Now, let us take a look at the features and working of this software wizard in detail.
MBOX Attachment Extractor – Export Attachments from MBOX Regardless of its Origin
This software wizard is available for both Windows and Mac Operating system. The features and working of both these variants are almost the same. You can download the tool from below and test the free demo version yourself. Once you are satisfied with its working, you can proceed to activate the full version of the tool to unlock all its features.
Free Download (Windows) Free Download (Mac) Purchase Now
One-line features of the wizard
The key features of this software wizard are given below:
Works with MBOX (with or without extension), MBX, and MBS files
Multiple files can be added and processed at the same time
Date-range filters are available to extract attachments from a particular range of emails
File filters are also available to download attachments as per specified file type (include or exclude)
You can even set up the size (up to or More than) to export attached files
Naming conventions are provided for both the attachments and the attachment folders
It has multiple folder options to go with your requirements
The interface is almost identical for both Windows and Mac software
Now, let us see how the software works.
Simple Steps to Extract Attachments from MBOX File
Step 1: Run MBOX Attachment Extractor and Add MBOX files
Step 2: Select relevant Folder Options & hierarchy
Step 3: Apply Attachment Filters: Date-Range, File Type & Size
Step 4: Click Extract to start extracting attachments from MBOX
Here's the elaborate steps to export attached files regardless of origin and associated email client:
Note: The steps are for Windows users. However, it will remain similar for Mac users with one or two different aspects.
1. Run the software on your machine and click the Add File button from the home screen.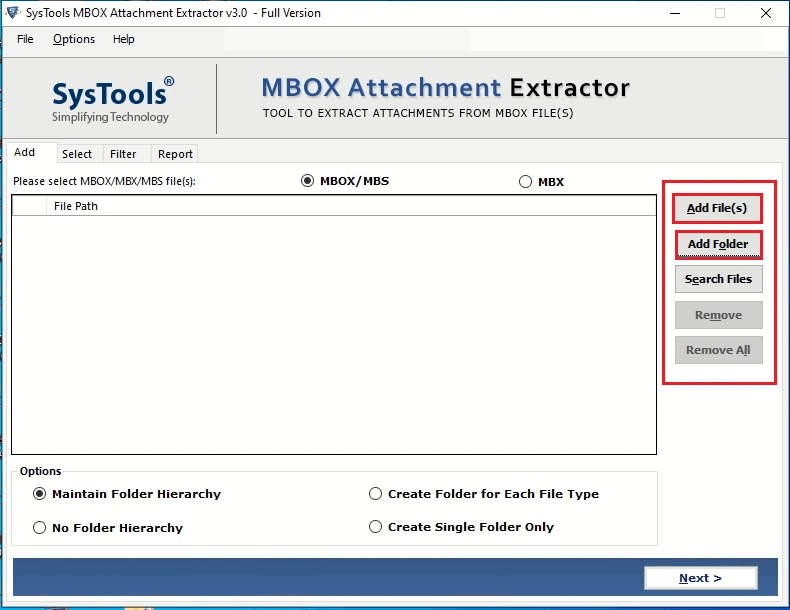 2. Select the MBOX file(s) from the system.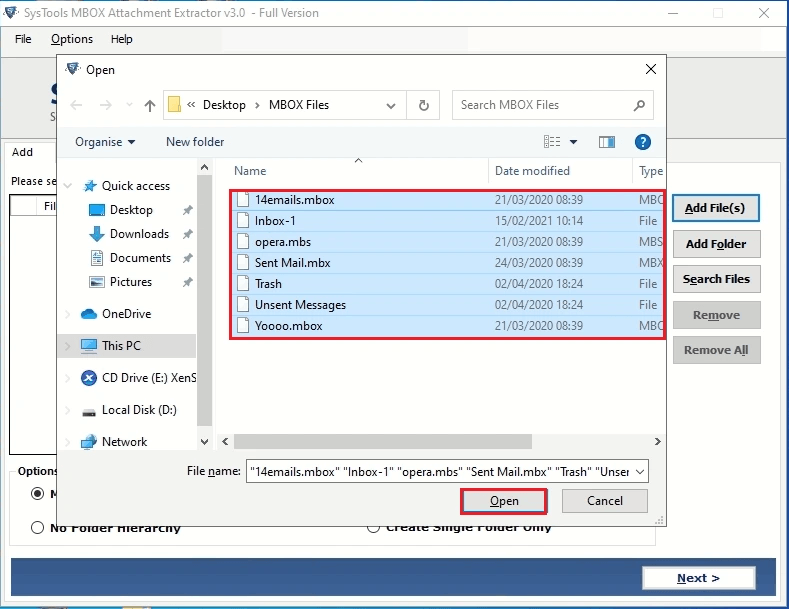 3. Apply the required folder options and click the Next button to continue.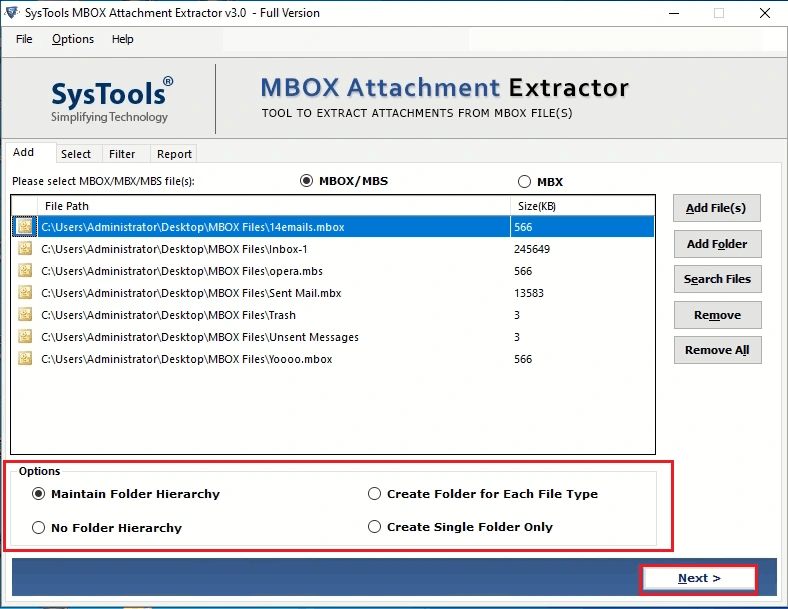 4. Wait for the MBOX Attachment Extractor to process the file(s), set a destination location and click Next button to proceed.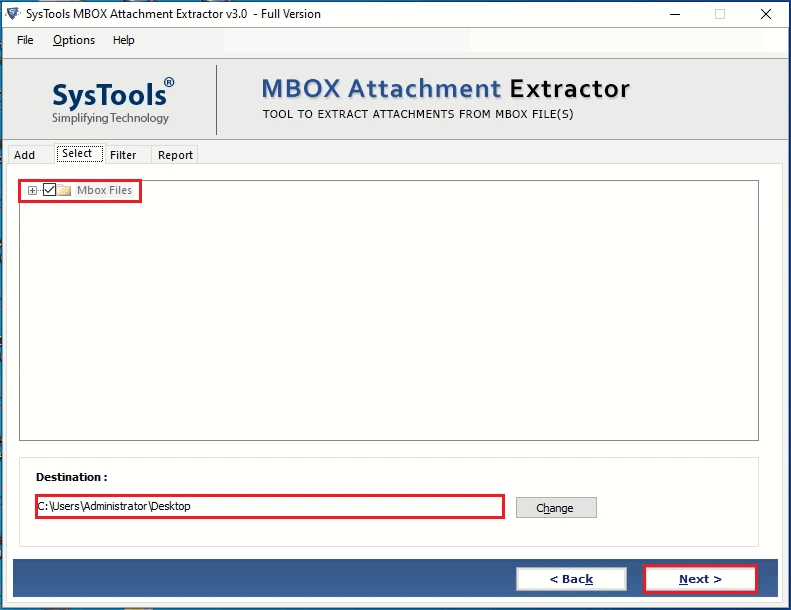 5. Apply the Date-range filters, file type filter and file size filter as per requirements and set the Naming Convention as well.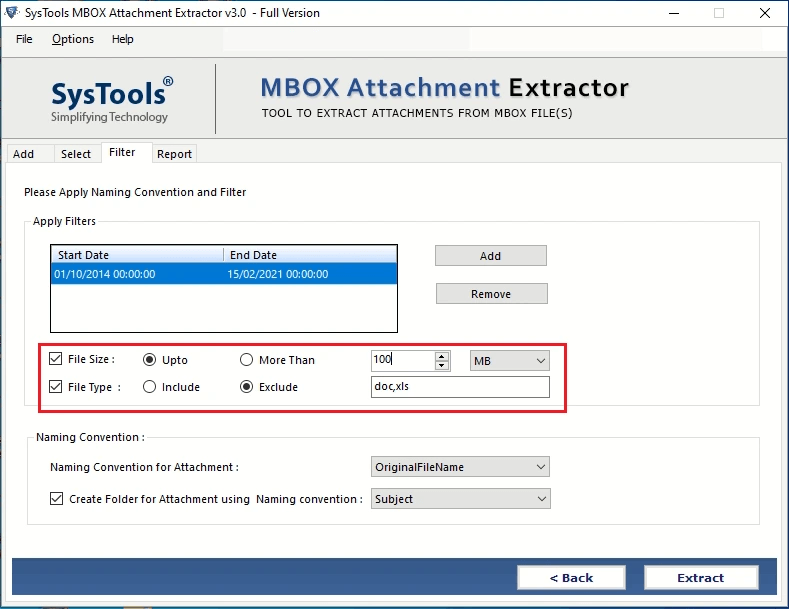 6. Click the Extract button to extract all attachments from MBOX file.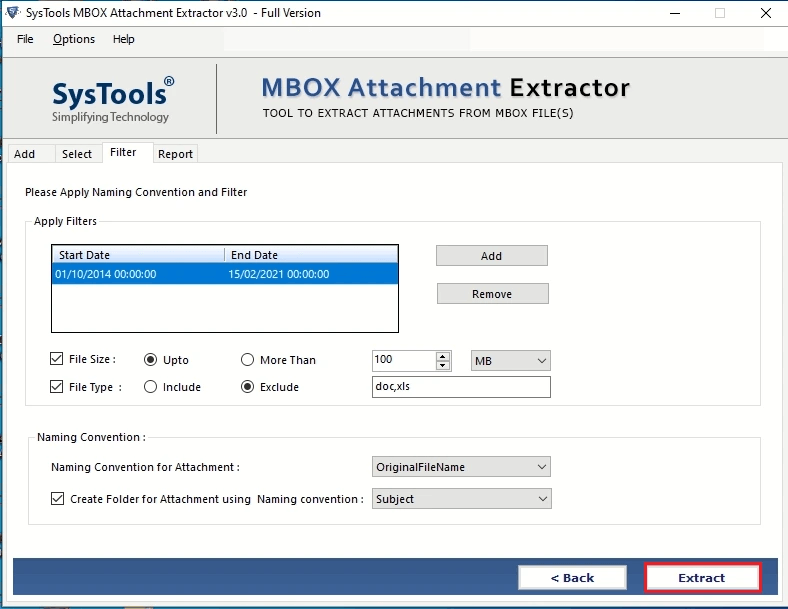 Once the process completes, you will be able to find all the extracted files and documents in the set destination location.
Observational Verdict
With so many email clients that make use of MBOX files to store data, it's not a coincidence that MBOX Attachment Extractor is in so much demand. Whether its orphan MBOX files or MBOX associated with email client like Thunderbird, Apple Mail, Gmail, etc., users need a tool to extract attachments.
Therefore, in this article, we introduced a simple yet efficient software wizard that can not only extract attachments from MBOX file but also provides multiple features while doing so. You can download the free demo version of this tried and tested tool to evaluate its working. It will surely meet your ends and give you the excellent performance as it has to thousands of users.