Export Multiple Email Attachments from Outlook – By Doing Less
If you receive too many attachments in your Outlook account, then after a certain period you will encounter a storage space issue in Outlook. If you are already facing it and seeking a solution to export multiple email attachments from Outlook to any safe place, then this blog will surely help you. Here we are going to discuss the most effective and easy techniques to export attachments from Outlook. So just be with us to know the real working solutions. 
Table Of Contents:
Disadvantages of Huge Numbers of Attachments in Outlook
In this paragraph, we are going to discuss some major consequences of large attachments that force users to export multiple email attachments from Outlook.
As we said above if you are a regular user of Outlook using it for a very long time, then probably you have a huge number of attachments saved in your Outlook mailbox. As well as we know that it increases the mailbox data file size of Outlook and due to that users have to experience various Outlook program issues like application stuck lower productivity, and various performance issues.
One of the biggest disadvantages of oversized mailboxes is that they can easily get corrupted and the culprit behind the oversized mailbox is your large attachment files.
Now, let us move on to the below section to learn about the solutions. 
Also Read: Download All Image Attachments in Outlook
How to Export Multiple Email Attachments From Outlook 
If you want to extract email attachments from Outlook to a folder, then in this section we are going to discuss two methods that will easily export attachments from the Outlook account.
Manual Method to Extract Attachments at Once in Outlook 
Follow the steps to save attachment files from Outlook manually
First, launch the Outlook program on your machine.
Now, open the email that contains an attachment that you want to download
Choose the attachment and right-click on it.
Select Save (if you have to save single email attachments) or Save All Attachments option ( if you have to extract multiple attachments from Outlook)
Select the destination folder and click on the Save button to save the attachments.
If you don't want to lose your important then, you can use the below-mentioned method. 
Smart Way to Export Multiple Email Attachments from Outlook 
The above-discussed free manual technique is a good approach but there is a catch in it and that is you cannot save multiple attachments from multiple emails. Instead of that, you can export only multiple attachments from individual emails. However, this is the reason most of the users do not want to use this process due to its lengthiness.
So if you do not want to waste your time on a free method, then try a professional suggested tool i.e., Outlook Attachment Extractor. It is the most trusted and powerful utility that can easily export multiple email attachments from an Outlook account. This also gives you an option to save attachments from Outlook OST, PST, and BAK files.
Steps to Export Multiple Attachments from Outlook Mail
These steps will help Windows OS users.
1. Download and install the software on your computer
2. When the installation is completed run the software and choose Add File(s) or Add Folder.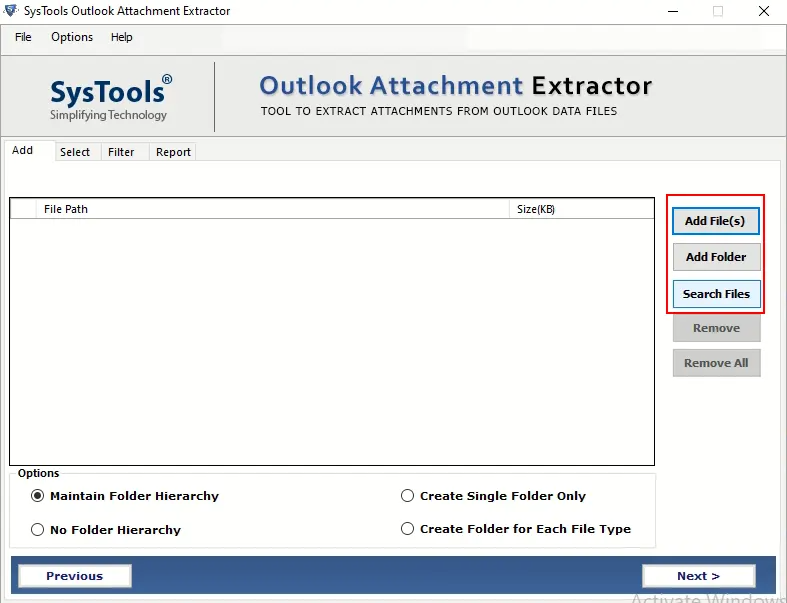 3. Choose the destination location to save attachments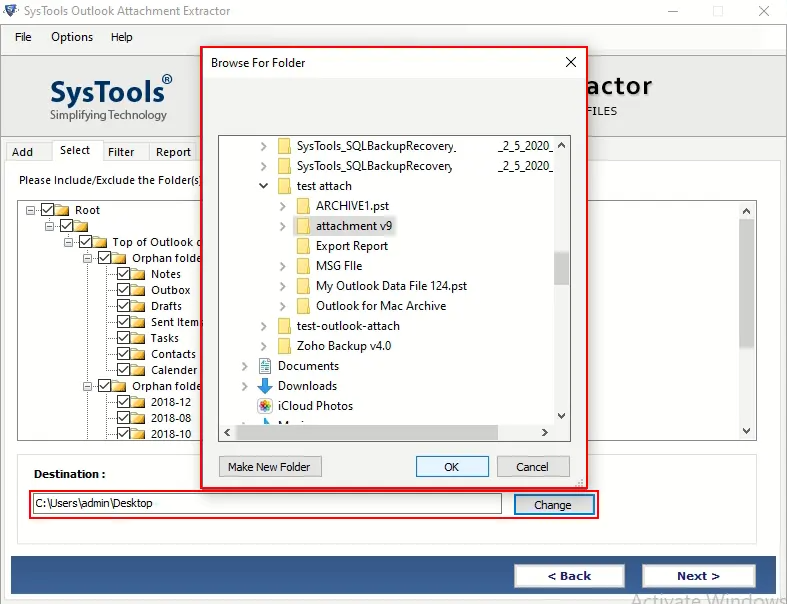 4. Now, under the filter options select the email option from Select Item Type
5. At last click on the Extract button to start the attachments extraction process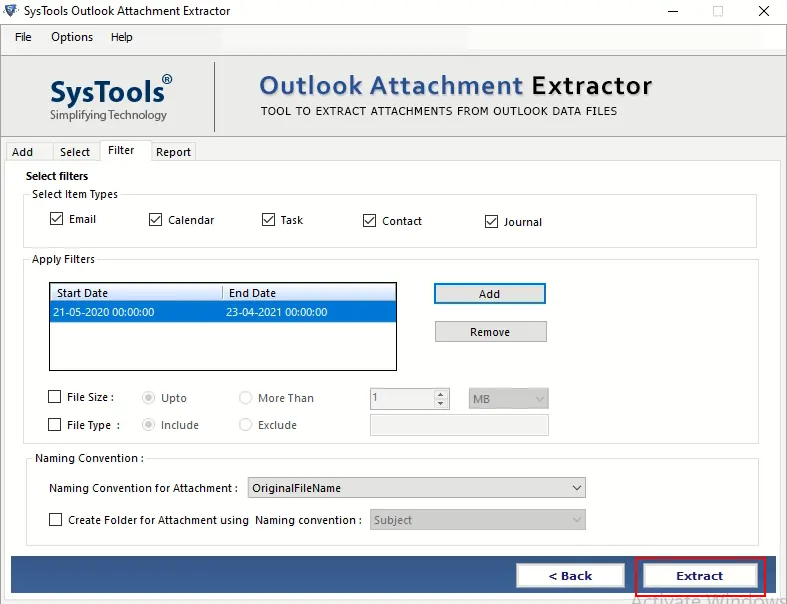 Some Prominent Features of the Tool
The software comes with two different types of naming convention facility first naming convention for attachments which gives you the option to save attachments with various names, And second naming convention for the folder.
This is one tool that is capable of extracting attachments from emails, contacts, calendars, tasks, and journals.
Provide various filters such as Item Filter, Date Filter, Filesize, filter, and Extension Filter.
Facilitated the option to maintain the folder hierarchy.
Wrapping Up
How to export multiple email attachments from Outlook at once is one of the most common questions searched by several Outlook users on the internet. So, after considering all the queries or questions of users, we have come up with this write-up. Here, we've discussed two different methods such as manual as well as automated techniques to save attachments from Outlook.
Frequently Asked Questions

Q 1: How can I download emails in bulk from Outlook?
Ans: Outlook is set to download emails for the previous year by default. To export all of your emails, open Outlook, go to Account Settings > Account Name and Sync Settings, and then set the slider to All. Make certain that you do not export your.pst file to a OneDrive location.

Q 2: How can I save emails as PDFs in bulk in Outlook?

Shift-click to select all messages between clicks, or control-click to choose only the emails you want to preserve.
After you've chosen your emails, go to File > Print.
Select the Adobe PDF printer option, then select Print.
Look for the location where you want to save the messages.