How to Export IncrediMail to EML Format? Process Simplified
Raj
| Modified: November 20, 2021 |
Email Tips
| 3 Minutes Reading
Summary: Let us find ways to export IncrediMail to EML file format in the easiest way possible. Following the steps mentioned in this blog, you will be able to access the source data into an email application supporting EML.
IncrediMail is an email service provider that was discontinued in the early months of 2020. This left many users confused as to how they can export their data from IncrediMail files and take them to other platforms. IncrediMail 2.0 and 2.5 versions saved their data in IMM, IML, IM, DB file formats that one can export to EML type.
EML file extension is used for saving emails individually along with the meta properties of emails. It is supported by Windows Live Mail, Outlook Express, Windows Mail, and others.
User Query: I am in urgent need of exporting IncrediMail file data into EML to be able to access it in Windows Mail. So far, I couldn't figure out a way to do so and I am not sure which software to opt for. How to perform this task without affecting my data security.
How to Export IncrediMail to EML Format?
The IncrediMail Migrator Wizard supports exporting IncrediMail files to EML/EMLX files. It can transfer Incredimail emails to Outlook along with other platforms. The working of this software is extremely easy as given below:
1. Download and install the software on your system and click on Add File from the top left.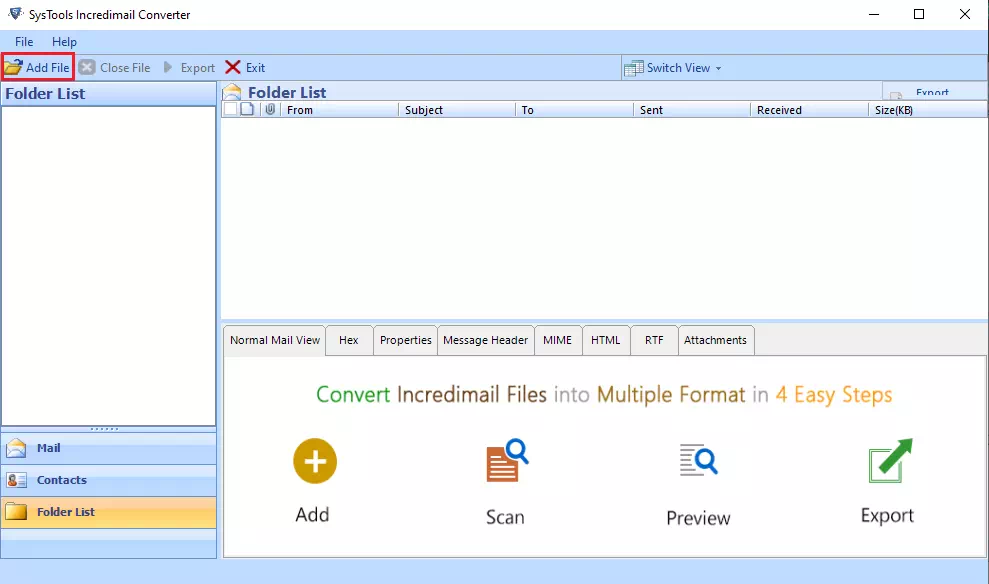 2. Now, a screen will pop up. Select Identities, files, or folder & browse the IncrediMail files from your system location.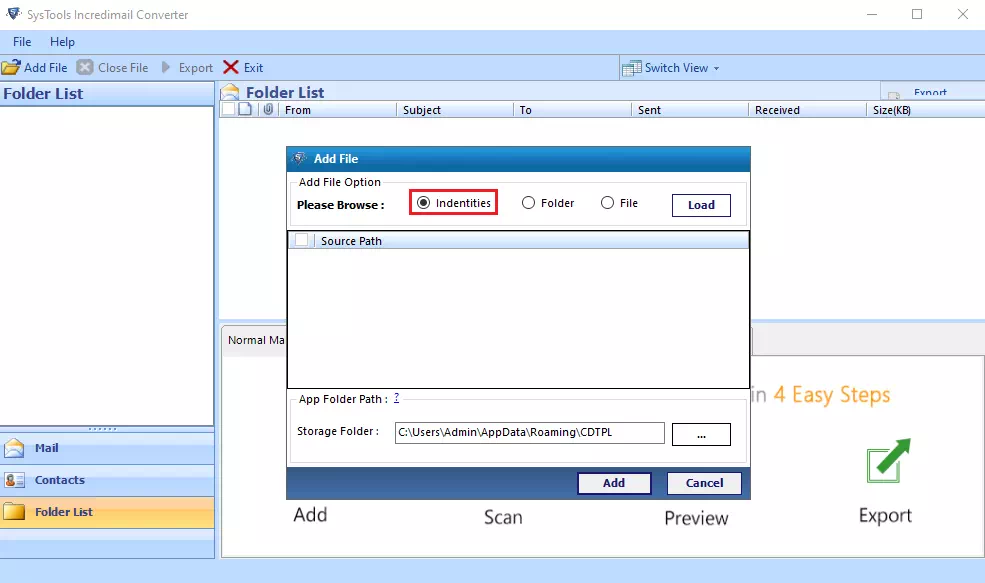 3. A preview of the details of the IncrediMail files will show up along with various view modes to preview data. Select the files that you want to export or choose to export all files that are loaded.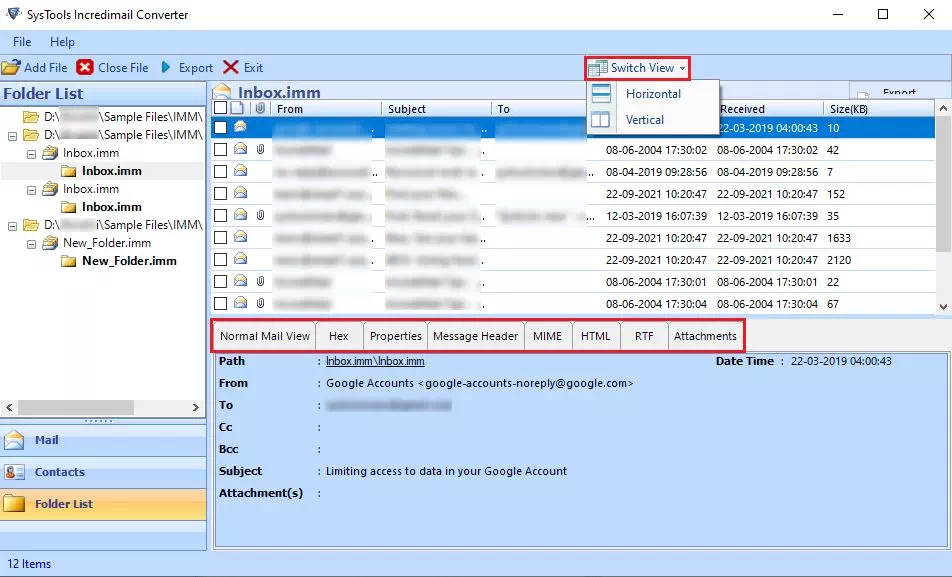 4. On the next screen, select EML format and then tap on Advanced Settings. Here, apply Naming Convention & Date Filter option and choose Save.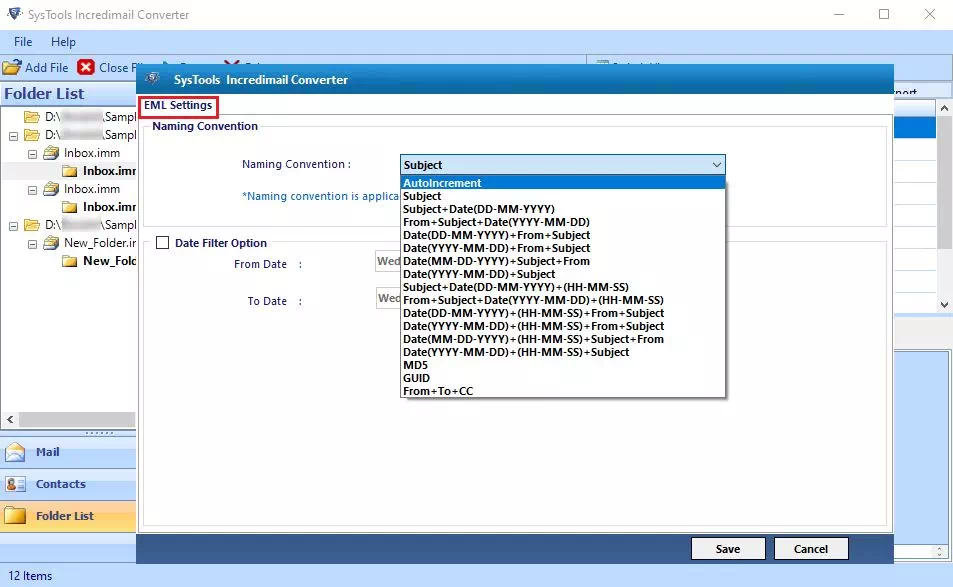 5. Finally, browse a location to save the resultant file and hit the export button.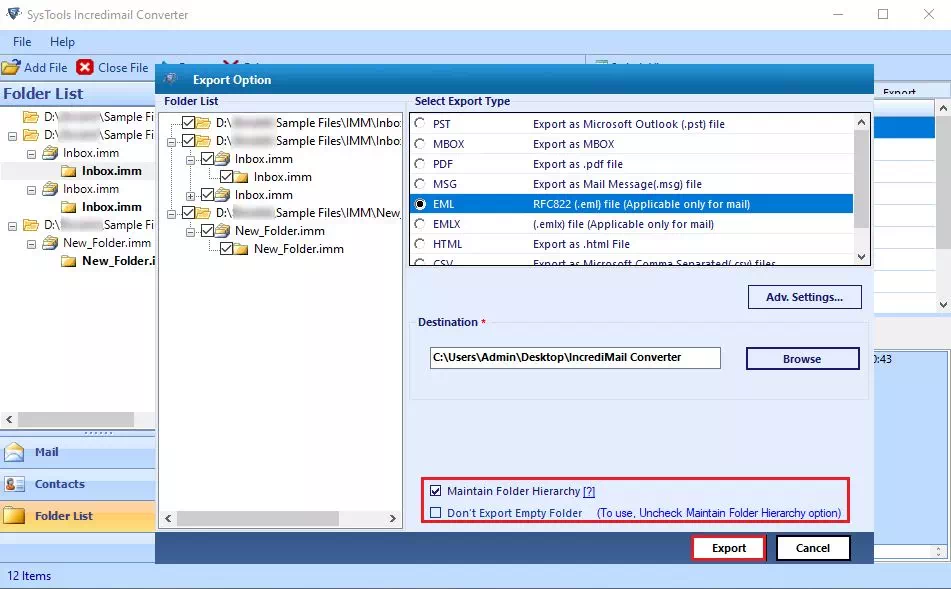 Benefits of IncrediMail Files to EML Exporter
Exports IncrediMail IMM, IML, IM, DB files to EML/EMLX
Can load multiple files using file or folder options
No limitations on the size of the files that it processes
Feature to export only the desired selected files
Can convert IncrediMail to MBOX file, EML & other file types
Maintains the folder hierarchy and metadata properties
Supports IncrediMail 2.0 and 2.5 versions files
Frequently Asked Questions
Which formats of IncrediMail does this tool support?
This software can process IncrediMail 2.0 and 2.5.
Does this tool export IncrediMail to EML with attachments?
Yes, this tool exports attachment along with emails.
Is it possible to export files within from specific time period?
Yes, this tool offers an advanced option of exporting IncrediMail files to EML within a specified time range using the date filter option.
Read More: How to Export IncrediMail to Thunderbird?
Conclusion
In this article, we discussed how to export IncrediMail to EML file. After performing the above steps, one can easily access the IncrediMail file data in WLM, The Bat, eM Client, Zoho Mail, Zarafa, DreamMail, SeaMonkey, etc. The method mentioned above is a tried and tested procedure that ensures the safety of your files and the integrity of your data.