Guide for Exchange Server Mailbox Backup in Multiple Ways
It is mandatory for administrators and organizations to keep a backup copy of crucial mailbox data to protect them from any virus, malware, or ransomware attack. Any attack might result in permanent loss of data and significant loss in revenue as well. Thus, the administrators must perform Exchange Server mailbox backup on a regular basis.
Now comes the question that how an administrator or a user can create a backup copy of their Exchange Server mailbox. The answer to this query is provided in the following write-up.
Simply put, there are multiple ways using which you can backup Exchange Server mailboxes on your local storage. It depends on you whether you want to go with an automated procedure that is preferred by experts and is easy to use or choose the traditional manual procedure that comes with a couple of complexities and requires technical expertise.
Let us first start discussing the professional solution as it is the top choice of most of the users.
Easy Way to Backup Exchange Server Mailboxes – Highly Recommended
When we talk about the simplest way to backup Exchange mailboxes, then the most preferred solution by IT admins is this Exchange Export Tool. This advanced solution consists of all the features that make the whole process effortless. Moreover, the intuitive interface of this application makes the backup process quite easy even for non-technical users.
The software ensures backup of all the emails in Exchange Server mailboxes without any single bit of data loss. There is also an option of incremental (delta) backup that permits users to backup only newly received emails in the Exchange mailbox. Therefore, running a backup at regular intervals would be easy as you don't have to perform a complete backup again and again.
A Brief Working Guide of the Software
Step 1. Free download the application to backup Exchange mailboxes.
Step 2. Choose the Export option in which you want to take backup.
Step 3. Enter Exchange Server details and validate permissions.
Step 4. Choose the storage path of the backup file.
Step 5. Finally, start Exchange Server Mailbox Backup.
Note – You can go through the steps to export Exchange mailboxes to PST via PowerShell.
Free Manual Way to Backup Exchange Server Mailboxes
If you want to backup your Exchange mailbox on your own, then you can use Microsoft Outlook for the same. The following segment of this write-up contains a simple step-by-step process that will help you backup Exchange mailbox of an individual account. Moreover, you must have your account configured in desktop Outlook.
Execute the following steps to initiate the process:
1. Open Microsoft Outlook >> File >> Open & Export >> Import/Export.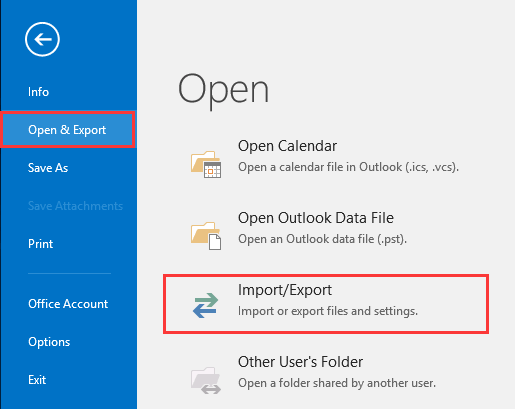 2. Choose Export to a file option >> Next button.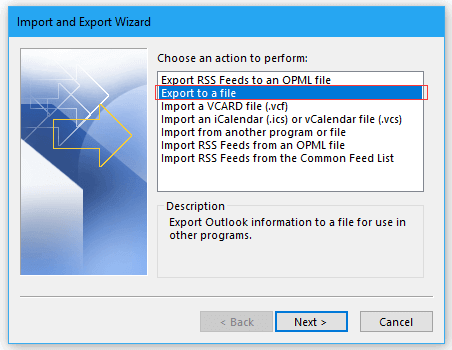 3. Select Outlook Data File (.pst) option >> Next.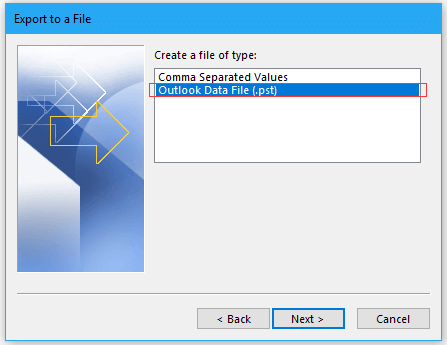 4. You can either export the entire mailbox or choose a particular folder that you want to backup.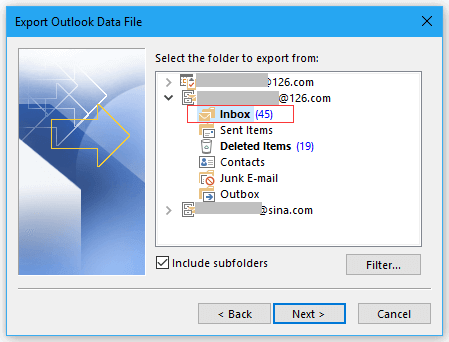 5. Now select the storage path and click on the Finish button.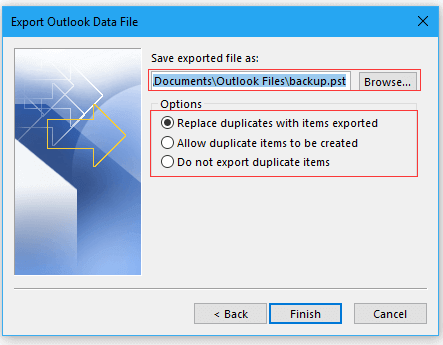 6. If you want to keep your PST file password protected, then enter a password or skip it.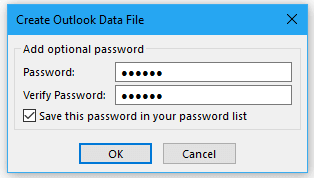 Shortcomings of Manual Procedure
You need to have Microsoft Outlook installed and configured on the system to export emails from Exchange Server.
This process will only backup individual Exchange Server mailboxes.
You won't be able to apply and use the filters and features offered in the automated solution.
It will only backup a single mailbox at a time on one machine.
A couple of users might find this task a bit difficult.
Final Words
Keeping a backup copy of mailbox data in a world where cyberattacks are so common is the best decision. Now, choosing the best way for Exchange Server mailbox backup becomes a critical task as any loss of data during the backup process can make the life of the administrator hell. Thus, we have discussed a tried and tested solution using which you can take backup with 100% accuracy.