How to Convert MSG to CSV File With/Without Outlook?
It is easy to convert MSG to CSV (Comma Separated Values) file if you have access to Microsoft Outlook. Of course, even if you don't, we still have you covered.
Getting all your information in a CSV file makes it easy to organize and use them in the future; especially the contact information. CSV files have many advantages. It is compact and is considered to be a standard format. It can be used to exchange information between different applications, which otherwise is very difficult to achieve. A CSV file stores data in a spreadsheet format.
On the other hand, the MSG file is specific to Microsoft Outlook. It can contain an email message, a contact, an event, a task, or other Outlook data items. But one thing is clear, except for MS Outlook, you cannot access MSG files in any other mainstream application (aside from third-party MSG viewer tools).
To export .msg files to CSV format to exchange data, you can either use Microsoft Outlook or a converter software.
How to Convert MSG to CSV using Outlook?
Here, we are describing the method for Windows OS only. Follow these steps:
Open Microsoft Outlook on your computer system.
Create a new folder.
Drag n drop the MSG file to this new folder.
Alternatively, you can double-click and open the file in Outlook. Then, click Move to >> newly created folder.
After you have all the MSG placed in the new folder, it is time to export them to CSV format.
Navigate to File >> Open & Export >> Import/Export.
Select Export to a file, then click Next.
Select Comma Separated Values, then click Next.
Highlight the new folder as it contains all the MSG files, then click Next.
Click Browse and choose the location to save the CSV files, then click Next.
Map custom fields, if necessary, then click Finish.
That's it! With this, you have successfully converted MSG to CSV file manually for free.
Points to note:
Some important points to remember regarding this method are:
When you drag n drop the file in Outlook, it loses some of its header information. That's why open it, then copy it to the Outlook folder (as described above).
MSG to CSV Converter for Bulk Export
Lack of Outlook or its inability to process MSG files results in failure of the manual method. If, for any reason, you do not want to use the manual method, then try MSG to CSV Converter Software. It can export MSG files to CSV format along with 10 other file types.
This tool is available for both Windows and Mac OS. Follow these steps:
Open the software on your system.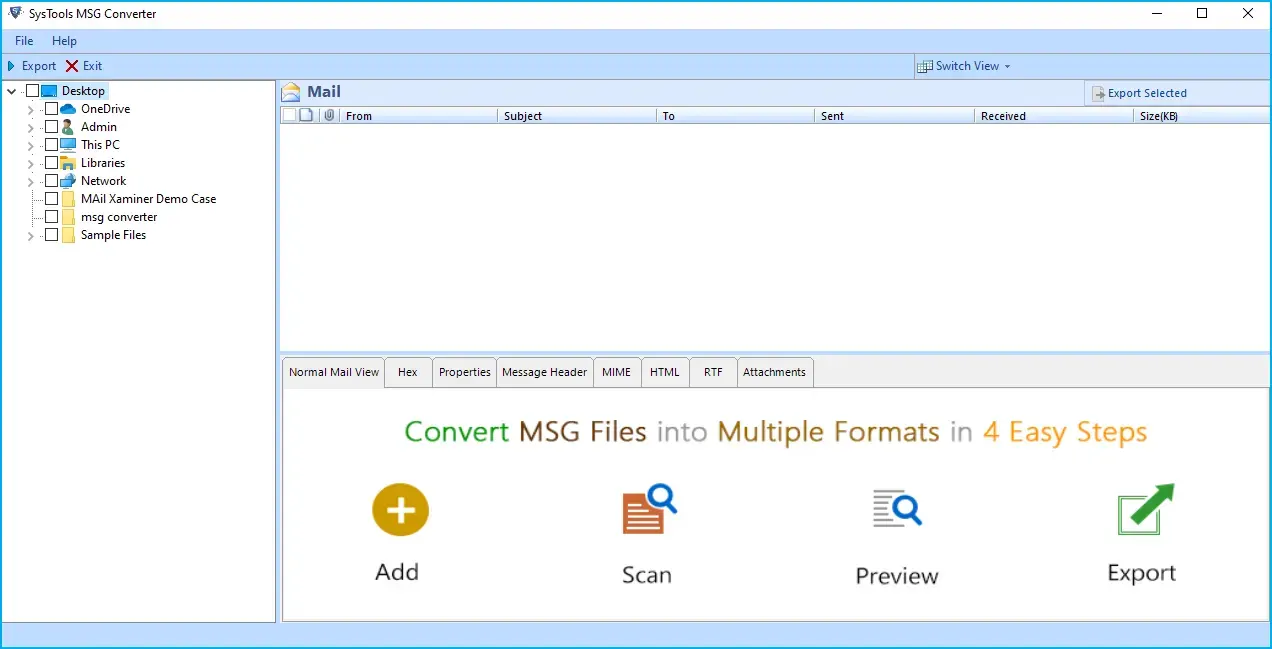 Browse and select the folder that contains the MSG file.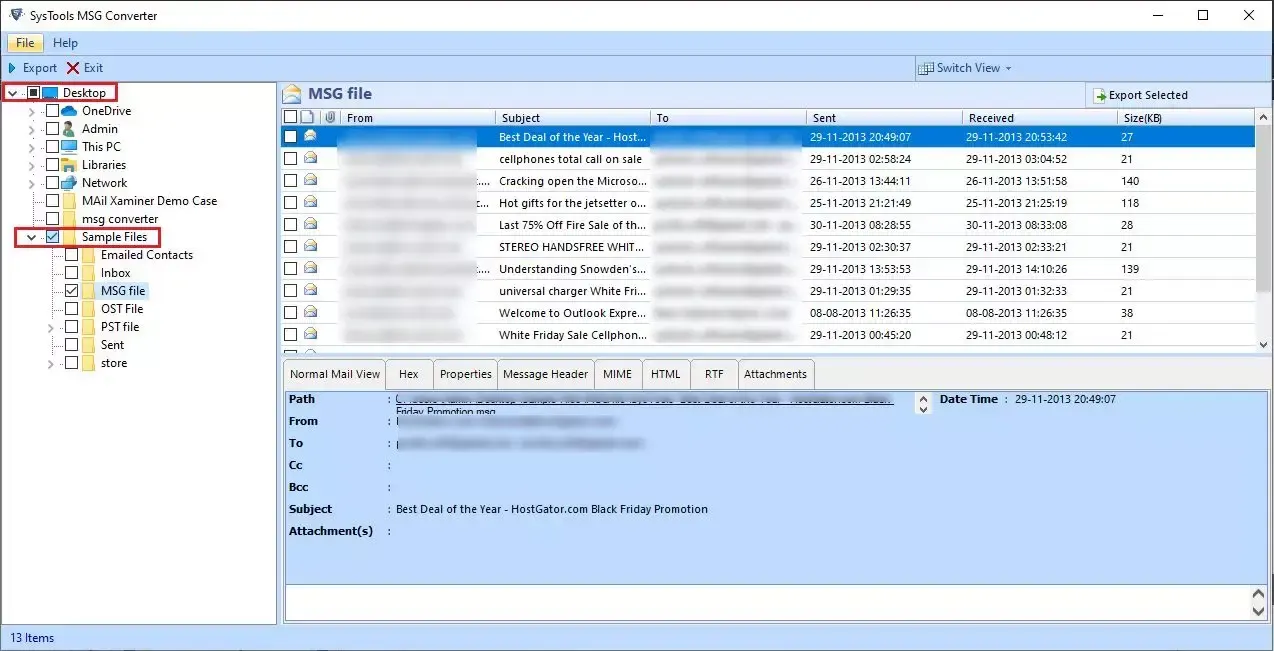 Click on the Export button present on the ribbon bar to move to the next screen.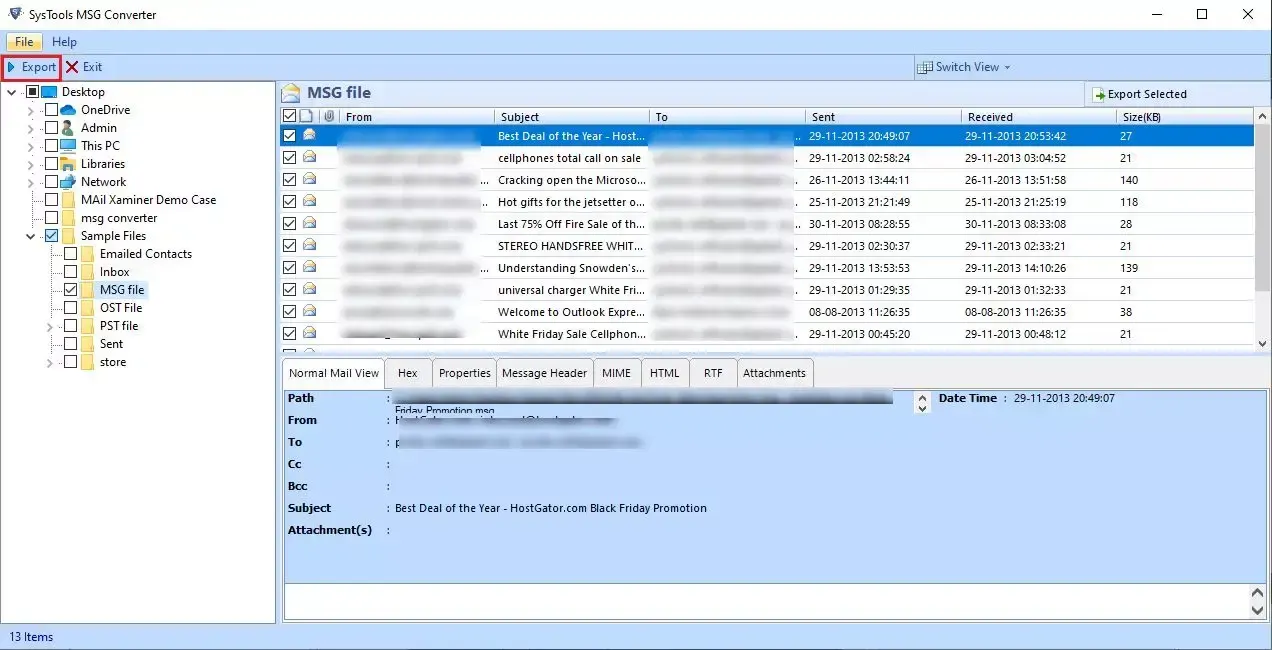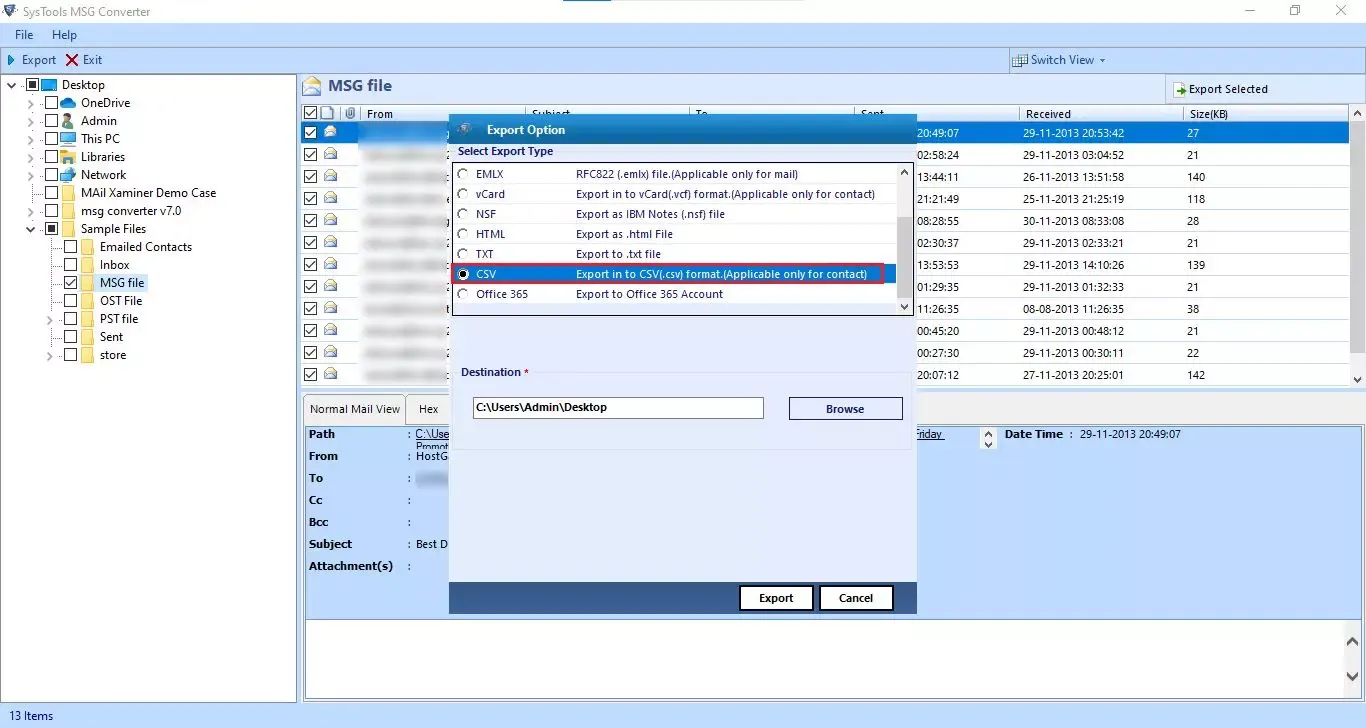 Browse the destination location where the CSV file will be saved after conversion.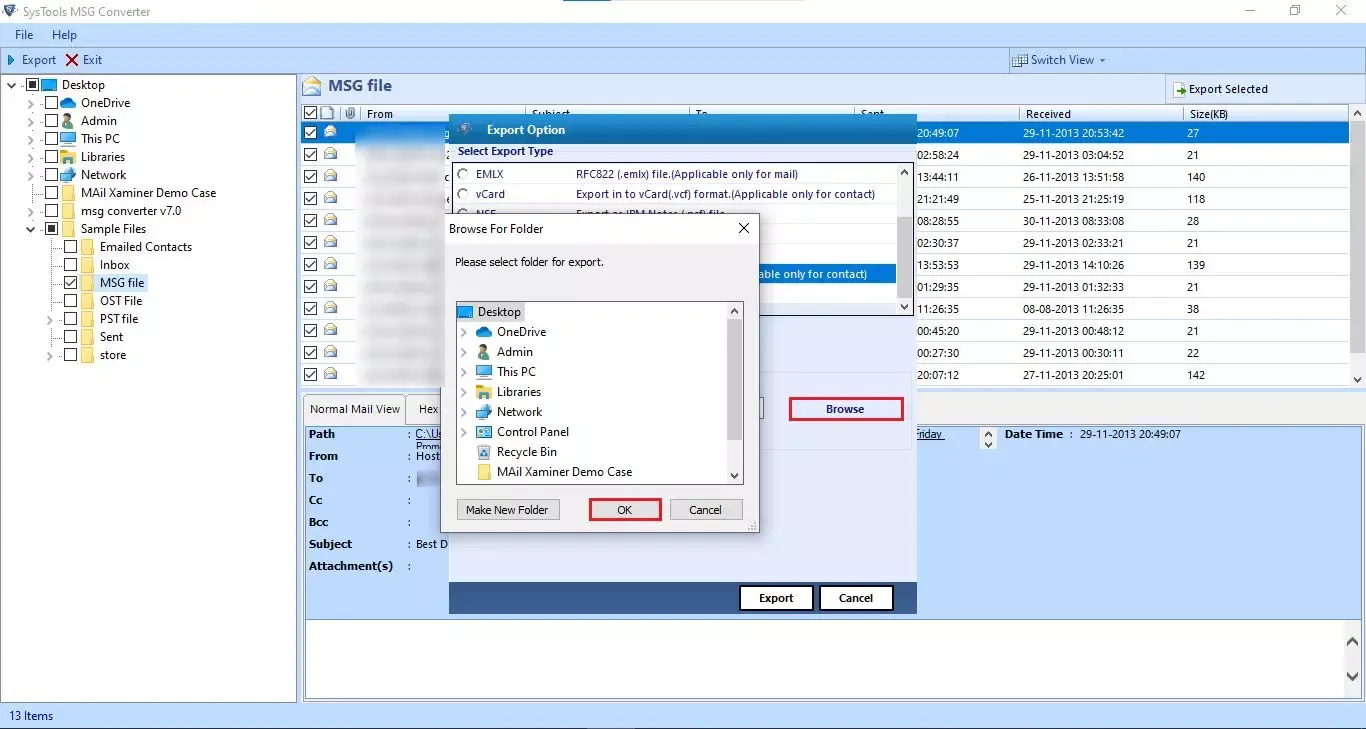 Finally, click the Export button to convert MSG to CSV in bulk.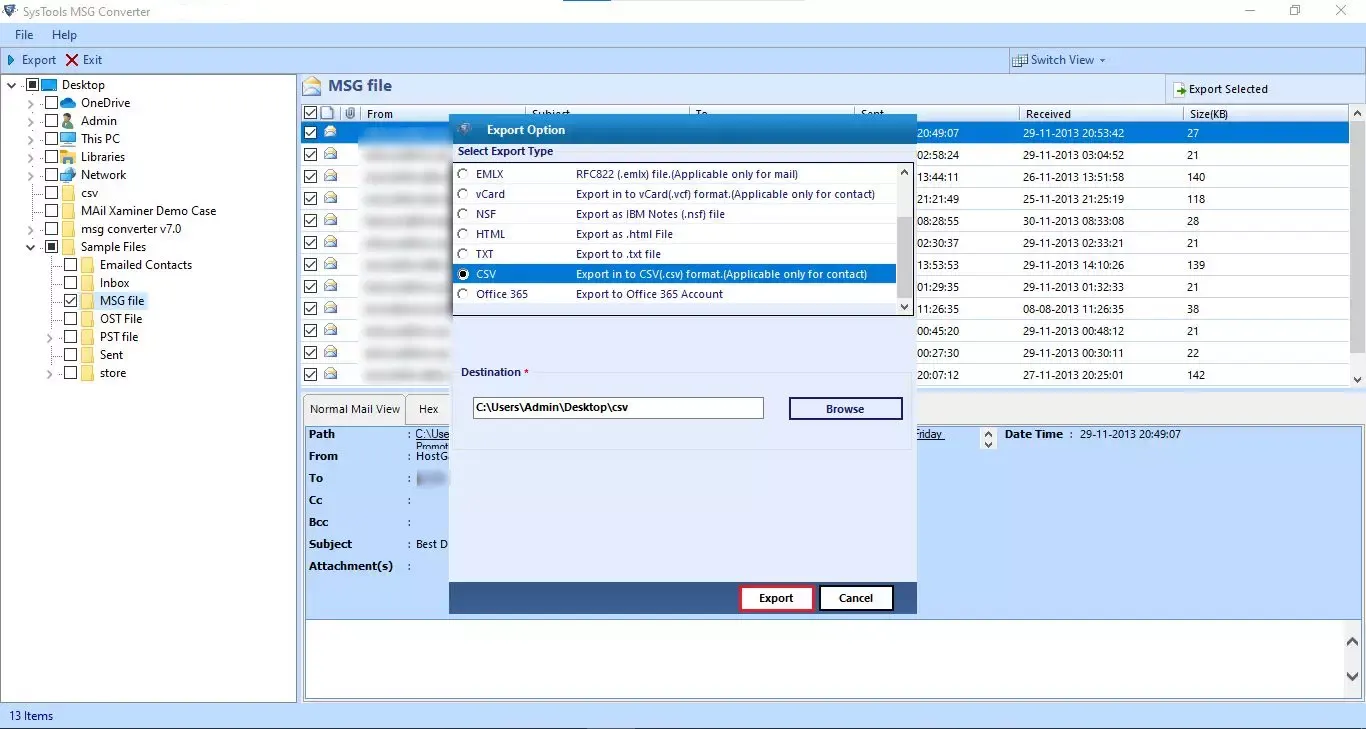 Points to note:
Some important points to remember regarding the software are:
CSV for Contacts Only – It only converts MSG to CSV, if the MSG file contains contact information. For any other data item, the tool returns a blank folder.
Other Export Options – There are other export formats to take advantage of. You can convert MSG to other file formats:

PST,
EMLX,
MBOX
CSV & vCard (for contacts only)
TXT
Office 365

Outlook Not Required – This software does not require MS Outlook installation on your system. It can export .msg files to CSV in bulk without Outlook.
Selective Conversion – You can find checkboxes in the tool's preview panel before conversion. It allows you to select particular MSG data items to convert to CSV format.
After reading the blog, it is safe to say that converting MSG files to CSV is now guaranteed. And you don't even require Outlook email client for it. Of course, if you have access to Microsoft Outlook and don't have the "Can't open MSG file in Outlook" issue, you can dedicate your time to getting the job done manually. But, we recommend the MSG to CSV converter since it automated the entire process and makes it easy to export data.
Before carrying out any of the two given solutions, please take a look at the Points to note section.
Overview of the Article
This article contains two methods to successfully export .msg to CSV file.
Manual Method:
Open the files in Outlook.
Store them in a folder.
Use Import/Export to export them to CSV.
Convert MSG to CSV – Automated
Open the MSG Converter tool.
Select the folder containing MSG files.
Select CSV as the export type.
Convert MSG files to CSV format.
Conversion is successful.