Solve Cannot Open MSG File with Outlook [Best Solution]
This article focuses on some convenient and manual methods to solve the problem of can't open MSG files with Outlook 2016, 2019, or any lower version problem in the simplest way. Read this article and find out some useful facts.
You may be familiar with the OST and PST data files associated with Microsoft Outlook. Just like them, you can create a file and access it through MS Outlook, namely MSG files. Well, this MSG file is just an email message format used by Microsoft Outlook and Microsoft Exchange. These files are very useful for storing, archiving, or sharing important emails with Outlook users. And the text may be just text messages or messages with images and other attributes (HTML format).
On the other hand, when opening MSG files into Outlook, users sometimes encounter weird problems or issues, which include errors such as "Cannot open MSG files". In this article, we describe some common problems that often prevent users from opening MSG files. At the same time, we provide how to resolve or fix the error "Unable to open .msg file into Outlook without attempt".
Main Reasons: Can't Open MSG Files with Outlook 2016, 2019
If any of the reasons provided below is true, you may get the .msg file not opening in Outlook issue:
If Microsoft Outlook is configured incorrectly
When previewing MSG files created by a hexadecimal editor
If the MSG file is already open in Outlook, and the user tries to open it again
If the user is not allowed to access or open the file
Try using Outlook 2003 or earlier to open MSG files generated in Unicode format
Steps to Solve the Problem of Can't Open .msg Files in Outlook
Well, there are two different solutions that are very useful to solve the problem of not being able to open the .msg file in Outlook. One of the solutions is mentioned below:
Solution 1: Change Outlook Configuration
To access the MSG file, you can enable/disable the Unicode format setting to see if you Outlook now supports the MSG file .
The following are the simple steps to resolving the error:
To convert the default UNICODE .msg file to ANSI .msg format, you need to drag and drop emails from Microsoft Outlook to the Explorer folder and make the following settings.
To solve the problem that the .msg file cannot be opened in Outlook 2016, 2019 or any other version, follow the steps below:
For Microsoft Outlook 2003 and 2007
Tools >> Options >> Tab Other >> Advanced Options >> Disable Option: Use Unicode Message Format
For Microsoft Outlook 2010, 2013, 2016 and 2019
File >> Options >> Mail >> Section >> Save Messages >> Disable Option: Use UNICODE Format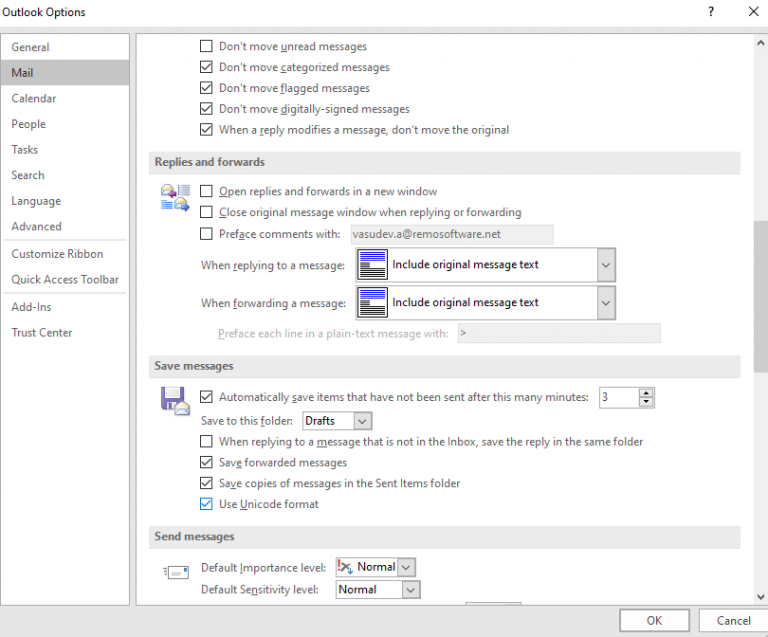 Note: When saving MSG files, change the "Save As" type from UNICODE (* .msg) to (* .msg).
Solution 2: Open the File Manually
Another way to fix ".msg file not opening in outlook" issue is to open the file manually. In some cases, Outlook is not the default email client, so there is no relevant application to open the MSG file.
Right-click on the MSG file on your system.
Choose "Open with" and select Outlook(desktop) option.
You can also choose to set Outlook as the default application to open the file by double-clicking on it. To do this, enable "Always use this app to open .msg file" option.
Solution 3: Use the Same Outlook version in which the MSG files were Created
Microsoft Outlook has a lot of "working" versions. So, if your MSG file originates from a particular version, try to open this file using the same Outlook version.
For example, if the MSG file was created by Outlook 2016, then open the file in Outlook 2016 itself to avoid any incompatibility issues.
Solution 4: Can'tOpen MSG Files with Outlook With Professional Solution
Users can try Emaildoctor MSG File viewer Software in order to avoid all the limitations. This is simple to view all kinds of MSG files even if it is old. There is no limitation on the file size. By using this software users can view single and multiple PST files at the same time. So that, users can access explore, read, and view entire contents from Outlook MSG files in a very effective and easy way.
In the above recommended post we have talked about how to open MSG files without Outlook. Manual solutions are time taking and do not guarantee 100% success. With the help of this application, users can simply fix the problem without any trouble. If the users still have any doubts, then use the de
Note:- If you want to convert your MSG files into another file format then try MSG Viewer Pro Plus Software, users can convert one or more MSG files at once. In addition, it creates a PST file for each exported MSG file. In addition, the software can ensure that all meta attributes such as recipient, CC, BCC, creation date, sender data, etc. are retained fully in the generated PST file.
Steps to Read MSG Files with Outlook
For use of the above-mentioned software users can try below mentioned steps:
Run the wizard on your PC
Then, browse the MSG file after hitting on add file option
Now, read MSG files with two different modes
Several views to read MSG files without Outlook
Conclusion
In this article, we described the best solutions to solve can't open MSG files with Outlook 2016, 2019, 2021 issue. Manual, as well as automated solution, is described to solve the Microsoft Outlook MSG file cannot open error.