EmailDoctor OST to PST Converter - All-In-One

Extract Data from OST to PST / Exchange Online / EML / HTML / MSG File
Convert OST file to Outlook PST with all Emails, Contacts, Calendars, etc.
View Outloook OST files messages and Contacts, Notes, Journals, Tasks, etc.
Safely Remove Encryption (S/MIME and OpenPGP) from OST Emails
Apply Filter on email messages according to desired date range
Supports to Convert Exchange Server OST, IMAP, Hotmail OST files, etc.
Restore MS Outlook OST into Common File PST, MSG, HTML, EML & Office 365 account
Metadata of emails remains maintained throughout recovery
Successfully tested with the extraction of 20 GB of OST file
Unlimited OST file size supported for conversion to desired file
Quick support to export OST File to Office 365 Email Profile
(For Outlook 2000, 2003, 2007, 2010, 2013 & 2016)
{ Demo version let you export 25 selective items/folder }
EmailDoctor OST to PST Converter Software Features

Extract OST emails to PST (Outlook) File
Convert all data (emails, contacts, calendars, tasks etc.) from Exchange OST to Outlook PST file to access the output using MS Outlook. Microsoft Outlook OST files of unlimited size are supported for conversion. It also allow you to save converted file into eml and msg file format.

Scan for OST File Conversion
There are two scanning modes to convert offline Outlook OST file to Outlook PST; Quick Scan and Advanced Scan. Quick scanning mode is automatically implemented if Advance Scan is not selected. Advanced scanning mode serves recovery from severely corrupted files and restores deleted files.

Metadata of All Items Maintained
OST to PST Converter tool keeps all meta-properties of the processed emails unchanged like Sender email address, receiver email address, time, formatting, attachments, etc. You don't need to worry while executing convert exchange ost file to pst procedure.

Preview Data & Item Count
After successful conversion, Exchange OST to PST Conversion tool generates a preview of all items (Emails, Calendars, and Contacts etc.) and displays all items same as in the source file with attachments. You can view your data which are present inside file before OST email extraction process.

Selected Emails Export to Outlook PST Account
Selected items (Emails, calendars, notes, tasks etc.) can also be performed instead of saving the entire user mailbox. Convert OST to PST Tool lets you save selected messages in limited time duration with the mere need to check the desired items in the extraction process.

Export Selective Files / Folders
Other than emails, personal items like notes, journals, and contacts can also be converted selectively from OST file. Select Tasks, Notes or Calendars etc., and extract by proceeding with the export procedure to a desired output format.

Folder Hierarchy Maintained
MS Outlook OST Converter tool maintains the same hierarchal structure in converted PST file as it was in the source OST file. There are no changes made in the structure after the extraction in concern of data and the folder structure.

Email Filtration by Date & Months
The Convert OST files to PST utility allows you to convert items from OST by specifying range of dates for filtration of Email. You can specify a start date and end date, i.e. 'From' and 'To' dates, which will be recognized by the software to select emails.

Convert Emails to Multiple Formats
After a successful data recovery & extraction, you can save emails into multiple file formats (.eml, .msg, .html and PST) and with this; you can get wider usability of emails via accessibility on various other email clients other than Microsoft Outlook.

Split PST (Converted File) by Size
At the time of exporting as PST format file, you can select the option to split the output into small parts by specifying size GB. The OST to PST Converter software will then export the selected data from source OST and evenly distribute it in multiple PST files of the desired size.

Repair and Save Scanned OST File
The OST Repair tool provides you the facility to save scanned file by which you can load later whenever needed and you need not to scan again the same file and like this you can save scanning time repeatedly.

Convert Data in Absence of Outlook
MS Outlook OST Extractor provides you facility to save or export Outlook OST emails into another file format and for this; you do not need to have Microsoft Outlook installed on your machine.

Save Conversion Report
MS Outlook OST to PST Converter gives you facility to export the report of extraction in which you get information about mailboxes and path of saved items. This report can be saved in .csv file format for future use.

Change File Name Accordingly
It allows you to change file name at the time of exporting the converted file. The change in filename is only applicable for EML and MSG file format. You are provided custom naming conventions to name the messages while saving them.
Need for OST to PST Converter
OST file is known as Offline Outlook Data File, which is created by Microsoft Outlook Exchange Server and it provides facility of mailing and messaging despite server unavailability. Users can create a mailbox cache replica, which is OST file. This file enables cache Exchange mode and offline mode even when users are not connected with mail server. Enabled cached Exchange mode creates OST file automatically at user's computer if OST file is not created.
Change of email, deletion of email, new email creation, new calendar creation and new task creation in Outlook is reflected on the Exchange Server mailbox after synchronization when connection is available. Cached Exchange mode creates OST file and then file is downloaded and maintained as synchronized copy of items in all items of mailbox. User keeps working offline whether the connection is available or not and when connection will be available then synchronization takes place and all changes done by user will reflect on Server end.

OST file is not accessible directly by email client like: Microsoft Outlook.
Emails cannot be viewed by OST file using Microsoft Outlook or any other email client.
To overcome this problem you need an extractor, which can convert OST file to Outlook PST, EML and MSG and HTML file format by which you can easily access emails, calendars, etc.
MS Outlook OST to PST Converter also enables you to restore all deleted emails as well as recover the corrupted ones.
Why OST to PST Converter Should Be Preferred?
OST Repair tool is programmed to help overcome problems related to accessing the contents of offline OST file. Outlook Offline OST Converter comes with multiple features to handle these problems related to OST file. With advanced mode as well as simple scanning mode by which you cannot only extract files from OST but also you can restore emails from OST files.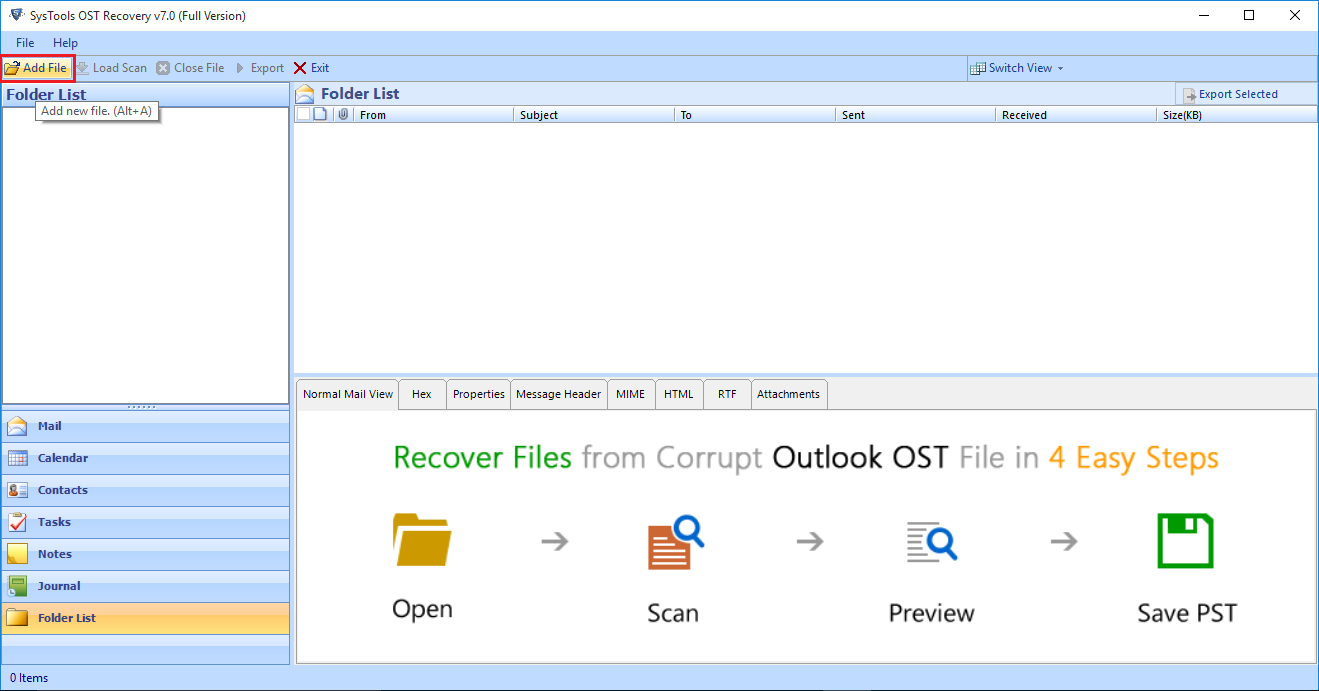 I had lost synchronization with exchange server and I was confused about how could I get all my emails back which was stored in OST file. After selection of EmailDoctor's converter and support team who helped me to get all my emails back which was stored in OST file..

— Keara Smith, United States
Conversion preview of OST to Outlook PST file
Frequntly Asked Questions
I have an OST file of 20 GB and I want to convert it to Outlook PST file, does this converter software can extract this size of OST file?
Yes, this tool can convert any size of OST file to PST. This converter doesn't have any restriction of size for conversion.
I have 12 OST file and each having size of 8 GB approximately and I want to extract all files at once. Is this software able to convert all my OST files at once?
Yes, This software can convert your all OST files to PST and other email profile at a time. But, you have to add your all files one by one into this software. To convert 12 OST files you have to add a file at a time for scanning and wait for completion of first file's scanning process. After first file scanning you can add second file for scanning and like this you can scan all your files. And after scanning of all files you can convert all OST files at a time by selecting all files and then clicking on Export button at top left of window.
What file format will I get after conversion of OST file?
After conversion you will get Unicode PST file, which can be opened in MS Outlook 2003 and all above versions of Outlook.
Does this software need connection with exchange server for conversion?
No, there isn't need any exchange server environment for successful extraction of files. You can convert any OST file to PST, EML and MSG file format without required any running environment.
Client Reviews on OST (Outlook) to PST Converter Software

Our team was facing a problem with access of OST file in which many important emails were inaccessible. Thanks to EmailDoctor's Software, it provided us access to emails by recovering the corrupted ones.

— Abbie Hoffman, US

My search for a dependable solution completed at EmailDoctor with which I accessed my emails and got all lost emails too. Thank you EmailDoctor for your service.

— Elida J Keller, Swede

I faced problematic situation with a huge number of email data, accessing which was not feasible. Thanks to EmailDoctor, this brand is the reason that today I have all my Outlook's offline emails back with me.

— Alicia Von Rittberg, Germany

I was having problem in accessing emails related to banking transaction because of corruption of emails and I was about to lose a huge amount of money but thanks to Exchange OST to PST Email Extractor. Now I got all emails converted into PST file despite corruption.

— Justin , Utah