How to Unlock Word VBA Project Password Easily?
Overview: If you're having trouble removing word password VBA code and want to know how to unlock word VBA project password, read on. Do not panic. You have landed on the right page. Here we will learn about how to remove VBA passwords from your.dot,.docm,.dotm, and other file extensions.
There are many experts looking for a solution to remove passwords from the Word VBA project. But unfortunately, they couldn't come up with a proper solution to complete this task. This blog post mentions manual and technical solutions to accomplish this task. Then let's begin.
Reasons to Remove VBA Password from Word
There are several reasons why users are searching for this question. Here are some reasons:
There are many cases where users have forgotten their old password. Therefore, to reuse VBA project files, users need to delete old files.
Most developers download a sample VBA project that is password protected. Their motivation for removing the password is to prevent them from using specified VBA modules and macros.
Sometimes users want to copy a VBA project to a Word file, but their password prevents it.
Most users get password-protected items from their professional resources. Therefore, to use the sample VBA project file, the user needs a password. Otherwise, the user will not be able to open it.
5 Steps to Unlock Word VBA Project Password
1: Download and run the application.
2: Select a VBA project file to open.
3: Open the VBA project file with a password.
4: Click the "Reset" button to preview the password
5: Recover a lost Excel VBA password.
Manual Method to Remove Word Password VBA Code
Like the above users, many people are looking for a solution to the same problem. Well, now let's discuss the solution. Users can perform this task in two ways. Both methods are discussed here.
First, you need to open a new MS Word file.
Then select Developer << Visual Basic or type Alt+F11.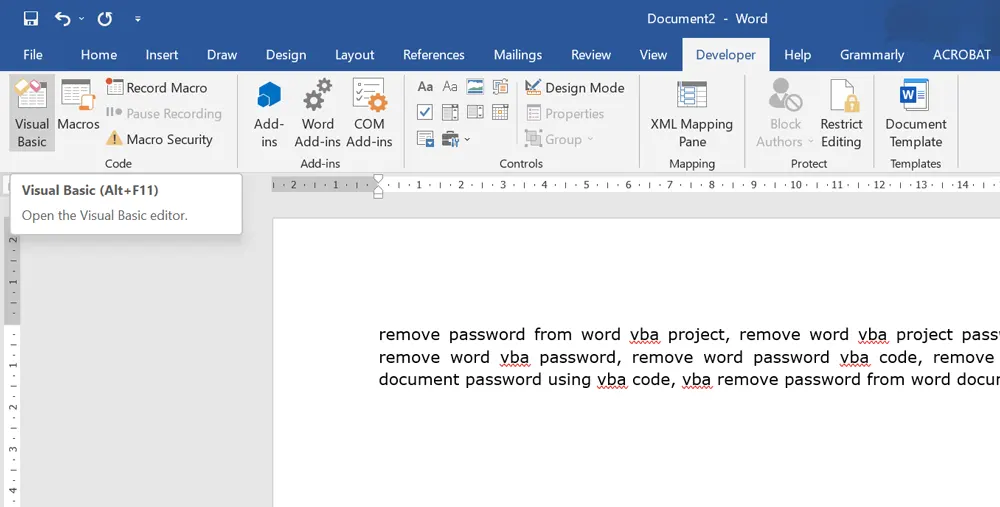 Click on the "Insert" tab and select the "Module" option from the drop–down list.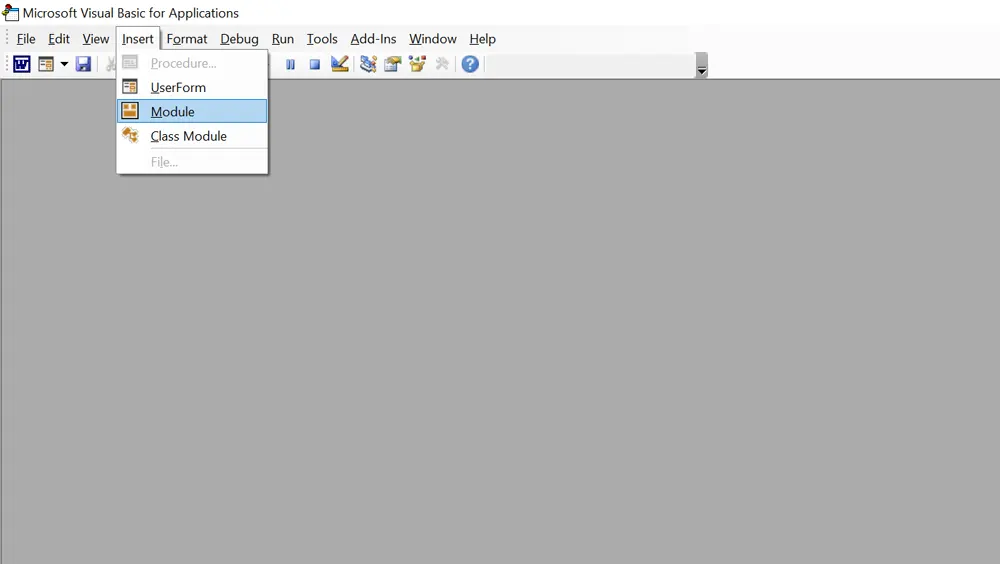 Enter the VBA programming code provided in the module window.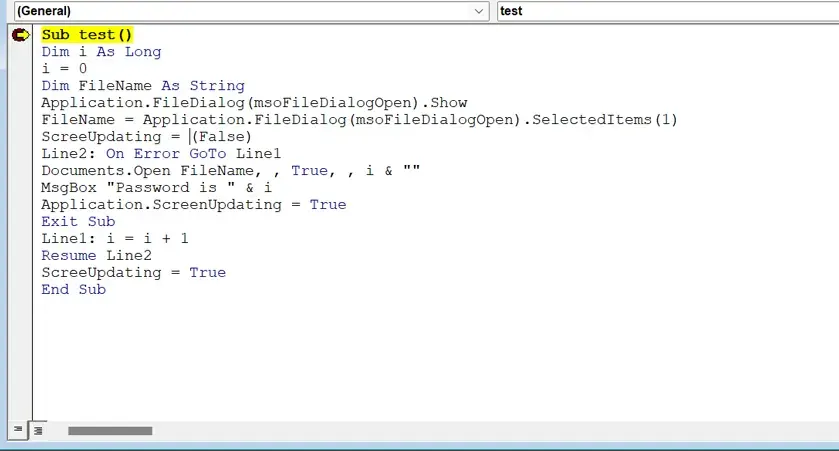 Press F5 to continue, or click Run << Continue.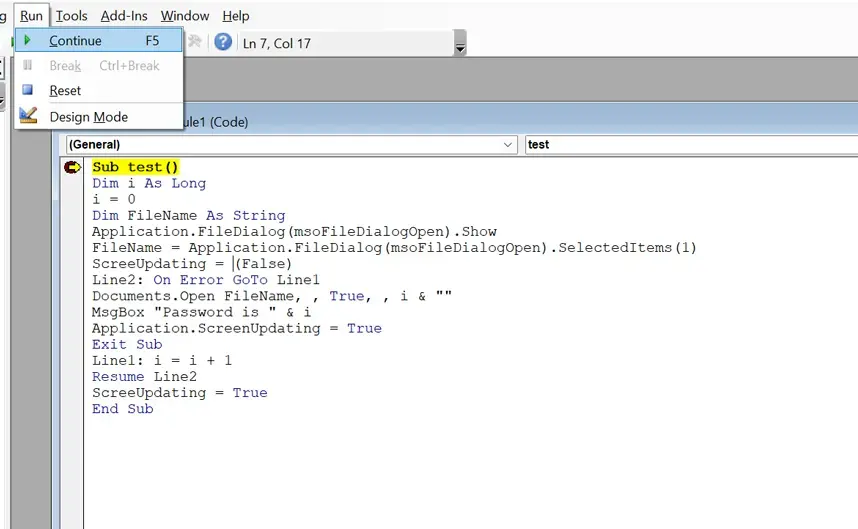 View password-protected Word VBA files, including macros and modules. Press the Open button.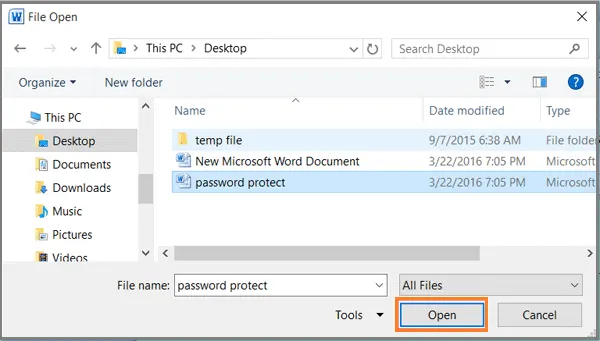 It took some time to remove the password from the VBA code. When done, the tool will display the password required to open the Word VBA project.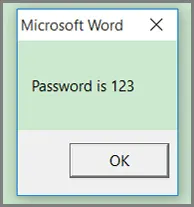 Click OK to close the password popup.

With this password, you can now easily access your Word VBA project with a complete programming language.


Then select File << Info << Encrypt with password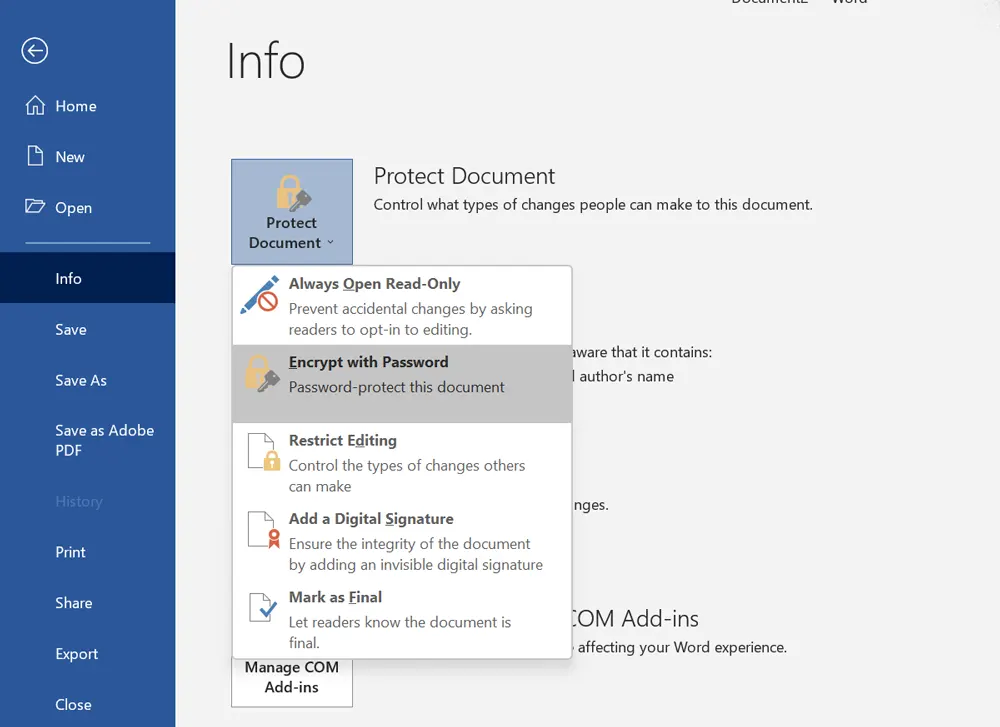 Remove the password from the pop-up window and click "OK".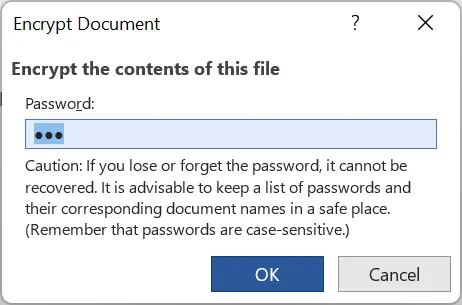 Users can now easily open Word VBA projects without a password.
Why is the Above Manual Solution Not Recommended?
There are some limitations to using the manual solution. Check out some of them:
This is a very time consuming task. Users must be very patient while using this project.
This manual solution is not suitable for all users, especially non-technical ones.
This is a technical method to crack VBA passwords.
The most important thing to worry about is losing important data. Users may lose important data when using this method to go through the process of removing Access VBA.
Hence, it is better to avoid manual methods. Otherwise, users have to deal with the above limitations.
Trusted Solution to Unlock Word VBA Project Password
It is strongly recommended to use professional solutions to overcome the limitations of manual techniques. VBA Word Password Breaker Tool is one of the most reliable and fastest on the market. For your convenience, you can remove the word password from the VBA code in a few simple steps. It has no boundaries or limitations.
With this utility, you can remove VBA password from MS Access without any file restrictions. This is a simple program to remove passwords from Microsoft Word projects. It comes with a user-friendly and interactive user interface, making it easy to manage for both technical and non-technical users. It can be downloaded and installed on all modern Windows operating systems.
Working Steps to Remove VBA Project Password Word
Start the Automatic software on your machine.
Select the Add Files button to add MS Office VBA (Word) project files from your system.
Go to where you saved the VBA file to select it. Click the "Open" button.
After adding the file, the software will load it and display the added VBA file on the software console. It will also show the selected file path and file size in KB.
You can also delete added files from the software panel. All you have to do is select the files and click the "Remove" button. Click "Remove All" to remove all added VBA files from the software.
After completing all the steps,

click

the

Reset button

to open and restore the password protected VBA file.
Now the process starts. Once the process is complete, the "Restart Process Completed Successfully" screen will appear. Click OK.
Finally, the software will show a complete report

with file

path

,

password,

and

status

.
Conclusion Word
In the above post, we have described a complete solution to unlock Word VBA project password. Many users tend to get stuck with manual solutions that contain many limitations. We've covered manual and non-manual solutions for users here. However, as mentioned above, users are better off with professional solutions to remove word password VBA code to perform hassle-free tasks. Users can also use the app's free trial to learn more about the process. Once users are satisfied, they can easily purchase the professional version of the software.
Common User Questions
Q: Can the software reset passwords of any length?
Yes, This program should be particularly effective. In this way, you can recover passwords of any length.
Q: Does the tool process only one file at a time or multiple VBA files of the same type to recover passwords?
You can only add one file at a time to perform the VBA password unlocking process.
Q: Can I reset the VBA code password from a corrupted.doc file?
No, the program will not help you unlock the VBA project password if the Office file is corrupted. The file must not be corrupted or password-protected.
Q: Can I reset the old password in VBA code?
No, the utility will remove the previously set password from the VBA code and create a new VBA password. You can change this password later.