Split Large PST File Into Smaller Parts Instantly
What exactly happen, when you got to know that your Outlook data file is exceeding its size limit? As we know, due to oversized PST file issue you can loss your essential data. Also, it leads to data corruption problem in MS Outlook.
So, obviously you will try to split large PST file into smaller parts. To make your task easy you will be looking for an instant solution that will divide oversized PST files.
Today, we have considered this issue and come up with the different manual and automated solutions that can split large outlook PST files. However, in this write-up, you will get to know the solutions to resolve your issue instantly.
Simply, read the complete blog to understand how to truncate PST file.
People also ask

How do you split a PST file?
Can I split a large PST file in Outlook 2007?
Want to know how I can transfer a large PST file?
How do I reduce the size of my PST file after archiving?
After considering all the above-mentioned queries, we will disclose the multiple techniques to resolve these user's questions. Let's begin:
An Efficient Solution to Split Large PST File Into Smaller Parts
Try an automated software for splitting an oversized PST files into smaller parts by size, date, year, folder, and email ID.
Download Now Free Purchase Now 100% Secure
Manual Methods to Divide Oversized PST Files
Here, in this section manual methods are discussed to split large PST file into smaller parts. The free solution is in two different ways, you can follow any one of them to divide large Outlook data file. Let's start:
Method 1- Using Import/Export Wizard
1. Go to File menu, then Account Settings >>Account Settings…
2. Now, the data files option will show, click on the ADD option in the Account settings wizard
3. Enter the file name having a file format of .pst and hit on OK to continue the process.
4. A new PST file is created, you can check the new created file on data files.
5. Then, click on File option>>Open & Export option and then choose Import/Export.
6. Now, in the Import/Export wizard, choose the option Export to a file and hit on the Next.
7. Select the current created outlook data file(.pst) in Export to a file.
8. To export, select the required folders and also view the include subfolders option.
9. Hit on Browse and choose the desired location to save the exported file.
10. Now, click on the Do not export duplicates item option for removing the duplicate ones and then, click on Finish button.
Method 2- Using Archive Feature
1. Run MS Outlook application and go to File option.
2. Click on the Info option and then Tools>>clean up old items.
3. Now, choose a folder to archive, select a date in Archive items older than box and hit on Browse to save the archived files at your desired location.
4. Click on OK button to finish the process.
Besides the above mentioned ways, there are more methods to split large PST file into smaller parts which are free to use. But they contain high chance of risk for data loss. Also, high technical knowledge is required to execute these methods.
So, to avoid such issues we recommend to use an alternative solution which is completely safe and easy to use. Move forward to the upcoming segment, where we will discuss an automatic technique to divide oversized Outlook data file.
How to Divide Large PST File Without Data Loss?
If you want to divide oversized PST files using an automated tool, you can use PST Splitter software which is a secure and trustworthy tool in order to resolve your problems. This utility offers a 5 unique options to partition PST file such as divide PST file by size, folder, date, year, and sender's email-id.
Also, the application supports to split corrupted or damaged Outlook mailbox component including emails, calendars, notes, contacts, journals with or without installing MS Outlook.
Some Beneficial Features of This Software
The tool allows splitting corrupted PST files due to its oversized.
This utility can split one PST into multiple files by size 5 MB to 45 GB as per the requirements.
This software is capable enough to work with all versions of Outlook (2019, 2016, 2013, 2010, 2007, etc.)
Install on all versions of Windows OS (10, 8.1, 8, 7 and all below versions).
It is not necessary to install MS outlook to divide large PST files
Steps to Split Large PST File into Smaller Parts
1. Download and install an automated tool on your system.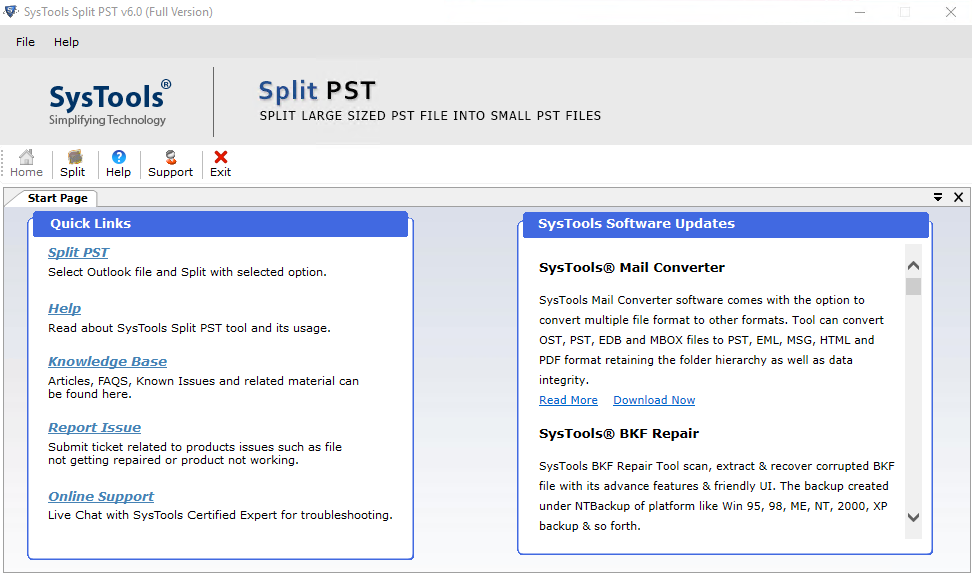 2. Now, select Outlook format and then choose the Split by size option under the split option.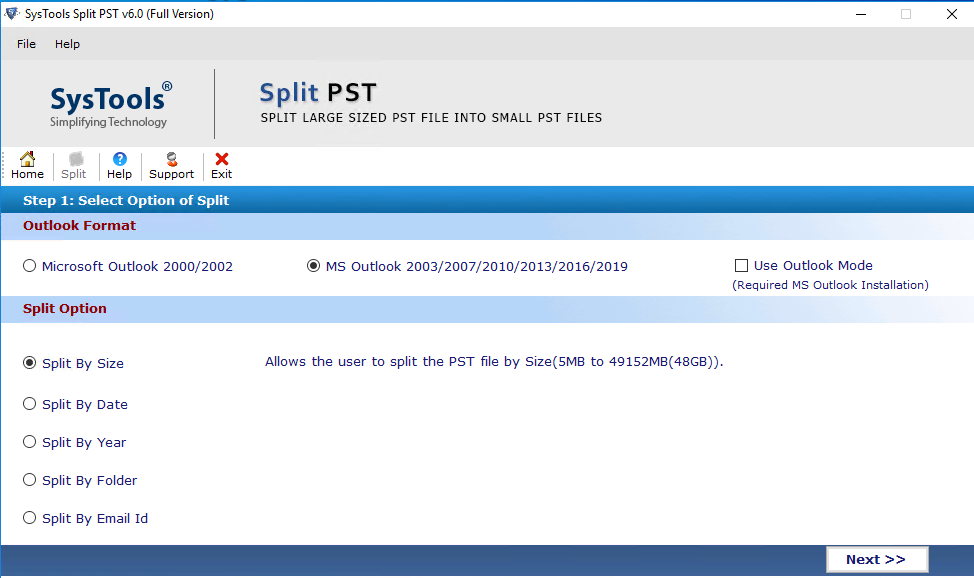 3. Choose the size and mention in MB to split your large PST files.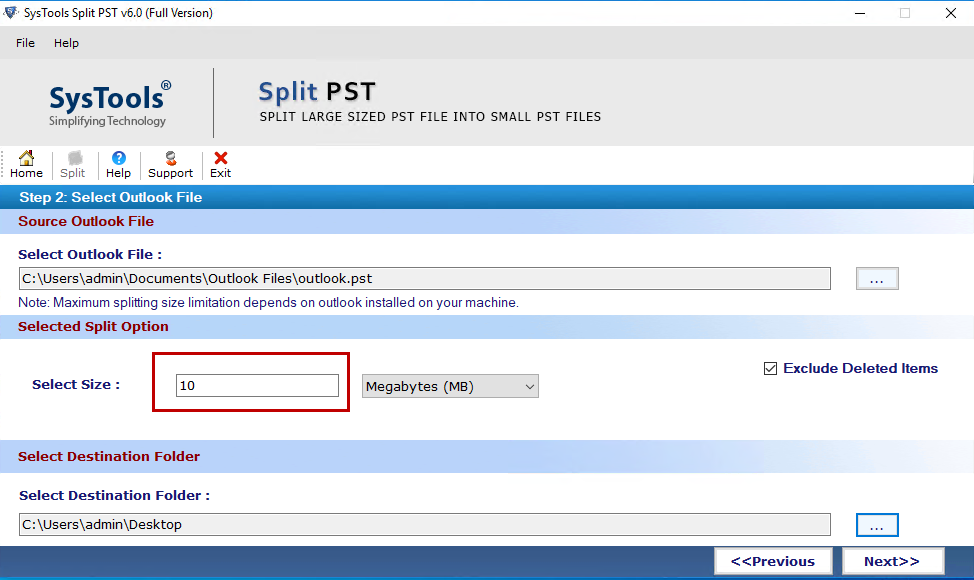 4. Then, click on the Split button and view the status report.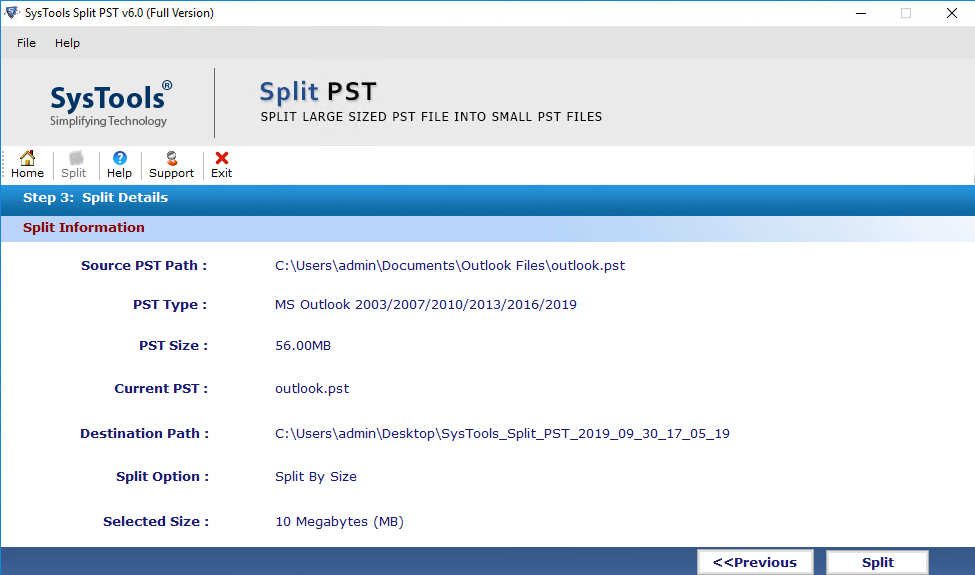 The best thing about this application is that you can split 50 items free using the demo version. But, in case you need to split more than this size limit, then you have to purchase the full version of this tool.
Conclusion
In this article, we provided you the best suggestion to split large PST file into smaller parts using manual as well as automated solution. But we advised to use the third-party tool as manual methods have their own severe risk and require high technical knowledge. So, we recommended to use the safe and secure tool to divide oversized PST files.