Easiest & Quickest Way to Reset PST File Password Outlook 2016
Microsoft Outlook users protect their data files with passwords to secure their data. As it may consists of important personal, financial and business information. But there are times when users wish to reset Outlook PST file password due to many reasons.
Here in this following article, we will discuss how users can reset PST file Password using different techniques and tricks to help you solve this query quite easily.
Best Tricks to Reset Outlook PST File Password 2016, 2013, 2010, 2007 & 2003
MS Outlook does provide an option to change the password of data file. But, let me tell you this feature is not helpful if you have forgotten your old password. If that's the case, then only an automated tool can help you out in that situation.
Here get through these steps to accomplish this task:-
Firstly, open Microsoft Outlook and hit the File tab. Press the Account Settings>> Account Settings.
Now, a dialog box will pop on your screen, and hit the Data Files tab. Make sure choose your PST file and hit the settings button.
After that, a new dialog box named Outlook Data File will open. Now, choose Change Password option.
Next, you can now reset PST file password in the change password dialog field. Make sure to enter the old PST file password and then enter the new password of your desire for the file and then reconfirm it. Click OK button afterwards.
Now you know how to reset Outlook PST file password, but what if you don't remember your old password? What will you do then? You don't need to worry anymore, in the upcoming section, we will explain briefly about a third-party software to help you with this query.
Also Read:- How to Unlock Password Protected Files?
Try a Professional to Reset Outlook PST File Password

As we have said earlier, the above-mentioned technique can be used if you remember the old password of your data file. But, there are multiple users who have forgotten their old password and want to reset it again. Outlook, however, does not provide any option in this case. So, the only possible way to reset Outlook PST file Password is by using an automated tool. The PST Password Remover will definitely allow you to easily change your password without having to remember the old one. Not only that, it does provide a variety of features that makes the entire procedure much easier.
Some Prominent Features of the PST Password Remover Tool:-
It helps users to remove numerous password-protected PST files.
Also, it does not require any external installation: No need for Outlook Installation or configuration to reset PST file password.
It is capable of removing old passwords by removing the applied protection.
Moreover, it works on all the versions of the Windows operating system and Microsoft Outlook.
The graphical interface of this tool is easy and understandable for both novice and professional users.
Here are the Simple Steps to Change your Password
Step 1. Install and Launch this Remover Software on your Screen.
Step 2. Now, you can browse your folder and hit the OK button.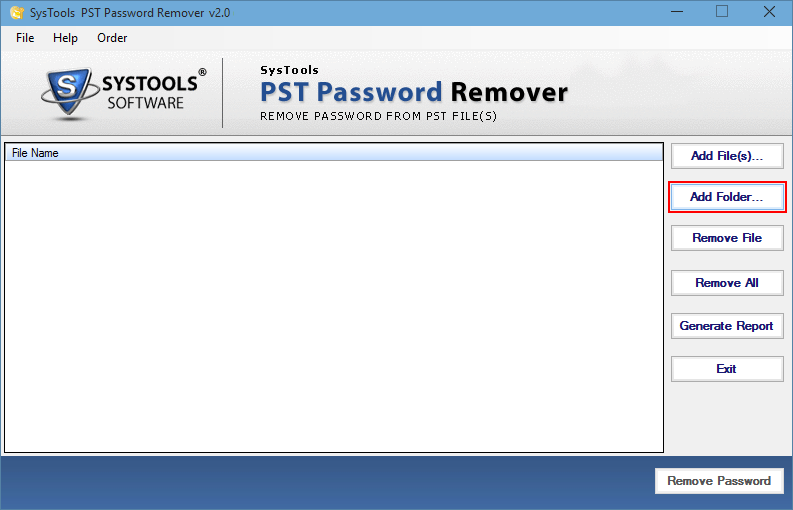 Step 3. After that, one can view the status of their locked PST files in the panel.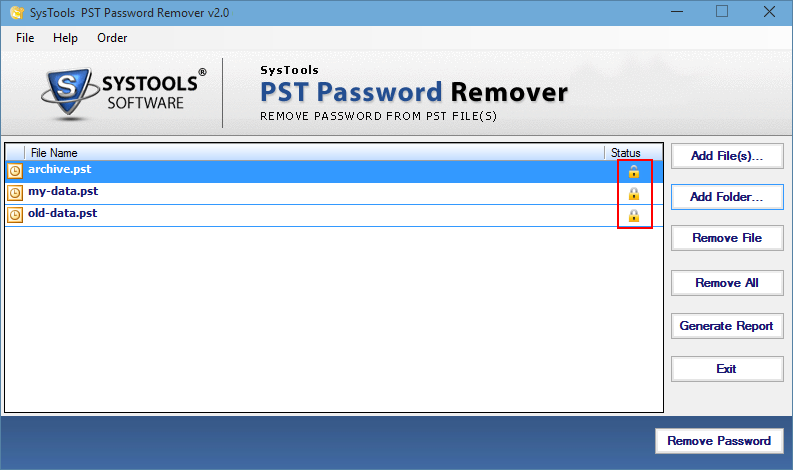 Step 4. In the end, press the Remove Password option.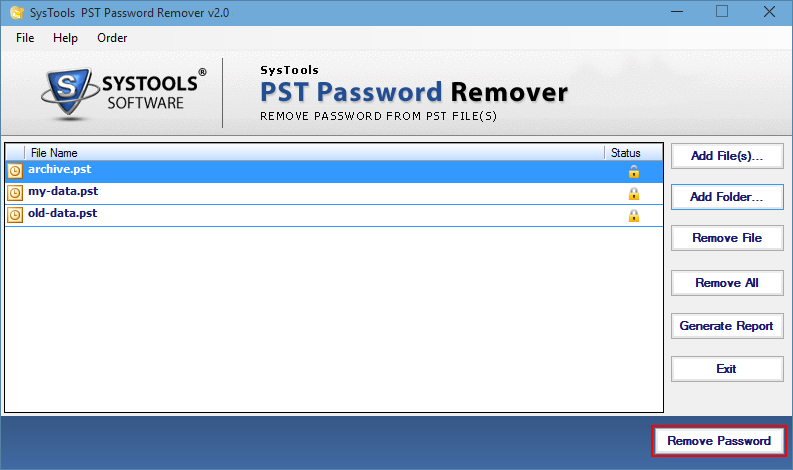 Common User Queries
Ques 1. Is it Possible to recover emails from Password Protected PST files Without having Outlook installed on my System?
Ans. With the help of the mentioned tool, you do not need any external installation. As it is a complete standalone application.
Ques 2. Will I be able to recover ANSI or Unicode type data file (.pst) using this Password Remover tool?
Ans. Yes, this utility supports both ANSI & Unicode PST files.
Ques 3. Can I reset the password of my PST file if I forget it?
Ans. Well, with this tool, you will be able to reset your password as per your desire even if you don't remember the old password.