Learn How to Repair Thunderbird Email Folders with Effortlessly Solution
If the email folder of your Thunderbird email account has been corrupted and you want to repair thunderbird email folders, then you have come to the right blog. Here you will get such solutions, with the help of which you will be able to fix your folder without losing any of your data.
If nothing much happened to your Thunderbird account's email folder, you can also do this manually. If your email folder is completely corrupted, you will not be able to do it manually. Because a manual solution is best to fix only the header footer, if you are not opening your folder at all, then you need to go to professional software for that. In this blog, we have explained both the methods to repair thunderbird email folders so that the user who needs the method can use that method.
User Query;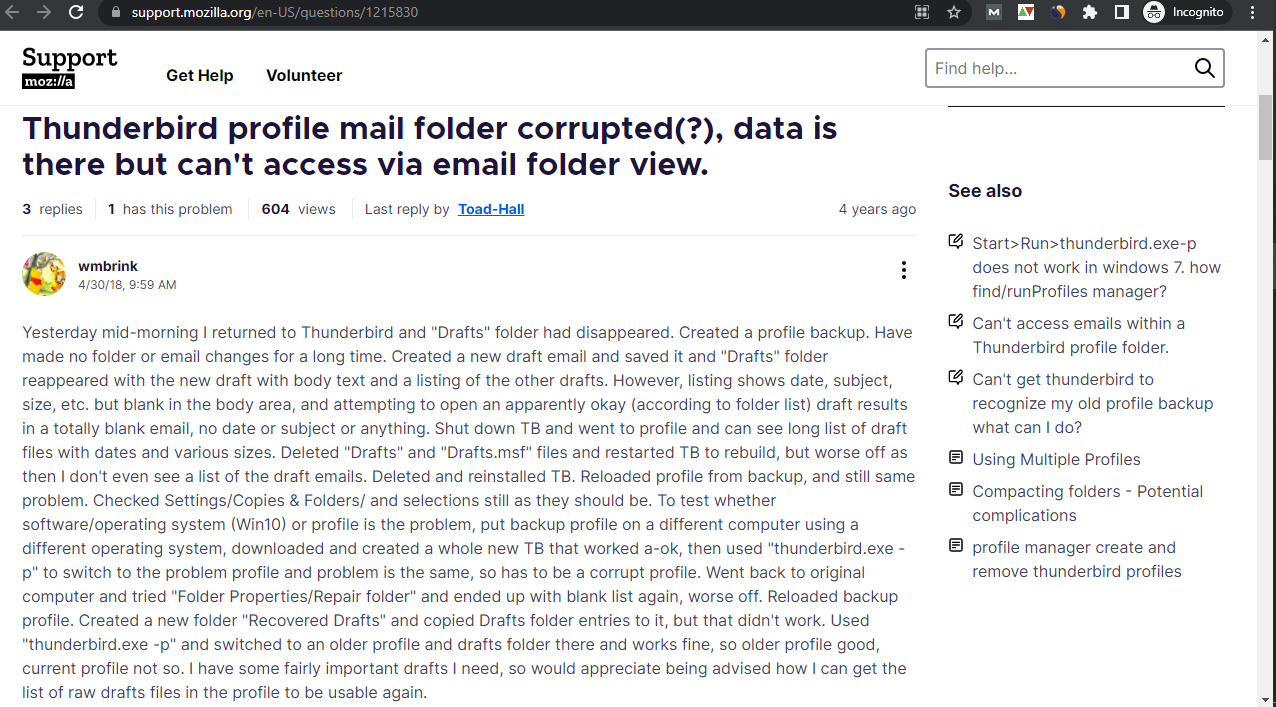 Best Way to Fix Thunderbird Email Folder
There are two methods available to repair Thunderbird email folders, with the help of which you will be able to fix the folder very easily. But both these methods will work in two different situations, such as in the first situation, if one of your folders or any email has been corrupted, then there is a manual solution, with the help of which the header and footer of your emails or folders can be fixed.
This means that if you want to fix any minor problem with a manual solution, then you can do it. If your folder has been completely destroyed or if there is some problem in your account itself, then you have to go to professional software for that.
First Method: Manual Solution to Repair Thunderbird Folder
Go to the Left Panel in the Thunderbird window and choose the folder that has an issue that you wish to fix. Consider choosing Inbox Folder.
Right-click the folder again, and then in the resulting pop-up menu, choose Properties.
On the screen, a new Folder Properties box will open; choose Repair Folder and then press OK.
Second Method: Using Professional Method to Fix Thunderbird Email
The professional software you needed to repair thunderbird email folders is EmailDoctor MBOX to PST Converter Software. With the help of this tool, you will be able to fix your Thunderbird folder very easily without losing any data. This tool is available for both Windows and Mac, whether you download it on a Windows machine or on a Mac machine, this software will work very smoothly on both. This Thunderbird Mailbox repair tool can also convert your data into many different formats if you want. Let's see the working process of this tool
How to Use the Thunderbird Mailbox Repair Tool?
Firstly, download the Thunderbird mailbox repair tool and then install it on any system

After the installation, click on the Add file button and then choose the MBOX file option or Thunderbird option according to your choice
(Note: If you have a corrupted MBOX file then select the MBOX option or if you have configured a Thunderbird account and want to fix it then select Thunderbird. After that this software will automatically upload your account from your system to the software panel)

Any email or file may click on to see in the providing preview modes. Tap the Export option from the navigation bar after choosing your files.

Thereafter, select the EML file or according to your choice and then hit the Export button, now your corrupted Thunderbird email folder will repair in the .eml file format

Now, you will upload the .eml files in the Thunderbird account to the drag & drop method
Benefits of Thunderbird Mailbox Repair Tool
Thunderbird repair mailbox tool's built-in ability to repair mailboxes may also use to restore damaged data in local folders if that's what you need.
If Thunderbird has any little issues with emails, contacts, or other chores. Thunderbird's strong corruption will fix by this procedure.
If you have an MSF file that stores the index of a certain email in Thunderbird and it becomes broken due to an accident, this tool enables you to repair the damaged MSF file.
This software repair thunderbird email folders without erasing any information.
Conclusion
The basic and practical tool to fix a Thunderbird email folder was cover in this article. To fix the damaged file, Thunderbird comes with a mailbox repair tool by default, however, it has certain restrictions. Majorly corrupted files cannot repair by it. Therefore, we advise using the Thunderbird mailbox repair Software if you need a methodical plan to repair thunderbird email folders. It not only enables you to examine and open your damaged file, but it also gives you a report on the whole file conversion procedure.