How to Repair Corrupted Excel File? Stepwise Guide
If you're having trouble opening corrupted your Excel workbooks, you're not alone. Most of us have been in a situation like this at least once in our lives. However, the good news is that there is a good chance that you can repair corrupted Excel file by following a few simple steps.
Everyday offices rely more and more on Excel files for business purposes. Excel files are mostly used to create reports, analyze data, and analyze statistical graphs. It would be really troublesome if an Excel file containing important data gets damaged or deleted by mistake. But don't panic. If you have problems with corrupted Excel files, here in this blog, in this post, we will show you the most common causes of this problem and different ways to fix corrupted Excel workbooks manually and automatically. Also you will get some tips to avoid this problem in future.
Here are some causes of corrupted Excel files and tips to avoid fixing them.
What are the Reasons for Excel File Corruption?
Unfortunately, MS Excel files can get corrupted for many reasons, especially if they are used collaboratively and/or contain data and calculations. However, there are some common causes that can help you identify the problem.
Interrupted File Transfers – Incorrect downloads caused by poor internet connection or when the downloader stops before the download is complete is one of the most common causes of data corruption. The result may be the same in case of interruption during data transfer from an external storage device.
Virus Intrusion – Data stored on a computer's hard drive can be vulnerable to malware. Therefore, it is advised to regularly check your system for security risks.
Unexpected System Crash – Files that are open and used can be damaged by sudden or forced shutdown of the computer.
Incorrect Excel Editor – If you try to access an XLSX spreadsheet with a non-XLSX editor, the file may be corrupted. On the other hand, if you open a file with a corrupted Excel editor, it can become infected.
Corrupted Storage or Intentional Damage – Data on the storage device may be distorted or corrupted. They are often forced to change file extensions to protect data, although this practice often damages data.
Below are some tips that might help you open your corrupted Excel file.
How to Prevent Damage Excel Workbooks?
Excel workbooks can become corrupted for a number of reasons, most of which are preventable. Ensure that the following conditions are met and minimize the chance of corrupting the Excel workbook:
Always save your MS Excel document before closing it, and avoid shutting down or rebooting your system while the Excel workbook is open.
Scan your Excel workbooks regularly with reputable antivirus software.
Avoid connecting your laptop to public networks, as they may contain malware that can damage files on your computer, including Excel workbooks. Similarly, don't connect USB drives to public computers to avoid malware.
Whether you're installing Excel add-ins to create visually appealing spreadsheets or to save time on a business task, make sure you only install add-ins from trusted publishers.
How to Repair Corrupted Excel File?
There are many different ways to repair a damaged file, depending on the cause and the type of Excel you're using. Let's explore the most common ways to fix corrupted Excel files on desktop apps and finally with expert solution.
Repair Excel Workbooks Manually
Before using the Excel Repair Tool, there are some known problems you might want to check out. The most common cause of corruption is saving a file with the wrong extension and Excel having trouble doing all the calculations in the workbook. Here are solutions for both problems.
Fix1: Change the File Extension
The file extension must always be .xls or .xlsx; it might be accidentally changed while saving or renaming. This can be easily resolved by following the steps below:
In the folder where the file is stored, click "View" and make sure the box for "File Name Extension" is checked.

Right-click the file and select Rename. Make sure the extension is ".xlsx" or ".xls".

Fix2: Set Workbook Calculations
The most common option for workbook calculations is Automatic, because it ensures that all data is updated when changes are made. However, this means that any problem with the formula can result in corrupted files. By setting calculations to "manual", you can access files and correct incorrect formulas.
Go to File > Options > Formulas.
Click the "Manual" option to edit the workbook calculations.

Fix3: With "Open and Repair" Function
Usually MS Excel will automatically open damaged files in File Recovery mode. However, if not, you can open the file manually using the "Open and Repair" option.
In the desktop application, go to File > Open and select the folder containing the file.

After selecting the desired file, expand the "Open" button by clicking the down arrow and selecting the "Open and Repair…" option.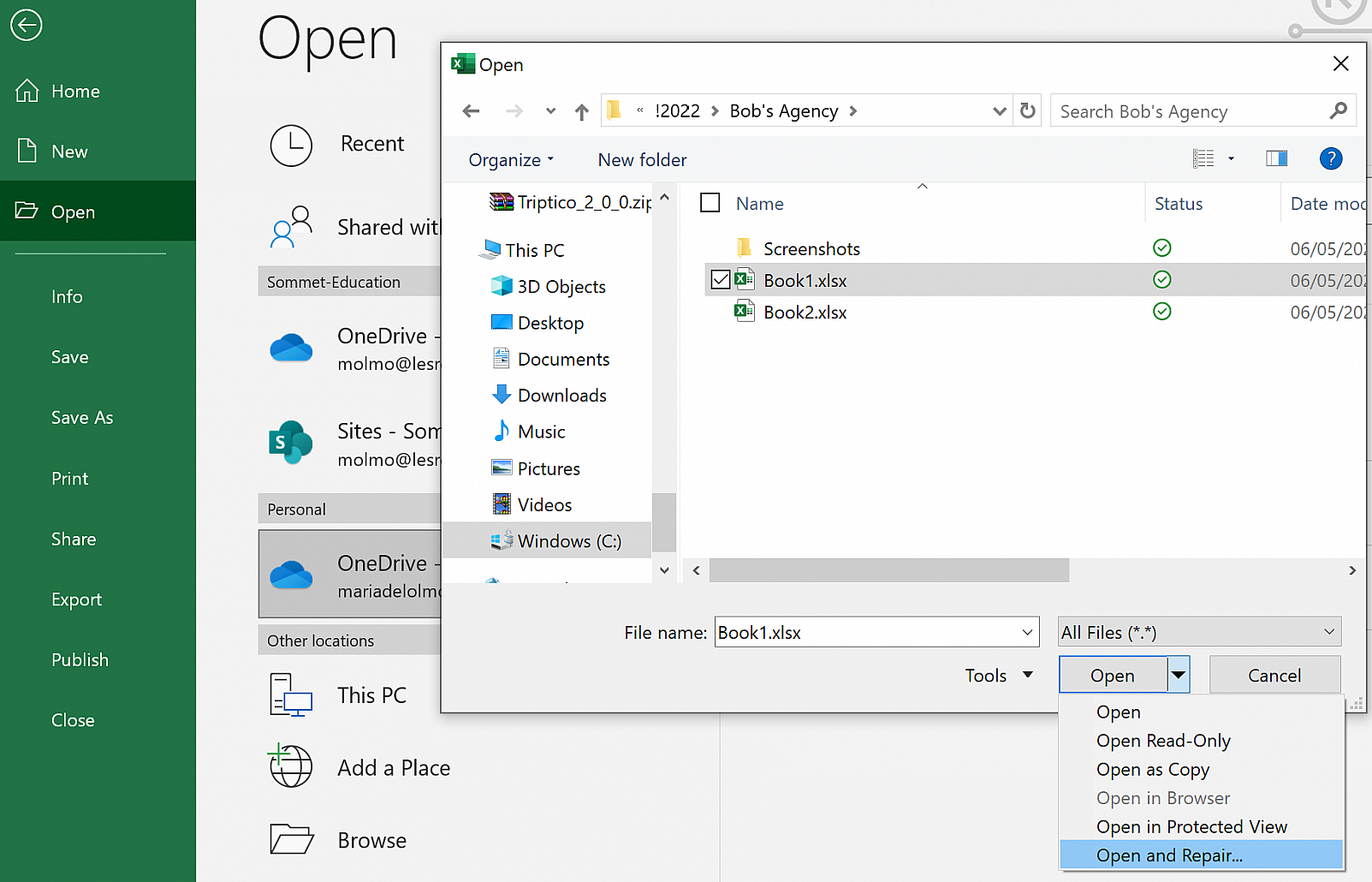 dialog will appear to confirm whether you want to repair the file or extract the data. Click on the Repair".

Excel will notify you of any issues it finds and ask you to confirm recovery. Click "Yes" to confirm.

After the attempt is complete, the repaired file opens and displays a summary of the fix with a link to a more detailed execution log.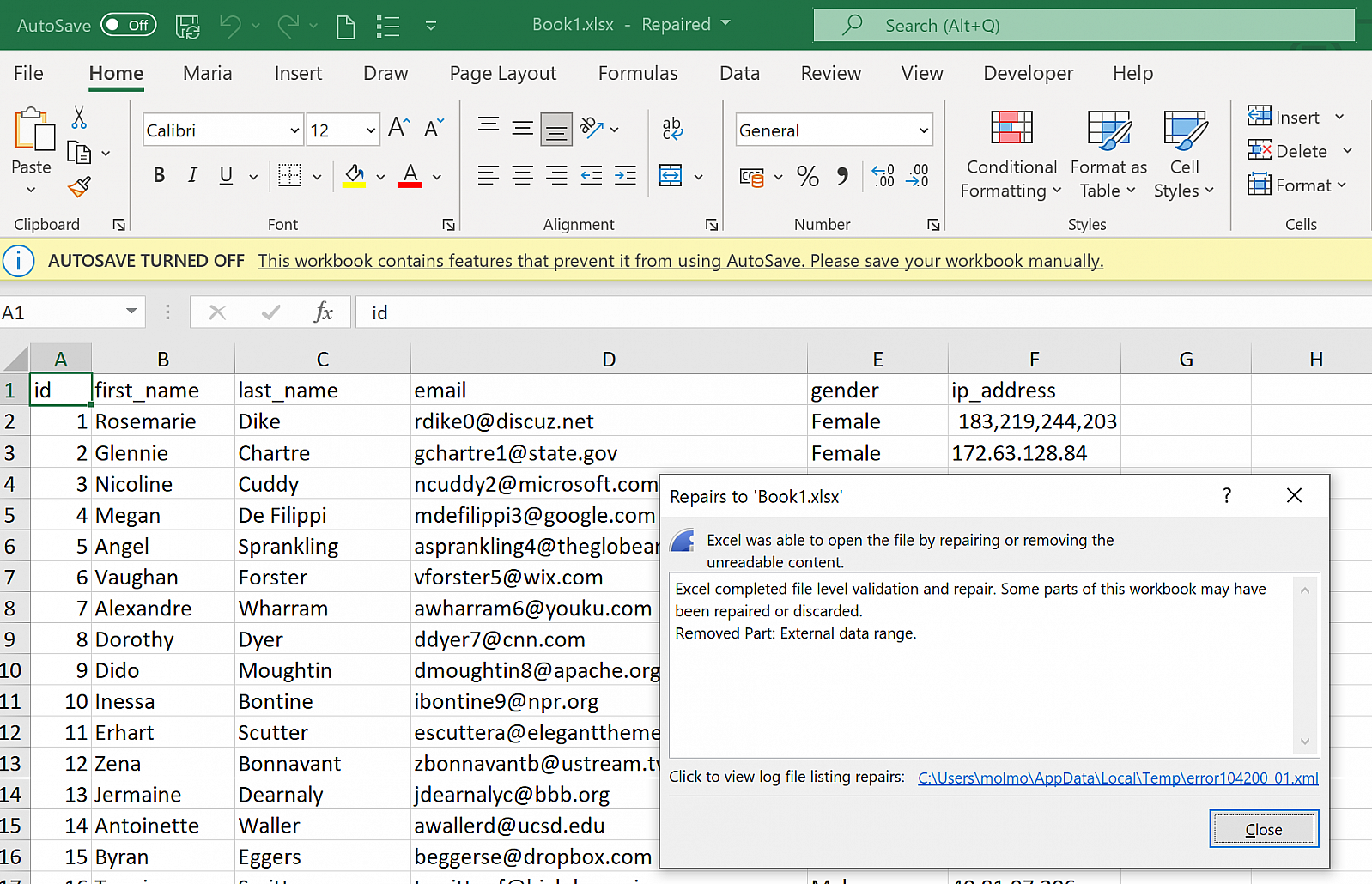 Best Alternative Solution to Repair Corrupted Excel File
Given the popularity of Excel files and the possibility of manual sharing and collaboration, it is no surprise that there are a number of tools available to repair damaged or corrupted files, one of the most popular and reliable Expert Recommend Solution Tool available online. It easily recovers and repairs all Excel files, workbooks, worksheets/spreadsheets easily without any Error.
With the help of this software, you can repair a corrupt Excel file into a good file of the same format. Excel repair software removes data corruption and removes file related errors automatically. Also, this tool can recover inaccessible files from Office 2021, 2019, 2016, 2013, 2010, 2007.
Few Easy Steps to Recover Damaged Excel File
First, Download and Launch Utility on Windows platform.
Select radio options: Add File, Add Folder, Find in Drive to upload corrupted Excel file.
Select the desired XLSX file from the location of the system that needs to be repaired. , click Open.
After browsing the .xlsx file. Use the checkboxes to select the desired Excel file and click Repair to continue the repair process.
The software repairs XLSX files starting from the complete analysis process.
You can preview the full list of repaired XLSX files on the left pane and each recovered Excel workbook on the right.
Select the desired file from the left pane and save it. Click Save to save the recovered document.
Browse to the destination location to save the recovered XLSX file.
After saving, the software will display the message "File saved successfully".
Open the destination location to preview the recovered XLSX workbook.
Wrapping it Up
As we have seen, corrupted Excel files can have many causes, from crashes to malware infections. Luckily, there are some solutions in addition to preventative measures that can help you avoid this problem.
There are reliable and automated solutions available to repair corrupted Excel file. One such reliable and effective solution is Excel recovery software that helps you to get rid of any kind of corruption. Recover your lost data and the best part is that you don't need professional help to help you.