How to Remove Password from PST Data File of Outlook – Described
There are some scenarios to remove password from PST file of Outlook. You will see these situations fully described in the next heading. Also there are some methods or approaches that can unlock Outlook PST data files in an easy way. All the things are present in this blog for users. The limitations and the advantages of methods are also present for you to choose the better option according to the requirement. 
Although, all the methods are best at their places. Every method has its own functionality on which it works according to the facilities. You can choose any approach from the given according to the situation.
Scenarios to Unlock Outlook Data File
As discussed previously, there are many formats in which we need to eliminate the password protection of PST files.
Change Present Password

:- Sometimes the user needs to change the password, also at this place he/she needs to remove the older password. Then, you can add the new password protection to the Outlook data file.

Forgotten Password

:- It is a normal thing, that anyone is not able to keep the password in mind. If the data file is very previous then the password may be lost. You have not to worry for this because 

Entering Password of Another PST File

:- This problem generates when the user has data files in bulk. If the user is entering another file password then it also will decline. Then he/she may get frustrated, at this time you also need to remove password from PST File.

Share PST Data File

:- It also may be behind removing the password from Outlook PST file, because sometimes users enter personal details in the password to remember it. So, anyone does not want to share his/her personal details with anyone. Or sometimes you also get the password-protected file from your friend or anyone. Then you also need to unlock Outlook data file to get data from it.
What is PST File and MS Outlook?
PST file is known as Persona Storage Table which holds emails, calendars, events, meetings, and more other things. Microsoft Outlook is an email client which generates this .pst file format to manage the data of emails. Users need to secure them because this time cyber crimes are increasing and hackers blackmail by showing the stolen data of users. So please keep your data safe with password securities.
Approaches to Remove Password from PST of Outlook
There are two methods described in this blog. You will witness them in the upcoming sections. From them one is the manual method that can remove the present or older password with using it. It was not able to help when you forgot that password. To solve or overcome this problem the professional method is als described. Both the methods are capable to eliminate the password protection of PST files.
Method 1. Unlock Outlook Data File Using Manual Method
This method is given by MS Outlook itself because many users are facing this problem and there is no method present. This method is safe and secure for the data purpose. It can remove password from PST by keeping the older password. There are some steps of this method that can help you.
Steps of Manual Method to Use
Step 1. Open Outlook mail client.
Step 2. Go to File option from upper left corner.
Step 3. Open Account setting and select the Data File option to select PST files.
Step 4. Click on Settings option and select Change Password option.
Step 5. Enter the older password and click the OK button.
Note:- Do not enter anything in the new password and confirm password blogs. It will get rid of the password from that file. This method is best for fifteen to twenty files because every single step you have to do with your hands. Also it is not applicable when you forgot password. If you have PSt files in bulk and also forgot the passwords then you have to use the trusted automated tool.
Method 2. Remove Password from PST File of Outlook Using Automated Tool
This method is given by technical experts, and makes the PST Password Remover Software to unlock Outlook data files.There is no manual and online approach that can unlock secured PST file. Users can remove the forgotten password from thousands of PSt files in one go. Also it is a trusted automated tool and safe with the intent of your data. Users can follow some steps of this method that can help you to use it.
Features of this Automated Tool
It can Remove passwords from thousands of PST files in One Click.

This feature makes the work easy for the user. There is no limit to adding locked PST files to remove protection from them.

Free tool to use in the demo version.

It is very easy for non-technical background user also because it's interface is user friendly.

Remove Multilingual and Long passwords.
Steps to Eliminate the Password Protection of PST File Using Automated Tool
Step 1. Run the software after the download and installation process.
Step 2. Add files to remove password.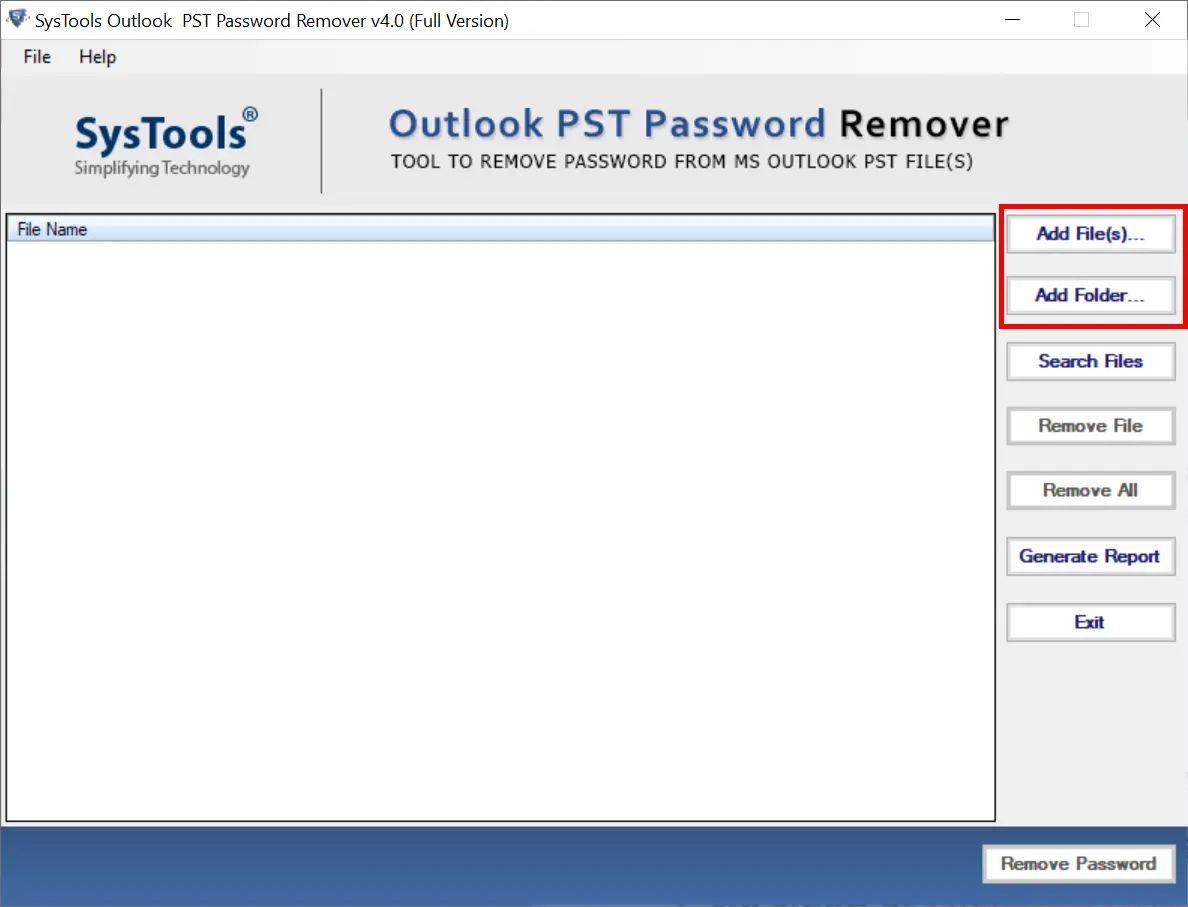 Step 3. Add files by searching if the destination location is not in your mind.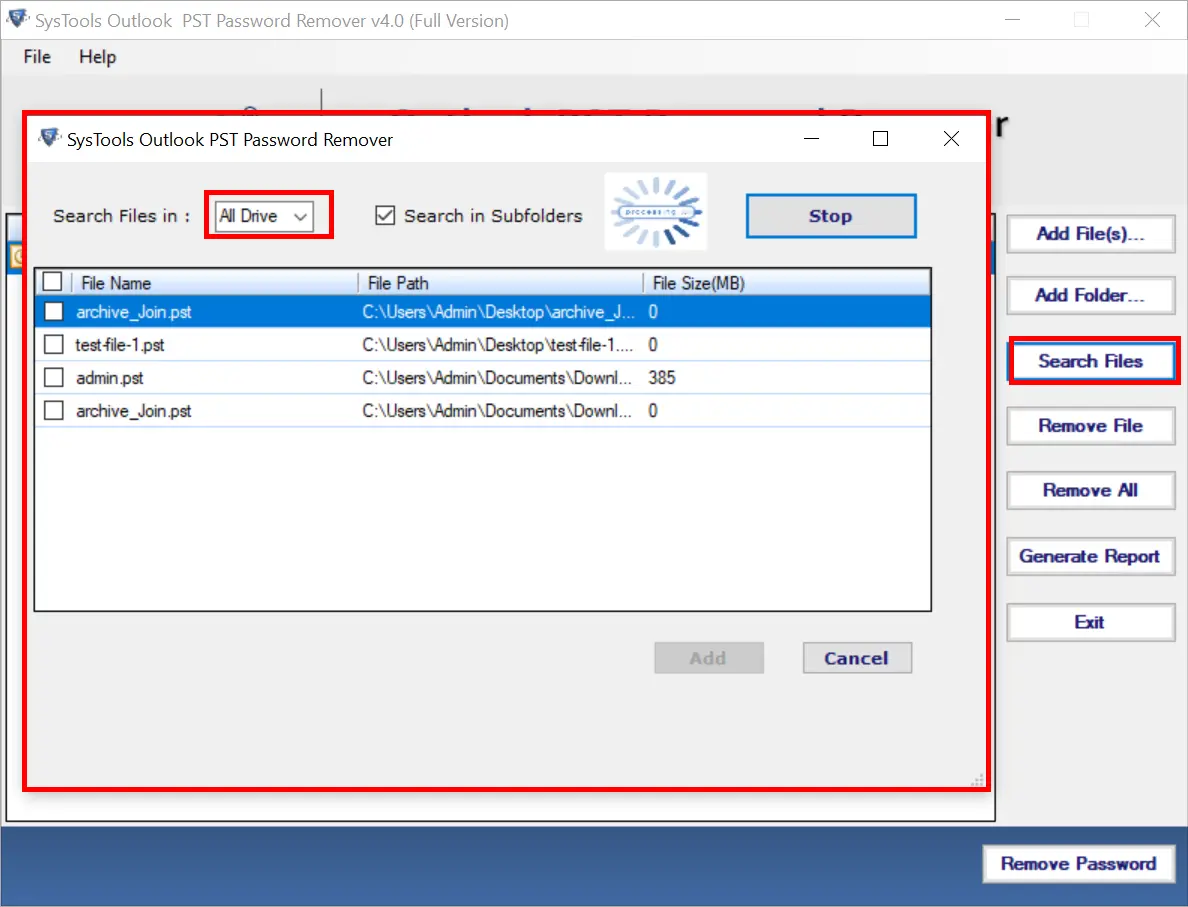 Step 4. Click on the  Remove Password button to unlock Outlook data file.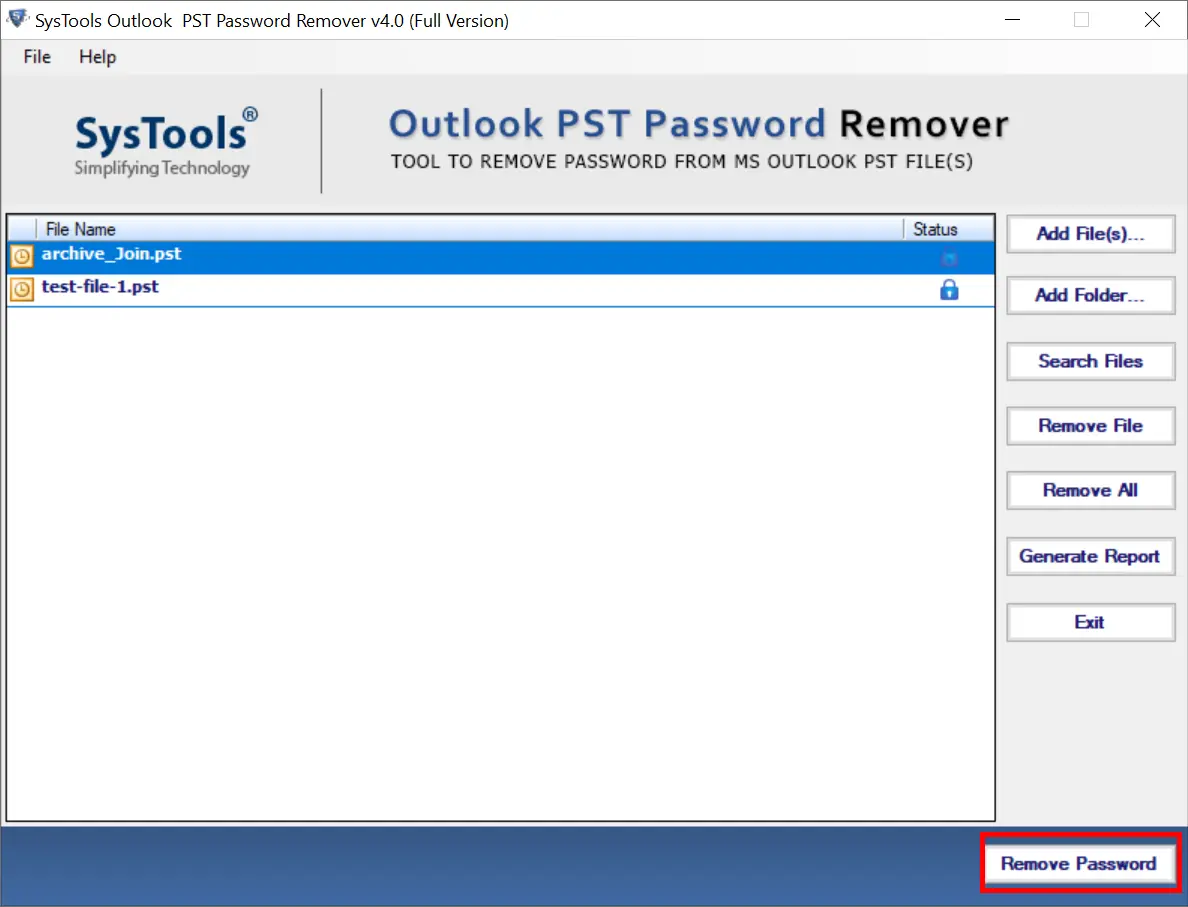 Note:- This method is free in the demo version and helpful, if you want to use more features then use the advanced version of software. 
Conclusion
In this blog you read about the causes and know about PST files and also know about Outlook. The manual and professional methods are described to remove password from PST file of Outlook. Users can use any method or approach from the given according to your situation. Both methods are best.
FAQs
Q1. How do I remove encryption from the PST file?
Ans: Use the In-built Method
Open Outlook email client. Select secured PST file.

Select the advanced option and then click the OK button.

Now choose the Change Password option.

Enter the present password, and confirm the new password after entering.

Click OK to apply your new password. 
Q2. Is it possible to remove password from PST file without using Outlook?
Ans: Yes, this PST Password Remover Tool is capable to open Outlook PST file without password if you forgot that password. It also can remove the forgotten password from PST files in bulk.
Q3. Do PST files have passwords?
Ans: No, there is no password present in the Outlook PST file because you have to apply password protection to make it secure.