How to Open Outlook PST File Without Password? – Solved
You can easily open Outlook PST file without password. But you face problems when it is secured. Because you must enter the password each time you open a password protected PST file. This is a very irritating thing and can make you frustrated. But the most frustrating thing is that when you are searching for solutions for this type of issue, you are also facing these problems. 
You are in the best place. all the best solutions you will see here are to open an Outlook PST file without a password. Here are the manual and professional approaches you will see. You can follow any method according to your needs. As you read, there are two types of methods that can open an Outlook PST file without a password. Both methods can easily open your secured PST file. You can follow any one method's steps to resolve the issue.
Method 1: Manual Approach to Unlock Outlook PST File 
This is only the manual method that can open Outlook PST file without password. For other purposes, you can use web applications that can make your work easier. But for this problem, there is no online solution that can help you. 
I want to suggest that you use online tools or applications . You can use that time if you have any unimportant work. The easy things are more dangerous because the web applications synchronize your data to their database and then give you the result. In online applications, your data is not secure. So, please do not use any online tool to open any Outlook PST file without a password.
Some common steps that are used in this method
Step 1. Go to the location of your PST file that you need urgently.
Step 2. Do right-click or double-click on the PST file.
If you double-click on the PST file, then it will open directly. A dropdown will open when you do the right click.
Step 3. From the drop-down menu, select the open option.
(A password portal will open to enter the password)
Step 4. Enter the password that you applied on the PST file.
Note:– This method will not unlock Outlook PST file without password. First you need to enter the password in this method, then it will work. If you do not have a password or PST files are in bulk. Then, you need another method.
Method 2. Professional Method to Open Outlook PST File Without Password
This method is provided by SysTools, the technical experts give the Best PST Password Remover Software. This is an automated tool that can unlock Outlook PST data file without password. It is very easy to use because its interface is user friendly. No hard and core steps need to be used. It is not as simple as it looks. It can unlock or remove the password from the PST files without any need of an old password. 
You can add a number of secured PST files to open without password, it will do the job on all of them at the same time. These are the key features of this tool but it has many features. You will see most of them in the next paragraph. 
Features of PST Password Remover Tool
This tool is feasible to

add PST file

s in bulk. You can unrestrict thousands of PST files at one time.

This is the only automated tool that never needs the present password and can remove the password from the file.

Simple graphics user interface makes it easy for all users, whether they are from technical background or not.

Accessible in all windows from 11 to 7.

You can use this tool on windows as well as Mac.
Simple Steps to Open Outlook PST file Without Password Using Automated Tool. 
Step 1. First Install the tool on your computer and then run it.
Step 2. Add files or folders that you want to open.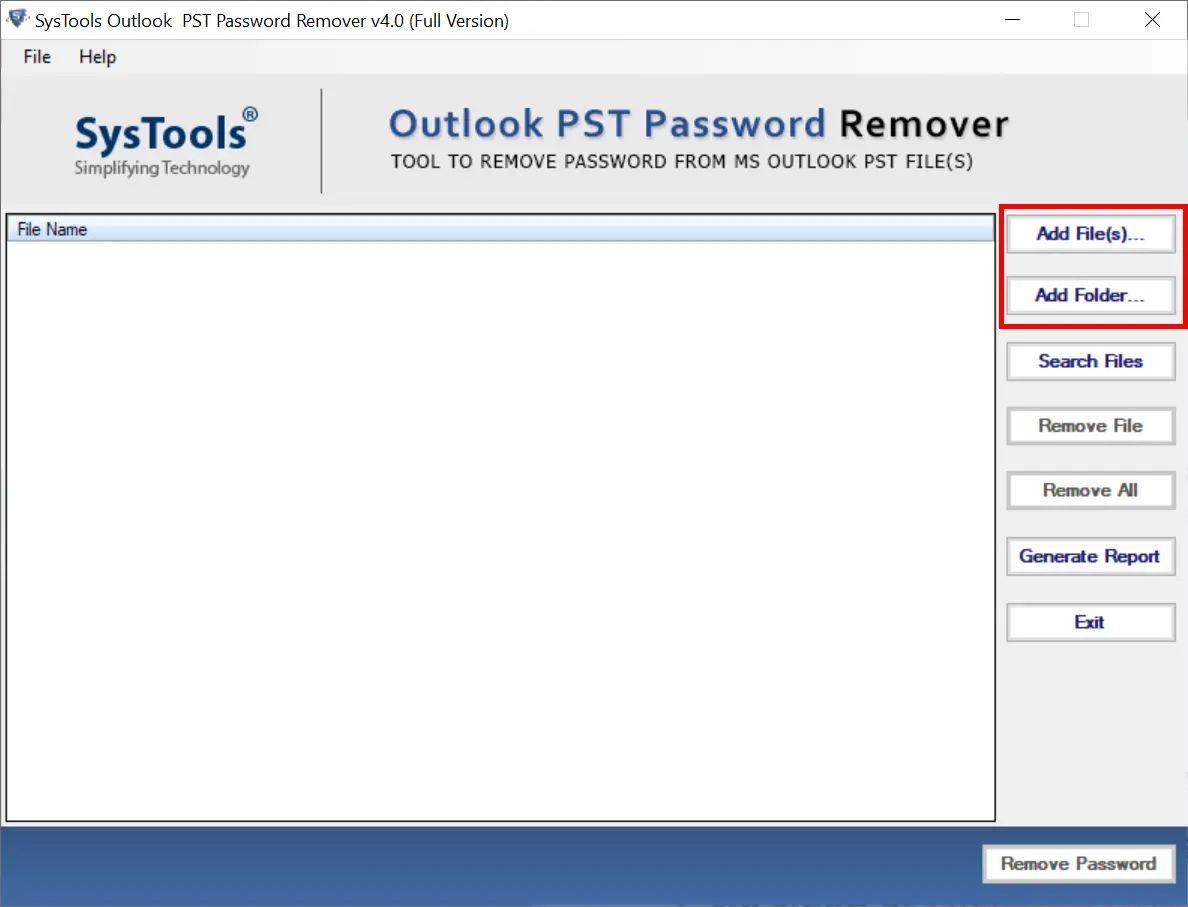 Step 3. You can search your PST file if you forgot where the PST file is present.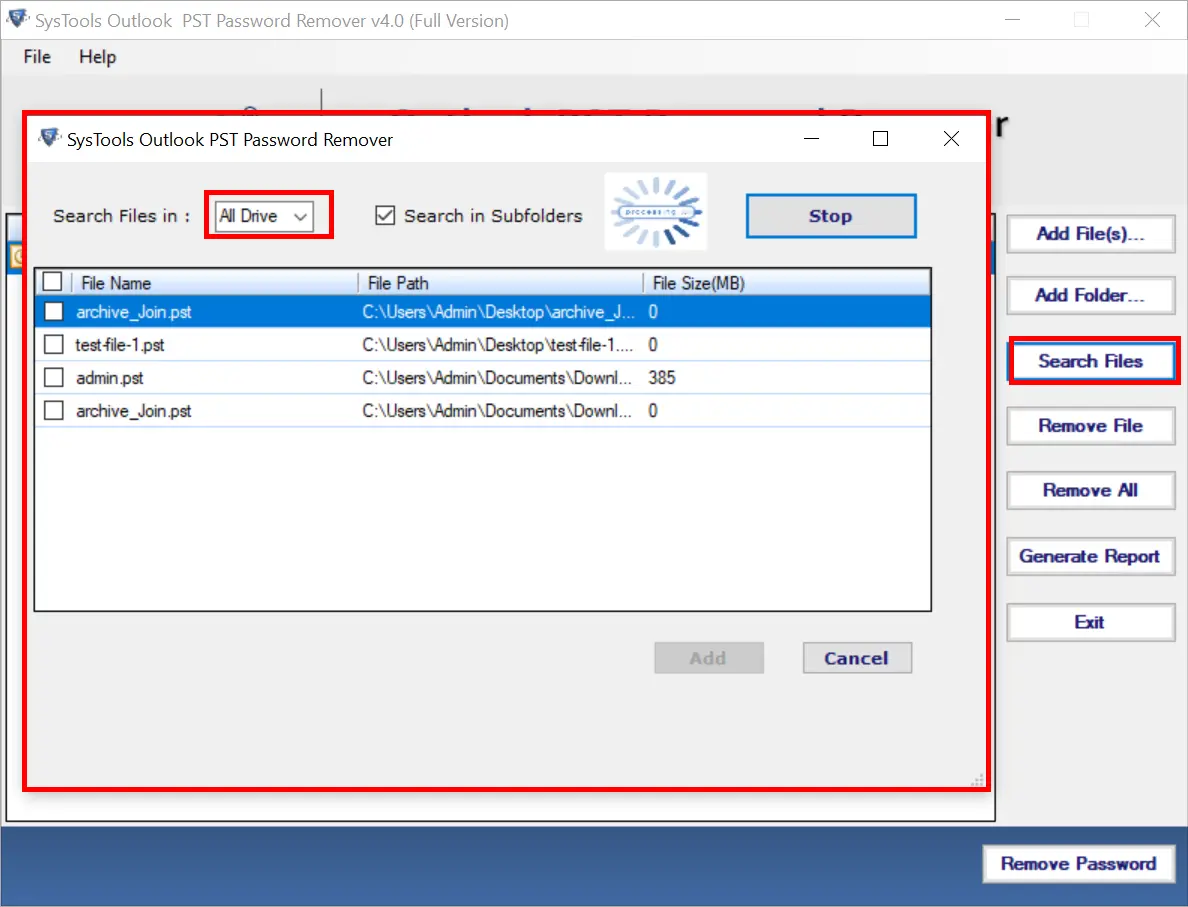 Step 4. Press the "Remove password" button from the right bottom corner to remove the forgotten password from the PST file.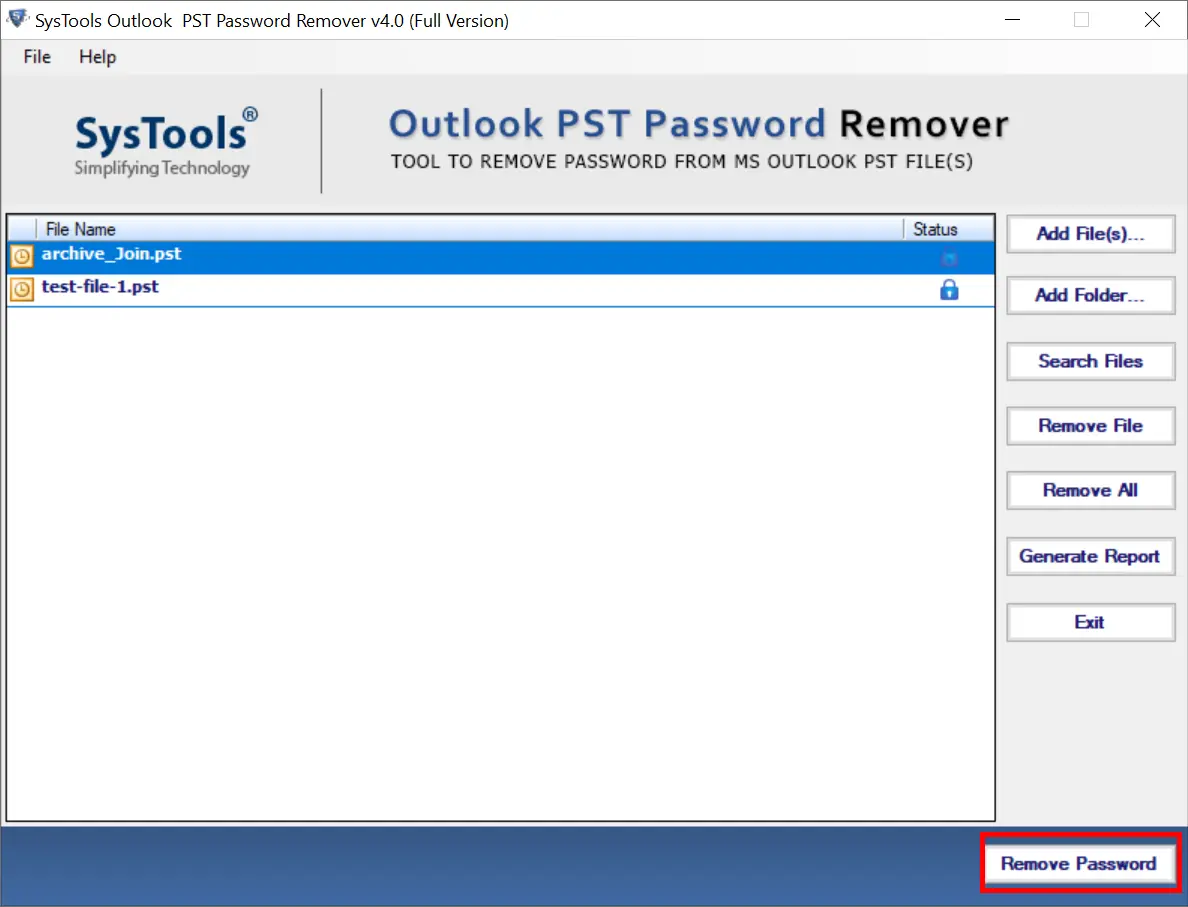 Note:- If you are not able to open Outlook PST  data file without password in the demo version. Then, you may use the advanced version of the tool.
Conclusion
All the methods are present in this blog as per your problem. Now, it all depends on you which method you need to use according to the requirement. You can use a method both are good at their place of need. Both the methods will open Outlook PST file without password easily and effectively.
FAQs
Q1. Can PST files be opened without Outlook?
Ans: PST Password Remover is an application that allows you to open PST files without Outlook  using an Outlook-like interface. You can open, view, and search PST files without Outlook using the free version of this application. The Advanced version has a lot more features, but it costs money.
Q2. Can I open PST files in Gmail?
Ans: To import manually, you first need Outlook and an existing Gmail account. The only way to import a PST file into Gmail is to connect the two email programs so they can use each other.
Q3. Are PST files password protected?
Ans: Yes, if need password to open it otherwise it is not secured with password. Sometimes when you enter password if it applied and it declines to open. Then you need to open Outlook PST file without password using any automated tool or software.
Q4. How do I repair my PST file using MS Outlook?
Ans: Just follow the given steps
View the "Account settings". Click the File tab on the ribbon.

Choose "Repair", and it will open a similar window on your computer.

Choose "Let me repair my account manually".

View the password.
Also know:-  Add Password to PST Filesof Outlook to secure that data file.